6 Standout Off-Site Event Venues Beckon Galveston Groups With Thrills, History and Culture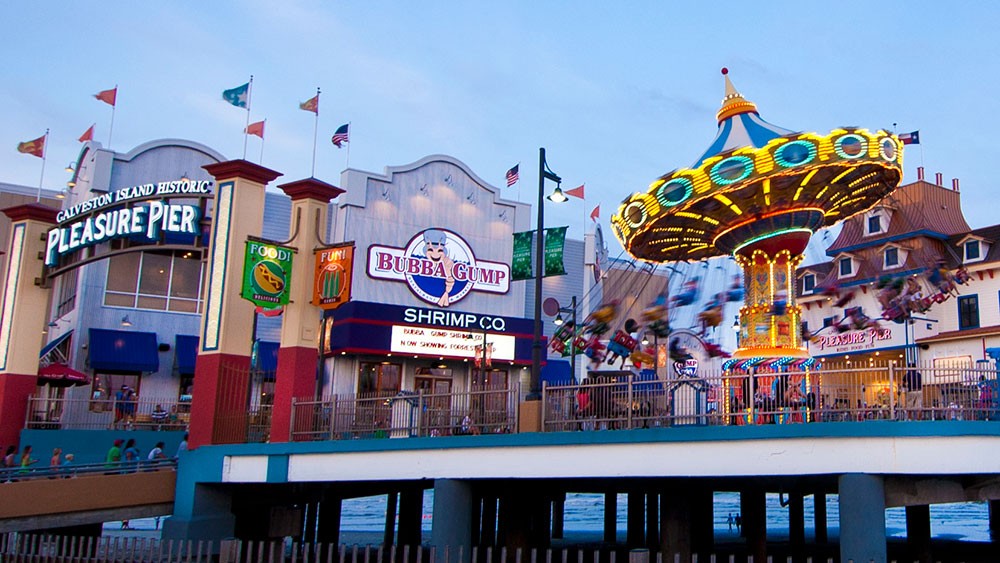 From thrill rides and arcade attractions at Pleasure Pier to historic Victorian mansions that somehow survived one of the nation's biggest natural disasters, Galveston's array of off-site venues provide a truly unique setting to get away from a day of meetings.
"Historically known as the 'Wall Street of the South' and home to one of the largest collections of well-preserved Victorian architecture in the country, it is no wonder Galveston Island offers a unique array of off-site venues sure to spice up any meeting or group event," said Ivette Wilhelm, public relations manager for the Galveston Island CVB.
A world-class museum, an opera house, a pair of historic homes, a waterside attraction and a replica of an 1800s paddlewheel boat are among the many special locations for receptions and meal functions in this classic port town.
The Bryan Museum, which operated as an orphanage until the 1980s, was built in 1895 with the help of a fundraiser hosted by Mark Twain.
The building has a rich history and today houses an impressive art collection, including Spanish Colonial-era works and three original Andy Warhol pieces.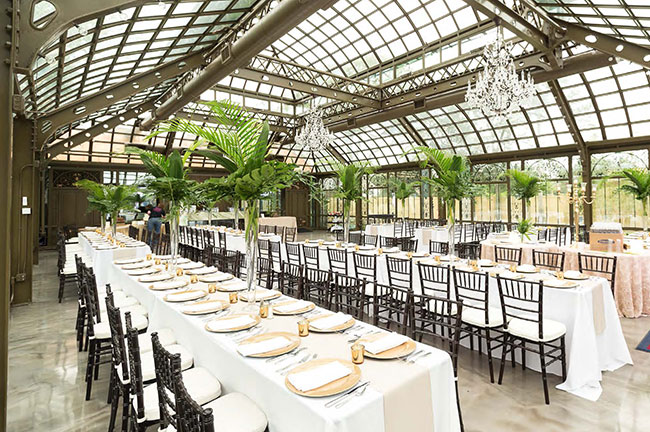 Wedding Reception Setup at The Bryan Museum
The architecture of the building is also a work of art.
"It still has the original wood floors, ceilings and doors," said Peter Ochoa, the museum's director of events. "And in our curated gardens we have a wrought iron gazebo that was brought in from West Texas and a magnificent glass and iron conservatory of Belgian design and imported from overseas."  
In short, the museum provides a stunning backdrop for group receptions, dinners and general sessions in its indoor and outdoor spaces.
"Corporate businesses often host cocktail parties in our grand lobby and then later proceed to the conservatory for dinner," Ochoa said.
"We also have two smaller rooms in which to hold intimate gatherings," he added.
Docent-led tours of the museum's five galleries can be arranged for groups who rent the museum interior for an event.  
The Grand 1894 Opera House, which seats just over 1,000, is the "official opera house of Texas" that's also operated through the years as a vaudeville house and a movie theater for silent films.  
"The Grand, like Galveston itself, came back after the Great Storm of 1900 and reopened just over a year after that devastating hurricane," said Maureen M. Patton, the venue's executive director. "The Grand is a true testament to the old adage 'the show must go on.'"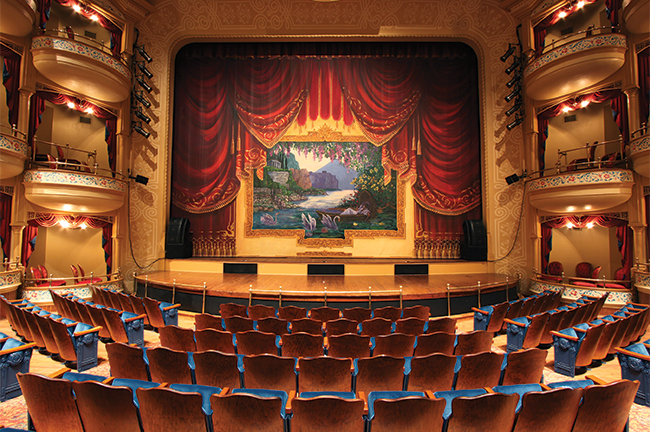 Grand Opera House, Credit: Mark Britain
Today it hosts a variety of performances and accommodates private groups events. Smaller meetings can take place on stage and breakout spaces include three lobbies plus a large meeting room on street level.
"Theaters are meant to be used creatively so just about anything is possible," Patton said. "Should you want something extraordinary, the stage can be extended over the majority of the seating in the orchestra level for a sit-down dinner of up to 400." 
She added groups often take advantage of the stage for impromptu "open mic" performances. 
"There's always someone, or a group of individuals, who would love to perform at the drop of a hat!" she said.
Carr Mansion, built in 1866, is also a Great Storm of 1900 survivor. After extensive renovations, this Greek Revival-style mansion opened as a bed-and-breakfast in July 2018.
It's well suited for corporate retreats and special events.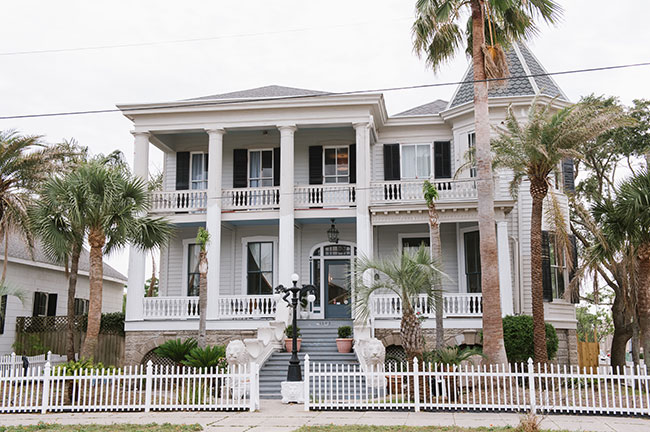 Carr Mansion, Credit: Maggie Kloss
"When we rehabbed the property, we did our best to keep the spirit and character of the estate, while breathing new life into it," said Joellyn Moynahan, proprietor for Carr Mansion.
"Our plan was to create a luxury experience for people to stay, and a great venue option for meetings and parties in Galveston," she added.
The typical event size welcomed here is about 50 people, and that number increases to 75 when all areas of the property are utilized.
Among the mansion's spaces is a parlor room, complete with antique settees, tables and artwork; a light and airy ballroom with original floor-to-ceiling windows and a baby grand piano; and a pub with all original woodworking. There are also outside spaces such as large porches and balconies on both the front and the rear of the home that are perfect for cocktail tables and smaller sitting areas to enjoy the ocean breeze.
Pleasure Pier, a Galveston landmark, is an adrenaline-pumping event option that offers thrill rides and a carnival atmosphere that lends itself to conviviality.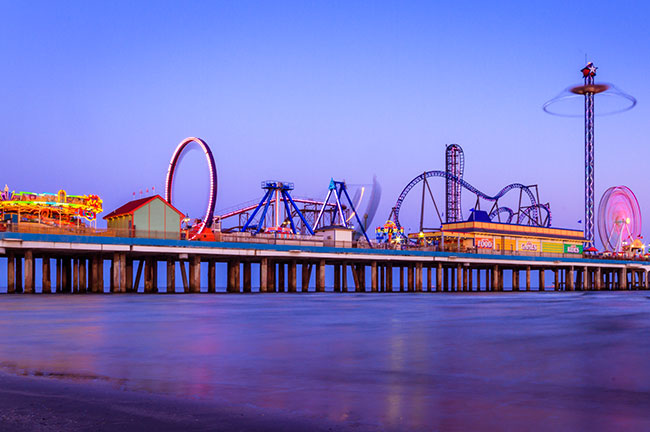 Historic Pleasure Pier, Credit: Landry's Inc.
"The Pleasure Pier is a picturesque location to unwind and be a kid again," said Joe Zdunek, the attraction's general manager. "It's a unique venue for events as it's one of the only amusement parks in the world that extends 1,130 feet over the Gulf of Mexico."    
The Pleasure Pier accommodates small groups in private sections while the pier is open to the public or elaborate buyouts of the entire pier for large groups of up to 3,000. Food options range from concession stand fare to Bubba Gump Shrimp Co.
"All of our events and groups at the Pleasure Pier have the opportunity to enjoy some, if not all, of our 18 thrilling rides, midway games and arcade, including two 5D Theater rides," Zdunek said.
Additionally, teambuilding activities and tours of the pier could be arranged, and a stage is available for award ceremonies and presentations.
The Menard House dates to 1838 and is the oldest residence on Galveston Island. In addition to the historic house, it also features a meeting hall next door, and a large front and backyard.
"It's a gorgeous property that people always enjoy interacting with," said Will Wright, chief creative officer for the Galveston Historical Foundation.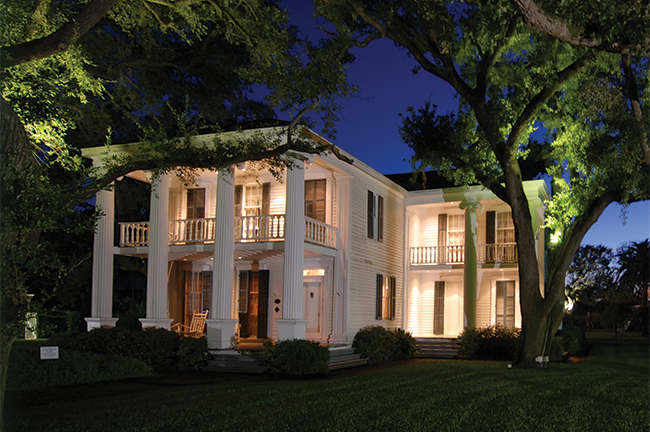 Menard House, Credit: Illumine Photograph Studios, Galveston Historical Foundation
This historic site features indoor and outdoor spaces and accommodates a wide range of special events, including meetings and receptions.
Additionally, a docent-guided group tour and traditional high tea can be arranged.
Moody Gardens features an on-site hotel, spa, golf course and convention center, and is therefore a popular destination for groups meeting in Galveston.
There are also on-site attractions at Moody Gardens that double as event spaces that groups meeting elsewhere can book for a private off-site event.
"Moody Gardens has many options for social events that are unique, festive and fun," said Jamie Weir, director of sales.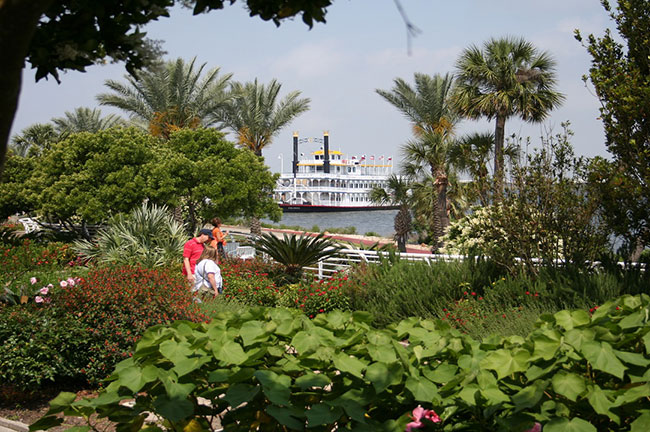 Herb Garden at Moody Gardens in Galveston
One idea is the Rainforest, which is great for evening events during which attendees could take a stroll through the exhibit to see tropical plants, birds and saki monkeys.
"The Aquarium is also amazing for special events in the evening," Weir said. "The ambience is tranquil and relaxing with fish swimming all about. We can do a buffet dinner for 250 people on the lower level or a cocktail reception for 500-plus and put the food on different levels."
Lastly, the 1800s-inspired Colonel Paddlewheel Boat is available for waterborne events on the bayou, during which groups can enjoy cocktails and watch the sun set.
An Event Planner's Perspective on Galveston
Mandy Begley, CMP // Senior Meeting Planner, Leadership Team Services // Texas Association of School Boards (TASB) //Austin, Texas
What does your job entail?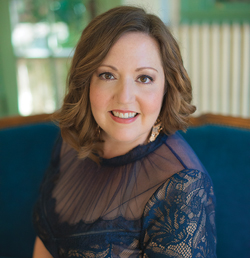 As the senior meeting planner, I serve as the liaison between TASB and the venues and vendors for our large events.
In addition to managing RFPs, site selection and contract negotiations for cities, hotels and convention centers, I work closely with convention services and our vendors to relay program details. I also enjoy running the social media campaigns for our large conferences.
What type of meeting did you hold in Galveston?
TASB held a governance seminar in Galveston in March 2018 and quickly rebooked for two more years. The two-and-a-half day training event draws 500 school board members from across the state of Texas.
We tackle school district issues and focus on the importance of students having a voice, especially in discussions of equity, safety, education design and decision-making.
Was anyone particularly helpful in executing your event?
We implemented so many changes to the program in 2018 that it would not have been a success without the convention services team at the Galveston Island Convention Center.
When Lisa Clemons, the convention center's associate director of convention and conference planning, said she cared about the success of my event, she proved it by doing whatever it took to make it flawless. It feels excellent to truly partner with a team of folks who live and breathe your event along with you.
What did your attendees enjoy the most about Galveston?
There is a sense of vast open space, probably due to the breathtaking views from the floor-to-ceiling windows of the convention center.
We heard the word "beautiful" dozens of times, and I think the lovely building coupled with the beach scene gave our attendees a more relaxed feel at this conference.
Are there any experiences you would recommend for groups meeting there?
Other than a short reception after the first full day of meetings, we didn't plan any events for our group. But in Galveston there are many restaurants and attractions downtown that attendees could easily explore on their own.
How does Galveston compare to other cities where you have hosted meetings?
We travel all over Texas for meetings and each city has its own character. Galveston's attitude seems to be "work hard, play hard."
The convention center has the perfect setup for our event, with meeting rooms down one hallway so our group stays together during breakout sessions. Upstairs, we find ample ballroom space for everyone to convene for general sessions and meals. After a full day of continuing education, there is a plethora of places to eat right out our doorstep.
Would you recommend Galveston to other meeting planners?
Our association is currently negotiating another two years with Galveston, and I would encourage meeting planners to take a second look at the island.
I think planners will find a resilient and thriving city that wants your business, is easy to contract with and cares about your event from beginning to end.
2 Recently Renovated Event Options in Galveston 
The San Luis Resort Spa & Conference Center, which has 700 guest rooms and 200,000 square feet of meeting space, concluded a renovation that included upgrades of the pool area and fitness center.
In 2018, The Tremont House opened its extended stay suites, The Quarters. The property offers nearly 16,000 square feet of meeting space for groups of up to 800 people.
Galveston CVB Contact Information
Galveston Island CVB
409.797.5145