These 5 Historic Ballparks Are Made for Hosting Events
I crossed the line at the Boston Marathon. Whew. Done. That goal checked off my list. Next up:  A sweet post-race party. It was almost as sweet as the 26.2-mile race.
Hosted at Fenway Park in downtown Boston—the oldest major league baseball stadium in the U.S.—the final event of marathon weekend did not disappoint.
The stadium was reserved for marathon runners and their family and friends.
We walked the warning track, sat in the dugouts, took pictures with the Boston Red Sox World Series trophies and rings, and toasted to our accomplishments with crisp brews and ballpark dogs while putting our feet up in the stands.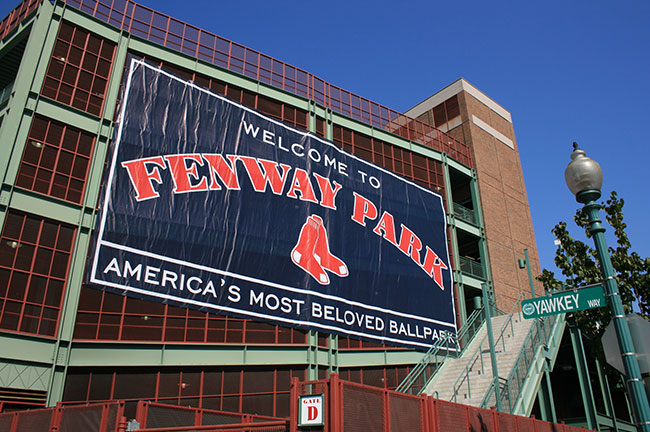 Signage at Boston Fenway Park Stadium, Credit: Christopher Penler, Shutterstock
After the party was over, it was clear to me that baseball parks are a great place for event planners to consider for their meetings.
I'm a big baseball geek who grew up cheering for the Chicago Cubs at Wrigley Field, an especially old park with a storied past. I'd love to attend an event there.
For newcomers to downtown Boston and history buffs Fenway Park held a certain magic that made the event feel a special. Your event-planning budget may not be big enough to buy out an entire park. A handful of ballparks in America offer a whole host of unique event spaces available for meeting and event rentals within. These baseball parks with a heavy dose of history promise a memorable meeting or event for 20 to 20,000 attendees.
Nicknamed "America's Most Beloved Ballpark," Fenway Park was built in 1912 and remains both the oldest major league ballpark in America and one of the most famous.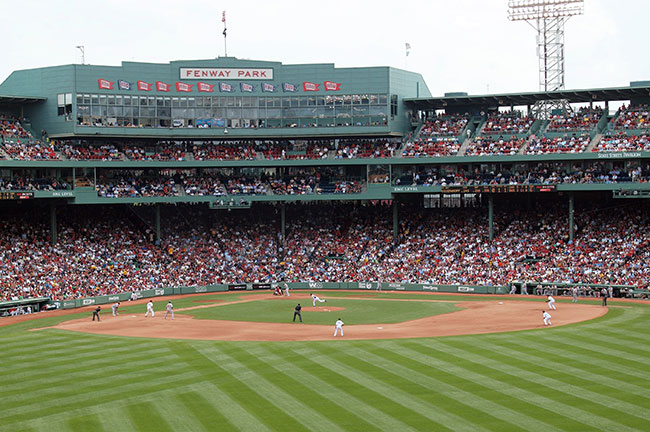 Baseball Game at Fenway Park Stadium, Credit: Eric Broder Van Dyke, Shutterstock
Groups can schedule tours year-round. They can sit atop the iconic Green Monster, walk along the warning track and learn player histories and facts.
Before or after a game, host any size of meeting in one of the park's flexible event spaces.
Plan an event outdoors on the first base deck and open-air Big Concourse or stay indoors and still get an Instagrammable view of Boston's skyline and the field below from the State Street Pavilion Club.
Built in 1914, Wrigley Field is the second oldest ballpark in America behind Fenway. With its scoreboard still updated by hand and the original 1937 vines for the ivy wall flourishing, "The Friendly Confines" has just as much history and character as its East Coast predecessor.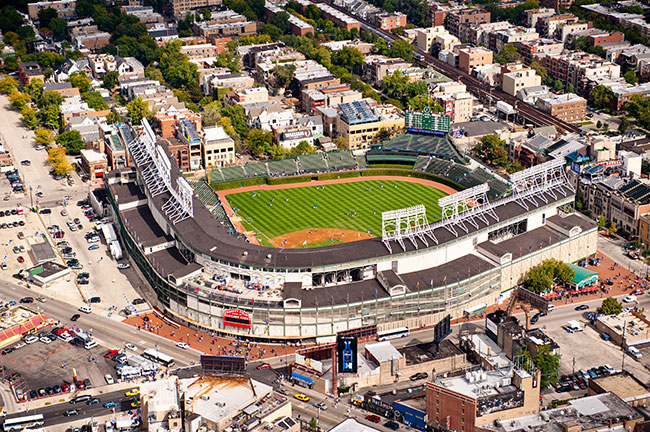 Aerial View of Wrigley Field, Credit: Choose Chicago
Groups can schedule tours of the Cubs' home field to take selfies in front of the ivy or plan practice sessions in the batting cages and bullpen.
The park's ongoing restoration project, which began in 2014, continues to preserve the charm of the park while updating it with modern amenities like new clubrooms, expanded Wi-Fi access and additional bars, concessions and restrooms.
Host a corporate event in one of the park's suites or schedule a semi-private networking session on the Budweiser Patio for up to 150 people.
You won't catch any major league games at Doubleday Field, but this historic ballpark is the anchor of Cooperstown, New York, the birthplace of baseball.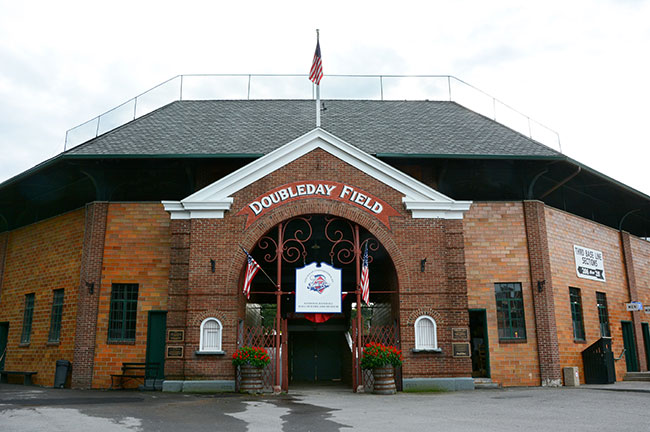 Doubleday Field Entrance, Credit: Lunas Studios, Shutterstock
In 1838, Abner Doubleday reportedly played the first game of baseball on a plot of land in the center of town. Although that claim is mired in controversy.
The field is used for the Hall of Fame Classic every Memorial Day weekend, bringing together major league alumni for a game, but the field can also be rented for your group's own use. From mid-April to October, groups can rent the field for a friendly, competitive game for as little as $400. After the game, walk a few short blocks to tour the National Baseball Hall of Fame.
The line "there's no crying in baseball" from 1992's A League of Their Own was made famous at Bosse Field, the filming location for the beloved movie starring Tom Hanks and Gina Davis.
But Bosse Field's history goes back further than that, to its construction in 1915, making it the third oldest ballpark in the U.S.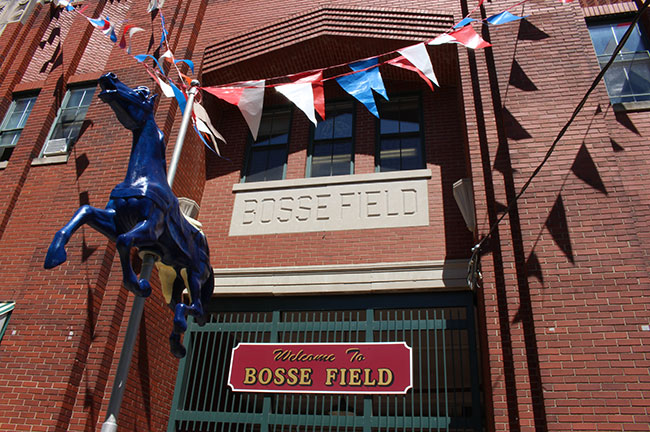 Bosse Field Entrance, Credit: Preston Leinenbach
Home to the Evansville Otters of the Independent Frontier League, Bosse Field may not be a major league baseball stadium, but it still packs history that any sports fan will appreciate.
Less than a three-hour drive from four big cities—Indianapolis, Louisville, Nashville and St. Louis—groups on the hunt for a day trip can rent out the stadium for corporate parties, seminars or even their own baseball tournament.
Though not nearly as old as some of America's storied ballparks, the construction of the Baltimore Orioles' Camden Yards ushered in a new era for major league baseball in 1992.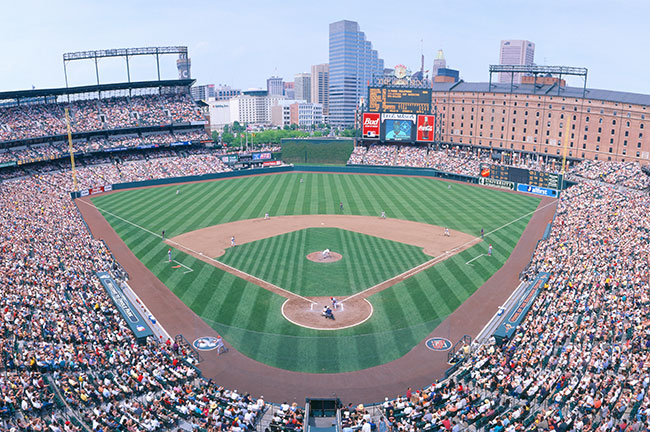 Oriole Park at Camden Yards, Credit: Joseph Sohm, Shutterstock
Though the park was considered new, its architectural style harkened back to the ballparks of the early 20th century and was the first of many "retro" ballparks built in the 1990s and 2000s.
To be retro meant to be immersed in the local neighborhood, fan-friendly and for baseball only, breaking from the bland multipurpose domes that dominated the sports scene decades prior.
Charming yet state-of-the-art, Camden Yards can accommodate a variety of events, from corporate receptions and meetings in the club rooms or brew house to an outdoor street party for up to 5,000 attendees.
If you want to catch a game after work hours, groups can purchase space for pre-game parties in the All-Star Alcove, Bullpen Picnic Area, Camden Yards Banquet Room and other venues.
[Read This Next: Ballparks Across the U.S. Swing for Group Business]