Planning Your Event: Outdoor Venues in Anaheim and Orange County
With over 300 days of sunshine a year and an average temperature of 70°F, vacationers and business travelers flock to Anaheim for its near perfect weather.
Couple that with the biggest convention center on the West Coast, and it's easy to see why the city and other communities of Orange County are popular meetings destinations.
Flexible outdoor spaces are popping up constantly in Anaheim and Orange County, making it easy for your group to network, learn and unwind in the sun.
"What we have seen in the past five years is organizers looking to expand the meeting experience outside of the four walls of a hotel or convention center," said Junior Tauvaa, senior vice president of sales and services at Visit Anaheim. "Incorporating the outdoors allows meeting professionals to change the meeting experience for their attendees."
[Related Content: Anaheim Shows Its New Face to the Meetings World]
The beaches are a big draw for the area, too, especially in nearby Huntington Beach. "We have over 10 miles of uninterrupted coastline—that means no buildings or homes—which makes us different from other coastal destinations," said John Ehlenfeldt, executive vice president at Visit Huntington Beach.
For meeting planners on the hunt to bring their next event into the Southern California sunshine, we've rounded up the best outdoor spaces for your next meeting in Anaheim and Orange County.
The Anaheim Convention Center & Arena underwent a hefty expansion in 2017, making it the largest convention center on the West Coast, with over 1 million square feet of space. The convention center features two large outdoor plazas.
The Grand Plaza has over 36,000 square feet of space and is ideal for luncheons, receptions, outdoor exhibits and other events. Lined with palm and orange trees and anchored by two fountains, the inviting plaza is available for year-round use.
Adjacent to the convention center's modern domed Arena is the Arena Plaza, with 64,000 square feet of space and accommodating receptions up to 5,500 people. Its courtyard area and fountain centerpiece make it easy on the eyes, too.

Anaheim Convention Center & Arena, Credit: Visit Anaheim
The big advantage of the two plazas on the convention center campus, according to Tauvaa, is that flowing between indoor and outdoor spaces is incredibly easy, which helps planners with scheduling and adding variety to their event.
Home to the Los Angeles Angels of Anaheim, Angel Stadium is one of the most flexible locations in the city for outdoor events. It has a buyout capacity of up to 44,050 and patios, courtyards and a music garden available for booking smaller activities outside.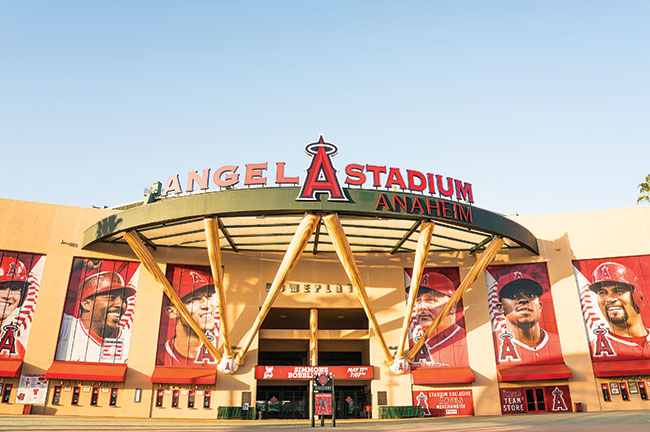 Angel Stadium of Anaheim
Groups can even book events on the field and take part in private stadium tours.
Located just a few miles down the road from the convention center, Angels games are also a great way to bond with fellow attendees after a morning of meetings while spending some time in the sun.
Brewing is a big part of Anaheim's history
Originally founded as a German colony, Anaheim became a major beer destination as early as the 1850s through Prohibition. Today, breweries are as big a part of Anaheim's identity as ever and have the space to welcome groups looking to experience local haunts in Anaheim.
"Event organizers are trying to create experiences that go beyond the convention, Tauvaa said. "They're wondering, what else is there to do in Anaheim?
"This really allows us to highlight other parts of our destination," he added.
[On the Scene: New Meetings Options Brewing in Anaheim]
Anaheim Brewery—housed in the city's historic district—can fit up to 100 guests in its biergarten. Attendees can relax after a long day of meetings by sipping on the 1888 beer, which is made using the same ingredients and methods as the original Anaheim Brewery did in the 1800s.
Located right across the street from the Angel Stadium is Golden Road Brewery, which recently underwent a 56,000-square-foot expansion. Outdoor event space is as plentiful as the beer choices here, with three outdoor bars, movie-viewing areas and firepits.
Planners can book a private event at Anaheim's sole rooftop bar, THE FIFTH, a 5,000-square-foot space complete with a view of Anaheim's skyline and Disneyland® Resort's fireworks show.
When they aren't enjoying the views, attendees can munch on small plates and sip on artisan cocktails around an outdoor firepit.
You can't visit Anaheim without acknowledging its most famous attraction.
Disneyland Resort is directly across the street from the Anaheim Convention Center, making it a convenient option for post-meeting fun outside.
With over 180,000 square feet of flexible meeting and event space, groups of various sizes can take advantage of Disneyland's two theme parks, hotels and the Downtown Disney District.
Disneyland Resort offers planners the flexibility to combine work and play outdoors, which is something Tauvaa said he sees planners requesting more and more.
"Planners are asking how they can best balance their attendees' time when it comes to work and after-hours fun," Tauvaa said. "They want to focus on the business at hand, but also see all of the great attractions."
This one-acre oceanfront beach club on Bolsca Chica State Beach, is only five miles from the popular resorts and hotels in downtown Huntington Beach.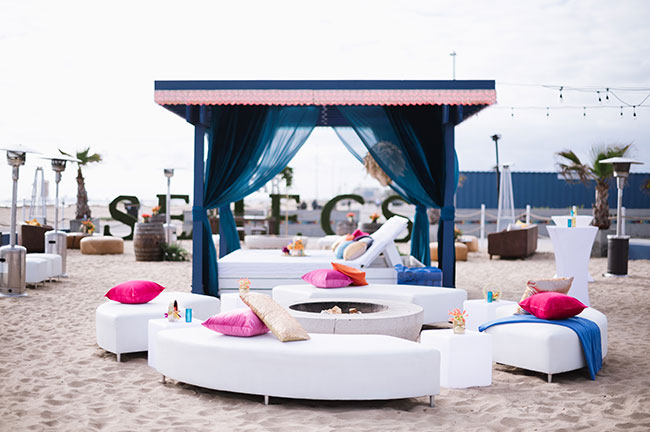 Sealegs at the Beach, Huntington Beach
SeaLegs at the Beach is a partner site of SeaLegs Wine Bar in downtown Huntington Beach, which was named one of the Top 10 Restaurants in Orange County by Gayot.
Aside from good food and wine, SeaLegs at the Beach has nice waterfront views for attendees to enjoy, along with four fire pits for beachy bonfires and s'mores at dusk, live music and more.
The property is open to the public but can be reserved for private events.
Surf City USA is famous for its beachfront properties, and Huntington Bay Club makes the most if its access. Located along a private cove in a seaside marina, it's hard to beat the scenery at this property.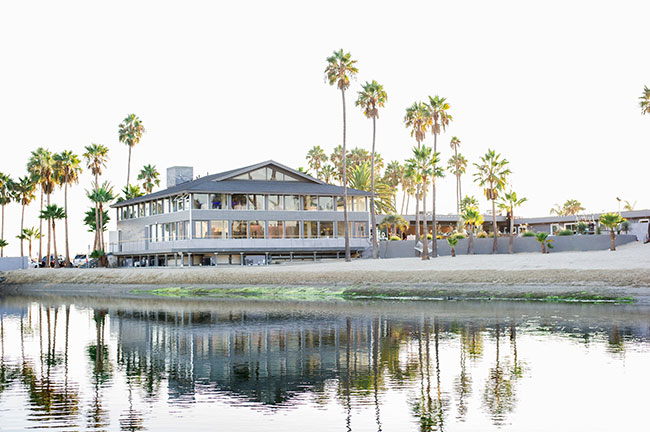 Huntington Bay Club, Huntington Beach, Credit: 24 Carrots
The private white sand beach and gardens make an impressive backdrop for networking events and after-hours parties. The private terrace—the club's largest space—has sweeping harbor views and is adjacent to the indoor ballroom, making it ideal for larger corporate events.
This flexibility for various group sizes is important.
Visit Huntington Beach's Ehlenfeldt said the area sees many small groups, but larger groups too, often coming from far-away locations seeking some nice weather. "We see a lot of our larger groups with 250+ attendees coming from the Midwest and East," Ehlenfeldt said.
With the largest recreational harbor on the West Coast, Newport Beach is home to beautiful marinas and near unlimited nautical activities for groups.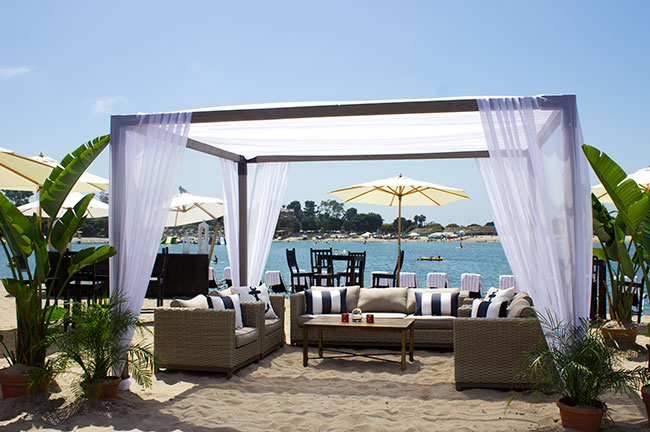 Newport Dunes Waterfront Resort & Marina, Newport Beach
At Newport Dunes Waterfront Resort & Marina, groups can host events on the beach, marina terrace or in beach pavilions. Even better, every outdoor event space overlooks the bay. Planners can coordinate with the resort to host a teambuilding event outdoors like boat building and cornhole tournaments.
The Ranch is the newest private resort and luxury hotel in Laguna Beach, and offers outdoor spaces for meetings and events. Nestled between the canyons and the sea, the property feels like it's a local hidden gem. The Harvest Patio, which overlooks the golf course and creek that runs through the resort, is 4,000 square feet large and can fit up to 300 people for dinner.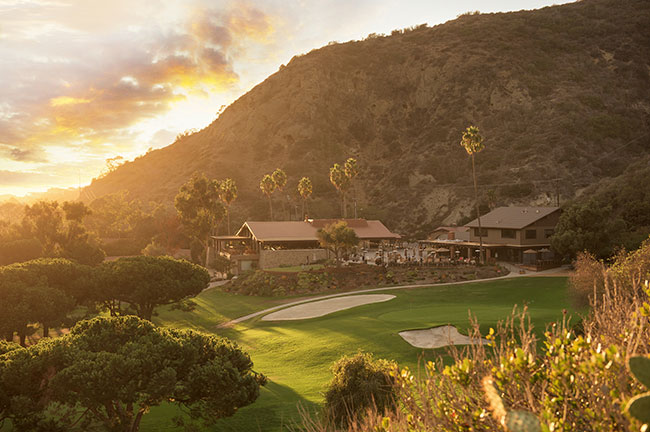 The Ranch at Laguna Beach, Laguna Beach
Planners can also book events on the Sage Patio or the 1st or 9th fairways.
With a backdrop of lush green fairways and Spanish-style buildings, Oak Creek Golf Club is a scenic getaway for group meetings or conferences.
Planners can collaborate with the golf club to arrange events in the flexible indoor and outdoor spaces and work fresh air breaks into the agenda that get attendees outdoors to work on their swing with activities like full golf tournaments or brief sessions at the driving range.
4 New Event Options in Anaheim and Orange County
Scheduled to open in the summer of 2020, the highly anticipated The Westin Anaheim Resort will be located adjacent to the Anaheim Convention Center and across the street from Disneyland® Resort A big luxury hotel addition for the area, the AAA Four-Diamond property will feature 618 guestrooms, including 121 suites, and four restaurants, three bars and a rooftop lounge overlooking Disneyland's fireworks show. The hotel will feature 11 meeting rooms and 42,000 square feet of flexible, high-tech meeting space.
Opening in February 2020, JW Marriott Anaheim Resort District will be less than a mile from the Anaheim Convention Center and right by the Anaheim GardenWalk, the outdoor dining, shopping and entertainment destination in the Anaheim Resort District.
The hotel will have 26,000 square feet of indoor and outdoor meeting space, including outdoor decks, a 13,000-square-foot ballroom and rooms with state-of-the-art audiovisual and multimedia technology.
The wait is finally over for Star Wars Galaxy's Edge, opening May 31, 2019. The all-new Star Wars land in Disneyland® Park is anchored by its two main attractions, Millennium Falcon: Smugglers Run and Star Wars: Rise of the Resistance. Fans of the Star Wars saga will get to meet their favorite characters like BB8 and Chewbacca and wander around street markets.
Huntington Beach has given many of their properties a facelift in the past three years.
The latest: The Waterfront Beach Resort just opened a new spa and the Huntington Tower pool is in the final stages of its expansion, opening May 2019.
Anaheim and Orange County CVB Contact Information
Destination Irvine
949.660.9112
Visit Anaheim
714.765.2800
Visit Huntington Beach-Surf City USA
714.969.3492
Visit Laguna Beach
949.497.9229
Visit Newport Beach
855.563.9767