Omaha and Council Bluffs Offer After-Hours Fun for Groups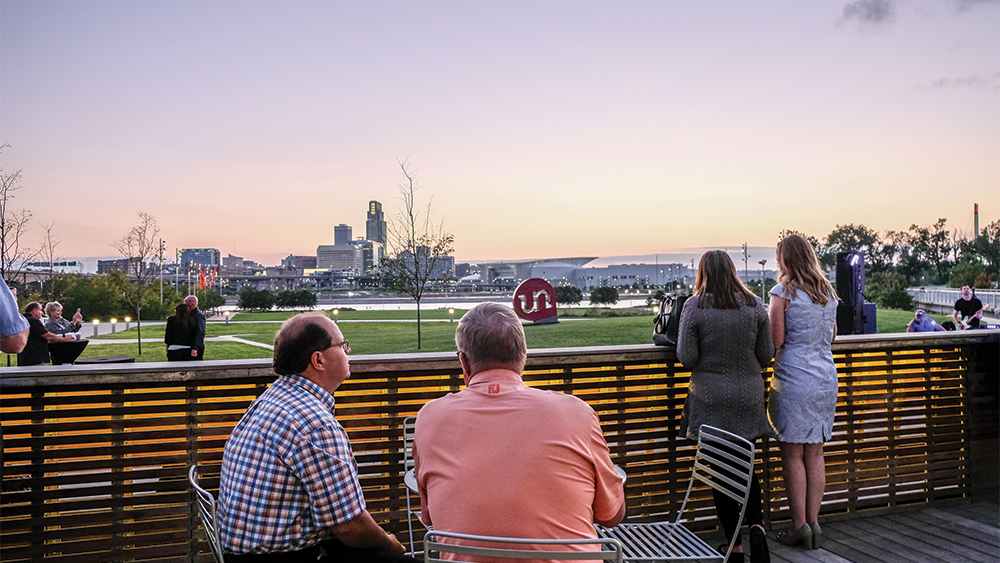 Don't dismiss the nightlife scene in flyover country. After long daylight hours packed with meetings in neighboring Omaha, Nebraska, and Council Bluffs, Iowa, there are plenty of opportunities for your group to unwind during the evening.
From enjoying a dinner cruise on the Missouri River to taking a tour of a historic jail, these activities will surprise and delight groups looking to add a casual experience that inspires post-meeting networking.
Omaha Hot Spots
Groups convening at the CHI Health Center Omaha are only steps away from two vibrant districts filled with after-hours action.
"Much of Omaha's nightlife scene is within walking distance of the convention district, making it convenient for groups to plan fun things to do after the meeting is done," said Cathy Keller, vice president of sales and services for Visit Omaha.
The historic Old Market Entertainment District is just a few blocks from the convention center and is a popular place to start. This area features pubs, craft cocktail bars and sweets shops.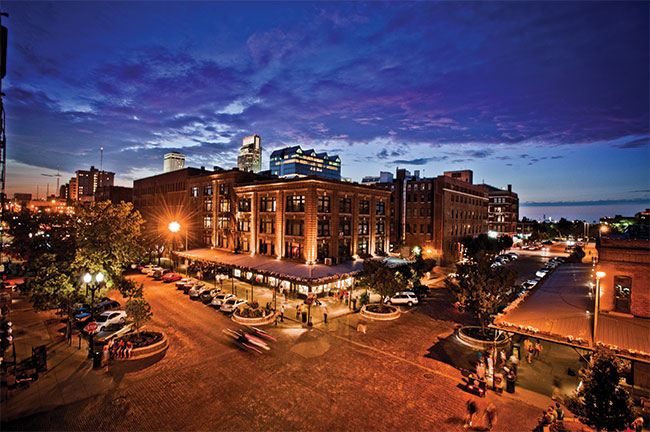 Old Market Entertainment District
"Live performances by street musicians and artists add to the atmosphere as you wander in and out of the many unique boutiques and businesses, such as Havana Garage, a premium cigar bar," Keller said.
Groups will also find many places in Old Market to grab a bite and a local craft beer, including Upstream Brewing Co., which offers tasty brews, food and flexible spaces for private group gatherings.  
The new $205 million Capitol District is an entertainment area located right across the street from the convention center.
Anchored by the 333-room Omaha Marriott Downtown at the Capitol District, which opened in 2017 and features 17,500 square feet of meeting space, the area is still developing. New restaurants, shops and nightlife venues continue to open here, including the district's latest addition The Jewell, a jazz club that accommodates private events for up to 150 people.
"The Jewell pays homage to Omaha's rich jazz heritage," Keller said. "It's a great place for meeting planners looking to host a private event with a more intimate feel."
Get Outside in Council Bluffs
Warmer months ahead means opportunities for groups to take their events outdoors—especially to Council Bluffs venues that sit on the banks of the Missouri River.
The River's Edge Pavilion, for example, is a venue that's been a big hit with groups since opening in Council Bluffs a couple years ago.
"This site is particularly gorgeous in the evening just as the sun begins to set," said Alicia Frieze, director of sales for the Council Bluffs CVB. "Groups can take in views of the Missouri River and the Omaha skyline from the pavilion's patio or rooftop deck."
The first floor of the two-story pavilion is available for rental year-round.
[An Event Planner Perspective: Holding an Annual Event in Council Bluffs]
Groups are also encouraged to look at the calendar of local performances, including the Stir Cove summertime concert series at Harrah's Council Bluffs Hotel & Casino.
"Stir Cove's outdoor venue space allows groups to easily sit—or dance—together while enjoying a show," Frieze said.
Ghostly Guided Tours in Omaha and Council Bluffs
Omaha and Council Bluffs have a spooky side. For groups seeking a dose of history and hair-raising stories, book a nighttime tour with Midwest Paranormal History Tours, which leads history tours highlighting Omaha's haunted sites and supposed ghostly encounters.
Groups touring Squirrel Cage Jail in Council Bluffs will experience an informative, if slightly chilling, outing. Built in 1885 and in active use until 1969, the jail was designated as a museum site by the Historical Society of Pottawattamie County and is the largest of the three remaining rotary jails in the United States. Architecture and history buffs will marvel at this structure's past, and those interested in paranormal investigations will hear haunting accounts.
Group Dining Options in Omaha and Council Bluffs
Hungry groups who'd like to share a meal and toast to a successful meeting at the end of the day in Omaha and Council Bluffs have a diverse set of options.
Groups can easily get acquainted with Omaha's food scene by scheduling a dinnertime outing with Omaha Culinary Tours, giving groups a chance to sample the best tastes of Nebraska's biggest city.
If dining outdoors is on your group's to-do list, eat dinner on the water by booking some time on Omaha's River City Star, a paddlewheel-style riverboat that hosts dinner cruises on the Missouri River.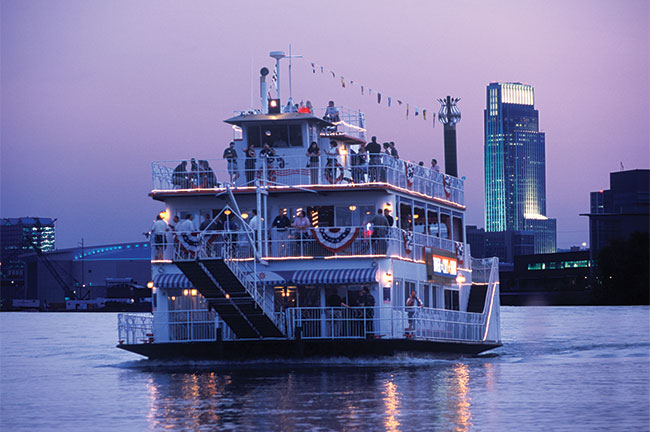 River City Star, Council Bluffs
Casual group dining options abound in Omaha, but local staple Dundee Dell—a restaurant famous around town for its fish and chips and bangers and mash—is a guaranteed crowd pleaser. This popular dining spot also boasts a whole wall dedicated to one of the largest single malt scotch collections in the world, which your group can sample by scheduling a private group tasting.
In Council Bluffs, Frieze recommends groups arrange a progressive dinner to sample favorite appetizers at top restaurants or plan on a pub crawl along 100 Block.
"Enjoy an evening of chitchat and bonding while exploring the different pubs and restaurants," she said. "There's plenty of room for groups as you make your way from one end of the block to the other." 
The Riverfront Reimagined in Omaha and Council Bluffs
A major riverfront revitalization effort is under way on both sides of the Missouri River, which runs through Omaha and Council Bluffs. The project aims to created distinct spaces on both sides of the river to attract visitors and group business.
Work has begun on the transformation project in Omaha's downtown riverfront convention district, according to Cathy Keller, vice president of sales and services for Visit Omaha.
Riverfront development highlights include:
a sprawling green space with a performance pavilion.
botanical gardens.
cafes.
a sculpture garden.
an urban beach and boardwalk.
a promenade that leads to a cantilever suspended over the river.
The Omaha project will be done in phases; the first phase is scheduled for completion in 2021, and the second and third phases are scheduled for completion by late 2023.
Waterside construction is also in full swing across the river in Council Bluffs.  
Plans for the first phase of this multi-phase project include adding amenities that visiting groups can take advantage of, including green spaces, walking trails and an adventure park with a rock climbing wall and zip line.
A marina will be added during the second phase of the Council Bluffs riverfront project.
New and Improved Hotels in Omaha and Council Bluffs
Omaha
Embassy Suites by Hilton Omaha Downtown Old Market  which has meeting space for up to 600 attendees, is on schedule to complete a renovation this summer. The project includes a new lobby and a remodel of all 249 guest rooms.
DoubleTree by Hilton Hotel Omaha Downtown, which has 414 guest rooms and 30,000 square feet of meeting space, is currently remodeling the lobby and guest rooms.
Council Bluffs
The multi-use Hoff Family Arts and Culture Center is scheduled to open in spring 2020 with a 280-seat theater for performances and presentations, as well as classrooms and exhibit space.
Courtyard Omaha East/Council Bluffs opened last year with 131 guest rooms and two meeting/event rooms.
Omaha & Council Bluffs CVB Information
Council Bluffs CVB
712.256.2577
Visit Omaha
402.444.4660