Minions, Meetings and Harry Potter: Why You Should Book Your Next Event at Universal Orlando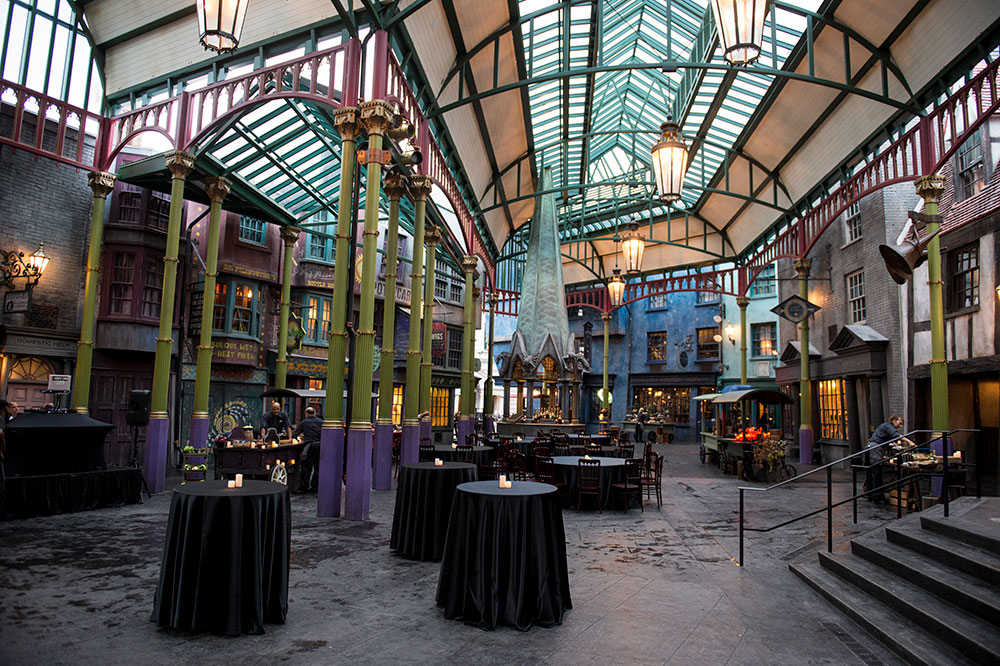 Universal Orlando has seen unprecedented growth in recent years, and there are no signs of slowing down. And according to some, Harry Potter may deserve the credit.
With the opening of Hogsmeade at Wizarding World of Harry Potter in 2010, visitors to Universal have skyrocketed, fueling new hotel development with ample meeting space offerings for groups and an increase of requests for partial park buy-outs.
"The opening of Wizarding World of Harry Potter was a seminal moment—it fueled so much success," said Vince LaRuffa, vice president of sales and marketing at Universal Orlando. "The number of visitors shot up and hasn't gone down since.
"This has allowed us to add new hotels and meeting space," he added.
At the time of Hogsmeade's opening in 2010, there were three hotels on Universal property.
"Candidly, we've been opening hotels ever since," LaRuffa said.
The "Harry Potter effect" continues.
Three hotels have been added onsite since 2010, with two more opening by spring 2020.
All are within steps of Universal's three parks (Universal Studios, Islands of Adventure and Volcano Bay) and four of the properties shuttle guests to and from the parks via water taxi.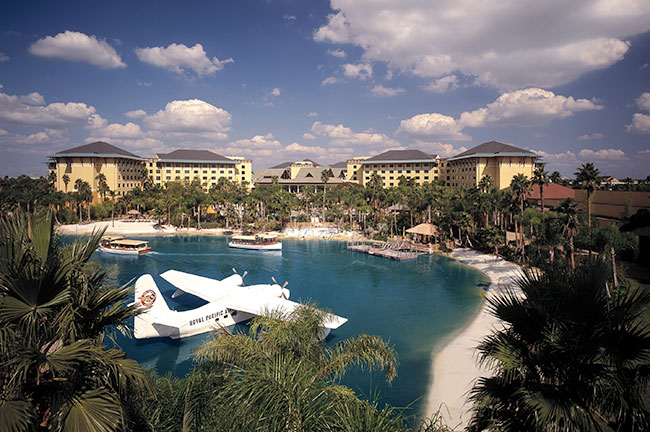 Loews Royal Pacific Resort Lagoon and Water Taxis
This proximity gives meetings at Universal a unique edge.
From the flexible event spaces and meeting enhancements at the resorts to the partial buy-out options for private events within the nearby parks, there are many ways you can host a memorable event at Universal Orlando.
Meeting Spaces at Universal Resorts
Universal Resorts is set to total 295,000 square feet of indoor meeting space, 97,000 square feet of outdoor meeting space and 9,000 guest rooms by 2020. These properties include:
Loews Sapphire Falls Resort and Loews Royal Pacific Resort are directly connected via skyway.
[Related Content: A Meetings Oasis—Four Seasons Resort Orlando at Walt Disney]
Designed specifically with meeting planners in mind, the connection between the two resorts—dubbed "The Loew's Meeting Complex"—lets groups take advantage of 31 combined meeting rooms, three ballrooms, 41,000 square feet of outdoor space and eight restaurants.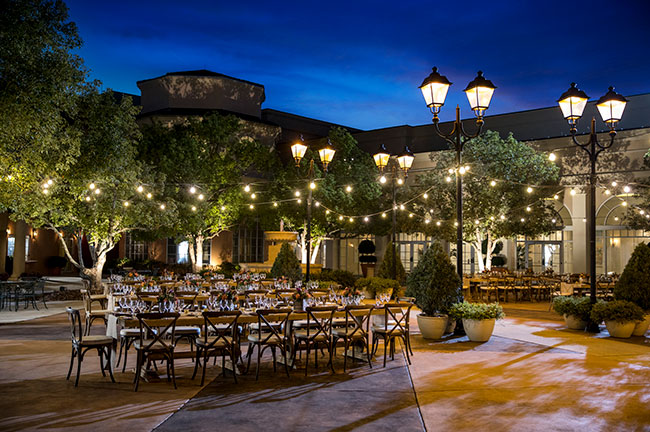 Loews Portofino Bay Hotel, Citrus Piazza
Meeting Enhancements at Universal Resorts
Available exclusively to groups meeting at the six onsite hotels, Universal's "meeting enhancements" inject the park's most recognizable characters into elements of an event.
LaRuffa cited examples of past events having Transformers character Optimus Prime introduce a keynote speaker and zombies coming out and dancing with attendees at the end of an event.
Other examples of "meeting enhancements" include:
Character meet-and-greets
Icebreakers
Event excitement builders
Pre- and post- meeting communication
Meeting interruptions, like Minions running into the room to surprise attendees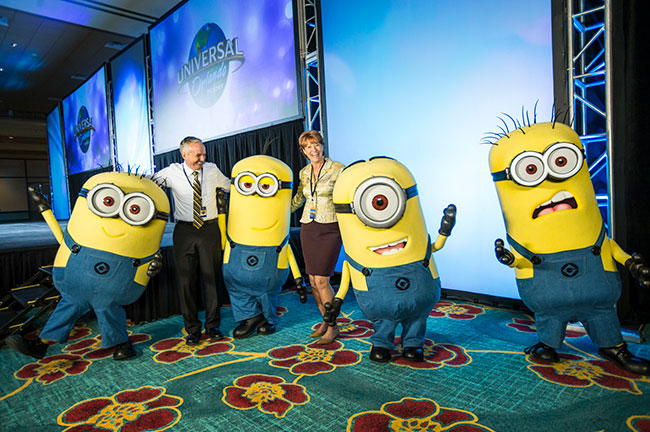 Universal Orlando Resort Meetings Enhancements Minions
With the goal of re-engaging attendees and providing them with a few laughs during long event days, these enhancements are just plain fun, giving attendees a uniquely Universal experience.
Partial Park Buy-Out Options at Universal Orlando
"If you want to give attendees the night off, they have a whole menu of options to spend their time," LaRuffa said, referring to the park offerings at Universal Studios, Islands of Adventure and Volcano Bay, all within minutes of the hotel properties via foot, car or water taxi.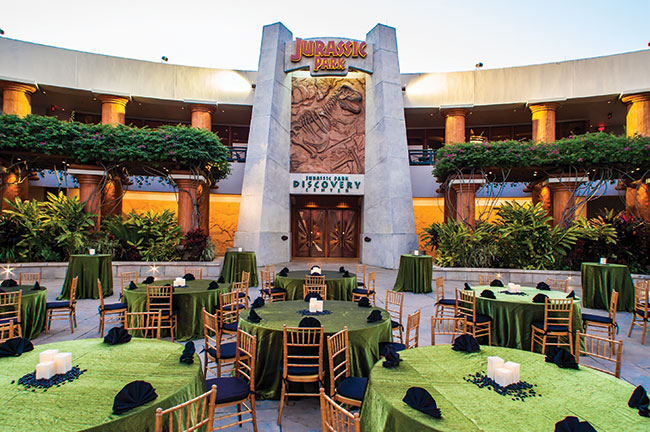 Universal Orlando, Islands of Adventure, Jurassic Park Event Setup
I took a tour of Universal's most popular areas for partial park buy-outs with Senior Manager of Event Sales Rebecca Peyton. The key takeaway?
You can imagine almost any event you want within the park, and Universal can accommodate.
"Literally anything you see in this park can be purchased," Peyton said. "We've had 18 to 20 separate events all happening at the same time within the park."
[Meetings Today Podcast: What Planners Need to Know About Four Seasons Orlando]
Events can range from 20 to thousands, depending on your group size and what part of the park you'd like to rent. Peyton explained that evenings are the easiest for private events and also the most popular option, so guests can break out of their hotel meeting spaces for memorable nighttime experiences.
The most popular areas of Universal Orlando rented by groups are:
Diagon Alley at Wizarding World of Harry Potter
The Streets of New York
Marvel Super Hero Island
Events at Diagon Alley
Diagon Alley at Wizarding World of Harry Potter was added to Universal Studios in 2014 following the wildly successful opening of Hogsmeade at Islands of Adventure in 2010.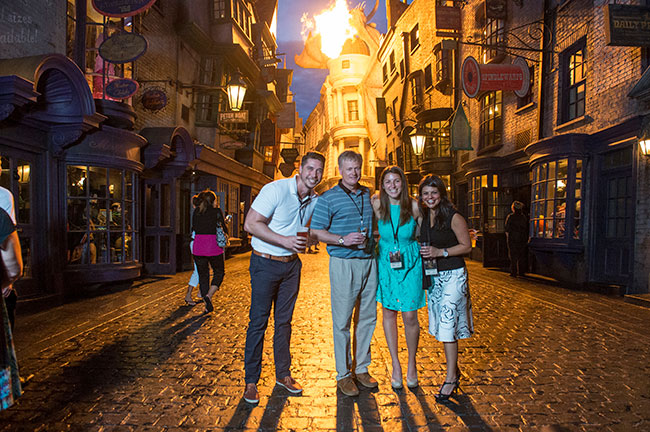 Wizarding World of Harry Potter, Meeting Attendees Posing for a Photo in Diagon Alley
Diagon Alley remains one of the most popular spaces for meetings and leisure travelers in all three of Universal's parks.
"What you're looking at right now is only 20 percent of the people within the park right now," Peyton said outside of the Diagon Alley entrance during Meetings Today's tour of Universal Studios this spring. "The other 80 percent? They're in there," she said, pointing behind her.
[From the Archives: Orlando Is Bustling With New Developments]
Up to 800 people can fit within the confines of Diagon Alley for private events, according to Peyton. Attendees can ride Escape to Gringotts, browse shops like Ollivander's and listen to a concert by Harry Potter "Singing Sorceress" character Celestina Warbeck under a covered space over cobblestone streets.
"This is one of the few covered spaces within the park, which is a great addition," Peyton said. She also explained that catering in Universal's parks is done onsite, so planners don't need to worry about food for their attendees.
And Harry Potter fans don't fret—butterbeer is included in the catering plans.
Events at the Streets of New York
Around the corner from Diagon Alley are the Streets of New York, another popular space in the park for event rentals. Familiar New York City landmarks are recreated in this area of the park.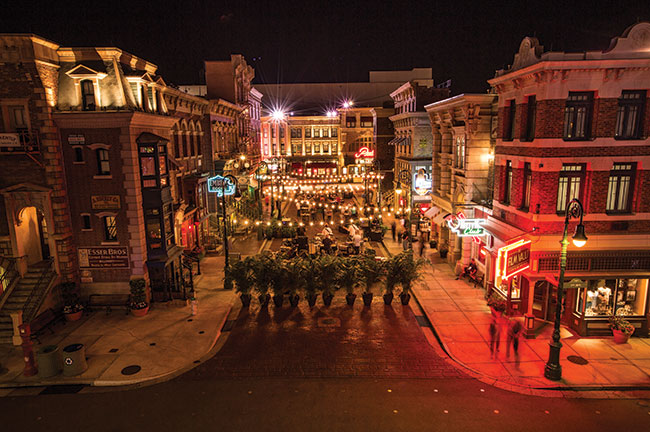 Universal Studios Streets of New York Event Setup
Peyton explained that dinners on the streets and block parties with live music are popular event requests. Planners can request personalized marquees, a red carpet and a welcome band for an event kick-off. Via a private entrance, planners can book Soundstage 33, an 8,500-square-foot indoor pre-function space that Peyton said is often requested for awards ceremony events, registrations, presentations or receptions.
A private outdoor courtyard is outside the front doors, providing additional space.
Events at Marvel Super Hero Island
Marvel Super Hero Island is in Islands of Adventures, next door to Universal Studios.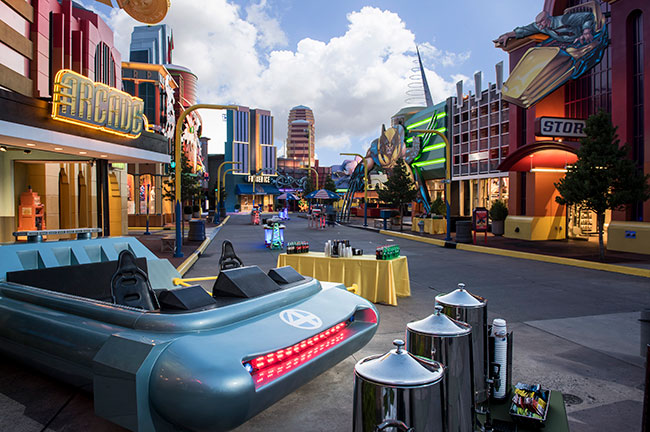 Marvel Super Hero Island at Universal Orlando
This comic book-like section of the park provides a colorful backdrop for events, another advantage to hosting events in Universal parks, according to Peyton. Planners don't need to bring in any decorations—the landscape is already built for an impressive-looking event.
Attendees can interact with Marvel's many superheroes and ride The Incredible Hulk Coaster and The Amazing Adventures of Spider-Man in 3D, among others. Shops in the parks stay open during private events are scheduled, so attendees can grab some Marvel souvenirs.
The Future of Events at Universal Orlando
The two new hotel openings—Dockside Inn and Suites and Surfside Inn—bring even more meeting spaces to the Universal portfolio.
And with more hotels comes more park development, too.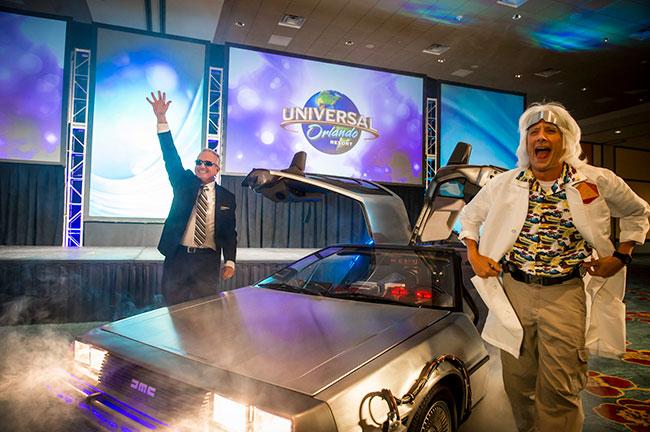 Universal Orlando Resort Back to the Future Meetings Enhancement
Hagrid's Magical Creatures Motorbike Adventure is opening June 13, 2019, in Islands of Adventure, sure to make Wizarding World of Harry Potter even more popular than before.
Universal CityWalk Orlando will open BigFire, a two-story full-service restaurant specializing in open fire cooking. CityWalk is an already popular space for group dining at Universal.
Peyton mentioned that CityWalk can even be bought out for block parties up to 6,000.
This growth at Universal Orlando only promises more.
Though no official plans have been announced, LaRuffa hinted that the number of visitors for leisure and events is continuing to rise, which creates more opportunity for development.
"This is proof of what incredible creative can do," LaRuffa said.
Discover what else is new in Florida in our special destination supplement.