Anti-Abortion Laws Threaten Meetings Industry With Escalating Destination Boycotts
Legislation strictly limiting abortion rights in Alabama, Georgia and Missouri has resulted in numerous states and cities forbidding employee travel to the destinations using civic funds. These destination boycotts threaten to decimate room blocks when employees from massive states such as California can't use state funds to subsidize travel, registration and other fees.
With the possibility of similar anti-abortion legislation being passed in up to a dozen other "red states," the potential impact on meetings and conventions is creating fear of an industry-wide calamity that will surpass all previous destination bans and boycotts.
Leading the boycott charge in many destination bans and boycotts are sports industry organizations such as the NCAA and NFL, which have successfully pressured destinations by threatening to move blockbuster revenue-generating events such as the NCAA basketball championship tournament and the mother of all events, the Super Bowl.
And in 2016, Bruce Springsteen canceled his concert in Greensboro, North Carolina, to protest that state's "bathroom bill" targeting transgendered individuals' access of bathroom facilities that do not correspond to the assigned sex on their birth certificates.
The film, television and music industries also frequently join the fray. Georgia in particular offers substantial tax credits to filmmakers and has seen major investments by film studios setting up production facilities in the state. According to The New York Times, actor and director Jason Bateman of Ozark and Alyssa Milano of Insatiable both filming in the state for Netflix have said "they will stop working there if the law goes into effect in January."
Many in the meetings and events industry believe the possibility that the most recent round of boycotts could expand into many more destinations signals a tsunami is about to land, taking with it the economic health of destinations, suppliers, facilities, planners and associations.
Abortion-Law Boycotts Could Match Impact of Planner Commission Cuts
David Bruce, founder and executive director at the Alliance of Independent Meeting Professionals and managing partner of CMP Meeting Services, contends destination bans and boycotts will be the biggest meetings industry story of 2019.
He believes destination boycotts will match or even exceed the industry uproar resulting from major hotel companies cutting third-party meeting planner commissions in 2018.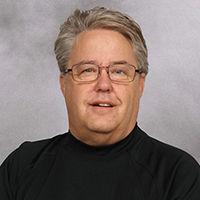 "It's as big of an issue as the commission cuts were to my segment of the industry last year," Bruce said, adding that this most recent round of destination bans and boycotts could impact the industry on a larger scale than even the "bathroom bill" legislation that resulted in the 2017 boycott of North Carolina.
The Associated Press forecast  that destination boycott would cost the state $3.76 billion in lost business over the following 12 years.
North Carolina lawmakers repealed its bathroom bill law after the NCAA pulled its 2017 college basketball championship tournament from Greensboro, North Carolina, in 2016 and threatened eliminate the state from consideration for its 2018-2022 tournaments.
Threats of a boycott by major corporations were considered key in Texas Governor Greg Abbott reversing course on one of his major reelection priorities and withdrawing support of the bill from his agenda.
"It was bad enough with the bathroom bill, but this could be 14 states within the next few months," Bruce said.
Bruce wrote a LinkedIn post titled "The Future of our meetings industry all should read" warning his colleagues of the perils of destination bans and boycotts, regardless of where one stands on the specific issues being battled.
"This climate is not healthy for either side of any issue," Bruce wrote. "Whether you believe in the bathroom bill or not, whether you believe in abortion or not, your meeting can and will be damaged by whatever another state has deemed objectionable."
[Need to Know: Legal Tips to Protect Your Meeting From Destination Boycotts]
For Bruce, the possible calamity facing the meetings and hospitality industry is as foreboding as it is hard to define.
"Where does the line stop? That really is the point here," Bruce said. "Do we start lowering our blocks in anticipation of possible issues coming down the pike? It's a lose, lose, lose proposition. This is where the future is going, and it's coming at us like a freight train.
"I will never write another contract that doesn't have some type of clause in it that will allow my group to adjust the contract based on a state legislature more than six months out," Bruce added.
Meetings Industry Association Reaction to Destination Boycotts
"Destination boycotts have been around for a while," said Jack Johnson, chief advocacy officer for Destinations International, a trade association that represents CVBs/DMOs and is firmly against destination bans and boycotts.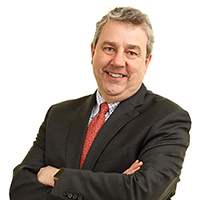 "The current situation is different in that there's the possibility of 14 or so states that will pass very restrictive abortion laws that could cause them to be boycotted by major 'blue' states," he added.
Johnson hypothesized that the current round of destination boycotts has the potential to have more impact on all aspects of the meeting industry than any that have come before.
"I think we're on the verge of reaching a tipping point," Johnson warned. "It's bad for the industry because we're the ones who will take the brunt of it. But in many instances, in my opinion, it's a failing strategy. When you ban travel to a state, the ones who are least affected by that are politicians, who are least likely to make a change."
[From the Archives: Should Groups Boycott Destinations?]
Destinations International has worked with meetings industry associations such as MPI, PCMA and Meetings Mean Business to survey meeting planners about their opinions on destination bans and boycotts, and how they have or may affect the bottom line of the organizations for which they plan.
Here are some Destinations International survey highlights: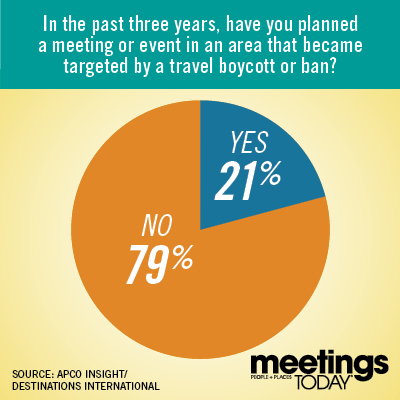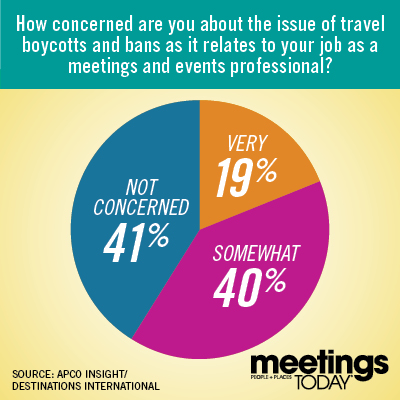 The partnership resulted in Destination International releasing the "Weaponization of Travel Study" and a "The Weaponization of Travel Toolkit" for meeting planners to navigate and communicate the choppy seas of destination bans and boycotts.
"One statistic that sticks out in the latest study is that often when legislation is considered, our industry goes out and lobbies against it," Johnson said. "In our most current report, 41 percent of meeting planners proactively avoid going to destinations that are currently under boycott."
Additional survey highlights from Destinations International: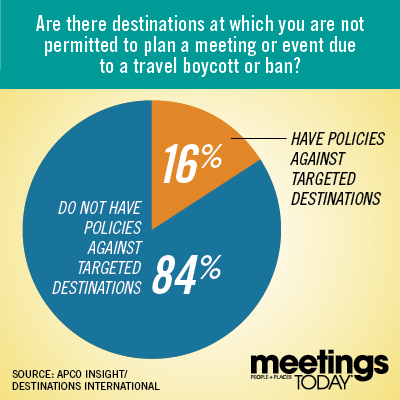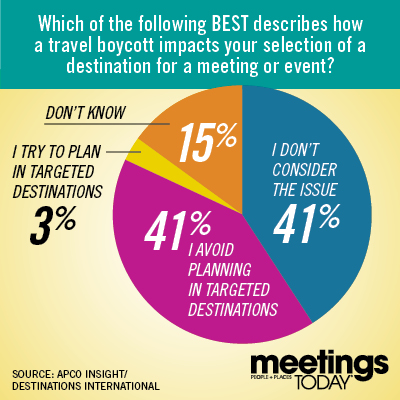 How Meeting Planners Can Navigate Destination Boycotts
Destination International's Johnson said meeting planners can implement a number of strategies that will allow them to honor their contracts by not cancelling events in destinations that have passed or are considering legislation that run counter to their foundational beliefs.
"It could be as simple as building a session at your meeting about what's happening, [and] contacting a local organization that is pushing back," he advised. "Provide a program for crisis response and how to talk to potential attendees and board/stakeholders, with certain messages to deliver. People just want to be reassured that if they're going to a destination in a boycott they're going to be welcomed and safe,."
Other strategies provided in The Weaponization of Travel Toolkit include:
Engage trusted advisors, starting with organizations on the ground.
Ensure your media plans and processes are up to date.
Discuss factors that could impact your organization's response.
Develop messages and materials that are reviewed in advance by leaders in your organization.
As appropriate, invest in information and tools that will make your organization's response effective.
Johnson believes that meeting planners and the organizations they plan for should think rationally about the issue and not overreact.
"You have to accept we're living in a very dynamic political time in a very polarized political atmosphere," he said.
"[Meeting planners should] develop some sort of on-the-ground action that underscores and supports those organizations locally that support your side of the cause," Johnson added. "The worst thing you can do is not show up, because then they think they've won."
[Read This Next: When Laws and Meetings Collide – Go, Stay or Boycott?]