These Magnificent New Mexico Offsite Venues Will Inspire Groups Through Art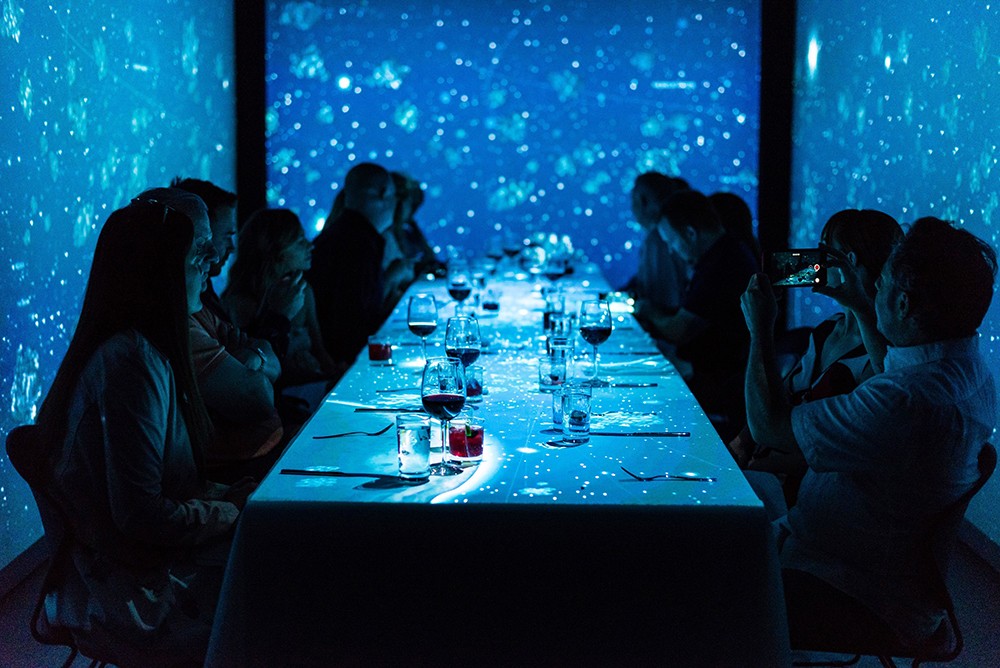 Awe-inspiring landscapes and incredible light have made New Mexico a home base for generations of artists and a world-class center for art dealers and galleries. When combined with its melting pot of cultures, this heady mixture of New Mexico arts and culture translates into a gallery of great offsite options for meetings and events groups.
Artsy Albuquerque Offsite Venues
Famed as an iconic stop along Route 66 with its own gallery of kitschy Americana cultural art, New Mexico's largest city encapsulates the rich blend of cultures that combine to make the state a unique destination in many ways.
"We have a long history and are very welcoming as an arts community. That dates back centuries, actually, because of the diverse culture we have here—Native American, Western, Hispanic," said Kristin McGrath, vice president of sales for Visit Albuquerque. "The murals around Route 66 are very well known, and, coupled with our weather—our expansive blue skies—those are things people think of and are synonymous with Albuquerque and New Mexico."
Besides traditional art gallery and museum venues, visitors to Albuquerque can also immerse themselves in the city's art via walking tours through downtown—the city boasts more than 900 works of public art—and in its historic Nob Hill neighborhood.
[Related Content: 5 Flora-Rich Event Venues That Are Desert Oases for Groups]
See the city's public art and many murals via a tour from ABQ Trolley Co., which offers private event services for groups.
Four top Albuquerque arts offsites for meetings are the National Hispanic Cultural Center, Albuquerque Museum, StoryLab Interactive and Indian Pueblo Cultural Center.
A division of the State of New Mexico Department of Cultural Affairs, the National Hispanic Cultural Center is dedicated to the preservation and advancement of Hispanic Culture, arts and humanities, and presents more than 700 events a year in its expansive facilities.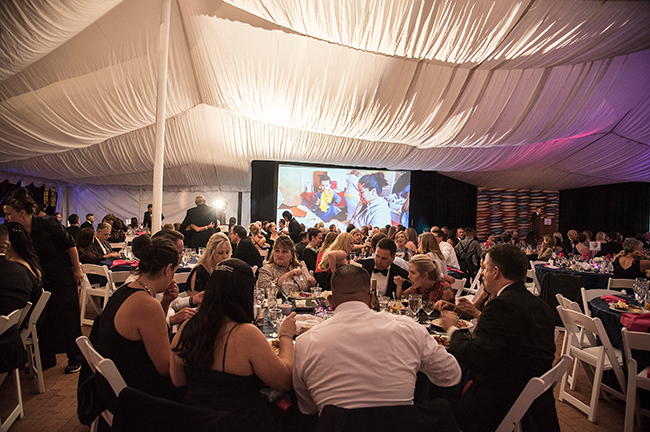 National Hispanic Cultural Center Event Setup, Albuquerque, New Mexico
The Center features the work of celebrated New Mexico fresco artist Frederico Vigil, who currently is working on a four-year, 2,500-square-foot fresco project at the Albuquerque Convention Center.
Rental options include 18 rooms ranging from courtyards and corridors to its sculpture garden, Grand Hall, the Wells Fargo Auditorium and two theaters.
Onsite catering can be provided by a food truck from paletas and ice cream specialist Pop Fizz and Latin fusion restaurant La Fonda del Bosque.
Set in historic Old Town, the Albuquerque Museum can accommodate groups from 50-500 in multiple indoor and outdoor rental spaces, including The Grand Lobby, The Courtyard, Amphitheater, Auditorium, Ventana Salon and The Overlook.
Private events can also keep the public galleries open for guests to wander about.
Onsite catering Is handled by Slate at the Museum, but outside caterers are welcome.
A modern take on art and storytelling, downtown's StoryLab Interactive leverages cutting-edge digital multimedia technology to immerse attendees in an art experience that has to be seen to be believed. Augmented reality, projection mapping and immersive dining programs are some of what's on its highly customizable menu.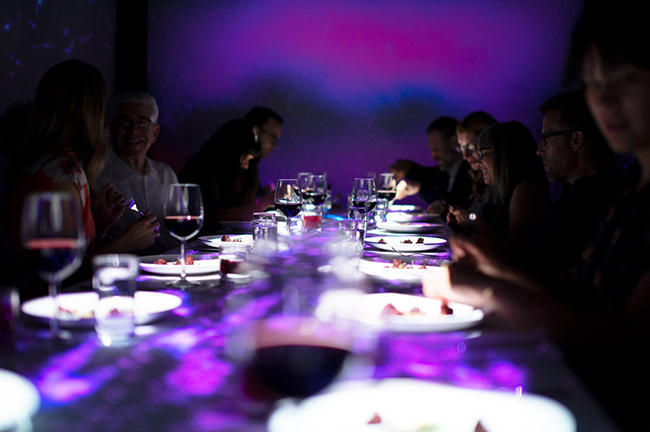 StoryLab Interactive Group Dining Experience, Albuquerque, New Mexico
StoryLab partners with top local restaurants to offer immersive dining experiences that are a feast for all the senses. The space totals approximately 4,000 square feet and can accommodate up to 32 diners on a 40-foot interactive table.
Dining in outer space? They can handle that inside via projection wizardry.
Showcasing the history, art and culture of New Mexico's 19 Native American pueblos, the Indian Cultural Center's world-renowned collection includes historic and contemporary pottery; rare artifacts and art, baskets, jewelry and photographs.
The venue, near Old Town and downtown, emphasizes its full-service meetings and events offerings. With nearly 25,000 square feet of rental space, its indoor and outdoor areas can accommodate groups of up to 500 that will immerse attendees in Native American culture, including dance, cuisine and music.
Catering is provided onsite by Pueblo Harvest, which specializes in Native American and New Mexico fare.
Arts Offsite Venues in Museum Hill, Santa Fe
The art scene in New Mexico's capital city really picked up in the mid-1940s when artists flocked to the area inspired by its affordability and four-season Rocky Mountains beauty.
Adobe- and territorial-style buildings also make Santa Fe stand out as an architecture destination, giving it the distinction of having its visual arts stretch across multiple mediums.
While its melding of Native American, Spanish, Anglo and Hispanic cultures satisfies the eyes, ears and taste buds, visitors can experience a full palette of visual art on Canyon Road. Here, galleries representing artists from all over the world provide easy access for art enthusiasts.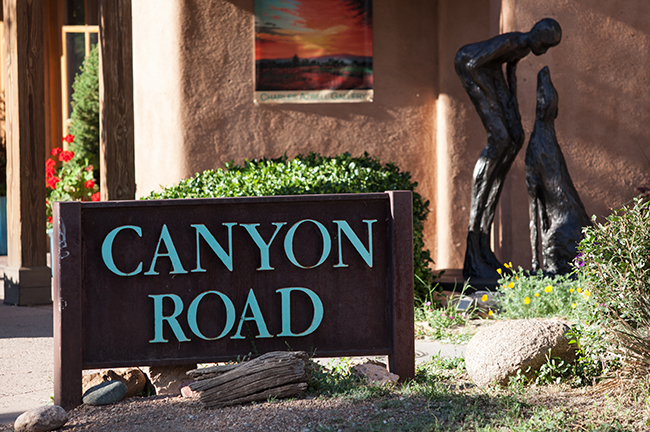 Canyon Road, Credit: TOURISM Santa Fe
"Once you're on Canyon Road you can spend the whole day walking through gallery to gallery and see everything from sculptures to oil and canvas," said David Carr, director of sales for TOURISM Santa Fe. "You really go from contemporary to traditional—one gallery even has Russian Impressionists. You can see every medium of art in Santa Fe."
[Related Content: New Mexico's Cultural Venues Celebrate Innovation]
Santa Fe also boasts some or the largest art festivals in the U.S., such as the Spanish Market and Santa Fe Indian Market.
Four top Santa Fe arts offsites for meetings are all located in one compact area, Museum Hill.
Four world-class museums and the event-friendly Santa Fe Botanical Garden are located in this concentration of cultural facilities less than three miles southeast of downtown in the foothills of the Sangre de Cristo Mountains:
Other Standout Santa Fe Arts and Culture Offsites
Offsite Arts Venues in the Taos Area
Taos may not be the largest New Mexico city—in fact, it currently comes in at the 43rd most populous—but it's had an outsized impact on the world of art.
It's one of the first, if not the original, art colonies in the United States, said David Mapes, owner of Taos' David Anthony Fine Art.
"Not that long ago, if people were serious collectors they would go to New York, Los Angeles and Taos," Mapes said. "We've always been at the forefront of big art movement—Minimalism, Modernism, Abstract Expressionism—and it always attracts new people."
"It's very vibrant with people coming in, even though the town is pretty isolated," he added.
Three top Taos arts offsites for meetings are David Anthony Fine Art, Harwood Museum of Art and Ghost Ranch.
Founded by longtime Taos furniture maker David Mapes, David Anthony Fine arts is dedicated to exhibiting a wide range of visual art and crafts, including hand-crafted furniture. Focusing on contemporary art, the gallery also exhibits photography, glass, collage and sculpture.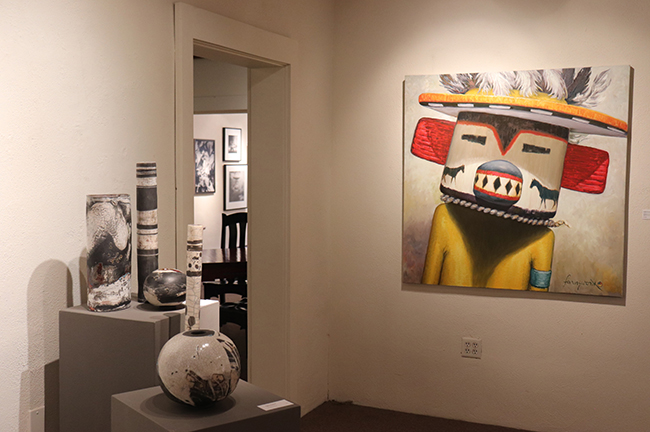 David Anthony Fine Art Gallery, Taos, New Mexico
While inside, one could mistake it for a fine-arts gallery in a major metropolitan location such as Manhattan or Los Angeles, which also makes it a cosmopolitan events venue. Groups of up to 60 seated have used the gallery for special events.
Artists Burt and Elizabeth Harwood left France in 1916 to move to Taos, purchasing a property with several small adobe buildings that originally served as the community's only library. After 1924, the Harwood dedicated itself to exhibitions of local art and Native American artifacts.
Today, the Harwood features exhibitions ranging from early 20th century Taos-area artists to contemporary and modern art, traditional Hispanic works and Native American art and artifacts.
Rental options include the Arthur Bell Auditorium, with 95 fixed seats and 30 movable chairs, and an outdoor reception area that can be tented and rented in combination with the auditorium.
No list of New Mexico art venues would be complete without mentioning the most iconic Southwest artist of all, Georgia O'Keeffe.
The home of O'Keeffe, Ghost Ranch, is now a 21,000-acre education and retreat center about 90 minutes north of Taos that can be rented for day retreats and overnight and multiday stays. Lodging and meal plans are available for groups amid stunning red rock canyons and rock formations under the majestic skies that inspired the artist.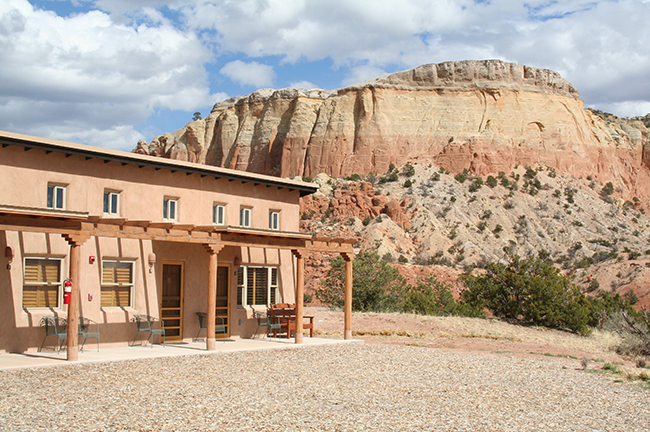 Ghost Ranch, Upper Mesa, Taos, New Mexico
Meeting and event facilities can accommodate up to 300 and include the Upper Pavilion, Long House and Cottonwood library. Activities include hiking, horseback riding, rafting, a climbing wall and, of course, pottery making and painting.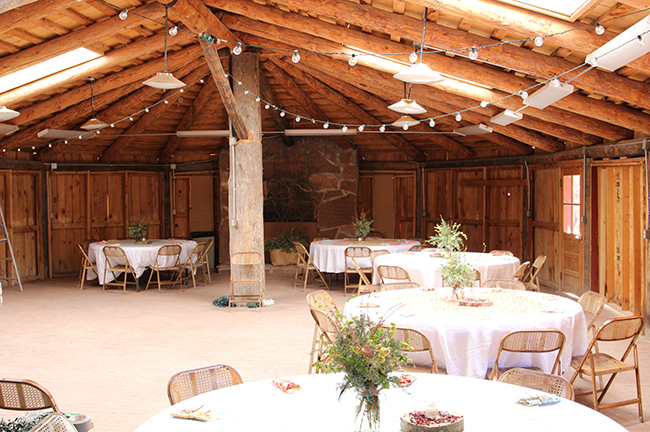 Long House at Ghost Ranch, Interior Event Setup, Credit: Anna Maria Gonzales
Other Standout Taos Arts and Culture Offsites
Albuquerque, Santa Fe and Taos CVB Contact Information
TOURISM Santa Fe
505.955.6215
Visit Albuquerque
505.842.9918
Taos Visitor Center
575.758.3873