7 Stellar Rooftop Bars for Private Events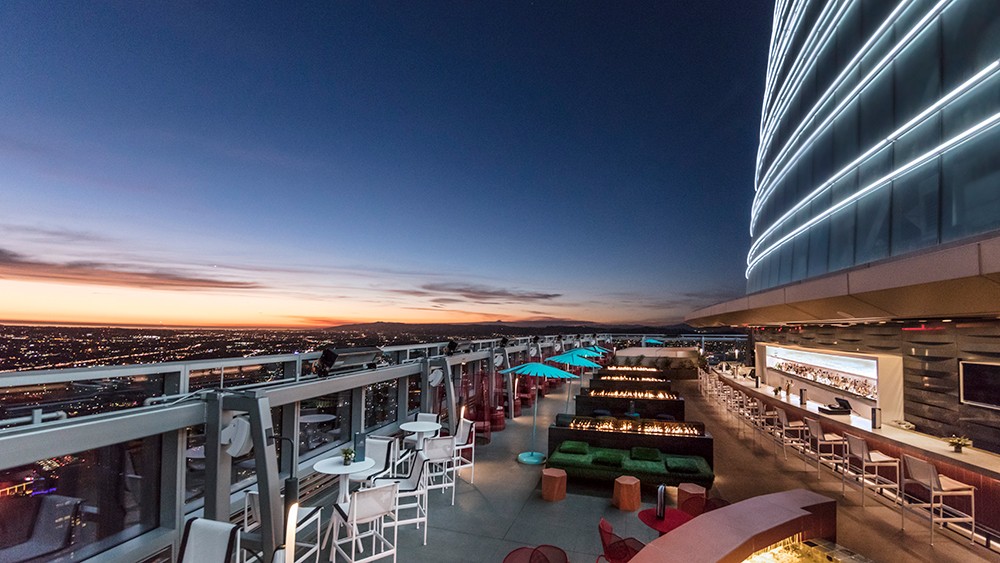 There's nothing like several hundred vertical feet to add levity to any occasion. Throw in an open-air environment, dramatic city skyline views, high-end food and beverage and a few fire pits, and you have all the makings for a memorable rooftop rendezvous for groups.
Following are seven outstanding rooftops that truly raise the bar for special venues.
Spire 73's name was "inspired" by its location atop the 73rd floor of InterContinental Los Angeles Downtown, but it might just as well be called Vertigo; at 1,100 feet high, it's the tallest open-air bar and lounge in the Western Hemisphere, according to CNN Travel.
The altitude lends itself to panoramic views of the LA skyline and cityscape, and the ambience is complemented by firepits, fountains, intimate nooks, next-level cocktails and innovative shared plates.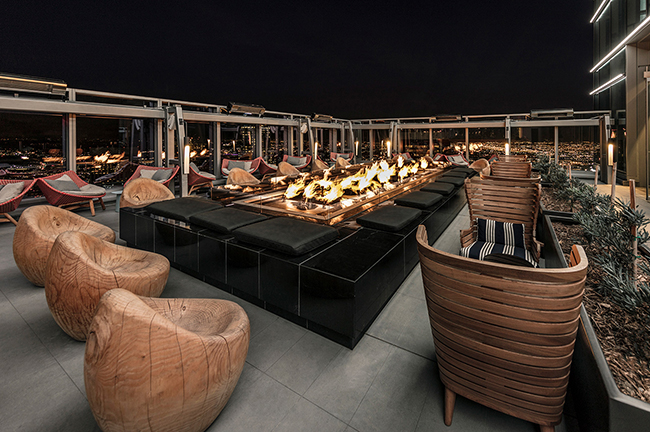 Spire 73 Firepit Area at InterContinental Los Angeles Downtown Credit: Asher Hung
"The food and drink experience at Spire 73 has been recognized to rival the 360-degree views," said Sunny Saha, director of food and beverage at InterContinental Los Angeles Downtown. "The specialty cocktail menu is inspired by LA and the views from day to night, and the bar bites menu serves as a complement to the cocktails by way of elevated, shareable snacks."
Drinks range from Constellation Cocktails like Orion's Paloma and Supermoon to four modern takes on the classic Old Fashioned, while food options include everything from chips and caviar to tableside s'mores.
Spire 73 has several private event areas, including the North Deck, which is customizable and can host up to 200 guests, and the North Deck Fire Pit, which accommodates up to 60 guests.
The French bistro-inspired Perch is a tri-level space on top of the historic Pershing Square building in Los Angeles.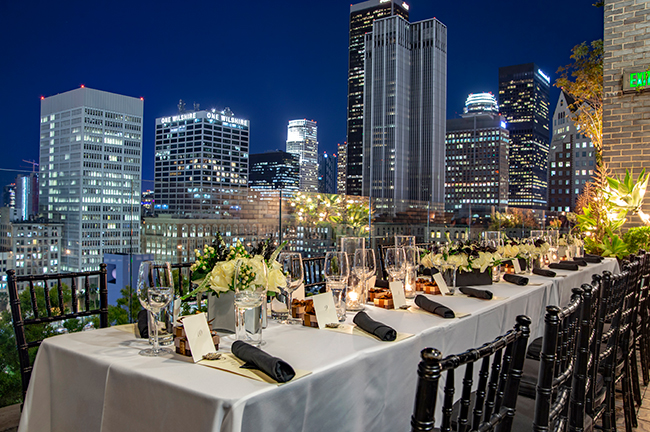 Perch at the Pershing Building, Los Angeles
Aside from its 360-degree views of downtown LA and beyond, Perch's bohemian-style ambience, fire pits, live jazz music, classic cocktails and French fare make it a popular spot for rooftop events.
Perch hosts close to 400 events a year, from intimate dinners for Hollywood A-listers to large networking events for prominent corporations. It has five unique spaces that can accommodate 300-plus people for private events.
The rooftop of the Freehand hotel, housed in the historic Commercial Exchange building in downtown Los Angeles, is home to Broken Shaker, a colorful urban retreat with lush greenery, vintage furniture, a pool and 360-degree views of the city.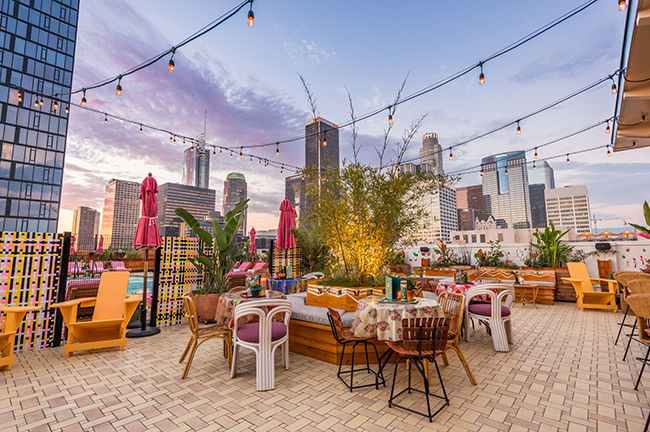 Broken Shaker at Freehand Los Angeles Credit: Frank Lee
Broken Shaker has been nominated for two James Beard awards and was honored as the Best American Hotel Bar at the 2016 Tales of a Cocktail Spirited Awards. The menu features street food-inspired snacks and cocktails infused with homemade elixirs, fresh herbs and produce.
The 3,520-square-foot space can accommodate 235 people for receptions and 96 people for seated functions.
The new Virgin Hotel San Francisco seems to be hitting all the high notes, the latest of which is Everdene, the 4,000-square-foot urban oasis that opened in March 2019 on the rooftop.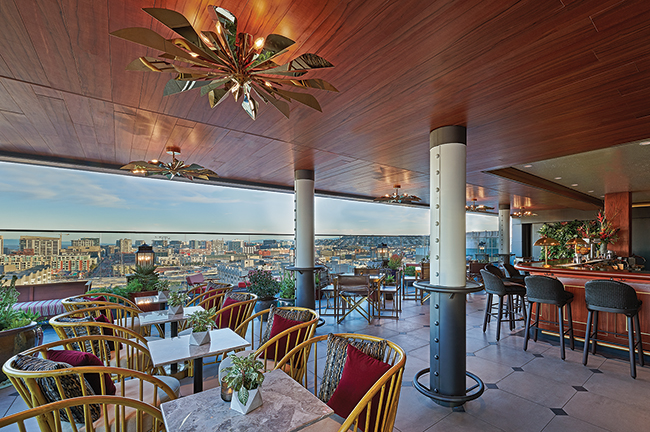 Everdene at Virgin Hotel San Francisco Credit: Anthony Tahlier
Everdene offers sweeping views of SOMA, Nob Hill, Twin Peaks and downtown San Francisco, but the real reason for groups to visit is the entertainment programming, according to Michel Notten, the hotel's general manager.
"Guests are treated to an eclectic soundtrack featuring everything from electronic and vintage funk to indie rock and hip hop," Notten said. "Music is integral to Virgin Hotels' DNA, and we've tapped into our roots to provide a strong lineup of savvy sets."
The ambience is designed to reflect the unconventional and convivial Virgin brand, as are the food and cocktails.
Chef Adrian Garcia, an alum of famous San Francisco restaurants Quince and Benu, creates fun, shareable plates such as gremolata French fries and tuna tostadas with crema, preserved lemon and radish. Craft cocktails are made from unique spirits, house-pressed juices and flora-based ingredients such as herbs and spices, vegetables, fruits, barks, roots and flowers.
Everdene has two intimate open-air lounges for private events, The Patio, hosting up to 40 people, and The Secret Garden, accommodating up to 70 people. Although rare, buyouts of the entire space for up to 250 people are considered on a case-by-case basis.
One of Chicago's top "sky-high" event experiences is steeped in history and breathtaking views. LH Rooftop is a tri-level venue at the ornate LondonHouse Chicago Hotel, housed in a 1923 skyscraper that was fully restored in 2016. 
"The LH Rooftop serves as the 'crown' to the landmark London Guarantee Building and former home of the infamous London House Jazz Club," said John Belter, director of food and beverage at LondonHouse Chicago. "It has unprecedented views of the Chicago River and its historic bridges looking west, as well as views of the Chicago skyline that are unmatched by any other rooftop in the city."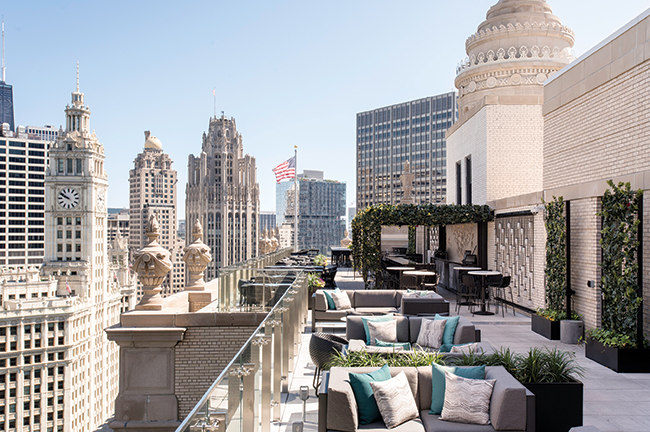 LH Rooftop Terrace Area at LondonHouse Chicago Hotel Credit: Nicholas James Fochtman
An additional treat is the renowned copula on the rooftop, according to Belter, which has been a one-of-a-kind backdrop for everything from marriage proposals to private wine dinners.
The rooftop menu has food and drink to match the magnificent setting.
"Chef Jacob Verstegen, named a 'Top 30 under 30 Rising Star' by Hotel Management Magazine, leads our culinary team​, and his menu reflects his twist on reimagined American cuisine, while staying true to his passion of only using sustainable seafood," Belter said, adding that Verstegen changes his menu several times a year to showcase seasonal creations. 
"The LH Rooftop also features several large-format cocktails that are great for table sharing," he added.
The LH Rooftop accommodates up to 300 people for a private reception.
VASO, named the "Most Beautifully Designed Bar in Ohio" by Architectural Digest, was an immediate hit when it opened at the AC Hotel Columbus Dublin in summer 2018, so much so that it doubled forecasted sales in its first six months of operation.
"This affluent, bustling business region was more than ready for a sexy product like VASO," said Chelsea McPeek, the venue's general manager. "It combines gorgeous style and sweeping views of downtown Dublin and the Scioto River with creative cocktails and tasty tapas."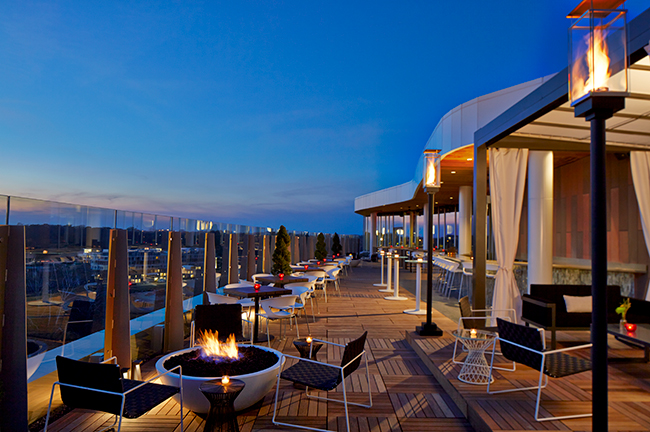 VASO at AC Hotel Dublin, Ohio
VASO was designed to be a very social and interactive space for signature drinks and small bites with Spanish flair, especially when the weather is beautiful, McPeek added. She cited the sleek indoor bar and the outdoor patio with traditional table seating and more relaxed seating surrounding fire pits and in private cabanas.
Fresh, seasonal and sustainably sourced ingredients, along with creativity, make the food and drink experience at VASO stand out, according to McPeek.
"Our culinary and beverage teams are constantly looking at trends and what's really taking off in terms flavor profiles, ingredients, plating, spirits, etc.," she said. "We're also very lucky to live in an area so agriculturally diverse from season to season."
VASO can accommodate private events ranging from intimate dinners to cocktail receptions to full-venue buyouts of up to 150 people.
Jenga with a view, anyone? That, plus foosball, corn hole, cocktails and conversation backdropped by the Manhattan skyline are in store for groups gathering at Westlight and Turf Club at Westlight in Brooklyn, New York.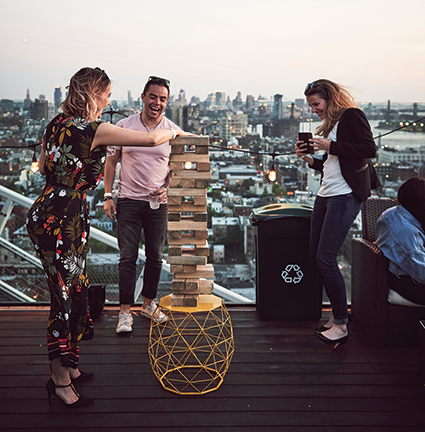 Group Playing Giant Jenga at Turf Club at Westlight, Brooklyn, New York
Set atop the 22nd and 23rd floors of The William Vale hotel, which opened in 2016, the two venues are hot spots in Brooklyn nowadays, with 360-degree views of Manhattan, Brooklyn and Queens. They feature an outdoor terrace, an expansive lawn and seasonally inspired, innovative food and drink.
Menu highlights include local burrata with rhubarb mostarda and shiso, and crispy potato skins with Kaluga caviar and yuzu hollandaise. Two standout cocktails are the Lavender Lake, with Bombay Sapphire gin, St. Germain liqueur, lavender and lemon, and the La Piragua with Coconut Cartel rum, banana, pineapple, lime and Angostura bitters.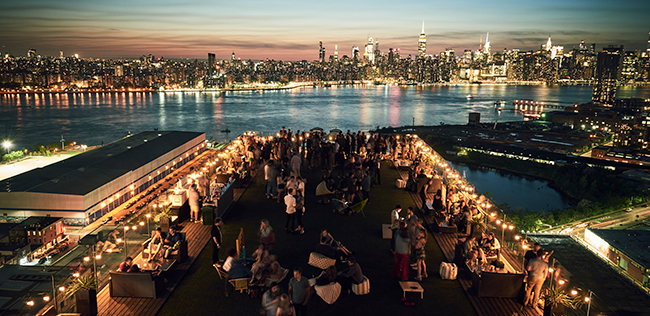 Turf Club at Westlight Event With Panoramic Manhattan Skyline View Credit: Andy Boyle
Westlight can accommodate up to 250 people, and Turf Club at Westlight can accommodate up to 240 people.
[Read This Next: Florida's Rooftop Bars Serve Up Top-Shelf Event Receptions]