A Look at Hilton's New Approach to Meeting Space Design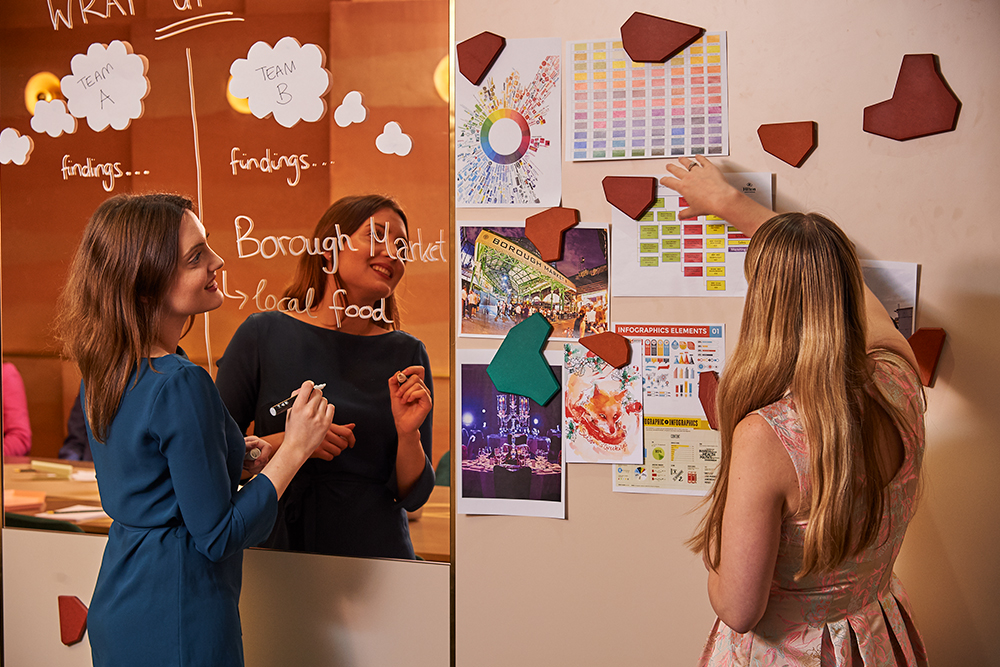 Hilton is looking to create a better experience for event attendees by creating and renovating meeting spaces inside some of its properties with original elements that bolster creativity and productivity.
How did the hotel chain know what to include? The company conducted its own research, sending out surveys to business travelers and meeting planners, as well as doing in-depth interviews, to dive into the "whys," said Adam Wuellner, director of creative product innovation at Hilton.
Hilton found that planners want their meeting rooms to be flexible, and attendees want to be energized. And 80% of planners believe experience creation is part of the job.
3 Different Meeting Space Designs
Wuellner broke down the new and renovated meeting space designs into three concepts:
1. In-room. These are traditional meeting rooms—but there are integrated elements that strive to make it an inspiring, creative atmosphere for attendees.
Wuellner pointed to The AGORA, a meeting room inside The Hilton London Bankside, as an example. From its research, Hilton learned that meeting planners want to make sure clients are bringing their most creative selves to a space.
To achieve that, The AGORA's walls bring to mind different layers of the earth, while the other resembles a rock wall, though is meant to hold papers.
The large mirror doubles as a whiteboard.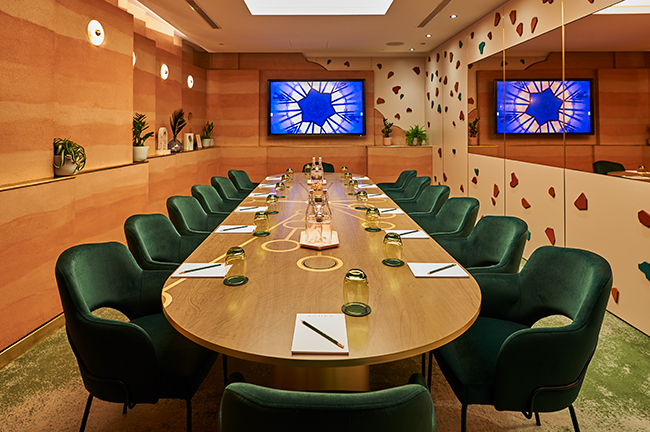 AGORA Meeting Room at Hilton London Bankside, Credit: Hilton Hotels
There's also a level of personalization. The tabletop is embedded with a map of London, and gold circles highlight landmarks. The circles can even pop out to reveal power outlets. But maybe the cheekiest element of the room is the "Push for Creativity Button."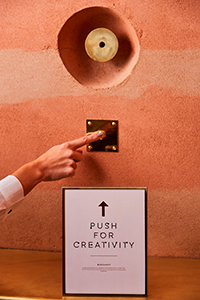 "Meeting planners told us, 'I wish there was a button I could push to make attendees more creative,'" Wuellner said.
Literally and figuratively, designers brought that button to fruition. When pressed, the button releases a puff of citrus-infused air.
"It's the highest positive remark the room gets," Wuellner noted.
He added that when Hilton asked planners what flexible means to them, they replied that the room works for their next meeting or previous meeting.
"They have a purpose in mind," Wuellner said.
[Related: 3 Trends to Watch From IACC's Meeting Room of the Future Report]
"Whether it's a boardroom, workshop or presentation," he added. "We've taken the word flexible [and said] it doesn't need to be blank, but purposefully flexible."
2. Holistic collaborative. This is a large meeting space made up of multiple zones.
Wuellner used the Innovation Gallery inside The Hilton McLean Tysons Corner in Virginia as an example. It incorporates an "arrival moment" down a hallway, biophilic elements in the walls, a presentation zone, a zone for all-day F&B options, and convertible breakout rooms.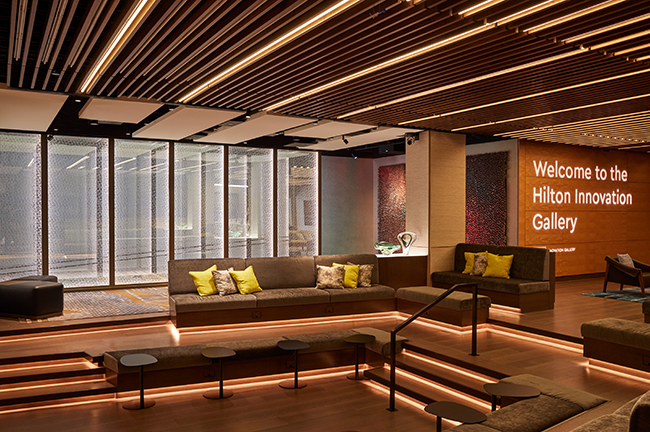 Hilton Innovation Gallery at Hilton McLean Tysons Corner, Credit: Hilton Hotels
The presentation zone is "a boardroom without the boardroom," Wuellner said.
There's no long table, but instead an open space with comfortable seating to sit around the center of the room. Wuellner said this allows for more attendee engagement—rather than them being at a table with their phones and computers.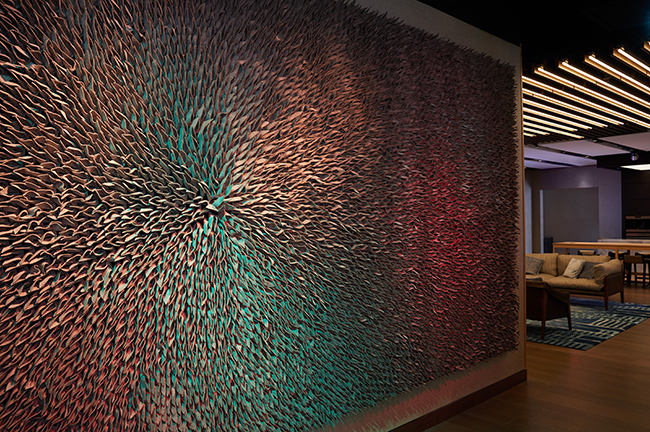 Hilton Innovation Gallery Textile Wall, Hilton Tysons Corner, Credit: Hilton Hotels
3. Communal. The Hilton's research found that 60 percent of business travelers want to work in the open, Wuellner noted, because they see energy, movement and others being productive.
These spaces include such core needs as table space, coffee stations, plenty of power outlets, natural light and the energy of others working.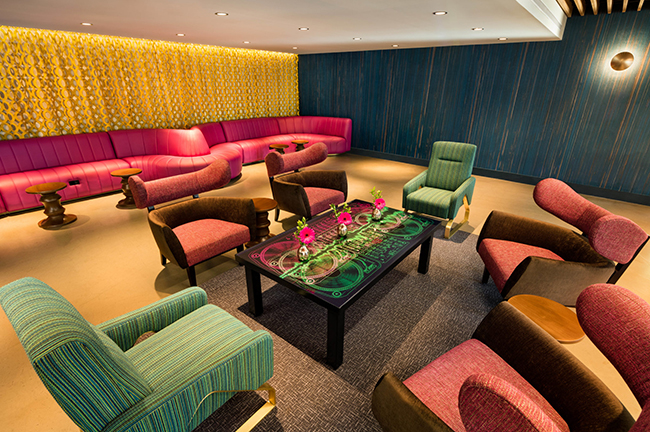 Communal Meeting Space at The Reverbery at Hilton Austin, Credit: Hilton Hotels
Wuellner said The Hilton San Francisco Union Square is an example of the communal concept. It's a buzzy environment, where the lobby has become that communal, productive space for people and meets their core needs.
The Reverbery at Hilton Austin also features a variety of innovative communal spaces.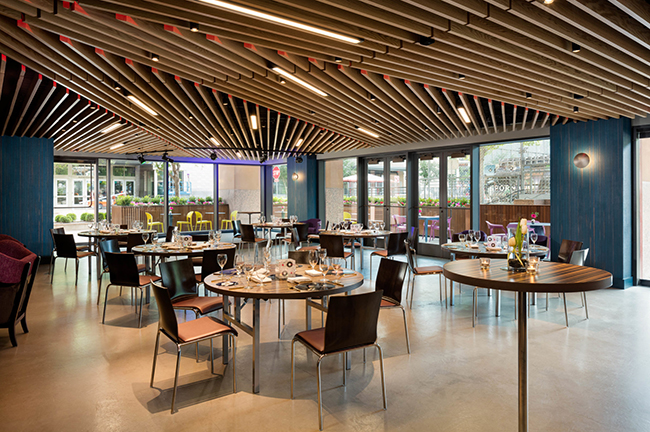 Communal Dining Area at The Reverbery at Hilton Austin, Credit: Hilton Hotels
"People say, 'Meet me at the Hilton,'" Wuellner observed, adding that they're seeing pockets of similar activity at The Hilton Denver City Center.
On the Meeting Space Design Horizon
Whether it's through a new build or master renovation, Wuellner said all new meeting room design ideas at Hilton properties will be tailored to that property's needs. And that it's vital that Hilton incorporate a sense of place and locality in each new design.
Listen to the full interview with Wuellner:
Wuellner said Hilton is also looking for ways to infuse new technology into meeting spaces without having to do a full renovation.
Examples include wireless charging and digital flipcharts.
"The goal is to add the most value with the resources available," he adds. "We're excited for what we're seeing and the traction we're getting from our customers."
Editor's Note: Adam Wuellner, director of creative product innovation at Hilton, was interviewed by Meetings Today Lead Destinations Content Strategist Danielle LeBreck at MPI WEC 2019 in Toronto. Check out all of our MPI WEC 2019 coverage in this article.