2-Team Baseball Towns Offer More Options for Event Planners and Attendees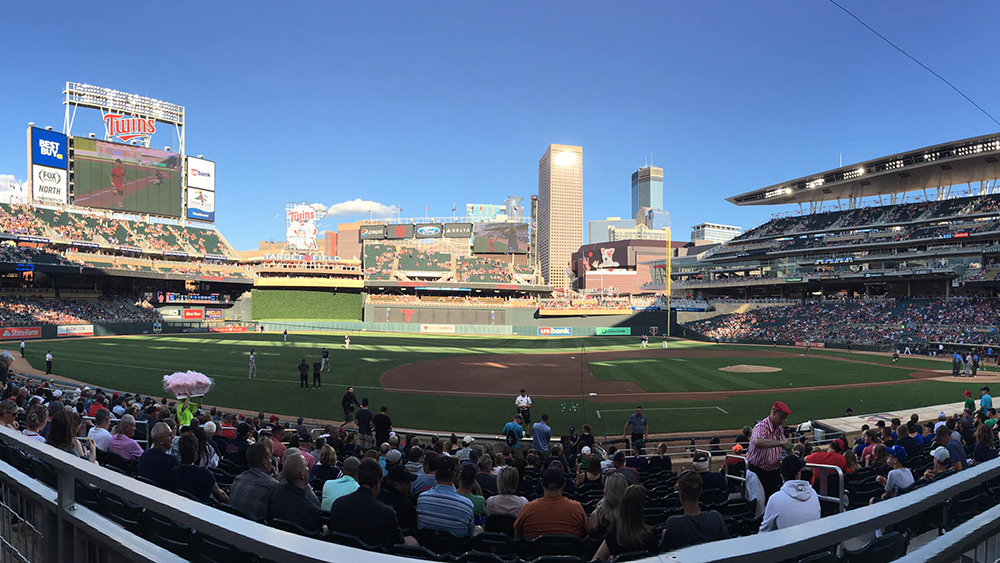 As I'm traveling to conferences and client meetings in larger cities, I often check schedules to find out whether local major league baseball teams are playing in town during my stay.
Personally and professionally, I'm a big fan of sports and sports-related venues and activities—from historic baseball parks to the new Raiders Stadium in Vegas to high-profile sports competitions.
Planned Downtime and Sports
I fully support conferences that make room for planned and structured downtime.
What's the point in going to a great destination if you are locked in a conference center, even when it provides a thrilling view, as witnessed during my recent stay in Denver?
Consequently, we're always looking for original ways groups can work hard and play hard (or just relax) at events.
In the summertime, baseball stadiums and outings are a homerun opportunity for bleisure (business and leisure) travelers.
For example, in June 2019 I traveled to Minneapolis to speak at the Insurance Marketing and Communications Association's (IMCA's) annual conference about the future of content.
Lucky me—the Twins were in town playing Tampa Bay! It was a beautiful night out and the Twins' stadium, Target Field, was just a short walk from my hotel in downtown Minneapolis.
Read more about the bleisure travel trend in our related coverage.
Offer Entertainment Flexibility
The IMCA conference was held at the Minneapolis Marriott City Center conference hotel, just three blocks from Target Field. I did my homework and scored a Row 1 ticket in the section just up from the dugout boxes for under $90 and built some downtime into my schedule.
I do understand that finding downtime can be tough for attendees and speakers who might want to set up after-session networking/sales meetings or catch up on work.
[Related Content: How to Plan and Organize a Marathon]
Regardless of whether a big group game or VIP outing is on the itinerary, planners can consider offering attendees a list of local entertainment options (like baseball games) to choose from.
If you're worried about budget, give a nod toward self-serve methods to purchase tickets.
For example, I use StubHub or SeatGeek to find tickets since I usually don't know whether I can fit a baseball game into my schedule until hours before the game.
And depending on the vibe of the event and its goals, attendees can invite new colleagues or potential business partners to join in on the fun.
This topic came to mind as I was visiting Chicago on a trip to tour a number of Marriott convention properties. The Cubs happened to be out of town, while the White Sox were home.
View more content from my Chicago Marriott Convention & Resort Network press trip:
Some Cities Are Known for Meetings AND Sports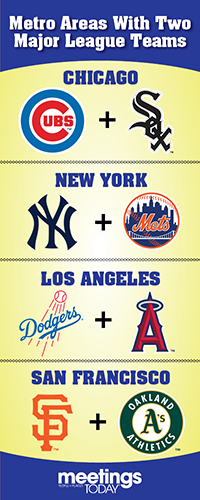 I lucked out with the Twins being at home during my Minneapolis meeting. But planners who want a sports-centric venue with a home-team advantage can start with this list.
These metro areas have more than one team, and when one team is away, the other typically plays at home:
Although "planning" free time likely isn't a meeting planner's top priority, it's worth considering. Adding a fun factor to your event can certainly improve the overall attitude.
Meetings can be educational, energizing and informative—but they also can be exhausting. Give your attendees an engaging and immersive experience that's also fun and relaxing.
Being near a major league ballpark or other sports venues can help with that.
[Read This Next: Ballparks Across the U.S. Swing for Group Business]