Amid Historic Political Disruption, Puerto Rico Remains Open for Business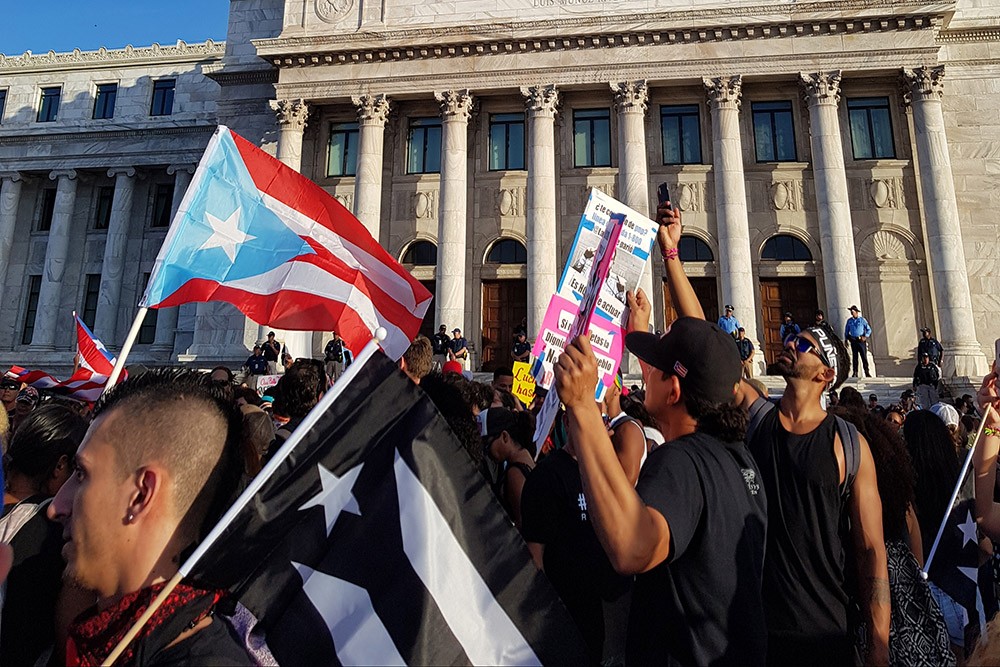 Discover Puerto Rico is assuring travelers, meeting attendees included, that despite the political turmoil that has rocked Puerto Rico in recent weeks and ensuing changes in government leadership, the destination is open for business with no reason to cancel travel or meeting plans.
Recent mass protests on the island called for and resulted in Puerto Rico Gov. Ricardo Rosello's resignation—the first time a governor has been pushed out in the U.S. territory without an election—following a leaked text message scandal.
A political resolution was needed for the island to continue its strong path to recovery, according to Discover Puerto Rico.
The DMO was launched approximately nine months after Hurricane Maria tore through the island and has been instrumental in rebranding the destination as a culturally and naturally rich treasure of the Caribbean, elevating its image and boosting business to pre-hurricane levels, as renovated hotels and other facilities continue to open.
[Related Content: People of Puerto Rico – You Had Me at 'Hola']
"Puerto Rico is open for business, and tourism plays an integral role in strengthening the economy and creating jobs, with 83,000 employees in tourism working every day to ensure visitors have a positive experience," said Brad Dean, president and CEO of Discover Puerto Rico. "Welcoming over 4 million visitors each year, Puerto Rico has a highly developed tourism infrastructure, and tourism is on track to achieve a record-breaking year in 2019."
Meetings Business Unaffected by Protests
Dean said Discover Puerto Rico is not aware of any meetings that were canceled or impacted during the protests.
"While the protests did cause traffic congestion when they took place, our hotel partners have reported no disruptions," Dean said. "The same goes for the Puerto Rico Convention Center, with no scheduled cancellations of events."
Dean said Discover Puerto Rico was encouraged by the accounts of many travelers who arrived on the island in the weeks leading up to the governor's announcement of his resignation.
Discover Puerto Rico said it will continue to work with tourism partners to keep travelers up to date with the latest information and advised visitors to take the same general safety precautions as in any major U.S. metropolitan destination.
DMO's Mission Ensues Despite Political Changes Ahead
As Rosello prepares to step down August 2, he appointed Pedro Pierluisi Urrutia secretary of state July 31 to replace Luis G. Rivera Marin, who also resigned as part of the text message scandal. Pierluisi Urrutia would likely be named Puerto Rico's next governor.
At publication time, an "extraordinary session" of the House of Representatives of Puerto Rico was scheduled for the morning of August 1 to discuss the appointment.
According to several news reports, some members of the Puerto Rico House and Senate were planning to block the nomination, citing a conflict of interest since he works in a law firm that deals with the island's finances.
[Related Content: Puerto Rico's Comeback Story Thrives on Arts and Heritage]
Despite the political shifts, the mission of the DMO will continue, according to Dean.
"Discover Puerto Rico is a nonprofit, non-governmental organization created to ensure continuity and grow tourism on the Island through bipartisan legislation, as the industry plays an integral role in strengthening the economy," he said.
With year-to-date tourism revenue on the island at $445 million, tourism in Puerto Rico is headed for a record-breaking year, according to Dean.
Meanwhile, occupancy spending from January to April 2019 reached $373.6 million, the highest in eight years and an increase of 12.4% when compared to 2017 pre-Maria levels.
Meetings Business Is Booming in Puerto Rico
Dean said leads-generated and leads-contracted events are the highest they have been in five years, along with requested and contracted rooms, and conversions on bookings are up 121% (from 14% to 31%).
"Discover Puerto Rico estimates over $92 million in economic impact with the groups already signed and another $288 million in potential impact from opportunities in the pipeline," Dean said.
New and Renewed Properties Open Across the Island
Puerto Rico is experiencing a huge influx of new and renovated hotels, many of which closed after Hurricane Maria to completely revamp their facilities.
The following meetings-ready properties reopened at the end of 2018:
Recent and upcoming openings and reopenings include the following:
One of the biggest upcoming developments for groups is District San Juan, a five-acre hospitality and entertainment district built in partnership between Island Hospitality Partners and the Puerto Rico Convention Center District Authority. Located next to the convention center, it is scheduled to open in early 2020 and include a hotel.
"It's destined to be the most vibrant and popular setting for events, conventions and performances of all types in the Caribbean region," Dean said.
[Read This Next: Puerto Rico Prospers With a Fresh Brand and a Business Boom]