The Next Hottest Meetings Destination May Surprise You—Why You Should Consider Columbus, Ohio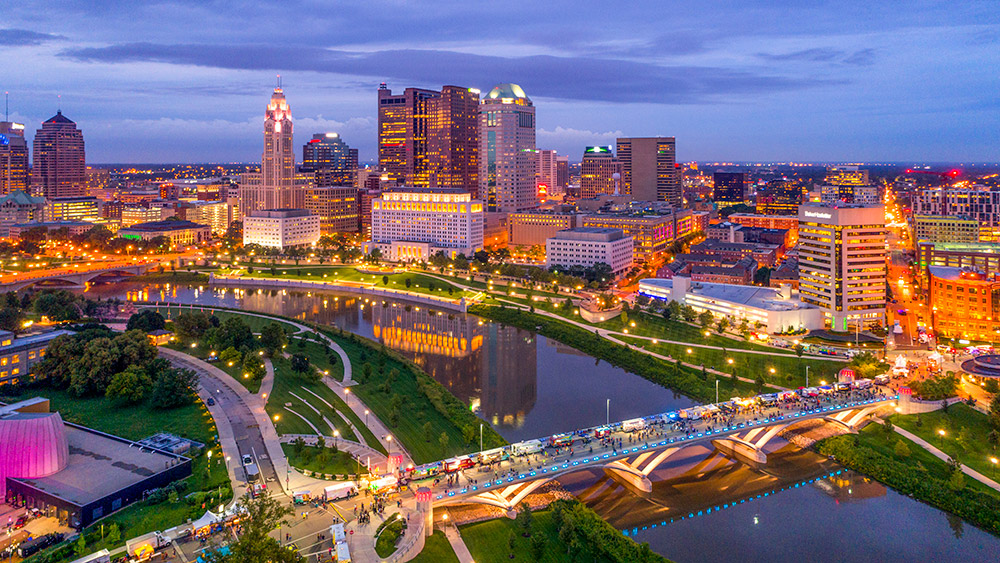 The emergence of Columbus, Ohio, as a trending meetings destination will get a major lift when ASAE holds its 2019 Annual Meeting & Exposition in the state's capital and largest city August 10-13.
ASAE's decision to stage its biggest annual event—one of the largest in the meetings and events industry—in Columbus can be attributed partly to a surge of entrepreneurial energy that has fueled a renaissance in the city. Columbus has flown under the radar as a meetings destination in comparison to Cleveland and Cincinnati.
"One of the things that really drew ASAE into this is something we call 'The Columbus Way,' which came out of a study done at the Harvard Business School," said Lexi Sweet, public relations manager for Experience Columbus.
"It detailed how everyone in Columbus cooperates and works together in a very unique way, such as for our downtown riverfront revitalization, which is a public-private partnership," she added. "And everyone understands the power of the meetings industry and what it means to Columbus, whether it's providing public speakers or sponsorships, there's really a community."
Columbus Sparks the Entrepreneurial Spirit
The vibrancy of the city is attracting a wide range of entrepreneurs, such as Jeff Excell, co-founder of Fox in the Snow restaurant.
Excell represents a migration of idealistic business owners setting up shop.
It is offering goods and services ranging from artisanal coffee houses and craft beer breweries and pubs to tech startups occupying former warehouse spaces in the formerly dilapidated Franklinton neighborhood.
Fox originally planned to open his restaurant in New York, but opted for Columbus' Italian Village neighborhood three blocks from the convention center and has since opened a second location in German Village.
"We knew even before we came to Columbus that it was a massive city; what we didn't know is how enthusiastic the people were for new ideas and places to support," Excell said about setting up shop in Columbus. "Columbus is eager to support and reward good ideas."
The presence of many major corporate headquarters in the area provides a diversified economy that blends well with the many startups now calling the area home.
[Related Content: Columbus' North Market Checks All the Culinary Boxes]
Major corporations based in the Columbus area include Nationwide Insurance, L Brands (parent company of Victoria's Secret and Bath & Body Works), Designer Brands (parent company of DSW Designer Shoe Warehouse), Wendy's, White Castle and Abercrombie & Fitch.
"Because people are coming here and trying things, there are a lot of unique startups that you can't find in other places, and we have a lot of intellectual capital here, which is a lot of the reason people come," Sweet said.
"There are a lot of research institutions and The Ohio State University, so we can provide people from those places as speakers or resources for site tours if it's relevant to the conference," he added.
Columbus Meeting Venues and Convention Information
On the meetings hotel front, the Hilton Columbus Downtown is undergoing a 468-room expansion across the street from the SMG-managed Greater Columbus Convention Center, which wrapped a major renovation in 2017 that increased its exhibit space to 373,000 square feet. The Hilton Columbus Downtown offers 75,000 square feet of meeting space.
The other major convention hotel, the Hyatt Regency Columbus, contains 633 guest rooms and 72,600 square feet of meeting space.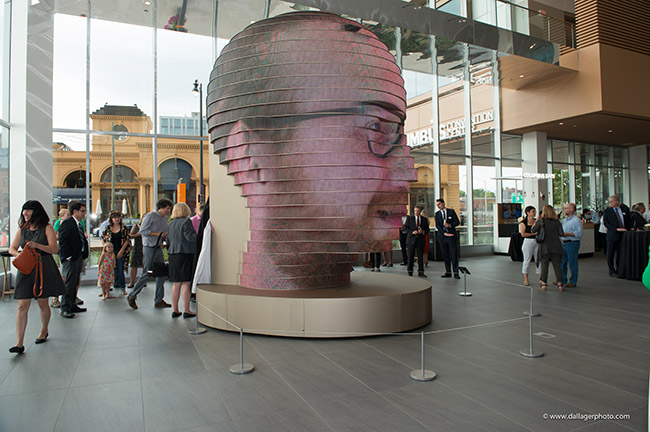 As We Are Art Installation, Greater Columbus Convention Center, Credit: Ellen Dallager
Meeting attendees traveling to Columbus can find plenty of art galleries, shopping, dining and entertainment in five visitor-friendly neighborhoods called the "Five on High" due to their location along a five-mile stretch of the city's main thoroughfare, High Street.
Highlights of the five neighborhoods, according to Experience Columbus, include:
6 Outstanding Offsite Event Venues in Columbus
Here are six offsite event venues in Columbus that will certainly impress attendees. Some are even being utilized by ASAE for its 2019 Annual Meeting & Exposition.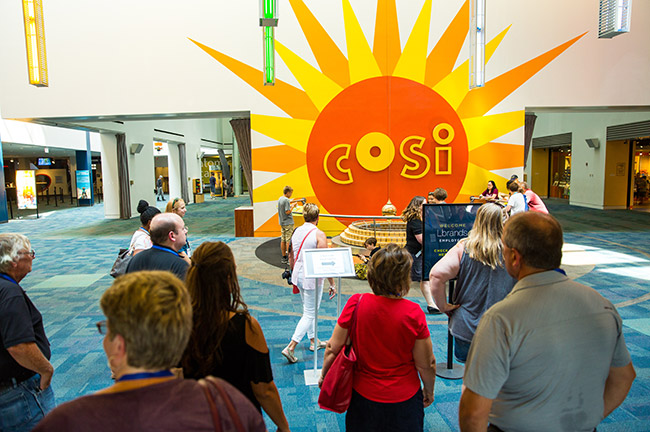 COSI (Center of Science and Industry), Credit: Experience Columbus
Site of ASAE's opening celebration, the 320,000-square-foot Center of Science and Industry boasts a prime riverfront setting and a stunning architectural design by architect Arata Isozaki.
Some of its world-class exhibit areas are presented in partnership with the American Museum of Natural History, and the facility offers the option of renting specific areas for special events or a buyout of the whole building for thousands.
COSI also offers a menu of museum-curated lecture programs and two-hour teambuilding options such as the "Power of Communication," in which participants partner to build chain-reaction machines, and "Innovation Mindset," which delves into the psychology of creativity.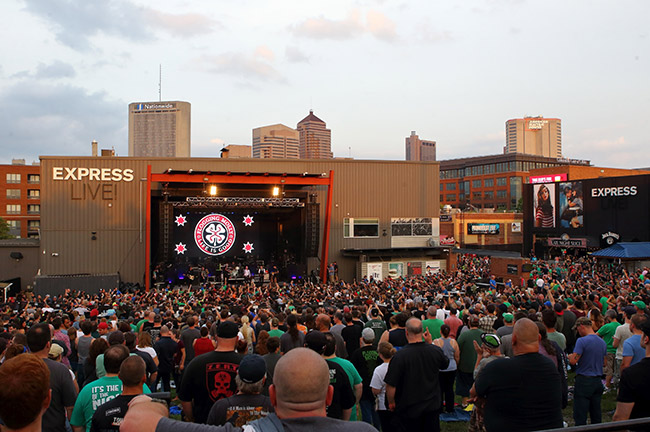 Express Live! Indoor/Outdoor Event Facility
The site of ASAE's closing celebration, this indoor/outdoor convertible venue located in Columbus' Arena District was named one of the "Top 25 Most Popular Music Clubs in the U.S." by Billboard.
The industrial-style, multi-level facility can accommodate more than 800 seated and up to 5,000 standing, and features a sound and light system fit for some of the top touring acts in the nation. The venue's flexibility allows for it to be used as a raucous concert venue or an elegant ballroom for formal dinners.
Meanwhile, Express Live!'s alternate onsite spaces such as The Basement and A&R Music Bar provide a good fit for smaller groups.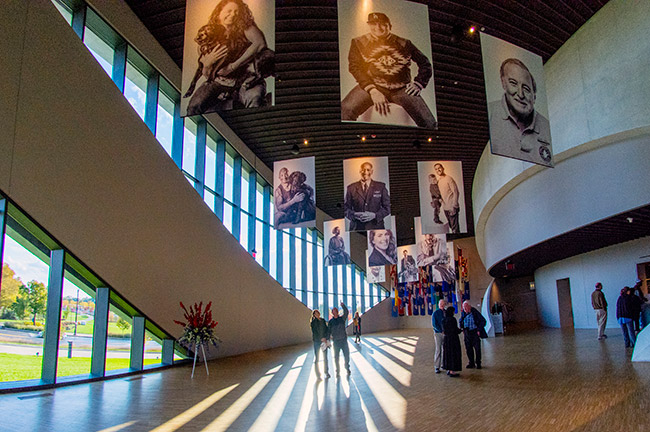 National Veterans Memorial and Museum
The newest major attraction in Columbus, which opened in October 2018, the National Veterans Memorial and Museum (NVMM) is the first facility that honors U.S. veterans from all conflicts and eras of service.
Featuring a stunning circular design, this hallowed ground offers numerous classroom areas for events, as well as space in its exhibits area and a rooftop amphitheater that can accommodate up to 1,000 guests, boasting a panoramic view of the city's skyline.
The NVMM can hold more than 500 seated and 1,000 for a reception in its inside spaces.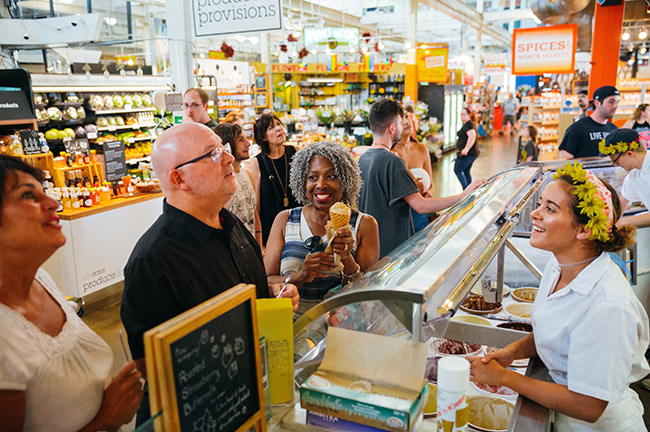 North Market, Credit: Experience Columbus
Events held at this downtown venue can rest assured that all of its attendees' appetites will be satiated, as it's the home to nearly 40 independent merchants.
Those merchants serve an exhaustive array of freshly prepared international cuisines, as well as organic produce, locally roasted coffee baked goods and cheeses.
North Market also carries the distinction of being the birthplace of Columbus phenomenon Jeni's Splendid Ice Creams. While a bustling public market during the day, groups can rent the facility for special events for up to 2,500.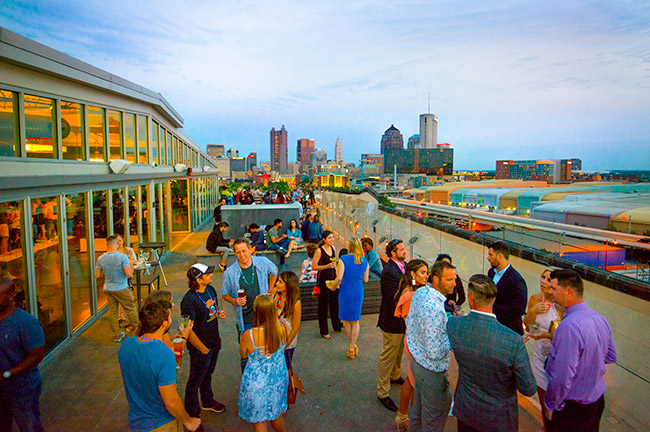 Smith Bros Hardware Building
This historic space located one block from the Greater Columbus Convention Center offers three of the city's top special event venues: Juniper, The Loft and The Venue.
The rooftop Juniper space offers 5,200 square feet of space inside and 2,000 square feet outside, with a retractable roof and walls that make it an all-season venue.
The second-floor The Loft dining room has a capacity for 200 with exposed brick walls and a glass wall that opens to a terrace.
The Venue boasts 30-foot ceilings, exposed brick walls and full-length glass doors that open to a covered terrace offering views of downtown and has a capacity for 165 inside and the ability to place a canopy on the outside space to provide additional seating.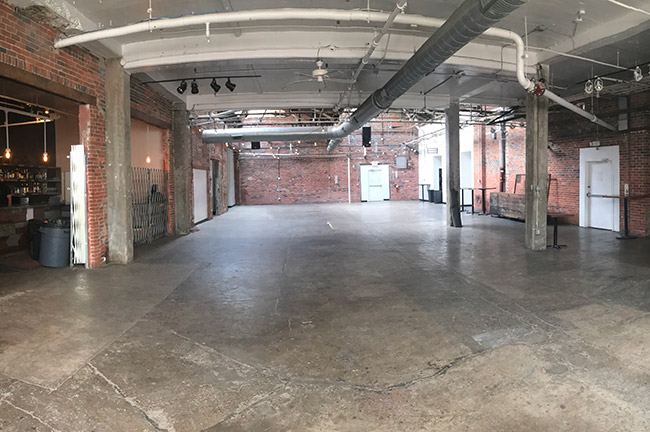 Strongwater Gallery Event Space
Located in a 100-year-old warehouse in the hipster heart of East Franklinton, this 3,500-square-foot, urban-chic space in the former EBCO manufacturing floor contains three event rooms:
the Gallery great room;
the adjoining Annex, featuring a bar made of repurposed birch;
and the private Courtyard.
The Gallery and Annex spaces include permanent bars and the facility offers in-house and preferred vendor catering options.
Strongwater shares the building with the 400 West Rich artist community, which houses more than 100 studios.
How to Get to Columbus, Ohio
Columbus is located in central Ohio, about 110 miles northeast of Cincinnati, 140 miles southwest of Cleveland and 185 miles west of Pittsburgh.
John Glenn Columbus International Airport (CMH) serves more than 40 destinations, including major hub cities such as Chicago, Atlanta, New York, Denver, Detroit, Minneapolis, St. Louis, Salt Lake City and Los Angeles. Carriers serving the airport include Southwest, American, Delta, United, Air Canada, Frontier, OneJet, Spirit Airlines and Alaska Airlines.
Its Rickenbacker International Airport offers flights from eight Southern destinations.
Columbus CVB Contact Information
Experience Columbus
614.221.6623