Star Power: 5 Tips for Hiring Celebrity Speakers for Events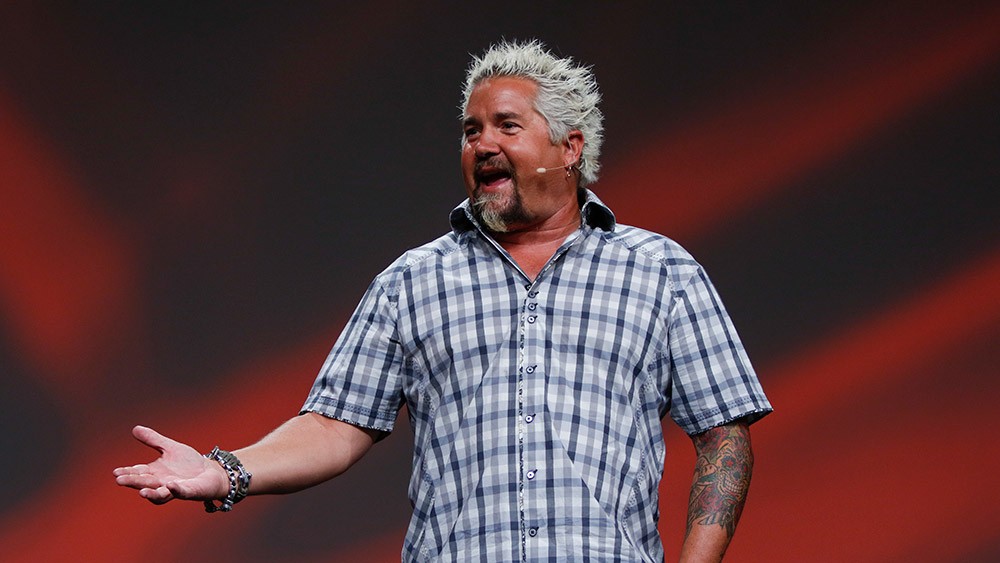 High-profile speakers at events can pack a punch.
From Olympic athletes and cooking show stars to local TV personalities, bringing in a well-known personality can create a buzz around your event, encourage attendance and even help enhance the educational element central to most meetings.
Hiring these celebrity-like speakers can present challenges, however.
Learn how to best hire a speaker that not only generates excitement around your event, but also accomplishes your event goals by following these expert tips.
1. Design Your Event First
Seasoned meeting professionals will tell you that though celebrity speakers can drum up interest in your event, it's important you don't forget meeting planning rule number one: Design your event first.
"It all depends on what the [event] design looks like, what do you want to accomplish," said Miranda van Bruck, the program director for events at MPI, who's charged with designing flagship events such as the World Education Congress (WEC) for the association. "What kind of change in behavior would you like to see? Very often, very well-known speakers don't fit what we are looking for, and we have many conversations like 'wouldn't it be great to get this big name,' but then we come to the conclusion that it doesn't fit our design.
"Design sourcing is very crucial," van Bruck added.
During the 2015 World Education Congress, van Bruck brought in Guy Fieri and the Jersey Boys to introduce the location of the following year's event in Atlantic City.
"Guy Fieri had opened a restaurant there, so it made a lot of sense to incorporate him into that story," van Bruck said. "There were possibilities to go backstage; there was a lot of excitement with him being involved in that.
"During that same luncheon we brought the Jersey Boys in to spice [things up]," she added.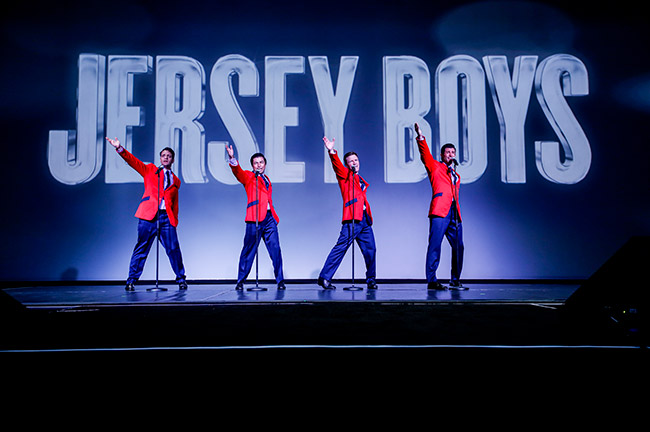 Jersey Boys Onstage at a Past MPI WEC Event
Van Bruck said they did something similar for the following year, when they had Rick Springfield introduce the 2017 event's location in Las Vegas, where he had a running show.
MPI also had a contract with comedian Dena Blizzard to emcee the event in recent years.
2. Identify the Speaking Duties You Need
Guy Fieri and Rick Springfield are examples of high-profile individuals giving introduction speeches, which is just one type of speaker at events.
Big events require different types of speakers for specific duties, and certain people have skills tailored more to one than others. Some of these speaking duties include:
Emcee: The emcee, or "master of ceremonies," is the host of a big event and keeps the crowd energized and moves the schedule along.
Introductions: A person giving an introductory speech often preps the crowd for the keynote speaker or big announcement, speaking for a few minutes about the upcoming topic.
Keynotes: The keynote address is usually the most important speaking engagement at events. This person delivers the core message of the event and in many cases provides valuable education and insights to the audience on the event topic.
Breakout sessions: At large events, there may be smaller breakouts following a keynote. The same keynote speaker may lead these sessions, delivering further detail on a topic to a smaller crowd.
When you are selecting your star speaker, make sure that they have experience speaking and that they can fulfill the needs of the speaking duties you are searching for.
"From a meetings professional standpoint, I think with speakers today, it's very hard to determine who to hire because it's hard to determine who's new and who's experienced," said Deborah Gardner, a meetings professional triple threat—speaker, meeting planner and hotel sales professional—who has over 30 years of experience in the industry. "Yes, celebrities get butts in seats. But many celebrities don't know how to deliver a speech."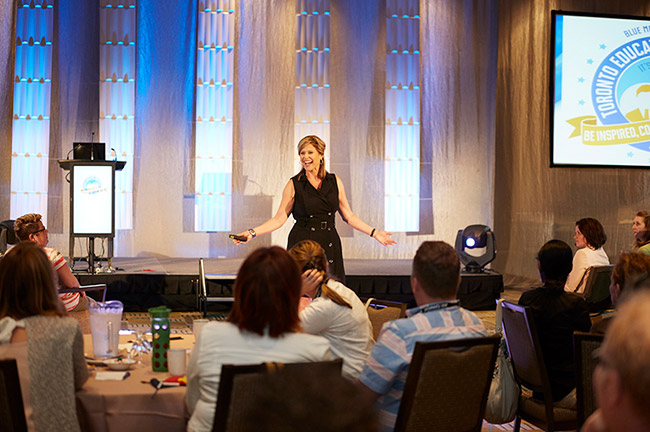 Deborah Gardner, Speaker, Meeting Planner and Hotel Sales Professional
Less experienced speakers may be better suited for emcee duties, while more experienced, high-profile speakers may be a good choice for motivational keynotes or breakout sessions.
3. Search for Celebrity Speakers Through Multiple Avenues
One of the hardest parts of hiring speakers is the search process. Dealing with someone who speaks on the side and is a celebrity figure like a professional athlete, comedian or broadcaster full-time may be hard to contact, and facilitating an introduction with these speakers can be tricky if you're new to the meetings industry and don't have a broad network yet.
Gardner recommends that beginner meeting professionals leverage the help of speaker bureaus to begin their search and make the initial connection.
"A lot of celebrities go through bureaus because they don't have time to solicit business," Gardner explained. "I think it's really important to talk to them [the speaker] directly, though, but you have to request that."
Additionally, you can also work with the CVB in the destination you're holding your event in to help leverage local names.
"Locally, people with feet on the ground who have the connections with the speakers make it so much easier to [facilitate] a warm introduction with someone," van Bruck said.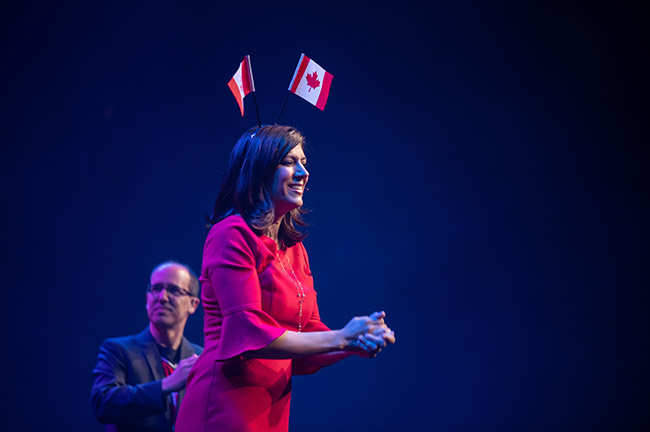 Comedian Dena Blizzard Onstage at a Past MPI WEC Event
Gardner noted that there typically are more stakeholders in the speaker selection process than before—they can range from the meeting planner's boss to the audience members themselves—and that you can leverage their input and network during your search.
"As a supplier—I was a hotelier—I saw sponsors being more involved with the speaker selection as well," Gardner said. "They are paying for the meeting and they introduce the speakers sometimes, but now it's getting to the point where they are starting to select speakers.
"When I'm a speaker at an event, I have four bosses: the meeting and events professional, the CEO/stakeholders, sponsors and the audience," she added.
4. Always Schedule a Pre-Call and Post-Call
Whether your scheduled speaker is a celebrity or not, you should set up a pre-call with that person well in advance of the event.
If you are unable to make this happen in person, do it over the phone.
Lex Gillette, world record holder and medal-winning track and field Paralympic athlete for Team USA who is blind, is also a seasoned keynote speaker at big events, and said that even during busy Olympic years, he always makes time to have a pre-call with the meeting planner.
"Coming from that athlete's space, being able to sit down with my coach and talking about training, competition, that makes me feel really comfortable," he said. "I have a road map. It's the same for me when I'm speaking to meeting professionals.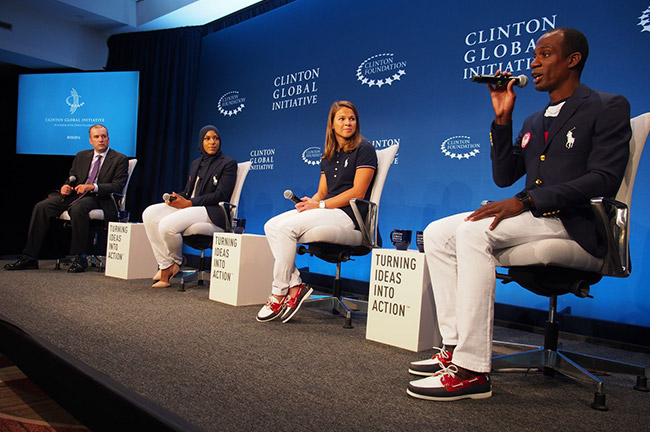 Lex Gillette (Right) Taking Part in a Panel Discussion, Credit: The Clinton Global Initiative
"I want to know exactly what the company needs, what they are trying to achieve, what do they want out of my presentation, what do they want to take away," Gillette added. "That helps me to get on stage and be able to deliver what they are looking for."
Additionally, Gillette said the post-event debrief is equally as important.
"I absolutely try to reach out and get some feedback on how the company liked it—did they enjoy it, and did I achieve what they wanted me to achieve?—and it helps me as a speaker, being able to move to the next event," he concluded.
5. Go Beyond Marketing: Involve the Speaker in the Event Experience
Being able to promote your high-profile speaker's brand in conjunction with your event is part of their allure. But you can make their involvement in your event even more impactful by requesting they go beyond standing on stage and simply speaking.
"The ones [speeches] that are more enjoyable are those that are interactive," Gardner said. "Unless it's a motivational speech, it's now about entertainment through interactive exercises.
"Audiences don't want to learn from just one brilliant mind, they want to learn from multiple [people] in the room; the audience wants to learn from each other," she added.
"Attendees aren't attendees anymore, they're participants."
[Speaker Spotlight: Lex Gillette, Paralympic Athlete and Motivational Speaker]
Gillette said he involves the audience in breakout sessions at events after his keynote address.
"I use the sports platform to give groups a chance to try out events that I compete in. But when I compete, I have to wear a blindfold, and we give individuals opportunities to experience that," Gillette said, explaining that when he competes in the long jump, he does it completely by audible cues. "After, we then debrief and talk about the lessons behind that. A lot of the participants that take on the challenge include leadership executives and C-suite officers."
Additionally, you can set up Q&As and meet-and-greet events with the speaker.
[Read This Next: 14 Helpful Speaker Tips That Are Worth Saving]