4 Easily Accessible and Unforgettable Coastal Meetings Destinations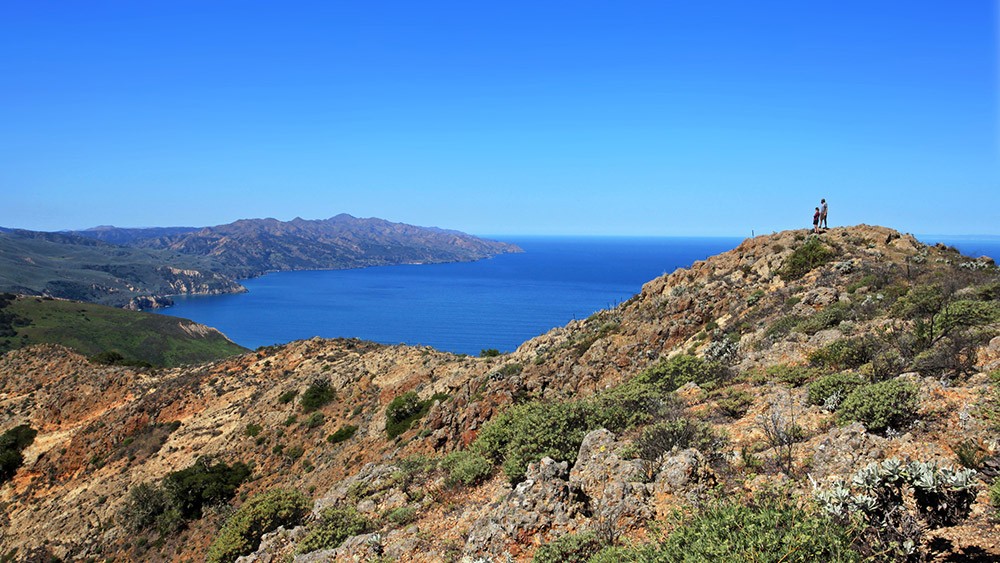 A coastal meeting or event can be closer than you think. Beach activities, ocean views and waterfront venues can be found a short drive or plane ride away from major metropolitan hubs.
Attendees don't need to spend a day traveling, and planners can forget the hassle of connecting flights and transportation to and from remote areas.
Here are four beachfront destinations that provide escapes from busy urban life—while still being easily accessible from larger cities nearby—so that you can incorporate some relaxation time into the agenda.
1. Monterey, California
Monterey is situated on the north end of California's Central Coast, about 75 miles from downtown San Jose and about 100 miles from San Francisco. The city is home to attractions such as Cannery Row, the Monterey Bay Aquarium and Fisherman's Wharf. The Monterey peninsula is also home to Pacific Grove, Pebble Beach and Carmel-by-the-Sea.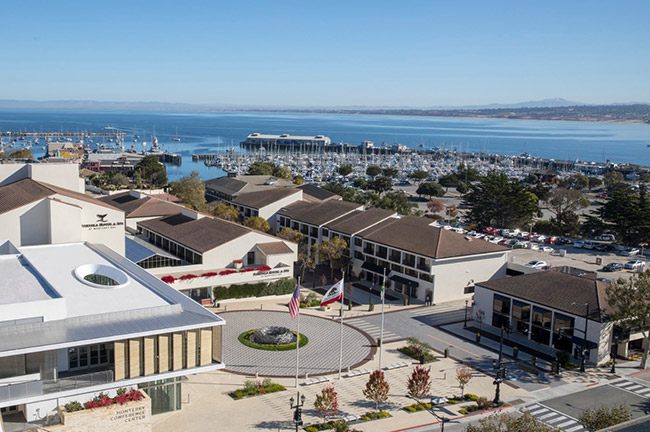 Coastal Views in Monterey, California
The Monterey Conference Center completed a $60 million renovation and expansion in 2017 that resulted in an LEED certification. The facility is adjacent to the Portola Hotel & Spa.
The property boasts 379 guest rooms and more than 60,000 square feet of meeting space when combined with the adjacent Monterey Conference Center.
Along with the Monterey Marriott across the street, these properties offer 85,000 square feet of meeting space, 19,150 square feet of exhibition space and 700 guest rooms.
"Both meeting planners and attendees have often said what an incredibly beautiful destination [Monterey is], filled with countless ways to enjoy [surroundings] and be inspired," said Janine Chicourrat, general manager of the Portola Hotel & Spa.
Coastal Group Activities in Monterey:
Monterey Bay Aquarium Event Details
Monterey Bay Aquarium event spaces include Open Sea, where guests can take in the view of schools of fish and sea turtles swimming nearby; and Ocean's Edge, which allows attendees to sit beneath a kelp forest, with sharks and eels swimming by.
The aquarium is also available for a buyout for up to 2,500.
2. Ventura County, California
Ventura County Coast encompasses a string of four California communities between Los Angeles and Santa Barbara. With 200,000 square feet of conference space and more than 5,000 guest rooms in more than 60 properties, the region is nicely equipped to accommodate groups. It's also a more affordable coastal option than its neighboring cities.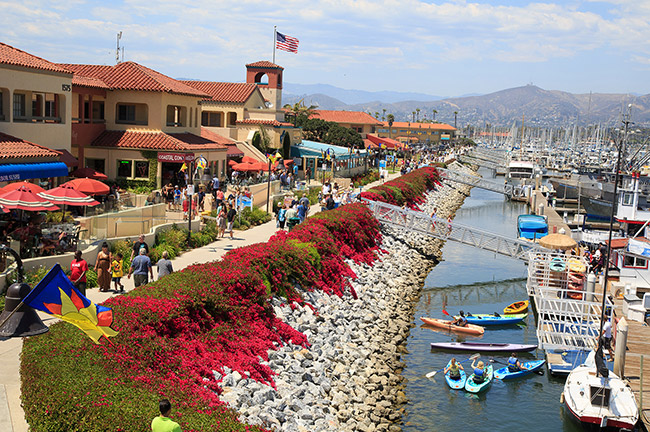 Ventura County, California
"There is a feeling you get when you explore the region—The only way I can explain it is good vibes," said Brian Tucker, executive director of the Ventura County Lodging Association.
"We have 22 miles of coastline and numerous outdoor adventure opportunities, including direct access to the Channel Islands National Park," he added.
Coastal Group Activities in Ventura County:
3. Galveston, Texas
Thirty-two-mile-long Galveston Island sits 50 miles south of Houston on the Gulf Coast, providing a tropical island escape in Southeast Texas.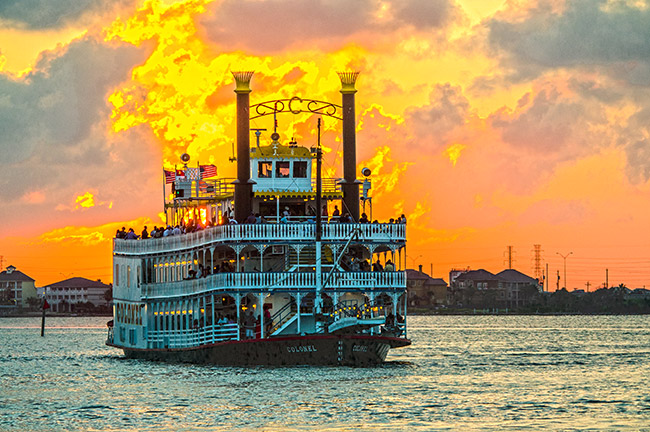 Galveston Moody Gardens Boat, Credit: Galveston CVB
The island is home to the Galveston Island Convention Center at the San Luis Resort, which offers 140,000 square feet of meeting facilities, including a 43,100-square-foot exhibition hall, a 15,500-square-foot grand ballroom and 12,000 square feet of breakout space.
There are more than 700 guest rooms adjacent to the center and another 1,400 nearby.
Coastal Group Activities in Galveston:
Another Coastal Meetings Classic in Texas
Also on the southeast Texas Gulf Coast, the city of Beaumont can provide an escape from the Houston metropolitan area. The city's two convention centers and 3,500 hotel rooms make it a destination well-equipped for meetings and events.
The Ford Park Entertainment Complex includes five facilities, including Ford Arena, with 8,500 seats and a 34,000-square-foot exhibit floor, and Ford Exhibit Hall featuring 48,000 square feet of space. The Beaumont Civic Center has 41,300 square feet of function space.
4. Wilmington and the Beaches, North Carolina
Wilmington made Southern Living magazine's "The South's Best Cities" in 2019. Kim Hufham, president and CEO of the Wilmington and Beaches CVB, attributes this partially to the city's walkable River District, connected by a nearly two-mile scenic Riverwalk.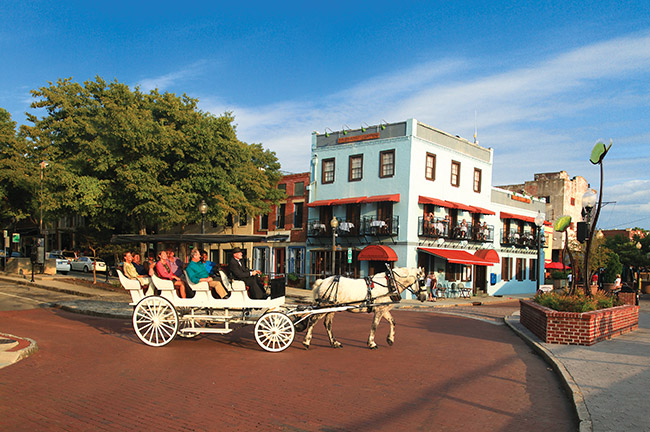 Horse and Carriage Tour, Wilmington and the Beaches, North Carolina
Wilmington's Convention District is home to the Wilmington Convention Center—the largest convention center on North Carolina's coast.
"Its burgeoning River District combines the city's historic charm and rich past with modern design and new attractions, offering planners a fresh [coastal meetings option]," Hufham said.
Wilmington and the Beaches is 360 miles from Washington, D.C., and 300 miles or less from several major cities in Georgia, North Carolina, South Carolina and Virginia.
Coastal Group Activities in the Wilmington and Beaches region:
[Read This Next: Coastal Adventures Await Thrill-Seeking Attendees]