Host Your Event in The Great Gatsby Mansion and 5 More Notable Offsite Venues in Newport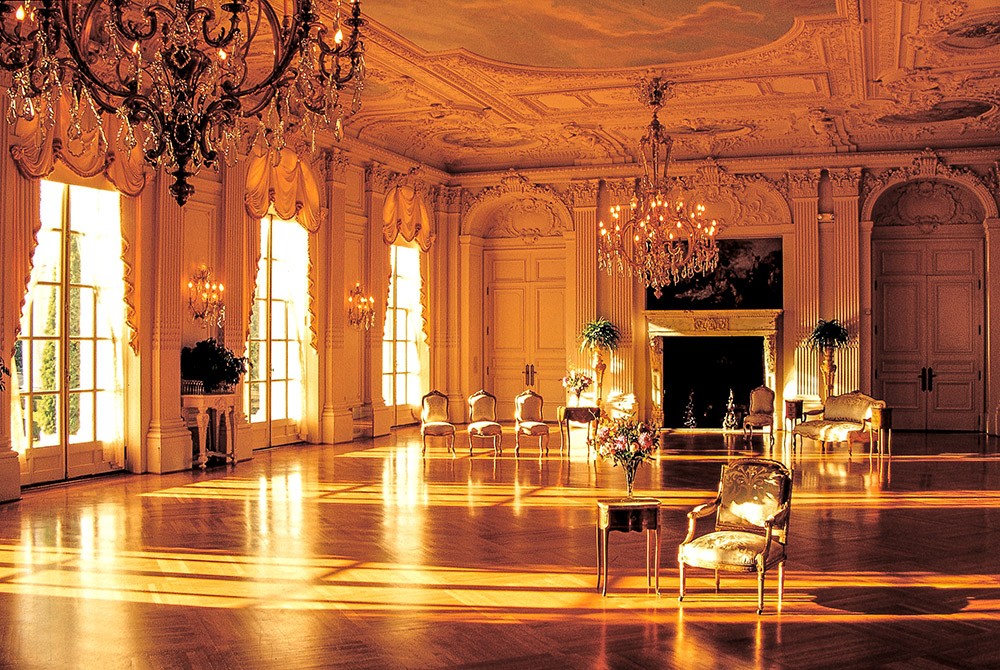 At just over 11 square miles, Newport may be small on the Rhode Island map, but don't let its size fool you. This New England charmer is chock-full of character all its own, with a stunning waterfront setting, rich seaport and sailing heritage, high-society mansions and other intriguing treasures.
When it comes to leaving indelible impressions on attendees, offsite venues and experiences are an area where Newport truly shines, according to Evan Smith, CEO of Discover Newport.
"If you ask meeting delegates what the highlight of the trip to Newport was, eight out of 10 people would probably say the dinner at Rosecliff, one of our mansions from the Gilded Age," he said. "But there are so many unique venues and experiences here—the mansions, the historic International Tennis Hall of Fame and Fort Adams, the largest and oldest colonial fort on the American East Coast.
"While our venues run the gamut from classic to modern, we're selling older chapters of American history with many of our experiences," he added, pointing out that some of the destination's buildings are 300 years old.
Smith, along with Tim Walsh, vice president of sales for Discover Newport, shed light on six top distinctive offsite picks that are sure to leave a lasting impression.
The late 1800s and early 1900s are alive and well along Newport's shoreline, thanks to the Preservation Society of Newport County's Newport Mansions, which encompass some of the grandest structures ever built on American soil.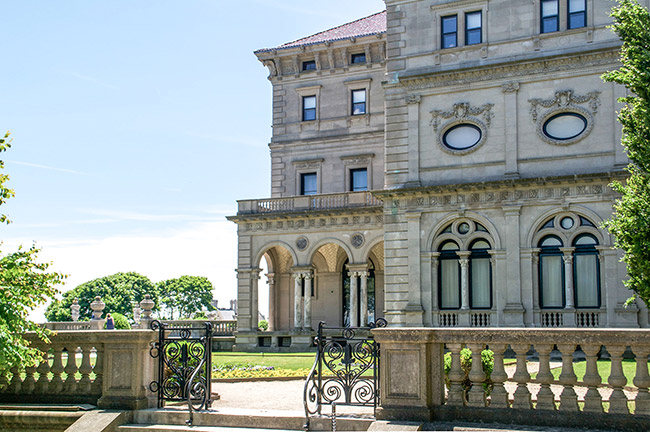 The Breakers Exterior View, Credit: Newport Mansions
Several can be used for small to large events such as receptions, dinners and theme parties, including the Italian Renaissance-style Breakers, built for Cornelius Vanderbilt II; the Beaux Arts-style Marble House, built for William K. and Alva Vanderbilt; and the Baroque Revival-style Rosecliff, built for Nevada silver heiress Theresa Fair Oelrichs.
"One of the hallmark experiences for groups meeting in Newport continues to be having a special function at one of the Newport Mansions," Smith said. "The whole experience of finishing a meeting at a hotel, then getting on a bus for a short ride to one of these extraordinary pieces of architecture on the waterfront is amazing.
"It's like being on a movie set," he added. 
[Related Content: 9 Famous Filming Locations You Can Host an Event at in Real Life]
Indeed, the mansions have been the backdrop for numerous films. Rosecliff alone has set the stage for The Great Gatsby, True Lies, Amistad and 27 Dresses.
"Rosecliff is jaw-dropping," said Tim Walsh, director of sales for Discover Newport. "During one of the dinner events held there, an attendee came in and started crying because she couldn't believe how beautiful it was. That's quite a testament to what we offer here."
The International Tennis Hall of Fame is a magnet for anyone who has ever held a racquet in their hand, but it appeals to everyone as an icon of Newport, according to Smith.
"It has such essence of the greatest players in the game of tennis, and every July, it hosts the Association of Tennis Professionals (ATP) World Tour following Wimbledon in England," he said. "It's also an architectural marvel—one of the oldest shingle-style buildings in America."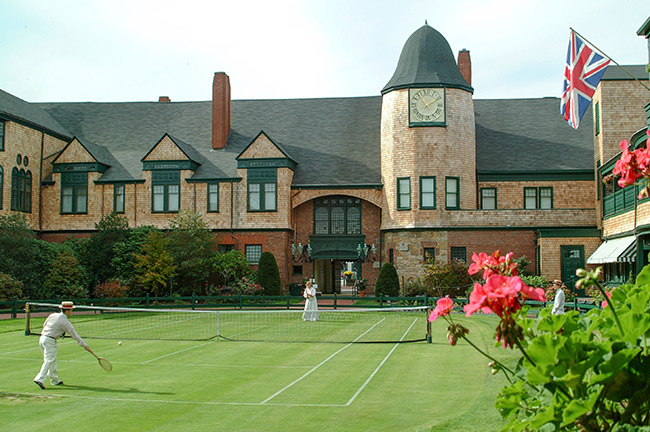 International Tennis Hall of Fame, Credit: Discover Newport
Originally built in 1879 as the Newport Casino, it was saved from demolition in 1954 and transformed into the International Tennis Hall of Fame.
Today, it's one of Newport's top private event venues. The seven-acre property features everything from unique interior spaces to open-air porches and manicured grass courts. In addition to events, the International Tennis Hall of Fame is a popular spot for teambuilding.
"You can have tennis competitions on the grass courts, and groups really love to do croquet outings on the courts," Walsh said. "Then they can have a nice lunch with local seafood, local wine and local beer in the Horseshoe Piazza, their outdoor function space."
The massive fort and grounds that grace the southern end of Newport island is another one of the destination's movie-material locations. Fort Adams provided the dramatic backdrop for a recent episode of The Bachelorette, during which the men vied for one woman's attention while playing rugby. It can deliver a remarkable "set" for private events, too.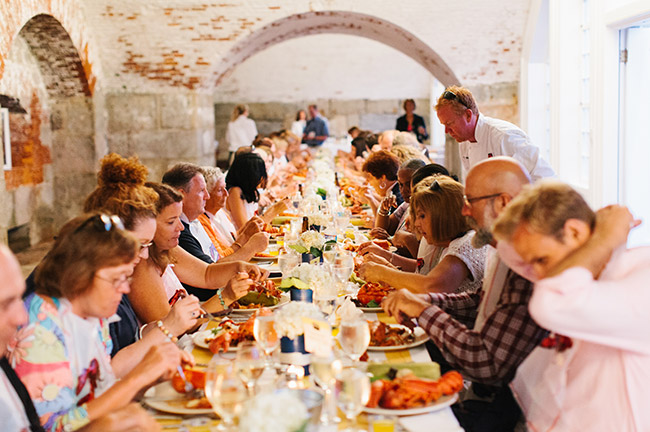 Fort Adams Clambake, Credit: Erin McGinn
"Its natural setting is extraordinary because it has water on three sides," Smith said. "It has a sweeping view of the Pell Newport Bridge and Narragansett Bay. And you're looking back across the harbor at a beautiful view of the city skyline.
"There's no place in Newport that has those kind of vistas," he added.
[Related Content: How to Experience Providence, Rhode Island, Like a Local]
For meeting planners, the flexibility and versatility of Fort Adams make it a great place for small and large events, according to Smith.
"It's where the Newport Jazz Festival and Newport Film Festival take place, so it's a great venue for larger platforms like that, and we have corporations coming out and doing everything from teambuilding to lobster and clam bakes to elegant receptions," he said.
Tours of the storied Fort Adams, which dates to 1799, can be an add-on for group events, as well as a walk or run along the Bay Walk.
History and locally inspired creativity are in store for attendees heading to the Newport Art Museum for private events.
"This museum is special because it is part of the fabric of Newport—housed in one of the city's old homes," Smith said. "It looks like something out of Harry Potter."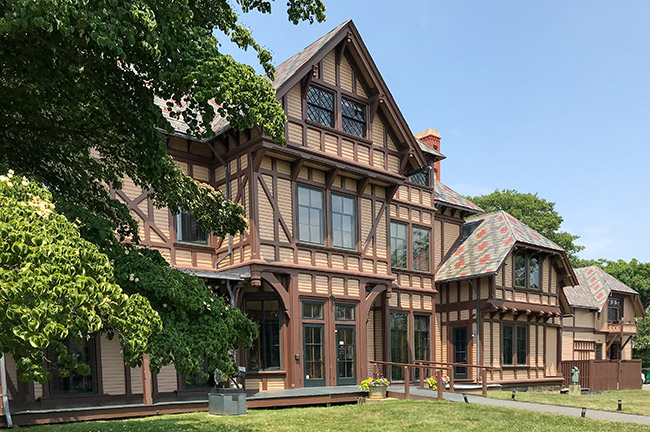 Newport Art Museum, Credit: Discover Newport
Built in 1864 as the Griswold House, the building is a National Historic Landmark designed in the Victorian Stick style.
"It's a gorgeous facility with warm exterior paneling that makes for a great arrival, and it has beautiful artwork," Smith said, adding that the museum specializes in prominent New England artists only.
Artsy interiors and landscaped grounds are available for events, including cocktail receptions, lunches and dinners.
History of the more recent kind sets sail with two Newport sailing companies: America's Cup Charters and 12 Meter Charters. The companies operate restored classic sailing vessels originally built in the mid-20th century.
"Some of these boats have raced and won the America's Cup, so it's quite an experience for corporate groups to learn the ropes and have a chance to compete in their own America's Cup regatta," Walsh said.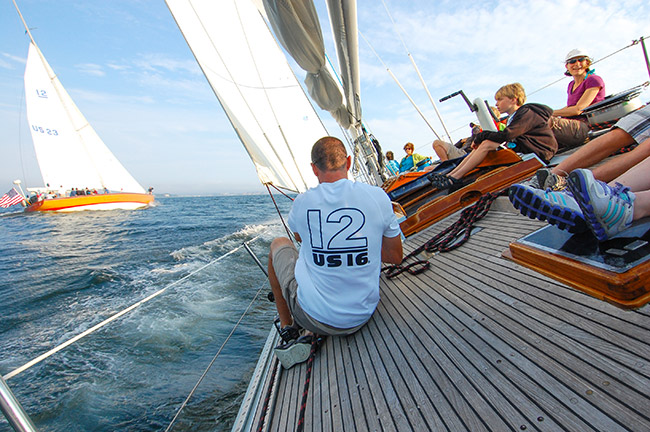 12 Meter Charters Group Outing on the Water
Groups are split into teams on several boats and given gear associated with the boat, including hats and T-shirts. After the captain and crew take each team around the course, teaching each participant a skill required to keep the boat moving, the boats head back to the start line.
"The groups race against their colleagues, applying the skills just learned, to see who can be the best team on the best boat and come out victorious," Walsh said.
America's Cup Charters also features yachts that are available for private group outings.
Newport also has its share of standout modern offsites for groups, one of which is Belle Mer. The high-end venue is situated on the edge of Narragansett Bay and offers views of Fort Adams, the Pell Newport Bridge and boats going by. 
"Belle Mer is a special place with its location right on the water," Smith said. "It's a very contemporary building that is all white inside, so that when designing an event there, you have a white palate to work with so you can inject your own colors."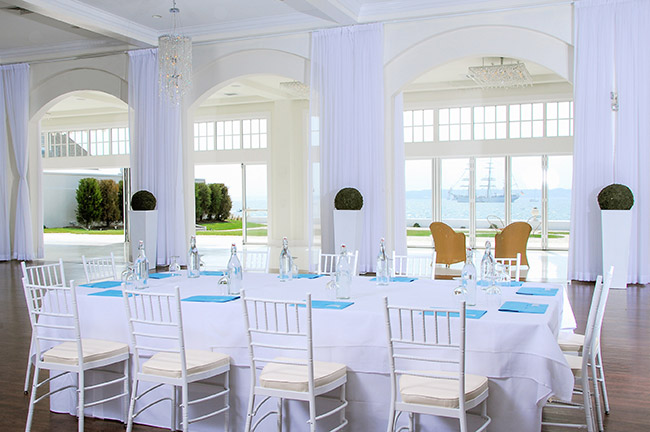 Belle Mer Event Setup, Credit: Longwood Events
A highlight of Belle Mer is seven acres of lawn and an inviting gas firepit at the water's edge.
"It's nice for delegates to be able to go relax overlooking Narragansett Bay by the warmth and glow of the fire," Smith said. 
Belle Mer can accommodate receptions, meals and other group events.
No matter where attendees decide to spend time away from the meeting room in Newport, they can look forward to a quintessential, uniquely New England seaport experience.
Newport CVB Contact Information
Discover Newport
401.849.8048