4 Tips to Plan Better Family-Friendly Meetings and Boost Attendance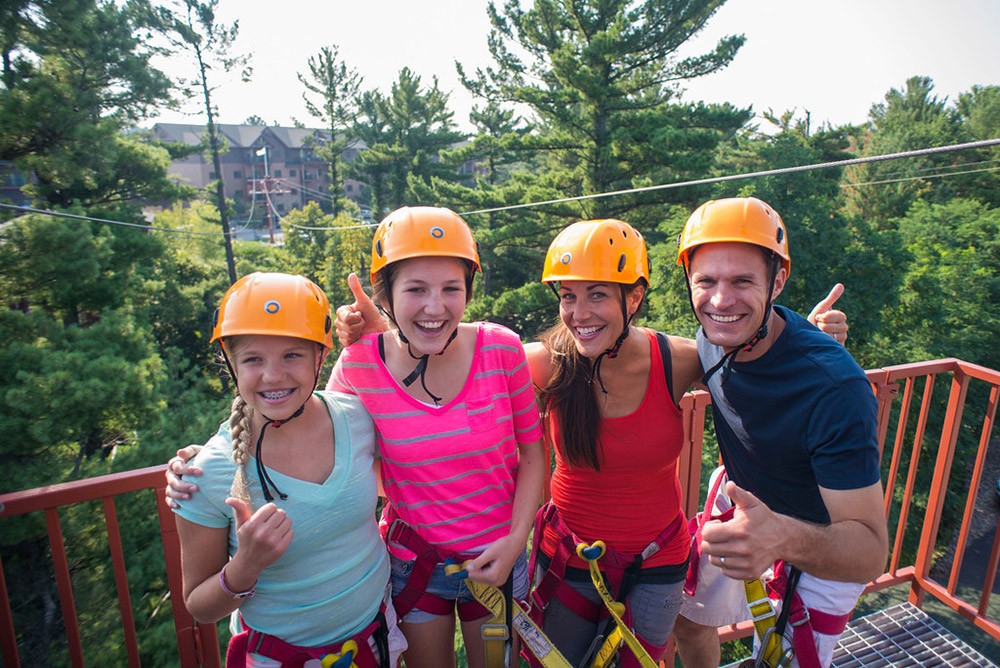 Planners are always searching for the secret to a higher attendance rate. You may be surprised to find that one of the most successful ways to achieve those attendance goals is to bring the kids and spouse along.
"I hear many times that they [family-friendly meetings] have increased, or even set record, attendance when hosting their event with us in the Dells," said Shannon Timmerman, director of sales at Wilderness Resort in Wisconsin Dells.
The Wisconsin Dells—the "Waterpark Capital of the World" and one of the most family-friendly destinations in the Midwest—sees this at many of their resorts.
In fact, the Kalahari Resorts & Conventions sees an average 20 percent increase in meeting attendance when families tag along.
"The MICE industry is such a critical part of our business," said Tifani Jones, corporate director for group sales at Kalahari Resorts & Conventions.
"It's so interesting how often you see children attending as well," she added. "When somebody has an opportunity to come to an event and bring the kids they will."
With the right tools, organizing a meeting that allows family members to join the trip can significantly boost attendance at your event. Keep these tips in mind as you plan.
1. Pick a Family-Friendly Destination
The destination often drives attendance, and that holds true when the family tags along too.
If you want to host a family-friendly meeting, pick a destination that is both meetings-capable and naturally geared toward families. Many destinations in the Midwest fit this bill, with the Wisconsin Dells leading the way.
"Wisconsin Dells hosts over 5,600 meetings in a year and meetings become a destination when hosted here," said Kyra Popp, assistant director of sales at Wisconsin Dells Visitor & Convention Bureau, noting that the Dells is home to 500,000 square feet of meeting spaces and 8,000 hotel rooms.
"There is also no shortage of kids' activities for families to stay busy while a parent is working," she said. "Resort properties offer indoor and outdoor waterparks, escape rooms, virtual reality arcades, play areas … not to mention Wisconsin Dells is home to 90-plus attractions with scenic river tours, theme parks, mini golf, ziplining, boat rentals, live entertainment and more."
[Related Content: 8 Group-Friendly Activities in Wisconsin Dells—Beyond Waterparks]
Jones confirms this, saying that the Kalahari's Wisconsin Dells location offers activities for kids throughout the day, like the waterparks, arts and crafts classes and more.
"Most often, depending on the nature of the event that's held in our facilities, you'll find another parent or a grandparent traveling along, and that person is taking the kids to enjoy the resort," she said.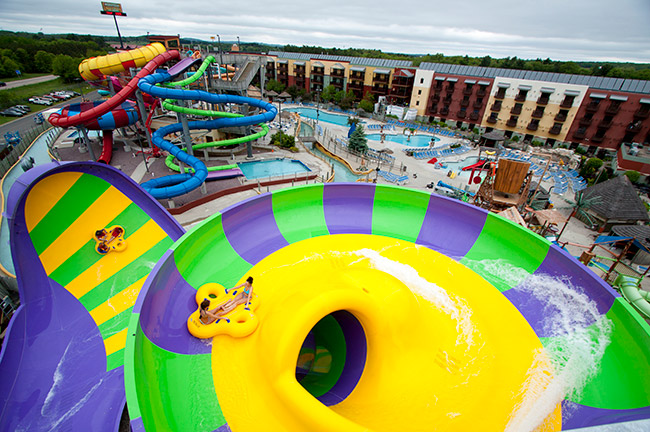 Outdoor Waterpark at Kalahari, Credit: Kalahari Resorts
Jennifer Rzepka, vice president at SAMI, an association management company, plans annual family-friendly events in the Wisconsin Dells, Wisconsin, and Alexandria, Minnesota. She experienced first-hand the important of destination selection.
"Our event in Alexandria is so popular, we've hosted there for seven years," Rzepka said. "One year, we oversold and had to get a second venue, so we planned another event in Duluth, Minnesota.
"We didn't change any of our planning strategy, but less than a dozen kids were brought along (versus 170 at our Alexandria event)," she added. "Duluth has more of a college town feel, so this was proof that the venue and destination make all the difference."
Moreover, when the family tags along, it's possible that your attendees will want to add a day or two before or after the event for some vacation time, in step with the bleisure trend that continues to influence meeting and event planning.
Selecting the right destination is even more important when considering this—not only does the destination need to check off meeting space needs and kid-friendly amenities, but it needs to double as a potential vacation spot for mom and dad, too.
"More and more attendees are bringing the family along and extending their time in the area, making a family vacation out of it," Popp said, emphasizing that the Dells is well-equipped for requests like this, being one of the Midwest's most popular vacation spots.
2. Arrange Pre- and Post-Stay Rates
When family-friendly meetings are marketed with the potential to extend the trip into a family vacation, planners can take the extra step of making bookings easier for their attendees.
Popp explained that planners can and should request pre- and post-stay rates during contract negotiations with resorts. Securing discounted rates for bleisure travel before or after the event can incentivize attendance event further.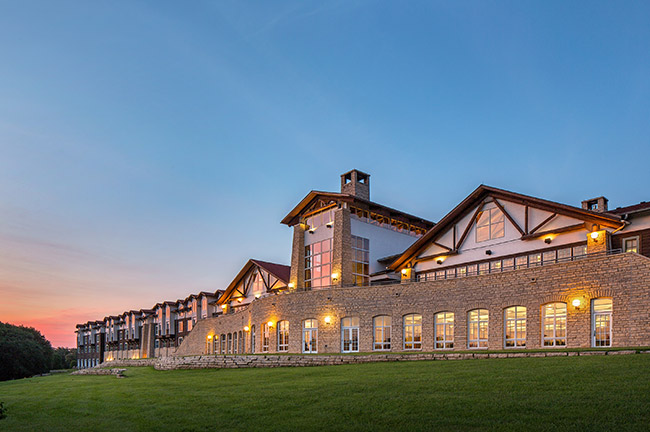 Lied Lodge and Conference Center Building Exterior at Dusk, Credit: Lied Lodge
Wilderness Resorts' Timmerman, who sees these requests come up at her resort, recommends that planners ask the following questions during negotiations:
Does the property charge for families to stay in the rooms? Or will they waive the extra person fees?
If the company is paying for the rooms, do they have that potential charge budgeted? 
Does the resort have incentives to entice families to join, such as discounted activities? 
Jennifer Phillips, a senior conference planning manager with Lied Lodge & Conference Center in Nebraska City, advised planners to also ask about accessibility needs for family members.
"Planners should be sure to find out if there are any special dining needs, accessibility needs and ages of the family members to be certain they are planning the activities accordingly," Phillips said.
At the Kalahari, Jones said that the resort does offer pre- and post-stay rates, but those deals can vary depending on availability at the resort and the time of year.
"The biggest thing is flexibility with dates," Jones said. "For large-scale events, ideally [planners] would place that request in the two- or three-year window.
"Associations that want to come yearly well beyond that," she added. "We have had corporate groups contact us six months out, but they need to be flexible with their days."
3. Work With the CVB to Promote Your Event to Families
Once you've selected your destination and venue, leverage the help of the CVB of your destination to help market your event as family friendly. The CVB and meeting planners share a similar goal of getting as many people as possible to travel to the destination hosting the event, so partnering with them from the beginning can be beneficial to both parties.
"We can send our Wisconsin Dells Vacation Guide in a mailer with your pre-convention materials," Popp said. "This will get your attendees excited ahead of time."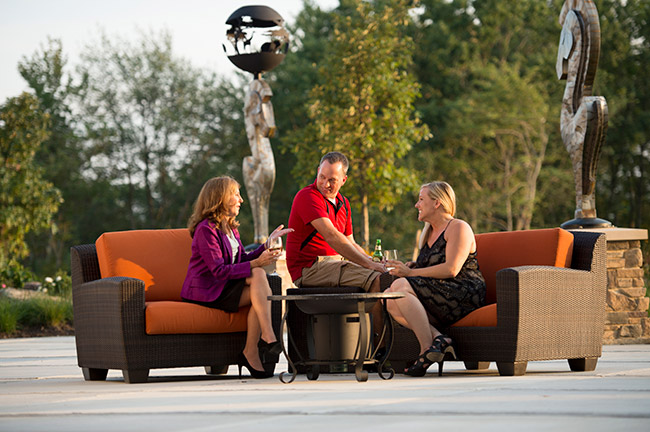 Outdoor Meeting Space at Kalahari, Credit: Kalahari Resorts
In addition, making it clear early that your event is open to adults and kids gives busy families plenty of advance time to fit the children into their travel plans. Also, if a family wants to build in some free time before or after the event for vacation, they have plenty of advance notice for considerations like taking the kids out of school or taking days off of work.
4. Talk to Other Planners
Considering planning a family-friendly event for the first time? Jones recommends that the best advice can come from your peers.
"Planners love to hear from other planners," she said. "We can connect planners with other planners, whether it's a corporate group where the families are being invited to come along or an association event where families can come, but it may not be heavily promoted."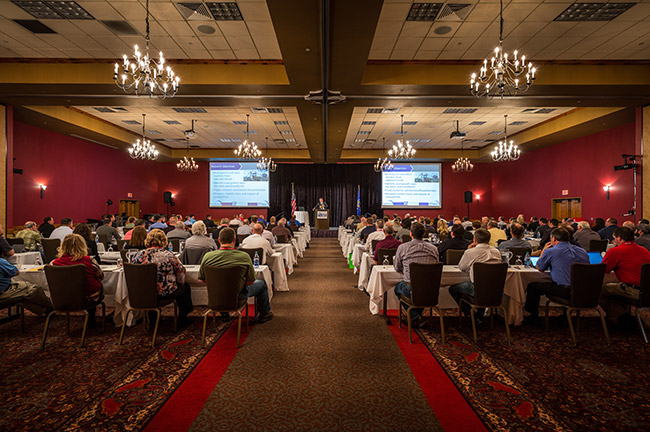 Glacier Canyon Meeting Space at Wilderness Resort, Credit: Wilderness Resort
Planner Jennifer Rzepka shared some of her best bits of advice to fellow planners, including:
Ask your attendees why they want to bring their family. At our events, families have gotten to know each other and develop relationships, so now it's become an annual thing. They look forward to the education but also getting together.
Be mindful of event timing. We see higher attendance when we plan around dates when parents don't have to pull their kids out of school.
Trust the people around you. If you select the right family-friendly hotel, the staff will be used to these types of meetings and may have childcare services or can connect you with local companies.
Don't charge a family or child rate. This shows we really want them there. This gets attendees to come with their families when they wouldn't otherwise.
Serve buffet meals. Meal counts get tricky. There's more fluctuation with sick kids, field trips, if a spouse can't make it, etc.
With these considerations, Rzepka had one last piece of parting wisdom.
"You can't just slap a family-friendly label on a meeting, you have to put in the work," she said.
[Read This Next: 4 Midwestern Resorts That Can Easily Host Family-Friendly Meetings]