Meeting Design That Blows Our Minds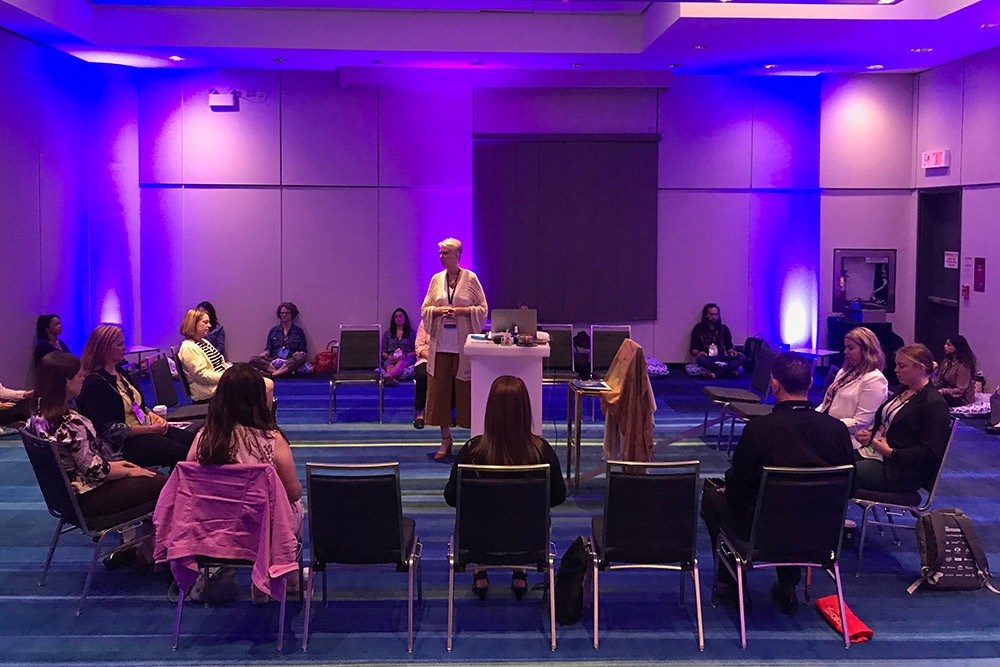 Inspiring decor is key to solidifying attendees' perceptions of an organization holding a meeting or event, from the creativity of the design to its functionality and the messaging that moves along the storyline, or theme, of a program.
The editors of Meetings Today have a unique opportunity to see some of the best examples of these concepts due to their jobs covering the meetings industry, from press and fam trips to major industry events and story research.
Following are three sets of standout event design and decor examples they've seen out on the road over the past year covering the meetings industry, which you can use to gain inspiration for your own events, large or small.
3 Event Design Inspirations From Danielle LeBreck, Lead Destination Content Strategist
1. Gran Destino Tower, Disney's Coronado Springs at Walt Disney World, Orlando
Often, when you hear the word "event decor" you think of the temporary setups put in place for an event to make it feel special.
Increasingly, however, I'm seeing new venues infuse fun interior designs into their new meeting spaces, making them event-ready without needing additional decor.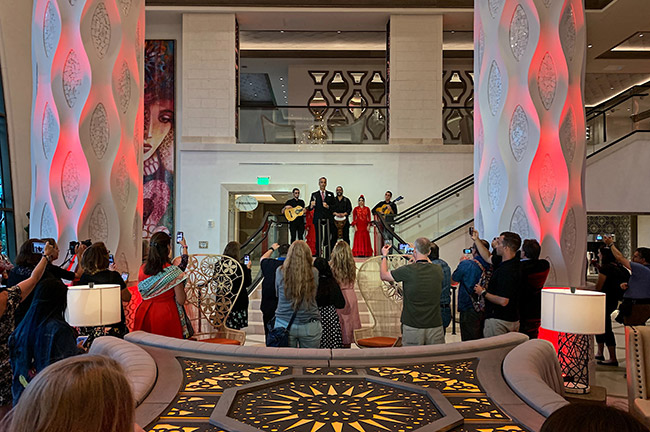 Take, for example, the new Gran Destino Tower that opened July 2019 at Disney's Coronado Springs. One of my favorite games to play while I was onsite was "find the Mickeys."
In its paintings, wall decals and carpets, the careful observer can find Mickey silhouettes hidden in plain sight—but not in a cheesy way. It's all classy and elegantly done, while also adding personality and color to a Disney property.
During evening cocktail and dessert receptions, the staff didn't need to add any decor to the lobby. It was already impressive!
I'm a sucker for impressive food spreads. A platter featuring all the colors of the rainbow not only signals a well-balanced meal, but is pleasing to the eyes, which is why elaborate food plating and design can really add a wow factor to cocktail hours and receptions.
I have a long list of meals I've enjoyed that doubled as decor.
My most recent example was during a cocktail hour at Loews Portofino Bay Hotel at Universal Orlando during a trip with Visit Orlando for Meetings Today.
[Related Content: 5 Event Design Tips That Will Spark Your Creativity]
While on the bayside patio, our group enjoyed bubbly and hors d'oeuvres served to us in one of the most creative setups I've seen in a while.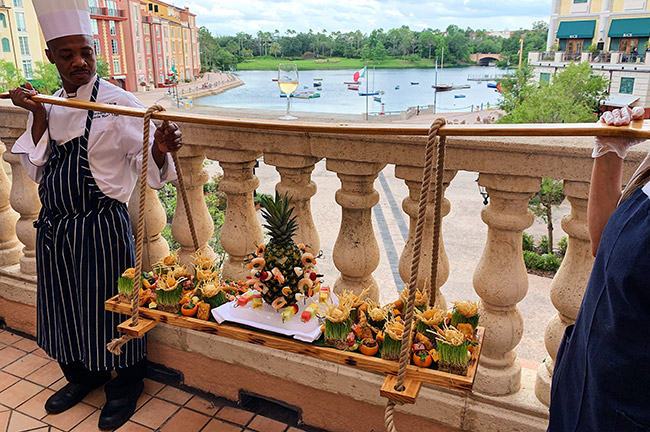 Wooden platters held up by ropes were waltzed onto the patio, piled high with mozzarella-tomato skewers, meatballs, fresh fruit, assorted charcuterie and more. The Italian immersion got kicked up a notch when an opera singer serenaded us live from a nearby balcony.
3. NCAA Final Four Celebration, Nicollet Mall, Minneapolis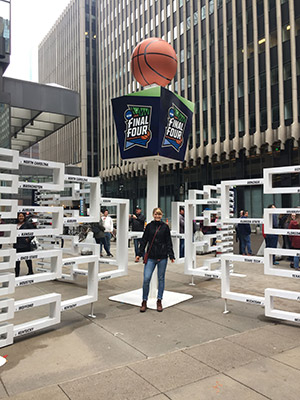 As a Minneapolis resident, I've been lucky to witness both a Super Bowl and NCAA Final Four Tournament come to town over the past couple years. Both events created some fun fan buzz around the sporting events on Nicollett Mall, a 12-block pedestrian and transit mall stretching through the heart of downtown.
This past spring 2019, I attended the "Tip-Off Tailgate" event for NCAA Final Four on Nicollett Mall and found the area completely transformed.
I was especially impressed by the creative basketball-themed outdoor decor, including the oversized March Madness bracket in the middle of the action that made for an excellent Instagram moment.
3 Event Design Inspirations From Tyler Davidson, Vice President and Chief Content Director
1. Lee Papa's Mindfulness Lounge™, MPI WEC 2019, Toronto
Wellness expert Lee Papa has been on a one-woman mission to bring mindfulness to meetings since launching her keynote How to Live & Lead Mindfully and her signature Mindfulness Lounge™ in 2015.
Although Papa is an expert at guiding people on a mindfulness journey during a hectic convention such as MPI WEC or IMEX America, the varied space requirements present all manner of design challenges in her effort to provide a soothing environment that mutes the distractions inherent in any large event.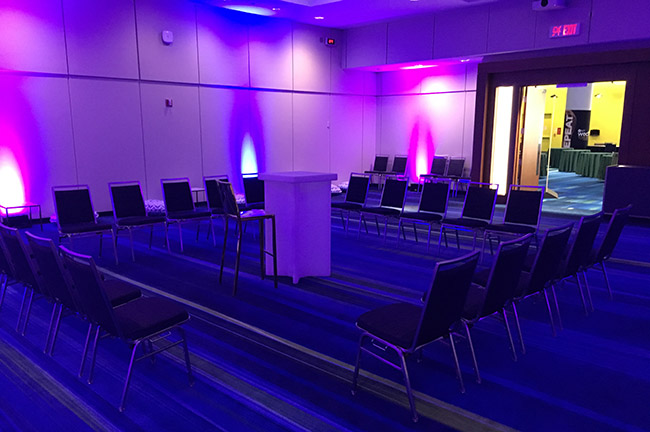 While I had the opportunity to see Papa's lounge setup in 2018 under the IMEX Be Well Lounge concept, the later example at MPI also delivered the tranquil goods, using a soothing purple light scheme and a variety of seating options, including floor pillows.
[Related Content: A Look at Hilton's New Approach to Meeting Space Design]
She also used diffused essential oils and soothing music from her library. It was a design for all of the senses, and was delivered according to the requirements she supplies to her clients.
Although a relatively simplified version of her Mindfulness Lounge™ design concept, it demonstrated how easy it is to transform a convention center room to a place where attendees can decompress and prepare their mind-body and spirits to take in all of the conference.
2. MPI WEC 2019 President's Dinner, Toronto
Despite having covered the meetings industry for nearly 20 years, Disney never ceases to amaze me with its design superpowers. Everyone else worships at the feet of The Mouse when it comes to storytelling in whatever medium it may choose.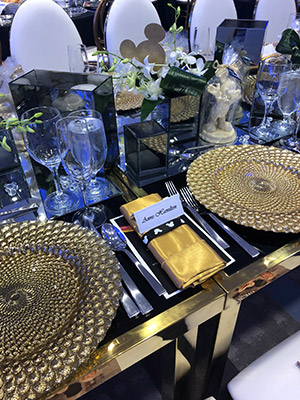 The President's Dinner at MPI WEC 2019 in Toronto was a case in point. Honoring Disney veteran Anne Hamilton, vice president of global travel for Disney, the banquet table design dropped jaws from the moment diners entered the room.
Seen through a filter of muted purple lighting, the table arrangement included elegant decor such as gold plate chargers, gold and black napkins, white floral arrangements and candles on smoked glass mirrors.
Of course, when Disney is in the house, Mickey Mouse also is often the guest of honor.
At the President's Dinner, napkin holders were wrapped with black Mickey Mouse ribbons, the floral centerpieces featured gold-glitter Mickey Mouse ears and crystal Mickey Mouse beads were scattered across the table.
The highlight for me was a tuxedo-clad Mickey Mouse statue made entirely of white chocolate, which made one editor's neighbor kid beam with delight when he was presented with it later.
3. PCMA EduCon 2019, Los Angeles
Imagine my surprise when I walked into a conference lunch event at PCMA EduCon and the first thing that caught my eyes was a nearly full-size basketball court with jersey-clad players!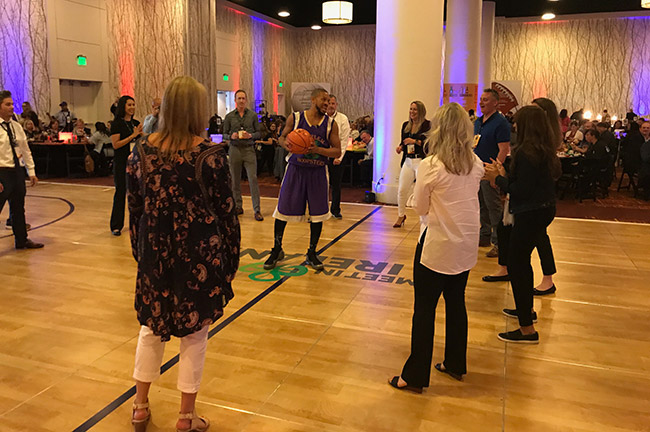 PCMA's 2019 EduCon, held at the JW Marriott LA Live in June 2019, offered a variety of cutting-edge education formats, lively entertainment and innovative F&B presentations such as a lunch event catered by local food trucks. Walking into a room expecting another ho-hum layout of food stations but instead seeing a basketball court populated by the Harlem Hoopsters was one of these unexpected little twists that put an exclamation point on an event.
The Hoopsters enlisted members of the crowd to participate in a friendly basketball-passing competition, showing off their trickster skills until they were summarily dismissed from the court after dropping the ball. Adding an unexpected twist to something that has become routine transforms the mundane to the spectacular. Try it at your next event!
3 Event Design Inspirations from Kate Cripe, Content Developer, Departments/Features
1. Westdrift, Manhattan Beach, California
Westdrift, an Autograph Collection Hotel, prides itself on being a "little bit beach, a little bit Manhattan." The property, located a mile from the Pacific Ocean in Los Angeles County's Manhattan Beach, echoes that sentiment throughout, but especially with its design elements.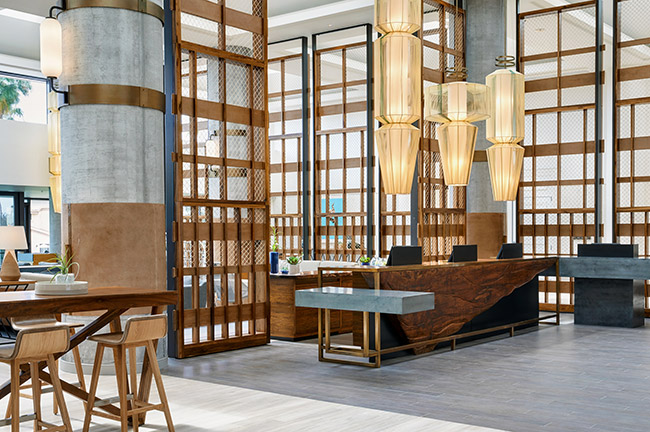 The 393-room hotel is named for the westerly winds that swept dunes of sand over the Manhattan Beach boardwalk. When I visited in late 2018, I first noticed the two-story tall concrete pillars that lead to the front desk.
I learned that these pillars and the adjacent wooden and wire panels, were design to emulate the feeling of standing under the Manhattan Beach pier.
Beach-inspired decor with sleek touches, tied the laid-back West Coast vibe to a classic East Coast feel. A custom Argentine driftwood check-in desk and artwork by photorealist Eric Zener, known for his elemental water paintings, paired with leather furniture and Art Deco-inspired fixtures in the hotel's public spaces.
The signature restaurant, Jute Coastal Bar + Kitchen, got its name from the strong, raw fiber often used for making rope and is also tied into the lobby's design, especially the woven rope chairs placed throughout. The restaurant features a bicoastal-inspired menu, adding a cosmopolitan touch to the primarily locally sourced dishes. 
I haven't attended an event at the TWA Hotel, but its retro design brilliance inspired me as I received stunning images of the property in my capacity as an editor at Meetings Today. The time-traveling quality of the design made it definitely worth a mention here.
The project is so cool, in fact, that Meetings Today featured it on the cover of its November 2017 edition as it first revealed its design.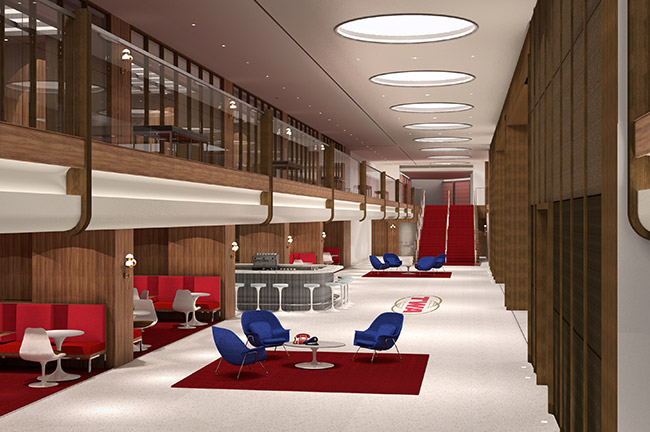 The restoration of Eero Saarinen's landmark 1962 former Trans World Airlines terminal transformed the space into the TWA Hotel at John F. Kennedy International Airport. The 512-room hotel opened in May 2019 following the renovation.
When the TWA terminal first opened in 1962, it epitomized the glamour and optimism of the jet age. The structure was designated a New York City landmark in 1994 and, after its 2001 closure, was listed on the State and National Registers of Historic Places in 2005.
[Related Content: Renowned Hotel Designer George Wong Sees Beauty in Simplicity]
The overall project was led by MCR and MORSE Development with Beyer Blinder Belle Architects & Planners doing the restoration. Two new hotel wings were constructed behind it and it features a new 50,000-square-foot events center, including 45 function rooms, a 15,000-square-foot ballroom with prefunction space and five hospitality suites.
Onsite event spaces also feature the Mid-Century-Modern design for which TWA was known.
In September 2018, I attended the ribbon-cutting and grand opening celebration of the much-anticipated InterContinental San Diego.
The grand opening reception was held on the hotel's Bay View Terrace, which overlooks the San Diego Bay, and in the adjoining Bay View Ballroom. At this event, the entertainment doubled as decor, all provided by Hello! Destination Management.
The venues, already beautifully designed function spaces, were transformed for the event, centering around a sequined-clad aerialist dangling from a trapeze bar while passing out glasses of champagne as guests arrived following the ribbon cutting ceremony.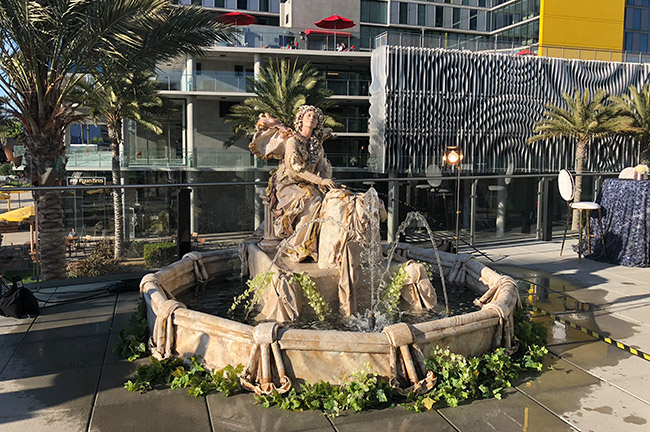 A living fountain, which had several people dressed as statues, acting as the fountain itself, was placed at one end of the terrace. Without closer inspection, it seems as though an ornate fountain was brought in as added décor.
During the event, a sand artist created a replica of the hotel in the ballroom. This San Diego beachy touch also added an entertainment element, while providing art for the reception.
Meetings Today Contest: Awe-Inspiring Event Design
Are you a meeting or event planner that is especially proud of your recent innovative event design? Click on the banner below for an exclusive opportunity to show off your creativity!
You could even win an all-inclusive trip for two to the UNICO Riviera Maya, airfare included!