Lululemon's Deb Gee Shares Ideas for Awesome Autumn Events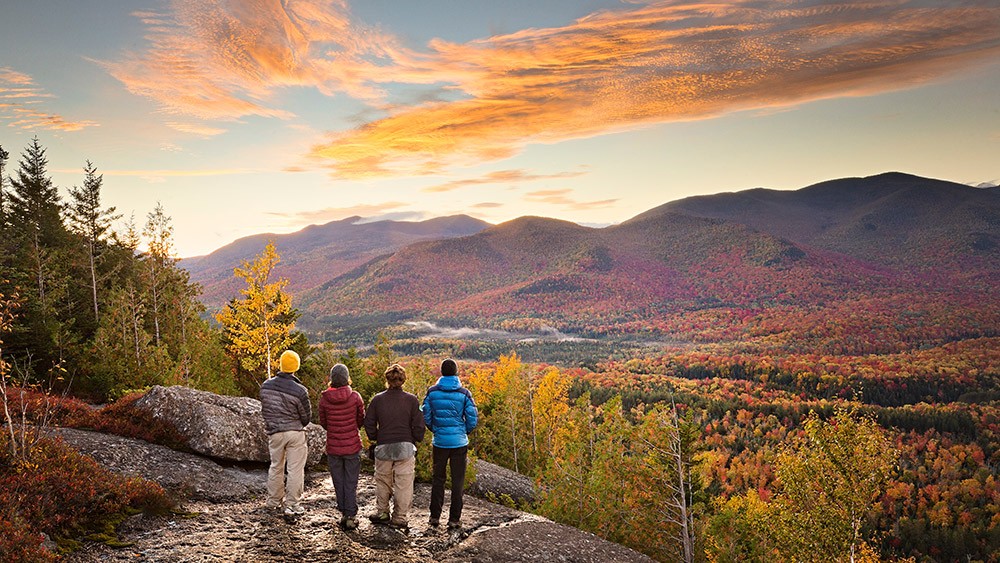 The cool, crisp days of autumn are right around the corner, along with the many comforts of the season: gazing at brilliant foliage and blazing sunsets, wrapping up in warm scarves and sweaters, enjoying hot cider and homemade pies, and curling up with a good book by the fire, to name a few.
"It's all about getting cozy and invoking a sense of calm because it's a big time of transformation, reflection and restoration," said Deb Gee, experiential design lead for Lululemon.
"It's a quieter time of year and a chance to take inspiration from nature by shedding our skin as the trees are shedding their leaves and contemplate new beginnings," she added.
[Related Content: Deb Gee's 3 Daily Self-Care Rituals for Fall]
Designing events that follow fall's lead is a powerful way to make a unique statement and engage attendees, Gee added. Following are some of her best ideas for autumn events.
Ambience & Decor
Think Sherlock Holmes: Fall is a time of contemplation and reflection, a time when we're restoring from the busyness of summer, going back to school or work after vacations, and getting ready to take on winter, so I think of it as a really nice time for books.
Why not use an old-school Sherlock Holmes-like den as a jumping-off point?
Offer cozy conversation sections with big leather couches and chairs, lots of suede, dark colors and beautiful shelves of books and library-type elements to set a nice backdrop.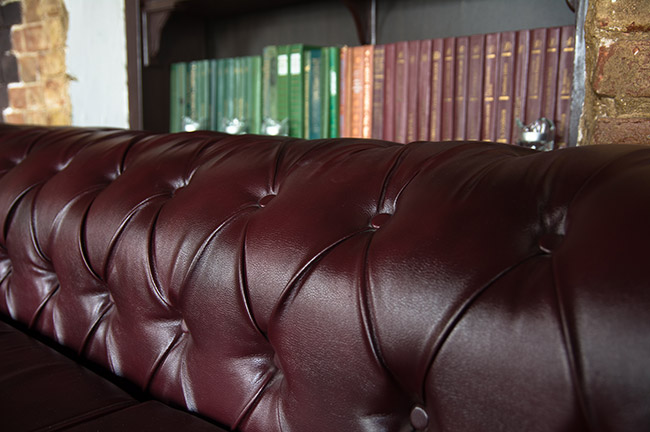 Leather Couch and Bookcase, Fall Design Inspiration, Credit: Shutterstock
Autumn Hues: When it comes to fall decor, I think about the long evening amber skies, and I look at colors like warm rust, deep reds, peachy tones, buttery yellows and sage greens.
Use warm gold and red uplighting to evoke the red and amber skies and big harvest moons.
[Related Content: 5 Event Design Tips That Will Spark Your Creativity]
I really love the feeling of a campfire at this time of year. You can use lots of candles and try to think through the colors. Bring in a lot more of those dark, moody, lovely colors that look very reminiscent of what the leaves are doing outside, with beautiful hues of gold, red, brown and rust. You can also bring in burgundies and strong purple hues.
Nurture Nature: It's a time when we really see a lot of change with our leaves and branches, so it's a wonderful season to bring those and other elements of nature into the equation. We see a lot of stone fruit, pumpkin and root vegetables, and they make for beautiful decor.
It's also a great time to use live edge wood, so think about half cross sections of a tree or a barrel or using lots of natural wood elements in other ways as well as natural stone.
Honoring Harvest: Think of a winery or a farmhouse and try to reflect that time of year when they're bringing in the harvest. Imagine going into a forest and stumbling upon a winery with barrels and big candles in jars and a big stone slate with cheese and nuts and grapes.
Textured Touches: I also love layering a lot of very rich textures at this time of year. And it runs the gamut from very light gauzes and silks right through to thick wools and burlap.
Be Bold: Fall is a very strong season, a time when we take stock and look at what is happening for the rest of the year. With that in mind, it's a time to bring in lots of bold metals such as bronze and copper, and powerful statement pieces such as blown glass or a big crystal.
Food & Beverage
Season's Bounty: Looking at all the wonderful produce fall gives us, incorporate things like squash, Brussels sprouts, root vegetables, pumpkins, nuts, apples, pears, cranberries, pomegranates and some of the stone fruits like peaches. The big herbs at this time of year are rosemary, thyme and sage, and autumn spices include cinnamon, clove and nutmeg.
It's a great time for a beautiful healthy harvest roast, whether it's a pork shoulder, fish or wild turkey. Play off the season and the ultimate nuances of a big, festive Thanksgiving dinner, for example, with dishes like roasted vegetables, grilled peaches and salad with ingredients like kale, squash, cranberries, pomegranates and apples.
[Related Content: 9 Foods and Ingredients You Might See on Future Event Menus]
Maple syrup is another nice ingredient for roasting vegetables during fall.
Freshly baked pies are popular during fall, and they can be quite healthy and savory. I love doing individual pies, such as peach and apple.
Fall is the season for preserving and pickling after the culmination of the harvest, so adding beautiful jams or pickled vegetables can infuse an element of interest to healthy dishes.
Liquid Love: Fall is a perfect time for drinks like a peach margarita with a rosemary garnish, a roasted tomato bloody Mary with fall-inspired herbs and garnishes, and warm libations such as a rosé hot-mulled wine where you can play off the season with cinnamon.
In the fall season, I love making pumpkin smoothies. Pumpkin is full of fiber and enzymes, and you can use non-dairy milk such as coconut or almond and even make a coconut whipped topping for it. It's very healthy, very fun and great for a breakfast event.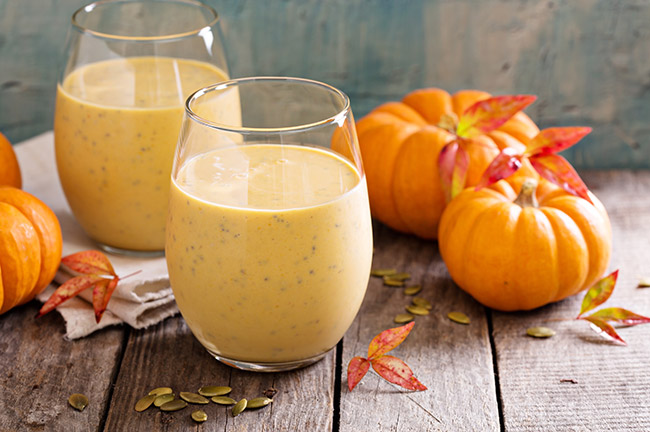 Pumpkin Smoothie, Credit: Shutterstock
Fresh-pressed apple and cranberry juice are some of my other favorites and very clarifying. You can even add cinnamon and cloves to the apple juice and make it into a hot beverage.
In addition to water stations with all kinds of seasonal fruits, incorporate a smoothie/juice station so guests can opt for that as part of their healthy hydration options.
Activities
Fresh-Air Forays: Get groups outside to immerse themselves in the crisp, clean air. Have a bonfire or lots of candles to literally spark great conversation.
Serve hot beverages and provide guests with cozy, comfortable seating.
[Related Content: A Planner's Guide to Essential Oils and Using Scents]
Roam Free: Everything starts falling from the trees during fall, so it's an ideal time to wander through the forest, collect the gifts of the season and get creative at the same time.
You can set up a leaf-pressing activity or have attendees make their own hand-tied natural branch centerpiece. Many wild mushrooms also sprout from the ground during fall, so mushroom foraging is another really unique activity inspired by the season.
Team-Blending: Since fall is such a restorative time of year, getting a group together for a session on blending seasonally inspired essential oils and creating their own salt baths is another wonderful way to capture the sense of the season while bonding as a group.
Check Out Our Other Seasonal Meeting Planning Toolkits:
Meetings Today Contest: Awe-Inspiring Event Design
Win an all-inclusive trip for two to the UNICO Riviera Maya, airfare included!