Western Breweries and Distilleries Quench the Thirst for Mountain Meetings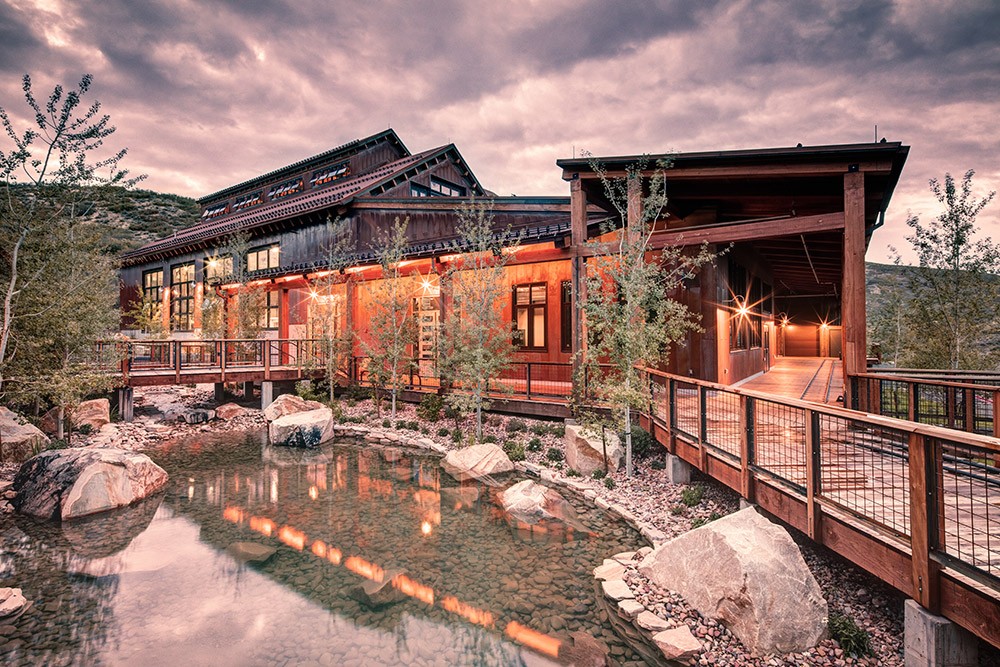 Whether it's a morning spent on the slopes or an afternoon in the boardroom at the lodge, a day on the mountain can work up a thirst. Planners looking to add a local experience to a mountain destination meeting or event can turn to a brewery or distillery as an authentic and memorable offsite venue or group activity.
These four establishments across the Western U.S. and Canada rise to the occasion when it comes to locally crafted drink experiences.
High West Distillery, founded in 2006, has grown from a small, 250-gallon still and saloon in a historic livery stable and garage to an internationally recognized brand.
It was named Distiller of the Year by Whisky Advocate in 2016.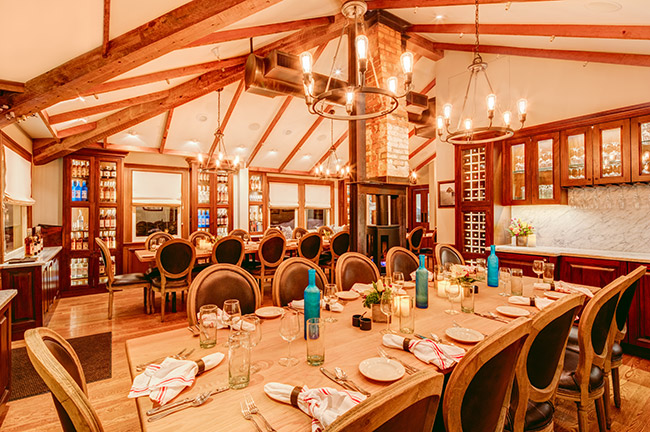 High West Distillery's The Nelson Cottage Event Setup, Park City, Utah
In 2015, High West opened its new distillery in Wanship, Utah, home to a 1,600-gallon copper pot still. The distillery offers whiskey tastings, pairings and tours for the public, which can also be tailored for private groups. This newer location features indoor and outdoor private event space that can be used Monday through Saturday.
The distillery can seat 65 for a seated event or 92 for a reception. With the use of the adjacent outdoor deck, groups of up to 150 can be accommodated.
The original saloon in Old Town Park City continues to operate as a gastro-distillery, serving alpine-inspired Western fare alongside the original still. The High West Saloon is located at the base of Quit'n Time ski run. There are also indoor and outdoor venues at this location.
[Related Content: Copper Mountain Breaks Ground on New Hotel]
Indoor capacity is 125 and, like the Wanship location, the connected patio can be used in conjunction with the indoor venue for up to 150 people in the warmer months. Planners can also arrange for group tours of the working distillery before, after or during an event.
Adjacent to the Saloon is the Nelson Cottage, which offers whiskey-paired dinners served in a communal dining setting. The intimate venue can also be used for private receptions and dinners. The Nelson Cottage comfortably seats 40 guests but can accommodate 50 with a buffet-style setup indoors and up to 65 people by incorporating the outdoor patio.
Located on the south shore of Lake Tahoe, South Lake Brewing Company (SLBC) opened in 2017 by two natives of the mountain town. The tasting room offers locals and visitors a space to not only try the SLBC brews, but also a fun and entertaining space to congregate.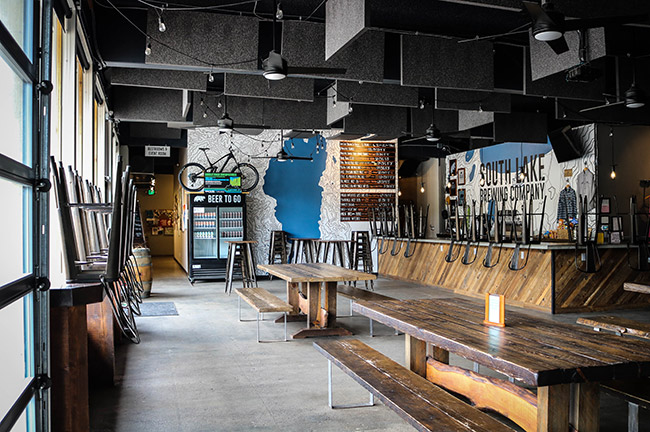 South Lake Brewing Company Tasting Room
Guests can play ping-pong, cornhole or board games, all available onsite. 
There is an event room for groups that want more private space. The 600-square-foot room can accommodate 30 people for a seated dinner or 50 for a reception.
[Related Content: Lake Tahoe Meetings Allow Groups Time to Recharge]
For larger groups, the entire tasting room can host 150 people.
The private room offers a flexible floorplan, with tables and chairs available as well as the option for a private bartender. With both the use of the event room or the entire tasting room, groups can enjoy SLBC's beers as well choose from a list of caterers.
Bringing in outside wine is also allowed.
Located near Whistler, British Columbia, the Pemberton Valley is known for its seed potatoes, which are pieces of potato used to grow more potatoes, and calls itself the Seed Potato Capital of the World, or at least of Canada.
Local Pemberton Distillery distills the area's famed potatoes to make organic vodka, gin, absinthe, schnapps and liqueurs. It also produces organic whisky and brandy from locally grown grains and fruits, touting its farm-to-bottle craft.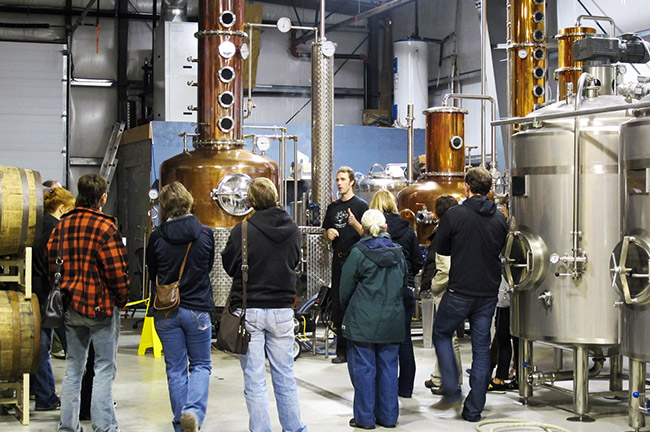 Pemberton Distillery Tour, Pemberton, British Columbia
Pemberton was established in 2008 and is one of British Columbia's original craft distilleries, and its only Certified Organic Distillery. The distillery is also family-owned and operated.
Guided distillery tours are available for the public and include a tasting of the spirits. Groups can arrange for private tours, tastings and events at the distillery. Led by Master Distiller Tyler Schramm, the tour takes groups behind the scenes of the working facility.
After the tour, the real fun begins with a spirits tasting in the tasting room.
Groups can learn about the craft of distilling and spirit-making, including malting, mashing, barrel aging, fermentation and distilling using hand-operated copper pot stills.
Nestled in Montana's mountain town of Big Sky, Lone Peak Brewery doesn't just have a tasting room, but also a tap house with a full-service bar and restaurant.
The tap house regularly hosts music, comedy and special events.
Steve and Vicky Nordahl opened Lone Peak in 2007 and chose Big Sky simply because it was the only ski resort in North America at the time without a microbrewery. Steve's family has been in the state for over 100 years, so it made sense to open shop in Big Sky.
[Related Content: 4 Natural Montana Locales for Groups to Unwind, Recharge]
The brewery has grown from its original six brews along with a few appetizers from a small kitchen to the venue it is today.
The facility offers 2,000 square feet of space available for private events. Lone Peak Brewery can host 80 people for a banquet and up to 200 for a reception.
The Loft space includes a private bartender and food attendants. This part of the brewery is great for private dining and menus can be customized for groups. A stage and audiovisual equipment can be available in the Loft area as well as access to a kitchenette if needed.
[Read This Next: 6 Meetings-Friendly Mountain Resorts That Get Groups Active]