3 Nashville Hotels Upping Their Meetings Game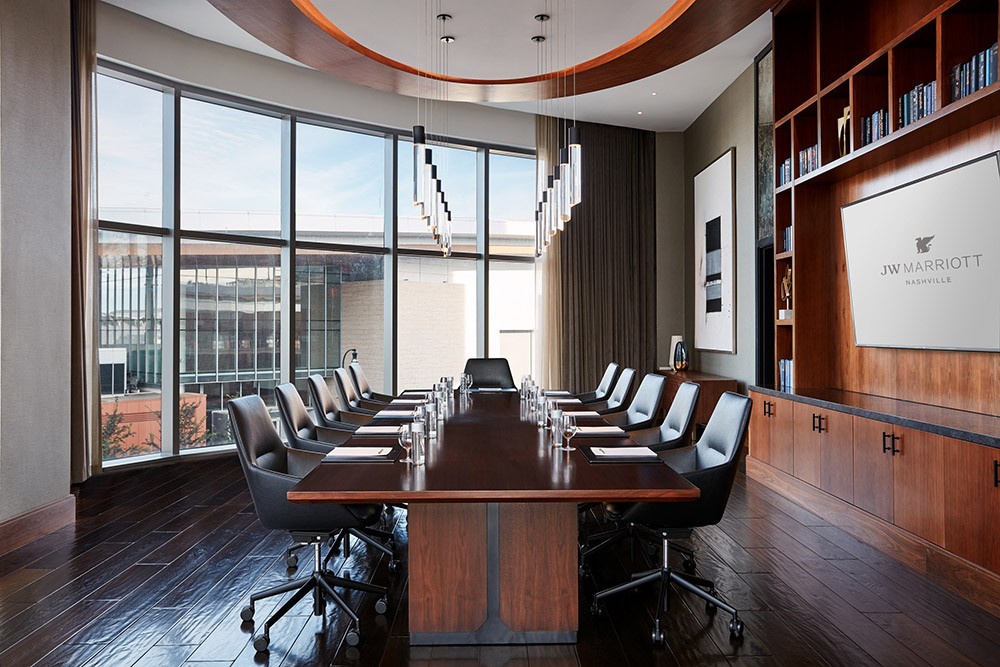 It seems like Nashville is on every top travel destinations list in 2019, both for leisure and business travelers, including landing the sixth spot on Cvent's top U.S. meetings destinations list.
When Music City Center opened downtown in 2013, it made Nashville a more attractive meetings and events option, and one could argue that it spurred hotel development in the city. In fact, 38 hotel properties have opened since 2014, and 20 hotels (2,400 rooms) have announced an opening in 2019, according to Nashville Convention & Visitors Corp.
As Nashville's tourism flourishes, so does the interest from meeting planners. Music City hotels are answering the call by offering new and reimagined spaces designed specifically for groups that provide ample room and a taste of its singular local flavor.
On a recent Marriott Convention & Resort Network (CRN) trip, I checked in on three of them. Here's the latest at JW Marriott Nashville, Renaissance Nashville and Gaylord Opryland Resort & Convention Center.
Luxe and upscale country charm is palpable in every corner of downtown Nashville's new JW Marriott property, which opened next door to the convention center in July 2018.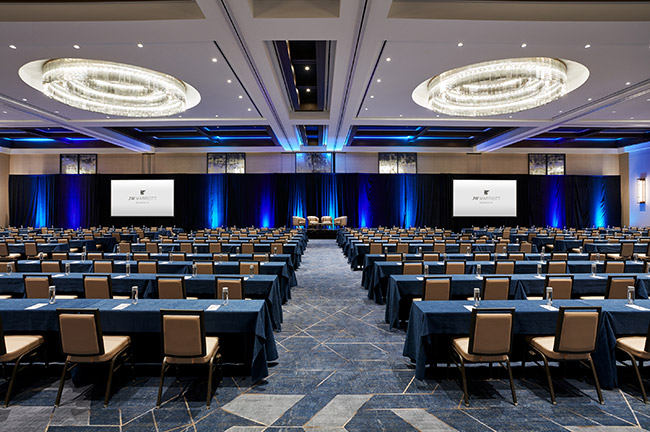 Griffin Ballroom at JW Marriott Nashville
The buzz around one of the city's newest hotels has even attracted the likes of the stars like Dennis Quaid and Ringo Starr, both of whom were spotted on property within two weeks of my stay in early October 2019.
Floor-to-ceiling windows in almost every room of the 533-room glass tower, from meeting spaces and guest rooms to the 34th floor Bourbon Steak bathroom, allow natural light to spill into the hotel, giving it a bright, welcoming feeling.
Much of its 77,021 square feet of meeting and event space is contained to the second floor, and is ideal for executive meetings or small- to mid-size groups, including:
16 meeting rooms
Two ballrooms: These include the Symphony and Griffin ballrooms, which can both accommodate over 1,000 attendees.
Lucchese Boardroom: Plush chairs and bookcase-lined walls set the scene for executive meetings in this room named for the famous bootmaker.
The Duke: Lobby-level meeting space adjacent to the Cumberland bar. Complete with comfortable seating and a fireplace, this space is ideal for cocktail receptions of up to 40 people.
The Green at JW: This 17,000-square-foot event lawn opened in early 2019 and can host all sorts of events. Director of Marketing Hanna Bankston said the space has hosted events as creative as goat yoga, cinema nights and massive farm dinners. Other capabilities could include receptions, teambuilding, concerts and charity events.
Additionally, the crowning jewel of JW Marriott Nashville, Bourbon Steak from internationally acclaimed chef Michael Mina on the 34th floor, offers expansive 360-degree views of the city and has three private dining rooms available for groups that have hosted guests like Steph and Ayesha Curry and the Nashville Predators NHL hockey team.
Though it's new to the scene, JW Marriott Nashville is already adding to its offerings in 2020, opening a new restaurant concept on its first level with a patio called Pabu, a Japanese sushi bar and restaurant.
Around the corner from JW Marriott Nashville, thoughtful local touches are all over the new and refreshed meeting spaces inside Renaissance Nashville. Whiskey staves from Tennessee distilleries are built into the walls; a salvaged shipping container forms a creative bar in a popular reception room; and artwork featuring vinyl, Nashville maps and snapshots of Johnny Cash adorn the halls and American-retro restaurant Little Fib.
[Meetings Today Podcast: 5 Minutes with Nashville Chef James Kerwin]
"We are now at the place of sharing with the meeting world what the new Renaissance is," said Sherry Franklin, director of hotel sales at Renaissance Nashville. "I was speaking with a planner recently, and all she could envision was the old hotel and convention center."
The interior is a far cry from the old Renaissance Nashville—those who've met here in the past 30 years won't recognize it post-transformation next time they step inside its doors.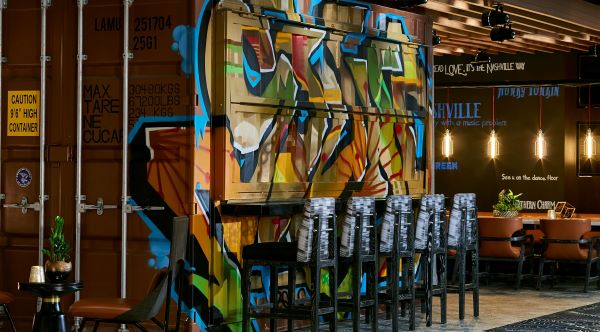 Event hub and container bar at Renaissance Nashville Credit: Renaissance Nashville
The hotel completed its sweeping expansion in September 2019 and now offers 103,000 square feet of meeting and prefunction space, more than any other hotel in downtown Nashville, making it the city's largest conference hotel.
The update follows $50 million in upgrades over the past five years, refreshing the guest rooms, restaurants and existing meeting space.

Grand Foyer at Renaissance Nashville Hotel
Hip, creative elements add playfulness to the hotel spaces, like a 1956 Cadillac that the hotel found on Craigslist and turned into a traveling bar; a camper that can be branded for events; and a chandelier-less ballroom instead adorned with 600 hanging star-like Edison lightbulbs.
Additional amenities are on the horizon for the property in 2020.
Renaissance Nashville will be directly connected to the new Fifth + Broadway mixed-use development, which offers shops, dining and event space options to meetings groups, along with the National Museum of African American Music.
Gaylord Opryland has been a convention group staple for years, thanks to its unmatched space—it's the largest hotel in the Gaylord portfolio, sitting on roughly 14 acres housing 2,888 rooms and 750,000 square feet of meeting space—and its 10-minute-driving distance from the airport makes it a convenient option for business travelers.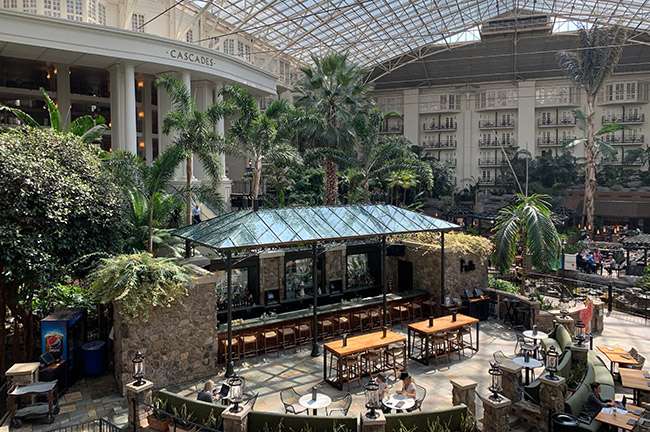 Gaylord Opryland Resort & Convention Center Interior
Somehow, Gaylord Opryland continues to add to its property, expanding group options. 2019 brought a guest room renovation and the new upscale SoundWaves waterpark.
[Meetings Today Podcast: Grand Ole Opry Adds Magic to Meetings]
Clean lines, white accents, living plant walls and an ETFE roof that allows the sun to shine through the indoor portion of the park (which is kept at 84 degrees year-round and requires sunscreen even in January) give the park a pronounced upscale feel, differentiating it from other resort waterparks in the U.S.
Additionally, there are designated adult-only areas at the waterpark and music videos constantly on display at the outdoor wave pool.
Tammy Henry, director of marketing at the resort, said that with the introduction of SoundWaves, the resort has seen groups add on pre- and post-stays to their meetings trips at the resort to enjoy the waterpark, more often bringing their families along, too.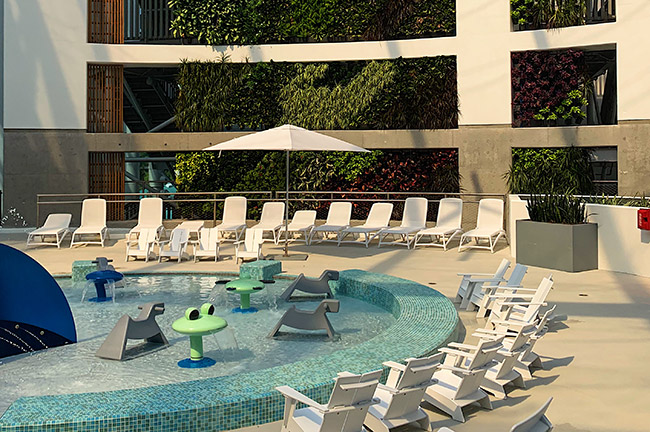 Gaylord Opryland Resort & Convention Center Soundwaves Waterpark
With the waterpark comes even more culinary options at Gaylord Opryland. Director of Culinary Myk Banas said that it's not your ordinary waterpark food.
"Consider the last time you went to the waterpark, what did you eat?" he asked. "We like to spice up the menu with things you may never expect to see at a waterpark."
The food created for SoundWaves evokes what you'd eat in common vacation locations—whether it's a lobster roll inspired by the Northeast coast of the U.S., Cuban sandwiches or pulled barbecue pork with pineapple.
The drink menu draws its inspiration from tropical flavors associated with vacation, but hardly using any artificial colors or flavors.
The SoundWaves menu adds to the wide-ranging culinary options available to groups throughout the resort, and attendees can feel good about where their food comes from, too.
Banas said the culinary team continues to strengthen the capabilities of the onsite commissary, working with its team to make scratch food in bulk, from the marinara sauce in your pasta to the bread on your table.
[Read This Next: How Gaylord Opryland Resort Helps Meetings Go Green]