New Mexico Meetings Developments Reach 'Breaking Bad'-Level Hype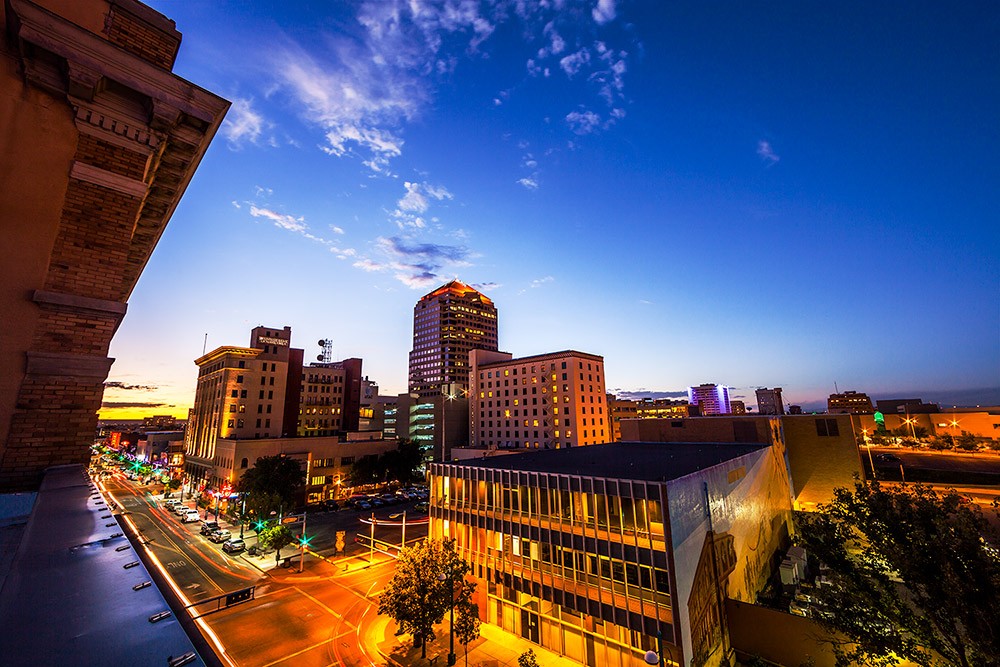 While it's been more than a decade since the hit TV show Breaking Bad made Albuquerque famous—or infamous, as the plot of the series would ensure—the new El Camino: A Breaking Bad Movie debuted October 11 on Netflix and is sure to bring fresh attention to New Mexico's largest city.
Not one to shy away from some high-octane destination publicity, Visit Albuquerque has dedicated a section on its website to all things Breaking Bad-related in the city.
One interesting offsite activity option for attendees is an excursion with Breaking Bad RV Tours—including lunch at Los Pollos Hermanos!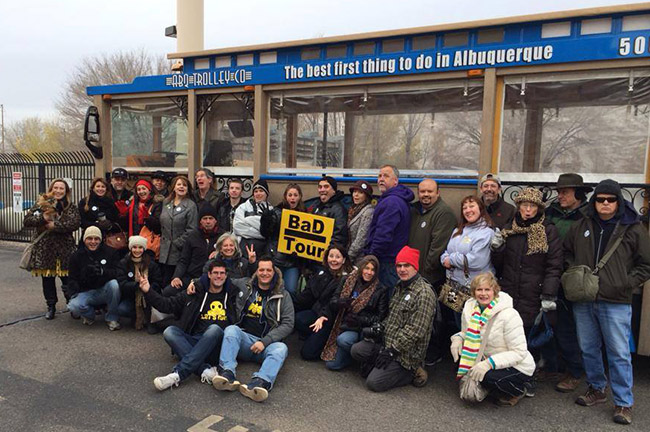 BaD (Trolley) Tour, Breaking Bad Tour in Albuquerque
Other Breaking Bad-themed tours include:
And sure to be a "hit" with attendees, Old Town Albuquerque's The Candy Lady sells "blue" candy that was used as a prop in the show, along with other Breaking Bad gift merchandise.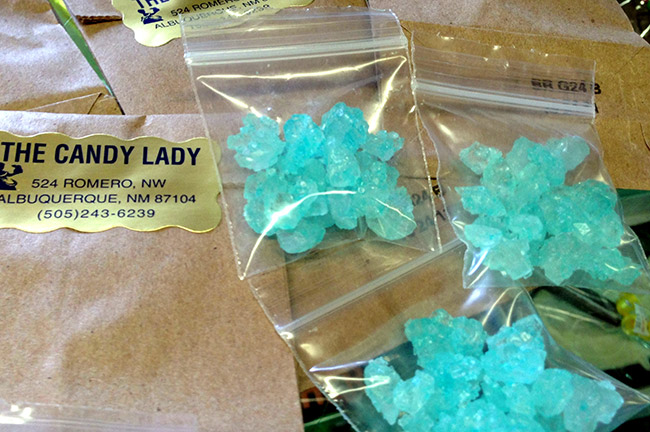 Blue Candy Sold by The Candy Lady in Old Town Albuquerque
While Meetings Today certainly does not condone throwing pizzas on the roof of the poor homeowner who resides in the fictional abode of Walter White and family, the hype surrounding the new movie seems like a good opportunity to "crystalize" some of the other new meetings happenings in Albuquerque, as well as New Mexico's Santa Fe and Taos.
New Meetings Developments in Albuquerque
Outside of the realm of TV villains, Albuquerque has a number of meetings- and events-related facilities online, in the pipeline or being renovated.
Hotel Albuquerque at Old Town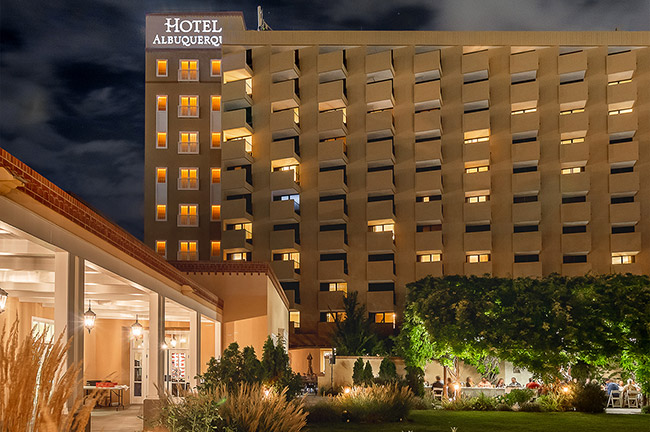 Hotel Albuquerque at Old Town
Hotel Albuquerque at Old Town wrapped a renovation in summer 2019. The 188-room property offers the 14,000-square-foot Alvarado Ballroom—the largest in the city—with 22-foot-high walls, hand-stamped tin chandeliers and Navajo rug-styled carpeting.
Other facilities include the 3,800-square-foot, Pueblo Deco-styled Franciscan Ballroom and smaller spaces such as the Fireplace room, the Pavilion & Gardens and the 8,000-square-foot Casa Esencia that can accommodate groups of up to nearly 300.
Hotel Chaco
Also in Old Town, the boutique, contemporary-style Hotel Chaco opened a new bar, Crafted, featuring New Mexico wine and spirits.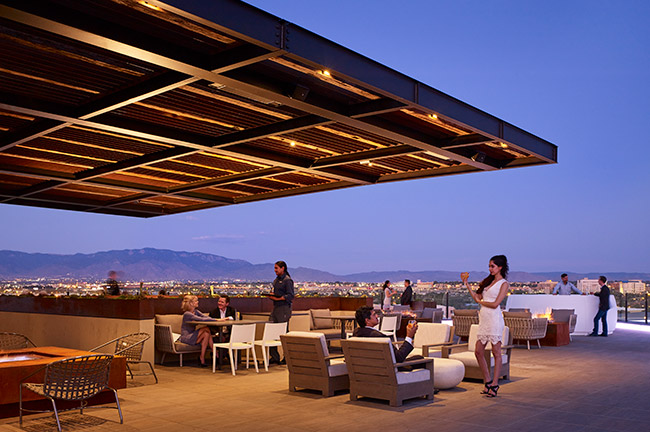 Hotel Chaco in Old Town Albuquerque
The 118-room Gensler-designed property opened in 2017 and offers:
the Gathering meeting room, a 1,500-square-foot facility that can accommodate 60;
and the Terrace Suite, a 2,830-square foot room for up to 100 with a rooftop space offering views of the Sandia Mountains, downtown and Old Town Albuquerque.
Larger groups looking to meet in Old Town can use the 62,000 square feet of meeting space available at the adjacent Hotel Albuquerque.
Hotel Andaluz Albuquerque Curio Collection by Hilton
Hotel Andaluz, which is on the site where Hilton founder Conrad Hilton built his fourth hotel in 1939, returned to the Hilton fold in May after rebranding to Hotel Andaluz Albuquerque Curio Collection by Hilton.
The 107-room downtown AAA Four-Diamond, LEED Gold-certified property offers 7,200 square feet of meeting and event space that can accommodate up to 600 people.
Hotel Blue
Los Angeles-based ARRIVE Hotels & Restaurants is set to begin a $22 million renovation of The Hotel Blue into a 135-room boutique hotel with meeting space, a renovated pool and patio with games, and a food truck park.
The retro-stylish property will pay homage to its Route 66 heritage with new neon signage.
Hyatt Regency Tamaya Resort & Spa
Hyatt Regency Tamaya Resort & Spa wrapped a $3.3 million renovation of its 12 indoor meeting spaces in May 2019. The luxury property located about 25 miles north of Albuquerque on the Santa Ana Pueblo offers 350 guest rooms and suites.
[Related Content: Hyatt Regency Tamaya Unveils Refreshed Meeting Spaces]
The resort is known for wellness and CSR programs that utilize the Stables at Tamaya, including the rehabilitation of rescued horses.
New Meetings Developments in Santa Fe
The big meetings news in Santa Fe centers around the reopening of Bishop's Lodge, which is expected in summer 2020. The historic lodge is located 10 minutes from the town's downtown plaza in a bucolic wooded setting.
Part of the Auberge Resort Collection, the resort originally opened in the 1920s and is set on 317 acres in the foothills of the Sangre de Cristo mountain range. The property, described as a high-end dude ranch luxury retreat, will include 120 guest rooms and suites, along with 9,700 square feet of meeting space, including a 3,000-square-foot ballroom.
Activity options in the retreat-like atmosphere include horseback trail riding and trout fishing from a spring-fed stream.
The Eldorado Hotel & Spa, located near Historic Santa Fe Plaza a half block from the Santa Fe Community Convention Center, is also undergoing a renovation, scheduled for completion in October 2019. The project will feature a new rooftop pool with function space and cabanas.
The 219-room hotel offers 22,000 square feet of indoor meeting and event space, including the 7,000-square-foot Eldorado Grand Ballroom.
New Meetings Developments in Taos
In the art mecca of Taos, The Stakeout on Outlaw Hill reopened in August 2019. This iconic facility perched at 7,200 feet on Outlaw Hill overlooking Rio Grande Gorge and Taos is legendary as a hideaway for Billy the Kid and, more recently, renegade actor Dennis Hopper.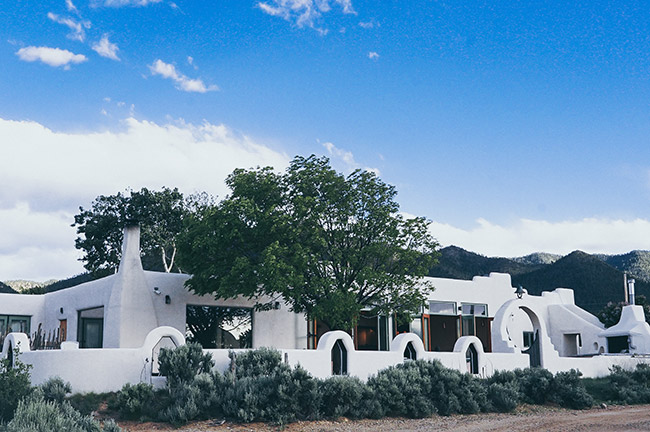 The Stakeout on Outlaw Hill, Taos
The Stakeout boasts a one-of-a-kind dining and offsite gala reception experience with cuisine, floral arrangements, beer and wine sourced from area farms and helmed by French chef Antoine Bardoulet. The venue is managed by Cecilia Cuff, who earned notoriety planning high-end events for Oprah Winfrey Studios in Chicago.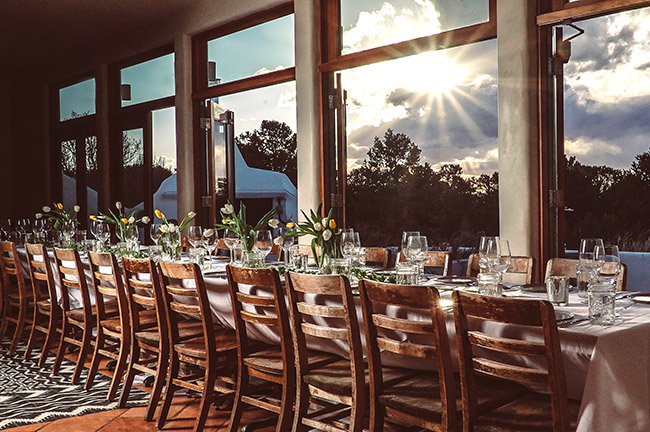 Dining Table Setup, The Stakeout on Outlaw Hill, Taos
Its 360-degree vantage point offered cover for all manner of desperados on the lookout for lawmen over the years, and now provides 3,000 square feet of indoor space highlighted by floor-to-ceiling windows perfect for taking in sunsets.
The Stakeout's mixology staff prides itself on concocting historically inspired cocktails crafted from locally sourced herbs and tinctures.
In other Taos meeting news, Taos Ski Valley recently spent $10 million to upgrade its 50,000 square feet of catering and conference facilities, including the new Phoenix Lodge, offering 6,334 square feet of space for up to 250 people. Other renovated space includes the Bavarian restaurant, Rio Hondo Learning Center, Lake Fork Boardroom and the suites in the Blake Hotel.
New Mexico CVB Contact Information
Visit Albuquerque
505.222.4358
TOURISM Santa Fe
505.955.6200
Town of Taos
575.751.2000
[Read This Next: 9 Famous Filming Locations You Can Host an Event at In Real Life]