How to Leverage Las Vegas' Infinite Entertainment Offerings for Your Next Meeting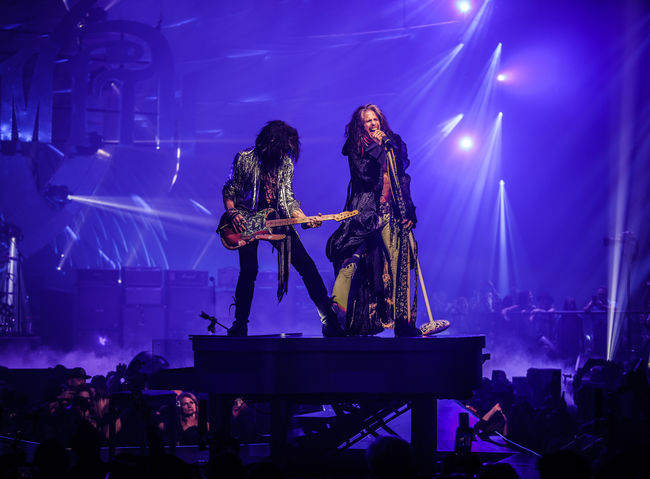 Las Vegas is heralded as the "Entertainment Capital of the World" for good reason.
On any day or night, 365 days a year, performers ranging from A-list headliners in residence at major venues, to all manner of musicians, magicians, comedians, acrobats and dancers entertain visitors drawn to the bright lights of the Strip, Downtown and surrounding areas.
"I truly believe it's the Entertainment Capital of the World," said Chris Coaley, vice president of event entertainment for Destinations by Design, a Las Vegas-based, full-service DMC and event production company. "There's a plethora of diversity of talent here that other cities just don't have. To not capitalize on using the local talent is a disservice to you as a planner and your client."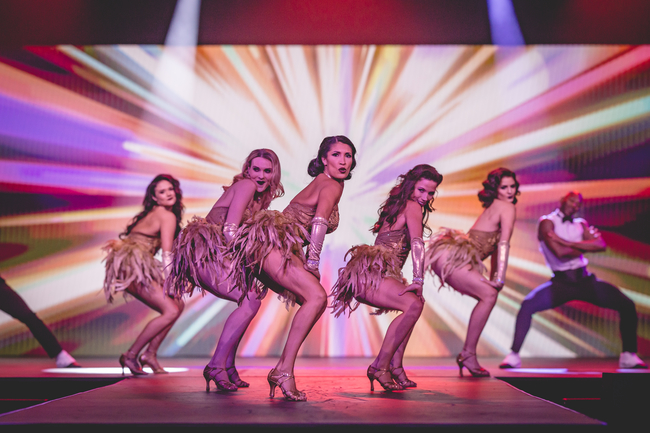 Photo: Destinations by Design Dance Production
For meeting and convention planners, this wealth of world-class entertainment, and the buzz that comes with it, is certainly an attendance builder—attendance increases 8% when conventions rotate into Las Vegas, according to research from the Las Vegas Convention and Visitors Authority. 
Attendees traveling to Las Vegas expect a show, whether during their event or by venturing outside of the meeting venue doors. Here's how planners can tap into the city's ample resources to deliver that quintessential Las Vegas experience.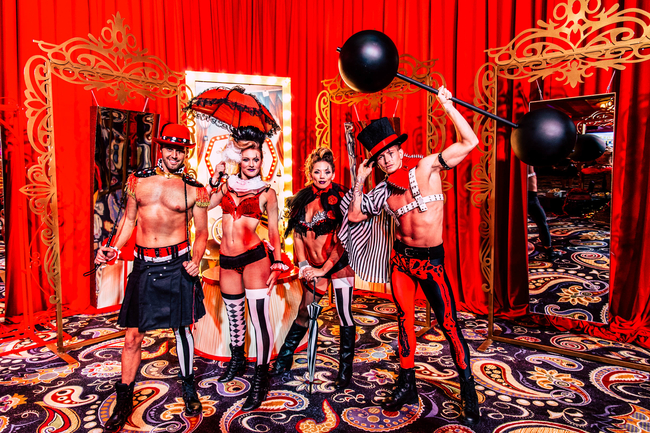 Photo: Destinations by Design Circus Dance Production
Entertainment Options for Las Vegas Meetings
Meeting planners can access a wide range of resources to book entertainment when convening in Las Vegas, from dedicated professionals at major hotel companies such as MGM Resorts International, Caesars Entertainment, Las Vegas Sands (The Venetian, Palazzo and Sands Expo) and Wynn Resorts, to independent entertainment booking agencies, production companies and DMCs.
Hiring entertainment options for meetings can apply to all ranges of meeting size, too, from fewer than 100 to thousands of attendees.
Besides performing for audiences at meetings and conventions, entertainers can be booked for a variety of other functions, such as meet-and-greets, opening general sessions, breakouts and icebreakers, offering surprise entertainment performances to break out sessions, like a magician "reveal" of a CEO and master of ceremonies duties.
"Having those relationships with local talent, we can do custom shows, costuming, multiple performers—whether it's a custom five-minute opening session or a 60-minute show with 20 dancers and 20 acrobats—it's as simple or complicated as you need it to be," said Autumn Andrews, director of sales for Destinations by Design. "When you tell us what you're looking for, we give you that advice, so we can really help you facilitate what's going to be the best value and group for you."
For attendees, Las Vegas is all about surprises and experiences they can't get at home—or anywhere else. One great way to get delegates' blood pumping at the first session of the morning is to feature high-energy entertainment.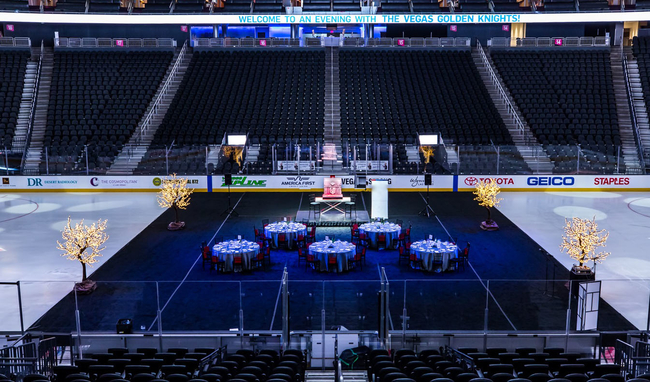 Photo: Dinner on the Ice, T-Mobile Arena
"I love morning meeting openers—doing something different," said Jaki Baskow, owner and founder of Baskow Talent. "I try to get unusual, and not too expensive, people who are going to change somebody's mood. When you go to a meeting, you want an experience. Entertainment creates emotion and how people are going to feel for the rest of the day."
[Related: 10 Reasons Why Las Vegas Was Made for Your Meeting]
Key Considerations When Booking Entertainers
Booking top-flight entertainment for a meeting or event is much more complicated than directly reaching out to a performer or his or her booking agent. By working with specialists, whether at a major hotel or an independent entertainment agency, meeting planners can ensure that they book the right entertainment for their group and greatly reduce the possibility of extra charges that can impact their budget.
Following are key tips meeting planners should consider when hiring entertainers for an event, whether in Las Vegas or elsewhere.
1. Contract Riders
The most important consideration is to make sure contract riders are fully understood and budgeted for.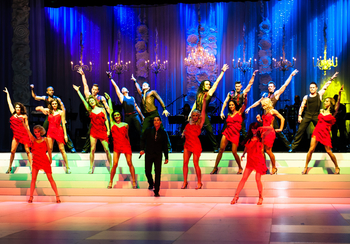 "There are the obvious costs and the hidden costs," said Marti Winer, vice president of MGM Resorts Event Production. "An entertainer has a price tag for services rendered, but what do their riders look like? When the planner does the production for their meeting, they have to know that they may need to spruce it up for an A-list entertainer, such as the size of the stage and the number of techs. Some of those aren't obvious costs when they start a conversation, but become very important very fast and can become a deal breaker in your negotiation with the talent if you can't provide the requirements they're looking for."
Photo: Destination By Design, Custom Production
Destinations by Design's Coaley concurred.
"A lot of times you think you're just booking a headliner and you're done, but that was the easy part," he said. "It's about managing their rider with the venue."
Baskow Talent's Jaki Baskow also emphasized the importance—and budget-busting potential—of understanding contract riders.
"When you're hiring an entertainer, whether it be to open the meeting or for a gala, make sure who you're talking to has all the details, such as riders for magicians, curtains, and sound and lights," she said. "Sometimes, riders can be half the cost of what an act costs."
2. Hire the Right Show for the Audience
Working with local entertainment experts, whether from major properties or independent DMCs and production companies, will help ensure that the entertainment is a good fit for the audience, works well in a corporate environment, and doesn't deliver material that could be offensive to some delegates, especially when hiring comedians.
"We get the benefit of seeing them and what their show looks like, and how they adapt it to audiences—and if they can tailor it to a business event," MGM Resorts Event Production's Winer said. "It's what I like to call 'corporate-friendly.'"
An advantage of working with one of the major hotels is that they know the exact specifications of all of their facilities, so they can recommend acts that work well in the venues under their umbrella.
Local production companies are also very familiar with the major venues and their benefits and limitations, and can design environments that showcase the performance and elevate the experience. If the production company also acts as a manager for the entertainer, they will ensure that logistics, such as timetables—and showing up on time—are adhered to.
3. Communication Is Key
Is your group comprised of a younger demographic or does it skew to the older side?
"It's so important for them to know the demographic of the people attending the meeting," said Destinations by Design's Coaley. "There is so much of a difference from a 30- to 45-year-old male versus a group in their 60s or older who want a vintage Vegas vibe. We can come back and say, 'This is what we recommend to bring to the audience you're talking to.'"
4. Group Buyouts Are an Easy Option
Groups can tap into the Las Vegas entertainment scene without having to hire talent by arranging for buyouts or group tickets to major shows, especially headliners. This is also a great option because, depending on the venue where the performance is at, it can get delegates offsite to enjoy that authentic Las Vegas entertainment experience they crave in a venue dedicated to staging the performer.
"Clients used to say, 'I want to have a headliner at my show, now they do a buyout of [the headliner's] show,'" said Destinations by Design's Andrews. "With all of these headliners taking over the residencies, we've definitely seen that impact on private booking for the groups. Gwen Stefani, when she's here, or Lady Gaga or Aerosmith—people find out they're going to be in Vegas at the time of their convention and are going to find there's an easy cross-over."
Editor's Note: This article is sponsored by and was produced in collaboration with the Las Vegas Convention and Visitors Authority (LVCVA).
Read more: The Las Vegas meetings and events landscape is always evolving. Stay up to date with what's new on our Las Vegas destination page!