4 Orange County Beaches That are Perfect for Small Groups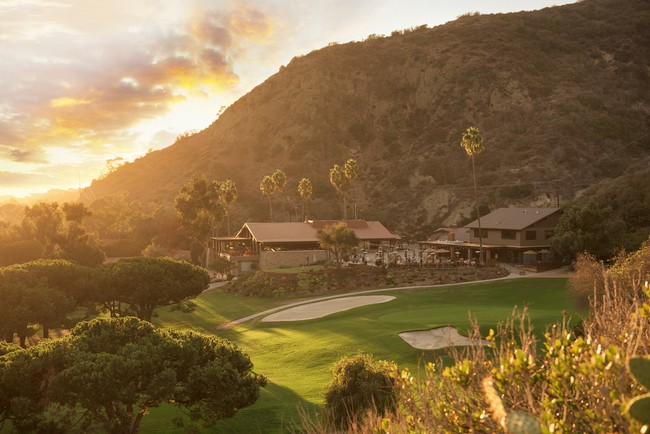 When considering Southern California as a future meetings destination, cities like Los Angeles and San Diego may come to mind first. But planners looking to bring small groups to this region of the Golden State will find true customization, breathtaking beach views and quieter, under-the-radar locales when they explore Orange County, California.
The region might have a reputation of being almost too exclusive, but that's certainly not the case. From Huntington Beach down to Dana Point, meeting planners can create intimate, luxurious events in a laid-back atmosphere—with CVBs that prioritize meeting your needs no matter how small the number of attendees is.
In fact, Orange County beaches thrive when accommodating small groups.
"Over the past couple of years, we have seen an increase in interest and bookings from incentive, association and corporate small groups and teambuilding centric groups," said Ashley Johnson, president and CEO of Visit Laguna Beach. "We are hearing that both large and small corporations are looking to get away from the larger convention cities and hotels and instead select destinations that are 'hidden gems' for unique, one-of-a-kind experiences they can't find anywhere else."
She added that Laguna Beach offers just that, with 26 boutique hotels that are individually owned and operated.
"More and more, meeting planners are looking to surprise and delight with a place that maybe some people have never been," said Michelle Donahue, senior vice president of sales for Visit Newport Beach. "Attendees love it. They'll come to a meeting and think, 'I want to come back with my family,' because they've discovered something new."
From surfing history to boutique properties and beach activities, these four Orange County beaches are equipped to exceed planners' expectations when bringing a small group to the Golden Coast.
Surf Culture in Dana Point
The southernmost beach out of the four, Dana Point is named after Richard Henry Dana Jr., author and seaman who once called the area "the most romantic spot in California."
Today, the city boasts the renowned Surf Heritage and Culture Center and the Ocean Institute, a marine biology destination. The latter offers a rentable lecture hall and conference center with a capacity of 200, as well as an executive boardroom that can accommodate up to 20 with 12 seated around the conference table.
Luxury properties include the Monarch Beach Resort, whose oceanfront beach club just reopened after a $5-million renovation—unveiling a refreshed look and a restaurant and bar restructured for unbeatable views.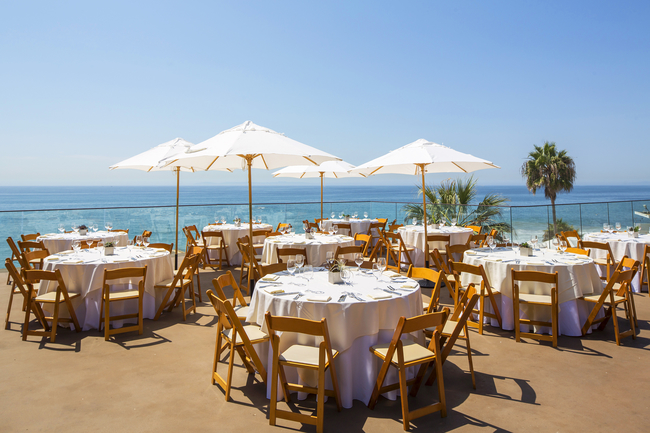 Photo: Surf and sand Meeting Set. Courtesy of Visit Laguna Beach.
"[Dana Point] is a cool, luxury resort town, but it has a laid-back feeling," said Jonny Westom, executive director of Visit Dana Point. "One of our transmission points is if you can't do it in flip-flops, it's not worth doing. That's funny because we're talking about five-star hotels, but also a very relaxed atmosphere where you'll get the same amenities as you would at any five-star, but very localized and makes you really feel a part of the destination."
Offsite activities include learning about "the birthplace of surf culture" at the Surf Heritage and Culture Museum and year-round whale watching, where attendees might spot gray whales, orcas and pods of dolphins.
Harbor Experiences in Newport Beach
Comprised of 10 distinct charming neighborhoods, one of the best ways to discover Newport Beach is through Duffy boat excursions. The small electric boats are described as "golf carts on water" and are easy to drive around Newport Harbor.
"Anyone can rent one—you just need to produce a driver's license, and you can drive it yourself," Donahue said. "It's a favorite of meeting planners, and groups of attendees love to do this. You can get a map of the harbor and see which celebrity homes to look for. You can bring a picnic, wine and enjoy being on this incredible harbor. It's the largest private yacht harbor in the U.S."
Newport also recently welcomed a new boutique hotel, Lido House, which can accommodate true small meetings and retreats. "It's perfect for a group of 10 to 50 people," Donahue added. The 3,000 square feet of meeting space is customizable and private cottages are available for guests.
Photo: Duffy Boats, Newport Beach​. Courtesy of Visit Newport Beach.
"It's incredible—I've never seen anything like it," Donahue said. "You have to have the budget for it, but it's great for small meetings."
Other offsite activities include paddleboarding, yacht excursions and biking. "The typography of Newport Beach is so interesting," Donahue explained. "You can ride down to Crystal Cove, Ocean Boulevard, walk your boat onto the ferry. It's fun to discover Newport Beach by water and land—and there's a lot to discover."
A Major Renovation in Huntington Beach
This past August, The Waterfront Beach Resort (a Hilton hotel) in Huntington Beach held its grand reopening after wrapping up a $140 million renovation, which added 127 new rooms, three new restaurants and a spa. A smaller luxury property in the area is the Kimpton Shorebreak Huntington Beach Resort, boasting 157 rooms and 3,000 square feet of meeting space.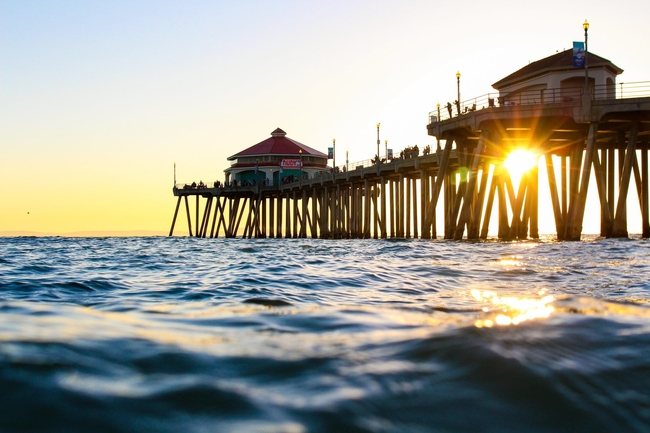 Photo: Huntington Beach Pier. Courtesy of Visit Huntington Beach.
"A small group will typically have its pick of properties," said Matt Tibbetts, director of sales for Visit Huntington Beach.
In 2015, the beach welcomed Pacific City, a sprawling indoor/outdoor shopping and dining complex. "It's really given a boost to our destination, in terms of offerings and a bit of a different look," Tibbetts said.
For small groups, he added that the convenient location and walkability of Huntington Beach is a plus.
"We're 20 minutes from John Wayne Airport, and we have a one-mile footprint—everything our destination has to offer is at your fingertips," Tibbetts said.
[Related: Irvine Company's 3 Orange County Hotels Offer 3 Can't-Miss Experiences]
Teambuilding activities offered in the area include stand-up paddleboarding, kayaking, biking and boat rides around the harbor.
Sustainability and Art in Laguna Beach
Visit Laguna Beach's Johnson said the area typically sees groups as small as eight to 150 book events. Seven of the beach's 26 boutique hotels are located right on the sand. She added you can't get much closer than at the Surf & Sand Resort, where every guest room has ocean views of the Pacific.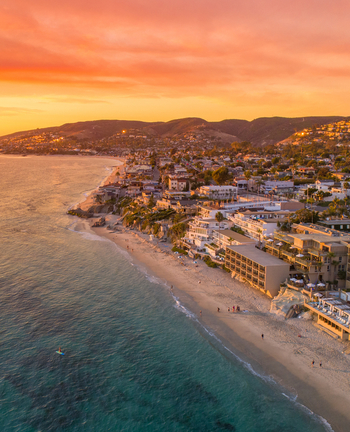 A truly unique property is The Ranch at Laguna Beach, which is recognized for its sustainability efforts. It's even designated as a National Geographic Unique Lodge of the World, one of eight in the U.S. and the only one in California.
Photo: Laguna Sunset. Courtesy of Visit Laguna Beach.
A sustainable tourism expert vetted the property and reviewed it based on the pillars of sustainable tourism:
Protection of natural heritage
Protection of cultural heritage
Support for local communities
Environmentally friendly practices
Sustainable practices of The Ranch include utilizing reclaimed water for irrigation of its grounds; crushing all glass bottles into sand that will fill its golf course bunkers; and tending to a half-acre organic garden on the edge of the property.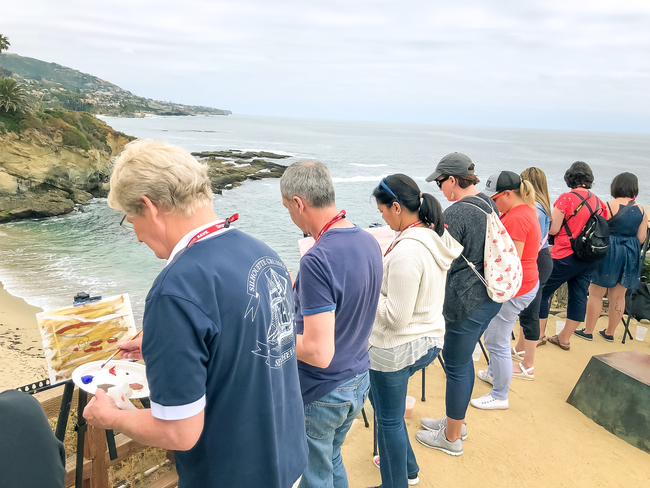 Photo: Plein Air Painting. Courtesy of Visit Laguna Beach
Art is also a major theme that runs throughout Laguna Beach. In the early 20th century, it was established as an artists' colony that attracted artists from all over for the opportunity to paint in the open air (also known as plein air painting).
Small groups can take advantage of nearly 100 art galleries and artists' studios and art classes on the Sawdust Art Festival grounds
"We stay true to our roots of being a community founded on a love of art," Johnson said.
A Small Group Haven
When organizing an event for a small group, meeting planners have their pick of the litter when it comes to unique destinations. These beaches in Orange County offer luxurious properties in a range of sizes, and an abundance of outdoor activities in a high-end but relaxed atmosphere (as well as comfortable temperatures year round).
Break from the status quo and take a look at these beaches between L.A. and San Diego. "There's a real positive trend of saying, 'We have to try some of these secondary and tertiary cities that haven't been on our radar before," Donahue said.
Read next: Planning Your Event: Outdoor Venues in Anaheim and Orange County
Connect
Visit Dana Point | 949.441.5133
Visit Huntington Beach | 714.969.3492
Visit Laguna Beach | 949.497.9229
Visit Newport Beach | 855.5.NEWPORT