Meet With the Sharks at the New St. Louis Aquarium at Union Station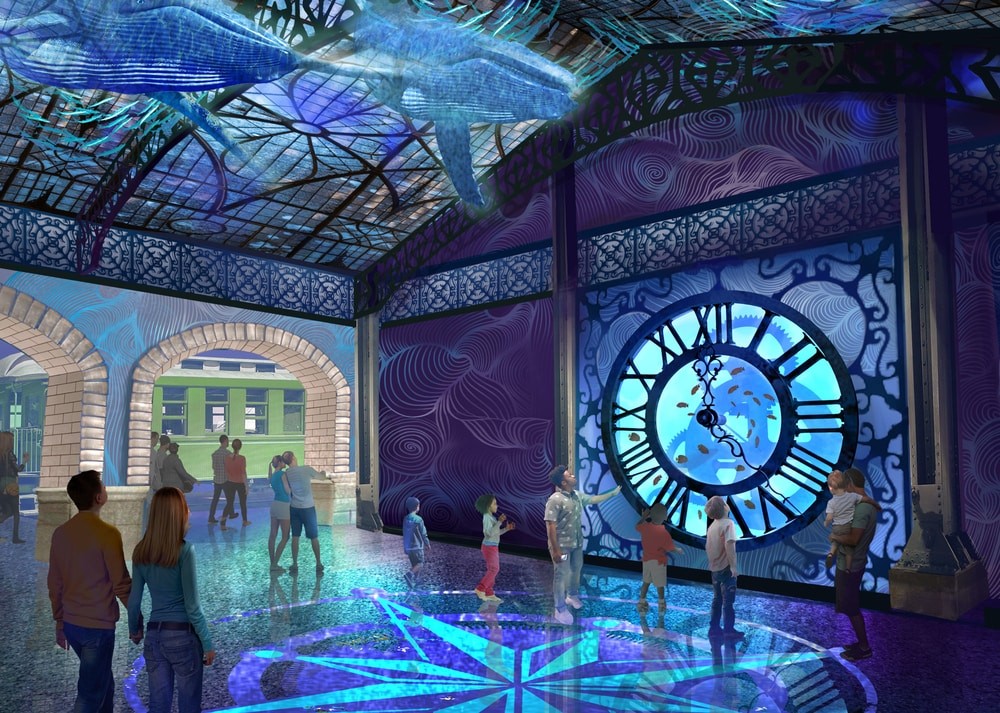 Corporate sharks and real-life sharks can now mingle, with Union Station's new aquarium opening in December 2019.
The 120,000-square-foot St. Louis Aquarium will house 13,000 animals, including a 250,000-gallon shark tank with 80 varieties of sharp-toothed sea creatures.
The aquarium is scheduled to open in time for the holiday season, which corresponds with Union Station's 125th anniversary.
"Union Station was once one of the busiest train stations in the country during the WWII era," said Anthony Paraino, director of communications at Explore St. Louis. "It hasn't been a functioning train station since the '70s, but now there are so many cool things happening at the station like the aquarium."
The aquarium follows a slew of updates led by Lodging Hospitality Management (LHM), which acquired the Union Station property in 2012, including renovations to its 539 guest rooms and Grand Hall restorations. Meetings Today got an exclusive tour of the aquarium's progress ahead of its opening. Here are the details.
The St. Louis Aquarium Details
The aquarium will feature 257 species of aquatic life—from friendly otters and Mississippi River fish to sea urchins and stingrays—but the starring attraction for meeting planners is the 6,000 square feet special event space where the jaw-dropping shark tank habitat is the backdrop.
"Shark Canyon," as it's called, will house sharks and rays, with an acrylic wall that arches over viewers' heads. Attendees will also be able to view the adjacent otter habitat in the event space.
For even bigger events, the shark and otter space will connect with the Midway event space at Union Station, which is 8,000 square feet.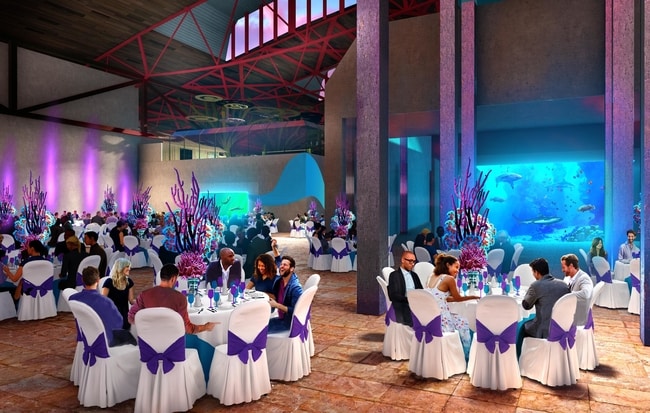 Shark tank and event space rendering, St. Louis Aquarium. Credit: St. Louis Union Station
Aaron Sprowl, the general curator for the aquarium, noted that in addition to the sharks, visitors will have a chance to interact with stingrays, sea stars and even a few sharks in touch tanks where you can pet and feed the animals.
Other exhibits at the aquarium will include:
Confluence Gallery: An exhibit that explores St. Louis' two rivers—the Missouri and Mississippi. Onlookers will find largemouth bass, crappie, paddlefish and longnose gar.
Global Rivers: From piranhas to giant arowana, visitors to this exhibit can view all the world's most interesting river monsters.
Changing Rivers: Otters, owls and sloths call river areas home, too, and this exhibit features them all, plus a deeper look at how humans affect rivers.
The Ocean Shore: Learn more about the critters that hang out at the bottom of shallow ocean waters like horseshoe crabs, sea cucumbers and pencil urchins. Here, you can also touch and feed sharks and stingrays.
The Deep: Creepy creatures of the deep will fascinate at this exhibit, starring jellyfish, octopus, sea dragons and unique coral.
Private tours of the aquarium will be available for corporate groups who'd like to plan a unique teambuilding event. Additionally, groups will be able to reserve the entire aquarium for an event that could also include tickets to ride the St. Louis Wheel, the new 200-foot-tall observation wheel at Union Station, which opened in September.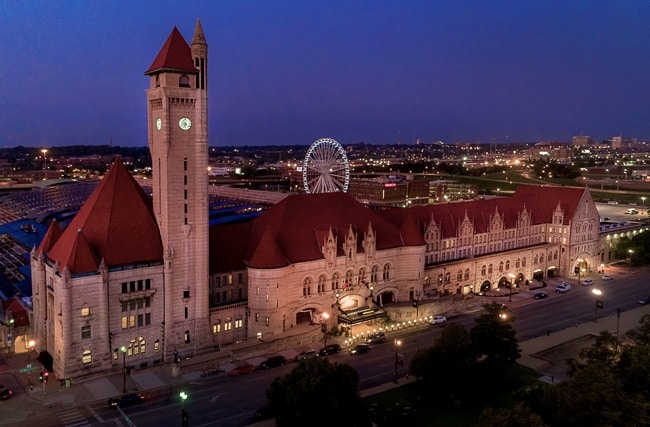 Exterior of Union Station, St. Louis. Credit: St. Louis Union Station
"With the addition of the aquarium and the observation wheel to our upgraded Curio by Hilton hotel and our meeting space, Union Station is now a complete business and entertainment package," said Cameron Schoeffel, director of sales and entertainment, St. Louis Aquarium and Wheel Park at Union Station. "We have the largest amount of meeting space of any hotel in St. Louis and now a massive entertainment complex to match."
The History of Union Station
Union Station opened to the public in 1894 and expanded in 1903 to accommodate visitors to the 1904 St. Louis World's Fair. At its height, it was the largest and busiest railroad station, with St. Louis passenger services including 22 railroads, the most of any single terminal in the world. President Harry Truman, Joe DiMaggio and Joan Crawford are among the many people to have passed through its halls.
[Related: St. Louis' Gateway Arch Revitalization Project Raises Group Interest]
Building a 21st century aquarium inside this 19th century National Historical Landmark and treasured icon of downtown St. Louis was no easy feat, according to Sprowl.
"We had to build around things to maintain the historical aspects of the building," Sprowl explained, saying that the building's original train shed infrastructure is protected because of its historic landmark designation.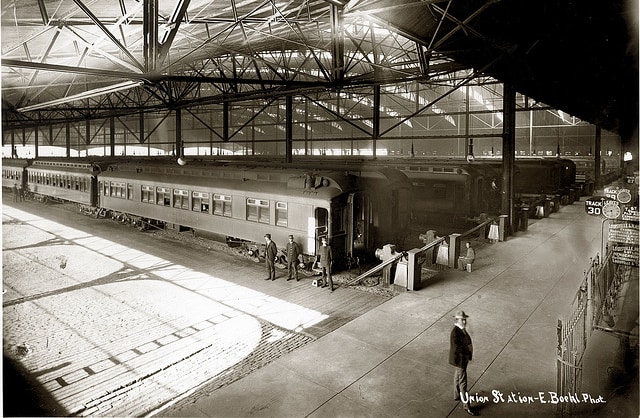 Early 20th-century photo of train shed at Union Station. Credit: Courtesy of St. Louis Union Station
McCarthy Building Companies Inc. was charged with the challenge. The St. Louis-based company brought experience, however, building the 200,000-square-foot OdySea Aquarium in Scottsdale, Arizona, the largest aquarium in the Southwest, and leading the expansion to the St. Louis Gateway Arch Visitor Center and Museum at the Jefferson National Expansion Memorial in downtown St. Louis.
The Union Station project work depended on working from "as-built" drawings from the late 1800s, protecting the original columns, footings, foundation, underground piping and more.
The design of the aquarium experience—concepted by St. Louis-based PGAV Destinations—pays homage to the station's roots. Guests will start their aquarium visit with a train simulation and then get greeted with a giant clock tank upon entering the exhibits.
Additional Amenities for Groups at Union Station
The new aquarium is just one of the many amenities housed in Union Station, including the AAA Four Diamond St. Louis Union Station Hotel, Curio Collection by Hilton. The 539-room property features four unique ballrooms, guest rooms and specialty suites with railroad decor that harkens back to the building's past, and the elegant Grand Hall featuring an award-winning 3D projection mapping light show on the ceiling—including an under-the-sea show featuring humpback whales, sea turtles and various fish.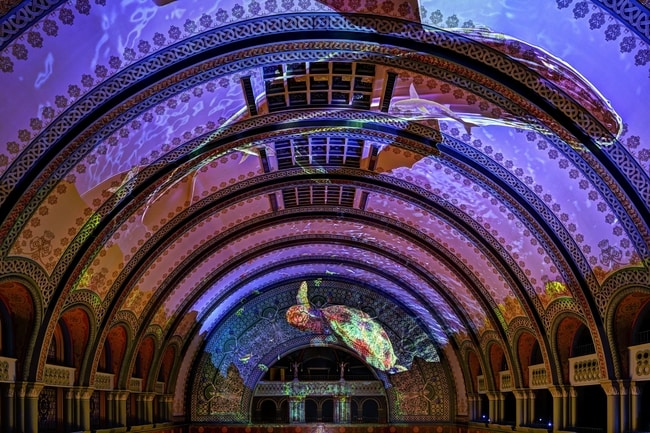 3D light show in Union Station's Grand Lobby. Credit: St. Louis Union Station
Other features at Union Station include:
The new 200-foot observation wheel with 42 climate-controlled gondolas, including 1 glass-cased VIP gondola. The wheel has over 1 million lights that can be customized for events.
Nearby the wheel, a new 18-hole mini golf course opened October 2019.
Over 100,000 square feet of existing flexible event space, including grand halls, ballrooms and conference centers.
Soon-to-be six onsite restaurants, including three new additions of Train Shed, Soda Fountain and 1894 cafe.
Blending the Past with the Present
St. Louis is a town brimming with historic buildings that have been carefully restored and brought into the future. This defining moment for Union Station, one of the city's most treasured landmarks, is yet another example of how this on-the-rise Midwestern city effortlessly honors its past while embracing the future.
"We are excited that the people of St. Louis and our meeting clients have embraced this new vision for historic St. Louis Union Station," Schoeffel said.
Read next: 3 Historic Buildings Repurposed as Hotels in St. Louis