3 Historic Buildings Repurposed as Hotels in St. Louis
The new St. Louis Aquarium that opened inside Union Station this winter, which also houses the AAA Four Diamond St. Louis Union Station Hotel, Curio Collection by Hilton. The updates happening within this historic building are just the beginning in downtown St. Louis.
"We have 30-plus hotel projects underway throughout the region," said Anthony Paraino, director of communications at Explore St. Louis. "A lot of what's happening is repurposing old buildings into the new hotels. We have some hotels that are close by [the convention center] that were built to host people in the 1904 World's Fair."
Because of their convenient location near the America's Center Convention Complex and captivating histories, these hotels are ready-made for inspiring events. In addition to Union Station, here are three more notable historic hotels for your next meeting.
This 1893 historic landmark was first designed by Louis Sullivan—considered to be the creator of the modern skyscraper—as the St. Louis Union Trust Company. Fast-forward to 2013, and the building was vacant. In 2015, it was purchased by Restoration St. Louis and reopened as Hotel Saint Louis in December 2018 under the Marriott Autograph Collection—the first Autograph hotel in St. Louis.
[Related: 3 Nashville Hotels Upping Their Meetings Game]
The renovations and restorations pay homage to Sullivan's style. The original two-story lobby is restored, and its stained-glass ceiling recreated; original architecture elements inspire the interior decor; and the bottom-level restaurant, Union 30, honors the original building's name.
Hotel Saint Louis is also home to 8,000 square feet of flexible meeting space, including five meeting rooms and one ballroom, making it ideal for small to mid-size gatherings.
The International Shoe Company was the largest shoe company in the world in the early 1900s, producing nearly 50 million shoes each year. In this age-old craft of shoemaking, the "last" is the wooden form shaped like a human foot, used to retain each design's shape while leather is carefully fitted on it. It's considered one of the most important parts of shoemaking and is the meaning behind the hotel's namesake.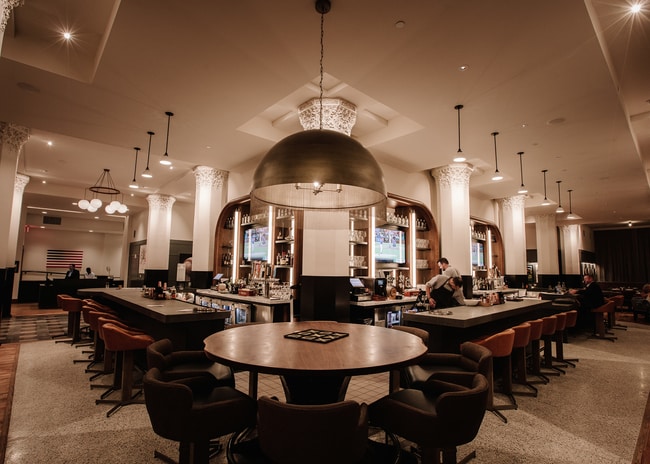 The Last Hotel Lobby. Credit: The Last Hotel
"Back in the day in the U.S., if you bought a garment it was probably produced right on this street," Paraino said, referring to the city's Garment District on Washington Avenue, previously dubbed "Shoe Street, USA."
Originally constructed in Italian Renaissance style in 1922 and welcoming famous faces like presidents Franklin D. Roosevelt and Gerald Ford, and entertainers like Tony Bennett and Nat King Cole, the Chase Park Hotel was famous for its luxury.
In 1960 it merged with neighboring hotel The Park Plaza, and after an extensive multimillion-dollar renovation in 2019, it's now a AAA Four Diamond property and a St. Louis staple. Its central location near the Mississippi riverfront, the business district and Forest Park make it a convenient option for both business and leisure travelers.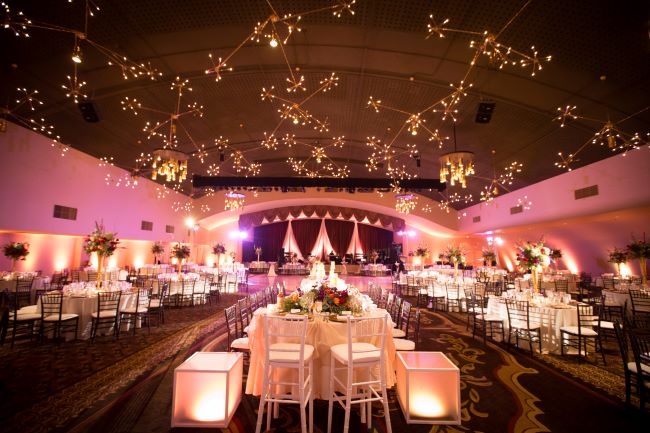 Chase Park Plaza Royal Sonesta Event Set-Up. Credit: Chase Park Plaza Royal Sonesta
Meeting space is in good supply at the historic Chase Park Plaza Royal Sonesta St. Louis. The hotel has 26 meeting rooms adding up to 65,000 square feet. Four ballrooms are available, including the two popular Starlight and Zodiac rooftop ballrooms—which can be reserved together with an attached rooftop terrace—that offer sweeping cityscape views of St. Louis. The hotel recently renovated all its 389 guest rooms and suites in addition to revamping the lobby area.
For history buffs, group tours detailing the hotel's past are available, according to Nina Kult, spokesperson for the hotel.
"In November 2018, the hotel began offering guided historic tours, giving the public a behind-the-scenes look at the iconic structure and the opportunity to hear the legendary stories that put the hotel on the map," she said. "The tours, which sell out every month, are led by Jeanne Venn, who has been a concierge for The Chase for the past 40 years."
Read next: Circadian Lighting Helps Hotel Guests—and Meeting Attendees—Get a Good Night's Sleep