In Memoriam: Patti Shock, 1941-2019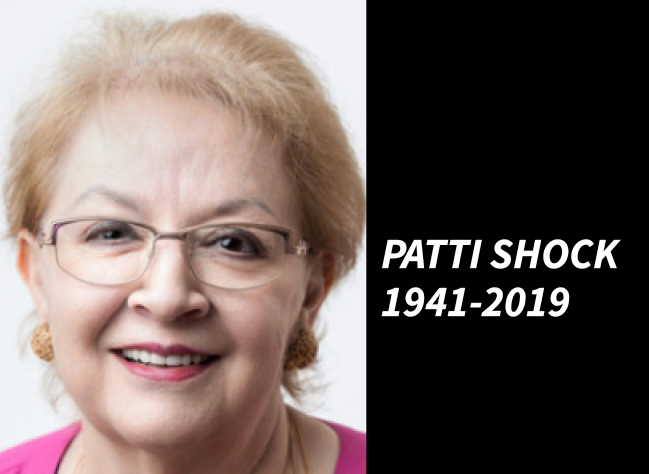 How does one honor a legend and do so adequately? How, further, does one do so when that legend was a mentor, mentee, confidante and dear friend of more than 35 years?
What you'll read here and hear from many at the life celebration for Patti Shock on December 9 in Las Vegas are her attributes as a teacher/professor. And she was amazing at teaching. It's why she was so deeply involved with the founding and furthering the mission of The International School of Hospitality (TISOH).
Patti Shock taught with every fiber of her being and never stopped even when she was at an age when many retired. She sent forth into the world students—traditional and those of us lifelong learners who watched her webinars to continue to improve our knowledge or brush up our skills—better prepared and equipped to serve through hospitality.
You can read her LinkedIn profile to see her many honors. Those of us who followed her in gaining recognition felt as if we were in a very special club.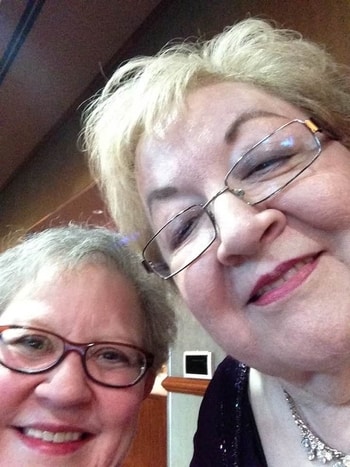 Take a few minutes to read the nomination for her to be inducted into the Hall of Leaders in 2014, and then hear in the video made for her induction in the CIC (now EIC, the Events Industry Council) Hall of Leaders all about her contributions. I especially love Tyra's—like "Patti", only one name needed, as they're so familiar to so many!—comments about the teaching and testing tricks Patti provided to her. (Pictured: Patti Shock and Joan Eisenstodt)
And in that same video, I relished what Dan Parks describes as what I call being the "Perle Mesta of Vegas" and her desire for experiences. (For those too young to know—or too old to remember—who Pearl Mesta was, you can learn more here and here.)
There were Patti's honors from NACE (the National Association of Catering and Events) and the scholarship named for her; gratefully, long before she died so she could relish the kudos and see the results.
Making Relationships Stick
What's surprised me in social media posts and private notes since I posted the information about Patti's death on November 22 (coincidentally, just one day after the second anniversary of her dear mother's death) was how many people met Patti because I'd helped connect them. And though I might have done that, it was Patti who made those relationships stick. She did that—connected people, knowledge and ideas.
What's missing from much of this and all the accolades that will pour in is the incredible support Patti gave to so many of us as a friend and the laughter Patti brought to so many conversations that enhanced the friendships. Her laugh! I'll try to find a recording of it—it would be a great ring tone and boost my spirit.
[Q&A With Patti Shock on Meeting Break F&B Trends]
When I'd go to Las Vegas to facilitate learning at conferences, specifically ExhibitorLive, we'd find a way to see each other, she willing to schlep to the Strip so we could do so. This year, 2019, she had the date wrong on her calendar and we missed seeing each other. It was awful then. Now it feels even worse.
Not hugging her, not talking face to face—this year was a great loss to my body and soul. My planned trip to Vegas for the same show in 2020 will not be the same without a Patti visit.
She and I shared a body type as we aged. We weren't always "fluffy"—age and less mobility can do this, we learned. We shared resources for clothing and humor about our bodies. And long before my spouse noodged me to have kitties in our home, Patti was a lover of and guardian to cats. When she sadly learned that her allergies were too great to continue to have the cats in the house, I found a perfect stuffed kitty on Etsy to keep her company. She was so happy to again have a cat.
A True Friend
Patti was a friend and colleague you could count on. We shared our similar experiences with families in the food business and how those experiences propelled us, in many ways, to our careers.
The ups and downs of family life and the deep friendships we had were subjects of many conversations. I am forever grateful to her friend, David, for ensuring that, in this last week, those Patti wanted to know about how she was after what was to be routine surgery were kept informed. Now that she's gone, David is a special link for me and others to Patti. She'd want it that way.
Our industry depends on the collective wisdom and experiences, especially those shared, of many. For food and beverage knowledge, many of us depended on my friends and colleagues, Arlene Sheff and Patti Shock. Arlene died in 2018; and now Patti is gone.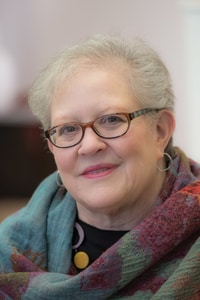 The quote from John Connally in the second link about Pearl Mesta, and building on what I experienced and Dan Parks said in the Hall of Leaders video, I will now paraphrase about Patti:
"You were a tradition; no, more than a tradition, you were THE font of knowledge, wisdom, joie de vivre in the hospitality industry."
And now that you have left this Earth, Patti, I promise you, we will keep your wisdom and the knowledge of you alive for future generations.
Joan Eisenstodt is a blogger for Meetings Today, a meetings industry consultant and educator, and principal for Eisenstodt Associates.
Meetings Industry Veterans Share Their Memories of Patti Shock
Following are just a few of the tributes that have been given to Patti Shock and sent to me from some of Patti's closest meetings industry friends and colleagues.
Patti was a pioneer in meetings education. I started hearing her name when I got my very first job in education, at Georgia State University, where she had also taught. I so looked up to her that meeting her was once my main reason for attending a conference.
She was so dedicated to her students and to the faculty that worked for and with her. We could never go anywhere in Las Vegas without her seeing a former student from UNLV or TISOH. They were always happy to see her, and she was always happy to be seen! Both a pioneer and cutting edge, Patti ran circles around us younger faculty in terms of the latest, greatest online teaching methods.
On a personal note, Patti helped me to realize it is okay to be blunt. Being with her was positively relaxing because we both just said whatever we were thinking, no need to finesse or mince words.
I think that is what I will miss about her most of all. I never wondered where I stood with Patti or what she was thinking. She was one of the most real people I have ever had the good fortune to know. My life is better for having her in it.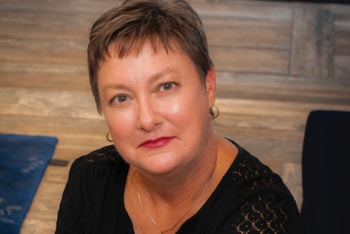 Tyra Warner (Hilliard), PhD, JD, CMP | Chair, Department of Hospitality & Tourism Management | College of Coastal Georgia
♦ ♦ ♦
My heart is heavy and my mind whirs with conflicting thoughts. It is hard to believe my colleague, mentor, friend and so much more has left this Earth. We didn't see each other too often, but when we did, it was like we had just talked the day before. If you speak with others, they will probably say similar things.
I was honored when Patti asked me to teach for her at UNLV and enjoyed my time there, which lasted for 10 years, until funding dried up. Patti was a gentle, kind and loving person who also loved cats but couldn't have them because of allergies. But we shared many instances of kitty photos, videos and memes.
If you were connected with Patti on Facebook, you were most likely one of her Words with Friends victims—yep, she was that good. We'd play 10-15 games at once (or whatever FB would allow), and she'd win 9 out of 10.
Patti was also a very strong woman who fought adversity while excelling in her career as an educator and icon within both the catering industry and the larger hospitality industry as well. She received numerous awards, including the prestigious Hall of Leaders and the Timothy S Y Lam Foundation award, to name just two. Soon, a scholarship will be established in her honor.
During her lifetime, she taught and mentored so many students and energized them to become successful in our industry. And now, students who will never know her personally will have the opportunity to become successful in our industry because of her.
She is such an icon that her contributions to this industry and to the world in general will live on far beyond her years on Earth.
Brilliant, funny, kind, compassionate, jokester, strong. She is all of them. This woman meant so much to me. I will never forget my time spent with her. Her genius lives on in in her writings, and in all those she mentored, taught and came into contact with. RIP, my friend. You are sorely missed.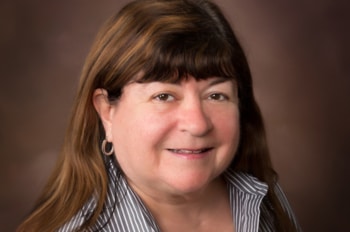 MaryAnne Bobrow, CAE, CMP, CMM | President, Bobrow Associates
♦ ♦ ♦
Patti was an icon in the events industry. She was the only educator to be inducted into the Events Industry Council Hall of Fame and devoted more than 30 years in teaching events at FIU, UNLV, TISOH, Georgia State and Kennesaw State. She was the author or co-author of several books on catering and pioneered online education.
If you had her as an instructor this semester or at some earlier time, consider yourself fortunate. You learned from a legend whose name is identifiable throughout the industry as one of our true giants.
On a personal note, I worked with Patti since 2003, sometimes closely. She was, in many ways, a private woman. However, her one big public attribute was her love for the events industry and her inexhaustible commitment to the events industry in providing the best and most current education she could.
On this she was not only relentless, but visionary in developing new ways to educate all who were interested. Many times on a Sunday morning or late some evening I'd see her posting valuable information for her students and alums.
You never stopped being a person she reached out to help, even years after having her as an instructor. In that way she was the most selfless academician I've ever met, and in addition to her valuable classroom lessons, to me she was a role model and beacon I've faintly tried to emulate. She was like a sun many of us reflected as moons with our students, and her passing means some of us need to redouble our efforts to generate some of the light we were fortunate enough to be allowed to bask in.
Her loss to the education of prospective event planners can't be fully replaced, but it is upon us to try to maintain both her legacy and try to partially replicate the gifts she gave her students.
Dan Cormany | Assistant Professor of Event Management, Florida International University, FIU Chaplin School of Hospitality and Tourism Management
* Dan is a recent colleague of Patti Shock's at Florida International University.
♦ ♦ ♦
Our friendship spanned years, dimensions and realities. I am going to happily remember all the amazing times and experiences we shared over the years.
I'm probably the only person who can say they went skydiving, scuba diving, space walking to the International Space Station, racing on the Great Wall of China, and then off for a deep-dive exploration of Mars, Jupiter and Saturn...all in the same evening while exploring Second Life. She saw the distance learning possibilities of that platform instantly.
In the real world, we dined at the greatest restaurants in Vegas, saw amazing concerts and shows, partied hearty, and talked about the future. Our shared tastes in new technologies, high-end cuisine, Jeff Beck, the Eagles and new innovations around the globe kept us connected.
Her amazing capacity to see trends along with their challenges and solutions far ahead of pack was a true gift. She was one of the bravest people I have ever known. She spoke her mind and she meant what she said—if she said it, you knew it was true. She was the greatest cheerleader I ever had and the kindest, most accurate critic.
Her last words to me were, "Oh, to be young again, knowing what I know now…time travel!"
See you in 2145, Patti...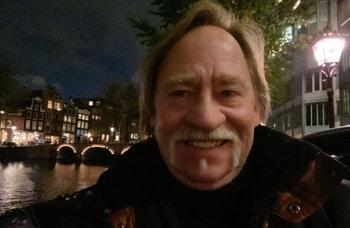 Dan Parks | President, Corporate Planners Unlimited
We have been asked by many about donations in Patti's honor. Two suggestions:
1. PCMA, which is how I first met Patti, will continue to help students. Visit here, put in the amount and then click where it says "Dedicate my donation in honor of or in memory of someone" and add the name "Patti Shock," it will be to help students.
2. Or you may donate here, through NACE, which will go to the TISOH scholarship.
THANK you. It will mean so much to family and friends to help others in honor of Patti's life of educating others.
Read more featuring Patti Shock: