Inspiring Arts Experiences in Kansas City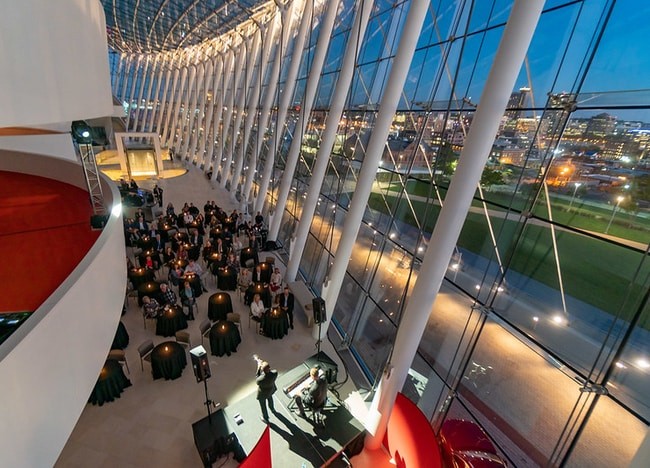 Kansas City, the dynamic metro area that straddles the edge of the Kansas and Missouri borders, is known for its barbecue, fervent sports fans and thriving arts scene.
Its jazz heritage is well-known, too, being home to the American Jazz Museum. But that's not the end of inspiring, artistic experiences in Kansas City. From museums showcasing fine art to public murals and art festivals, the Kansas City area's arts scene provides indoor and outdoor opportunities to breathe creative life into the meeting agenda.
Following are six standout arts experiences for groups convening in metro Kansas City.
Inside Kansas City, Missouri's Arts Institutions 
The works displayed at the Kemper Museum represent some of the most celebrated contemporary contributions from today's art world.
"Each year, Kemper Museum presents over a dozen special exhibitions, featuring established and emerging artists from the United States and around the world," said Betty Kindler, the museum's special events manager.
A highlight of 2020 will be an exhibit by Ethiopian artist, Elias Sime, who works with repurposed materials including electrical wires and computer motherboards to create tableaus that consider the environmental impact of technological advances.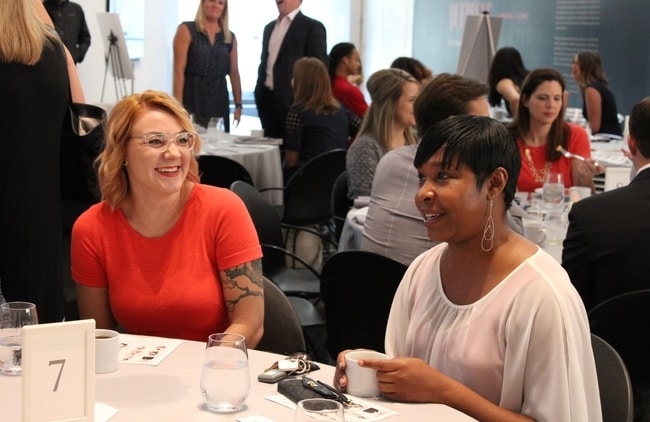 Meeting at the Kemper Museum of Contemporary Art. Credit: Kemper Museum of Contemporary Art.
The entire museum can be used for an event, during which attendees can browse all the unique art on view throughout the galleries. 
The museum's atrium, with a 22-foot-high skylight, is a standout space that accommodates up to 150 people seated.
"Kemper Museum is happy to provide complimentary docent-led tours during your event as a way to engage guests," Kindler said. "The museum's education team is always excited to create a unique experience for groups, including arranging fun artwork scavenger hunts that are perfect as interactive icebreakers."
Ballet, symphony, opera, spoken word, film and more fill the calendar of events at the Kauffman Center for the Performing Arts, which offers a discount on group ticketing. 
On performance evenings, groups can reserve the smaller event spaces for a pre- or post-show reception or dinner, according to Paul Schofer, the Kauffman Center's president and CEO.
"The Ewing & Muriel Kauffman Reception Suite and Sprint Reception Suite are intimate spaces, each allowing easy access to both performance halls," he said. 
The Kauffman Center welcomes groups of up to 1,000 people for special events ranging from small private dinners to large celebrations catered by the in-house executive chef and her staff.
"Our diverse spaces can be combined for an expanded event experience for guests," Schofer said. "Imagine a keynote program or special entertainment experience in one of the world-class performance halls, followed by a memorable dinner overlooking the city lights in Brandmeyer Great Hall."      
Brandmeyer Great Hall is the grand lobby space featuring a four-level curtain wall of glass that shows off an amazing view of the Kansas City skyline. 
Schofer recommends the 1,600-seat Helzberg Hall for events as well, which features an impressive custom-designed mechanical organ as its dramatic centerpiece. 
"The stage and seating placements create an immersive experience and inspiring environment for a large meeting or presentation, or an intimate dinner for 100 on stage," Schofer said.
Guided and self-guided tours can be arranged for groups at the American Jazz Museum, which is an anchor attraction in the historic 18th & Vine Jazz District.
The museum offers a stroll through the history of jazz via interactive exhibits, films, and art and photography galleries.
There is also a calendar of jazz performances in the museum's Blue Room Jazz Club and its Gem Theater.
Groups can book the Gem's 500-seat auditorium for a seminar, its lobby and mezzanine for a reception, and one of its two conference rooms for meetings.
The must-see masterpieces on display at the Nelson-Atkins Museum of Art include Vincent van Gogh's "Restaurant Rispal at Asnieres," Paul Cezanne's "Man With a Pipe," and Caravaggio's "Saint John the Baptist in the Wilderness."
Groups can explore these artworks any time during business hours, according to Kathleen Leighton, manager, media relations and video production, who added attendees can also join in on pre-scheduled tours listed on the museum's website.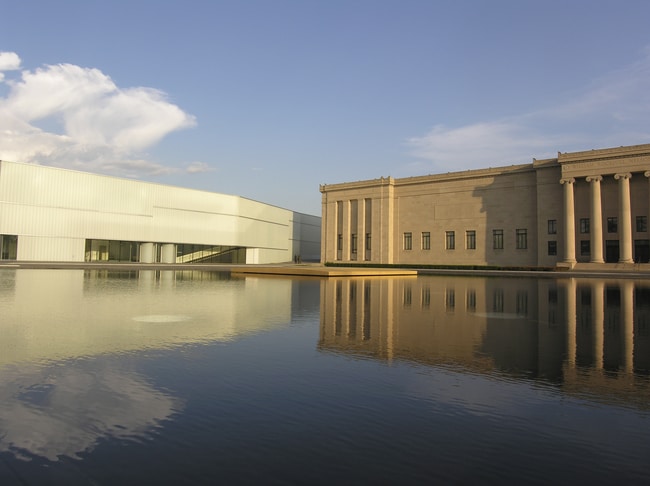 The Nelson-Atkins Museum of Art. Credit: The Nelson-Atkins Museum of Art.
The Nelson-Atkins is also an impressive setting for receptions, meal functions, presentations and meetings. Among its six rental spaces is the 500-seat Atkins Auditorium, which features a coffered ceiling and audiovisual capabilities, the Bloch Lobby, which accommodates up to 1,000 people, and Rozzelle Court, which is one of the most popular event venues in Kansas City.
Outdoor Artistry in Kansas City, Kansas
Groups meeting in Kansas City, Kansas are encouraged to contact the Kansas City Kansas CVB for information about guided tours of downtown's Minnesota Avenue, which is also known as the Avenue of Murals.
"You'll find an array of iconic outdoor murals honoring the different ethnic groups that have made Kansas City, Kansas their home," said Maila Yang, the CVB's marketing and communications manager. "Together there are eight murals, each celebrating the history and cultures of our city."

Avenue of Murals. Credit: Kansas City Kansas CVB
The Avenue of Murals began in 2004 with the goal of installing quality public art downtown to educate residents and visitors about the city's ethnic make-up.    
One mural tells the story of the Hmong people from the mountains of China, another pays tribute to Mexican folklórico dancing, and "Wyandot Echoes" honors the Wyandot Indians, who despite difficulties built the prosperous town that grew into Kansas City, Kansas. 
Making time in the itinerary to visit an annual festival that promotes area arts and culture is another winning way to get the group outside.
Planners can check the local calendar to see if one coincides with the meeting's dates.
"No matter what time of the year you are here, there's always a special event or festival to enjoy," Yang said. 
Annual festivities where groups will find arts and crafts for sale and delicious food include the Latino Arts Festival, Wyandotte County Fair and the Kansas City Renaissance Festival. 
Plus, Kansas City, Missouri, hosts the Brookside Art Annual and Plaza Art Fair. At each of these events, attendees may find original artworks to take home as a souvenir of their time in Kansas City.
[Related: New Hotels and Group Venues Rise in Kansas City's Metro]
Art-Inspired Teambuilding in Kansas City
Interactive arts experiences that encourage creativity and performance are fun, productive teambuilding activities that your group won't hate.
Following are several Kansas City, Missouri-based opportunities that'll have attendees crafting, painting and singing without abandon.
Attendees can choose from a full menu of DIY craft projects that will result in a take-home gift at the Create-It Studio.
Groups of up to 30 people can either complete the same project in a friendly competition and then vote on whose work is ahead of the rest, or they may choose different projects. Options range from creating customized photo frames and handmade journals to wreath making and soap making.
Instruction sheets and supplies are provided, and on-staff "craft-ologists" are available to help when needed. Groups are welcome to bring food and drinks, including adult beverages.
Liquid courage comes in the form of specialty cocktails including Purple Rain, made with plum vodka, and rum-based Taylor Swifties may help loosen up attendees before they engage in a silly, informal singing contest.
Offkey's private VIP suite accommodates up to 50 people and includes four microphones, three displays, a food-serving area, and tambourines for attendees to use as they perform.
Painting Sessions
Groups interested in a more laidback outing could call on either Pinot's Palette or The Tipsy Red Fox, two businesses that mingle fun painting sessions with wine tasting.
Pinot's Palette offers several team-bonding activities, including the standard paint-and-sip class, during which everyone completes the same painting, and jigsaw painting, which should result in several separate paintings lining up to create a mural.
The Tipsy Red Fox also hosts private paint-and-sip events with advance reservations.
[Read This Next: 6 Group Tours Ideas While in Kansas]
Latest & Greatest
Kansas City, Missouri
Kansas City Marriott Downtown completed a $40 million guest room renovation in August 2019 inside both the Marriott and Muehlebach towers. The renovation included a complete redesign of all 970 guest rooms to feature technologically advanced amenities including computer-friendly work desks, high speed internet and more.
In March 2019, Crowne Plaza Kansas City Downtown completed a renovation including updates to all 385 guest rooms, lobby, bar and front desk.
The 120-room 21c Museum Hotel Kansas City opened last year with more than 6,200 square feet of meeting space including a ballroom, private galleries and a conference room.
Crossroads Hotel opened last year with 131 guest rooms and several meeting spaces including the atrium, a ballroom and two boardrooms.
The Westin Kansas City at Crown Center completed a renovation of all 724 guest rooms last year. 
Kansas City, Kansas
The historic Memorial Hall, which features a 3,000-seat arena and a ballroom to accommodate up to 250 people, is undergoing upgrades to include a new parking lot, new windows and HVAC system, and new LED lights.
Connect
Kansas City Kansas CVB | 913.321.5800
Visit KC | 816.691.3800
Read Next: Kansas City's metro areas feature vibrant regions