Space Coast and Daytona Beach Offer Rockets, Racing and More at Unique Venues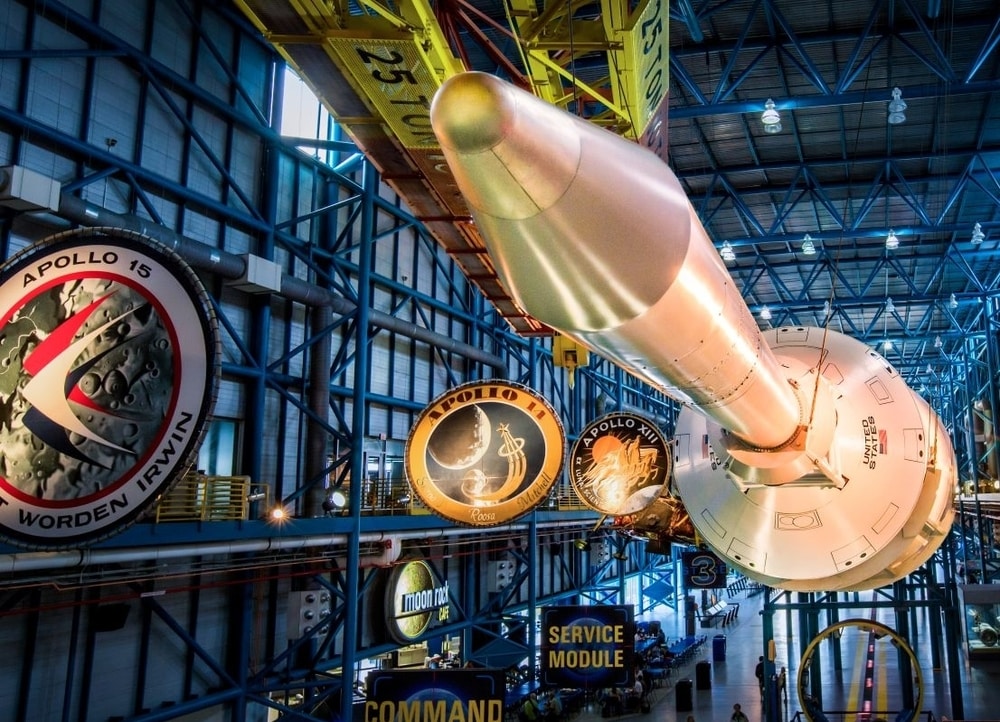 From meeting with astronauts and among rockets to networking at the Daytona International Speedway, there are a wealth of unique venues along Florida's Space Coast and in Daytona Beach. Even better, these spaces are well equipped to host gatherings from small to large.
For a truly memorable offsite meeting or event your attendees will be talking about for years, consider one of these unique venues in the region—hand-picked for their wow factors and add-on experiences.
Meetings at NASA's Kennedy Space Center
A trip to Florida's Space Coast—which includes Cocoa Beach, Titusville, Palm Bay and Melbourne—would not be complete without a visit to NASA's Kennedy Space Center Visitor Complex in Cape Canaveral.
Groups can stroll through the Rocket Garden with its historic spacecraft, view memorabilia from former astronauts and experience the Shuttle Launch Experience, designed by astronauts to give visitors a feeling of taking off in an actual shuttle.
And while NASA's shuttle program has been discontinued, there's still a chance of seeing other rockets and commercial crafts from Elon Musk's SpaceX launching from Kennedy Space Center.
Day meetings are popular at the Dr. Kurt H. Debus Conference Facility overlooking the Rocket Garden, which can seat up to 230 guests, or the retro-inspired Apollo/Saturn V Center Conference Room, once used exclusively by NASA executives to watch shuttle launches. This room can hold up to 44 and boasts a view of the launchpad across Banana Creek.
"The Space Coast has some very unique and interesting venues to hold meetings," said Peter Cranis, Executive Director of the Space Coast Office of Tourism. "Where else can you go for a business meeting and not only have beautiful beaches, but potentially see a rocket launch?"
Another venue, Space Shuttle Atlantis, transports guests through two shows detailing the shuttle program, highlighting Atlantis' achievements and peering into the spacecraft that was only previously viewed by astronauts in space. There are over 60 interactive exhibits celebrating the groundbreaking era of space exploration.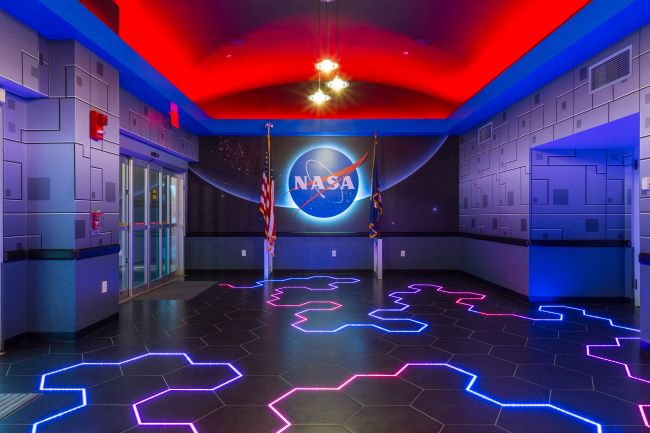 Photo: Caption: Astronaut encounters lobby, Kennedy Space Center. Credit: Kennedy Space Center
Space Shuttle Atlantis holds 250 seated and 1,000 for a reception. Smaller venues include Heroes & Legends, featuring the U.S. Astronaut Hall of Fame, which can accommodate up to 150 standing, and Journey to Mars: Explorers Wanted, for groups of up to 100 for cocktails.
Planners can assist in booking a veteran NASA astronaut as a keynote speaker on topics such as the History of the Space Program, Biological Research at Kennedy and the Women of NASA, which is a major benefit of hosting events at the center.
"We've done everything from lunch with an astronaut to a tour of the actual control center to buyouts of the center for an unforgettable evening function at the complex's Apollo/Saturn V Center, a 1,000,000-square-foot facility where the gigantic 363-foot Saturn V moon rocket floats directly over dining tables,"  said Erin Feldman, senior director of product development for Hello! Florida Destination Management. "We did an event at the Rocket Garden also where guests walked around these large rockets taking photos. There are endless capabilities for groups."
Feldman added they've also had groups cruise on pontoon boats on the Banana River through the Port Canaveral Lock.
"The two-hour tour includes commentary by a very knowledgeable captain who talks about SpaceX, the Port and the outgoing cruise ships," she said. "We pair this tour with lunch in Cocoa Beach Village."
Meetings on a Paddle Wheeler in Cocoa Beach
Five miles south of Cape Canaveral in Cocoa Beach, Penny "the boat lady" Flaherty, owns and operates the Indian River Queen. She says meetings on board her paddle-wheeler have been dubbed "meetings with a view."
"We've had meetings from 50-150 (though they can take 234 total) for breakouts—indoor and outdoor. "We take people out of the regular meeting room and offer something different," Flaherty said.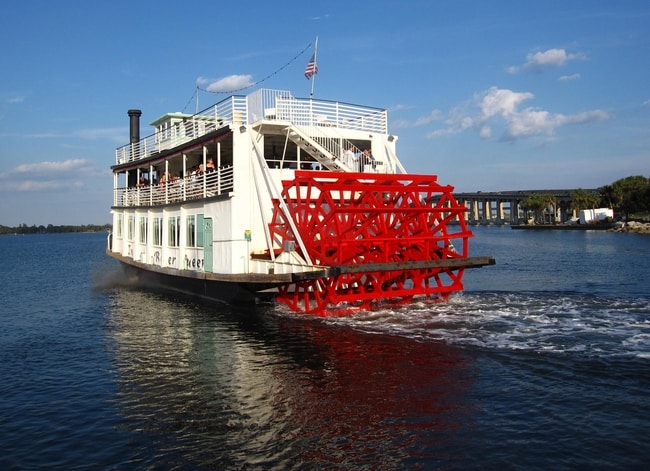 Photo: Indian River Queen boat in Cocoa Beach. Credit: Indian River Queen
While they do have a preferred caterer in a local restaurant, The Tulip, groups have brought in everything from Nigerian food to Indian food and beyond.
"We do appetizers during sunsets, buffets and seated dinners on the two- and- a-half hour sail. We also have a full bar," she added.
The boat leaves from the Cocoa Village Marina and offers dinner cruises, lunch cruises, cocktail cruise parties and rocket launch cruises.
Meetings at Brevard Zoo's Nyami Nyami River Lodge in Melbourne
At Melbourne's famed Brevard Zoo, the Nyami Nyami River Lodge hosts company picnics and retreats with a sweeping backdrop of lush surroundings and wildlife.
The 3,000-square-foot lodge is not as rustic as it sounds, however. It's equipped with AV tech, Wi-Fi, podium, tables and chairs and a caterer's kitchen for meetings with meals. The covered veranda is the perfect spot for an up-close photo of giraffes sauntering by.
The zoo also offers meet-and-greets with sloths, goats, alpacas, birds, train rides, kayaking, scavenger hunts and the special Treetop Trek adventure where guests zipline through the trees for a bird- eye view of parrots, monkeys and alligators.
Meetings at the Speedway, Museums and More in Daytona Beach
Daytona Beach is known for the Daytona International Speedway and other race-themed attractions. Groups can leverage this for meetings, receptions and corporate outings.
These types of events can be held at the speedway in the Driver's Meeting Room for small groups, while larger groups can book the Velocitorium, a 60,000-square-foot showroom that combines function space with attractions like the Goodyear Heritage Museum. Groups can have cocktails while checking out the racing memorabilia or playing air hockey or billiards. Group tours of the facility are also available.
A can't-miss experience at the speedway is the Richard Petty Driving Experience, which allows guests to ride shotgun in an authentic NASCAR stock car driven by a professional instructor reaching speeds of over 160 mph. Or they can take the wheel themselves for the 2.5-mile, eight-lap ride.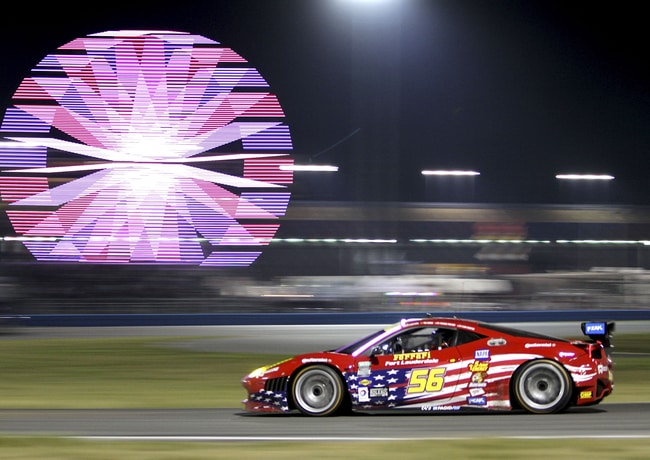 Photo: The Rolex 24 at Daytona International Speedway. Credit: Daytona International Speedway
Another iconic offsite venue in Daytona Beach is the Smithsonian-affiliated Museum of Arts & Sciences (MOAS). The 100,000-square-foot facility sits on 90 acres and houses the vast collection of important artworks in the Cici and Hyatt Brown Museum of Art, featuring a rotating collection of 2,600 Florida-themed oil and watercolor paintings.
The permanent gallery contains the most significant paintings from the Brown's collection of Florida art. Featured paintings include Louis Aston Knight's 1910 "Sunset on the Suwannee River." Conference rooms with full meeting and presentation capabilities are available. The West Wing Main Hall, for example, can accommodate 265 banquet-style.
MOAS also houses a state-of-the art planetarium and The Root Family Museum Train Station, which has been newly enclosed and remodeled. This one-of-a-kind space features two trains on either side of the event space giving guests a feeling of being in an actual train station. The venue can seat up to 96 banquet style and 126 for a cocktail reception.
[Related: Hotel Openings and Attraction Updates in Southwest Florida]
For an unforgettable historic venue, the 1884 Lilian Place is the oldest grand house on Daytona's beachside. The Italianate Victorian house was built by one of the city's first settlers, Laurence Thompson (1848-1920). While it was abandoned until 2009, Volusia County purchased the property and it has been restored to its magnificent glory, replete with period furniture and widow's walk. Tours of the home, named for Thompson's daughter, can be booked daily.
"We really do have some wonderful flexible spaces and unique offsite experiences in Daytona Beach to energize your meetings and provide attendees with opportunities to reconnect, discover and grow," said Linda McMahon, director of group sales for Daytona Beach Area CVB.
Meetings at The Casements Historic Home in Ormond Beach
North of Daytona Beach on the banks of the Halifax River sits another historic home that doubles as a unique event venue.
The Casements was built in 1913 and acquired by John D. Rockefeller as his winter home. He lived here until his death at 97 in 1937. Since then it has been a school, junior college and a rest home.
In 1973 it was placed on the National Register of Historic Homes and purchased by the City of Ormond Beach. It was restored with the help of a half-million-dollar grant and today offers classes and workshops and the renovated Rockefeller Gardens with its outdoor stage can be used for special events.
Executive Chef Jason Ward // The DAYTONA // Daytona Beach, Florida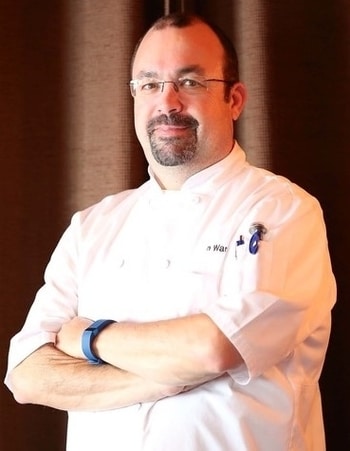 Groups can channel the thrill of the racetrack right from The DAYTONA, a new six-story hotel with guest rooms and common areas that pay homage to the destination's unique racing heritage. It was designed by Studio 11 Design.
(Photo: Executive Chef Jason Ward at The DAYTONA. Photo courtesy of Jason Ward.)
The onsite Restaurant Sir Malcolm was inspired by Sir Malcolm Campbell, the famous British racing motorist. It's a sophisticated, classic American restaurant with international influences helmed by Executive Chef Jason Ward. On the restaurant's outdoor terrace, guests can dine above Victory Circle.
We chatted with chef Ward about culinary offerings for groups and food trends.
When did you become interested in cooking?
I've always had a love for cooking, family gatherings and cookouts, which sparked my interest in cooking, and I began cooking at the age of 13. I studied cooking at Johnson & Wales University.
What do you do that's special for groups?
When we have groups visit the property, we'll customize menus specific to their needs and preferences to create an unforgettable dining experience.
What are the trends you're seeing as far as food and drink?
We've been seeing a lot of trends such as foods being injected or infused with other flavors and ingredients as well as beverages with flavored and smoked bubbles.
What's your favorite thing to cook?
Pork is my favorite item to cook.
Are chef's tables still popular for groups?
Absolutely! People love to be immersed in the details of cooking and watching a chef do what they do.
If you were hosting a chef's table, who would you invite?
I'd invite James Beard, Andrew Zimmer, Julia Child, Sammy Hagar and Charlie Chaplin.
The Latest Renovations and Openings in Central East Florida
A 152-room Courtyard by Marriott just a few miles west of Kennedy Space Center is in the works. It is expected to be open by fall 2020.
The Plaza Resort & Spa in Daytona Beach is in the final stages of a multi-million-dollar renovation, including balcony repairs, which begins this December.
The DAYTONA, an exclusive 144-room Marriott Autograph Collection hotel, opened in April at ONE DAYTONA, across from Daytona International Speedway. It has a heated pool with private cabanas, a fitness center and more than 10,000 square feet of meeting and event space.
The 318-room Daytona Beach Resort & Conference Center reopened in January after a $12 million renovation. It has 17,000 square feet of meeting space, including the Tides Ballroom.
The Shores Resort & Spa completed its multimillion-dollar renovation, including all 212 rooms. It has 20,000 square feet of indoor and outdoor meeting space.
Hard Rock Hotel Daytona Beach, a $40-million-plus oceanfront renovated hotel, opened in 2018 as a new four-star luxury resort with 200 rooms, a ballroom, live music terraces, signature amenities and spa experiences. It has 20,000 square feet of flexible meeting space.
The boutique Chateau Mar Beach Resort in Ormond Beach opened with 51 rooms.
Homewood Suites by Hilton in Cape Canaveral opened with 151 sleeping rooms and two meeting rooms: The 200-square-foot Ocean Breeze Room and the 563-square-foot Ares Room.
The 112-room TownePlace Suites by Marriott opened in Titusville with a 252-square-foot meeting space.
Hyatt Place will open in mid-February 2020 in Titusville. It will have 100 rooms and a fifth-floor meeting room with expansive views of the space center's launch pads.  It will also have 1,700 square feet of meeting space. 
Connect
Daytona Beach Area CVB | 386.255.0415
Space Coast Office of Tourism | 321.433.4470
Read next: Central East Florida Is a Hotbed for Group Adventures