Puppy Love: 150 Lobby Dog Adoptions and Counting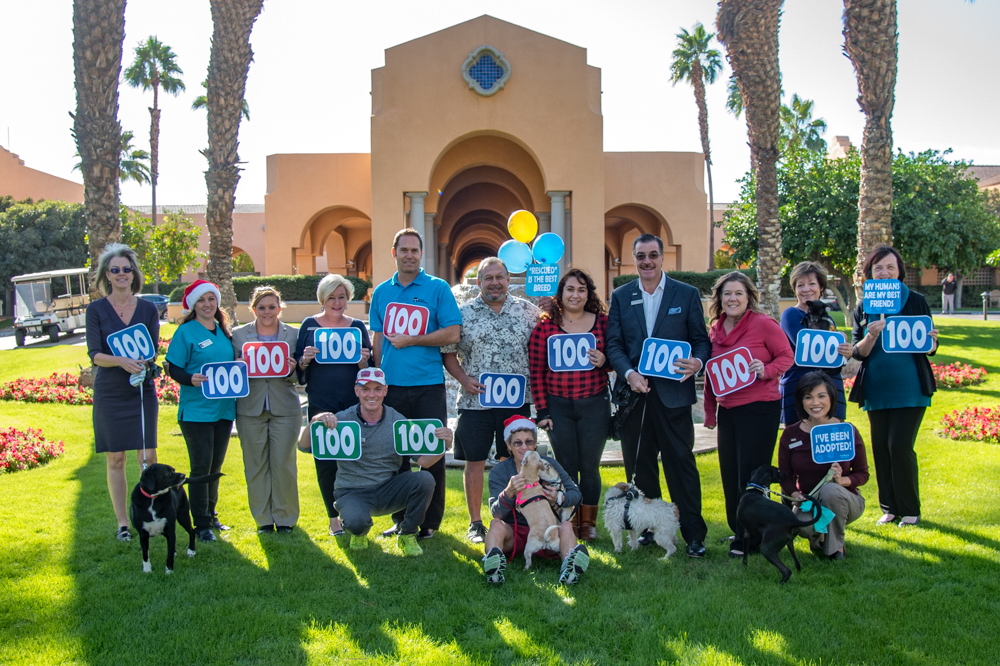 Guests staying at Rancho Mirage, California's The Westin Mission Hills Golf Resort & Spa may check out with a furry lifelong companion after enjoying their stay in this 512-room desert oasis outside of Palm Springs.
The resort helps man's best friend find forever homes as part of its lobby dog adoption program, with nearly 150 dogs to date trotting out of the lobby with a new family.
"For the last four years, we've had this wonderful program in place that's not only a gift to our guests but our associates. It just enriches our souls and well-being," said Westin General Manager Tom Scaramellino.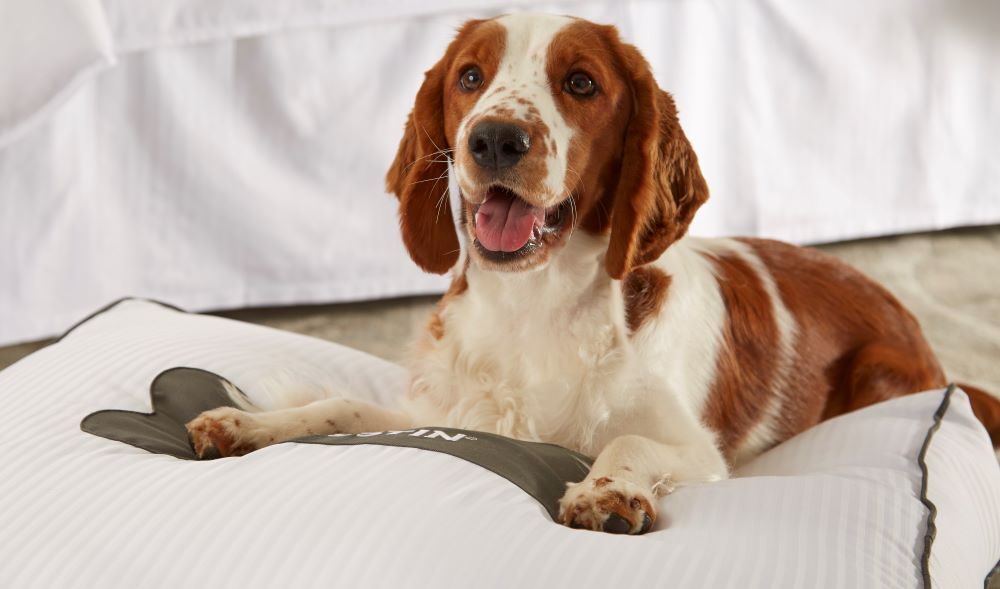 "It just pulls on their heart strings like you can't believe. When they adopt, we take pictures, have balloons and the staff applauds—it's just something special."
Meetings Today first encountered this heart-warming offering during our Meetings Today LIVE! Golf program in late October 2019, and taped a video with Scaramellino onsite.
The Westin's dog adoption program is yet one more example of the power of pooches in the meetings and hospitality industry, with many conventions offering puppy cuddling and adoption spaces on the tradeshow floor or outside of event halls.
The program also fits well into Westin Hotels & Resorts' "Six Pillars of Well-Being," part of a brand-wide wellness and fitness focus centered on the following principles:
Sleep Well
Eat Well
Move Well
Feel Well
Work Well
Play Well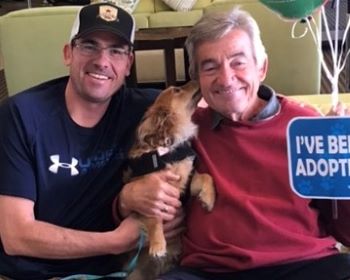 Although the dog adoption program was started by his predecessor, Scaramellino has taken the ball, so to speak, and run with it.
"My predecessor wanted to activate the lobby with something the guests would find appealing, and there was a lot of talk about a lobby dog," he said. "And some of the staff members said, 'What about a dog adoption area?'"
Tom Scaramellino: The Westin Mission Hills Golf Resort & Spa GM chats about this feel-good partnership with Animal Samaritans at Meetings Today LIVE event.
Led by Scaramellino's executive assistant, Raquel Wood, the dog adoption program has since branched out to be part of the resort's annual Coachella Valley Heart Walk for the American Heart Association, which Scaramellino chairs.
Walkers can now bring their dogs on the walk, and guests can also take the adoption dogs for walks around the three miles of pathways surrounding the resort.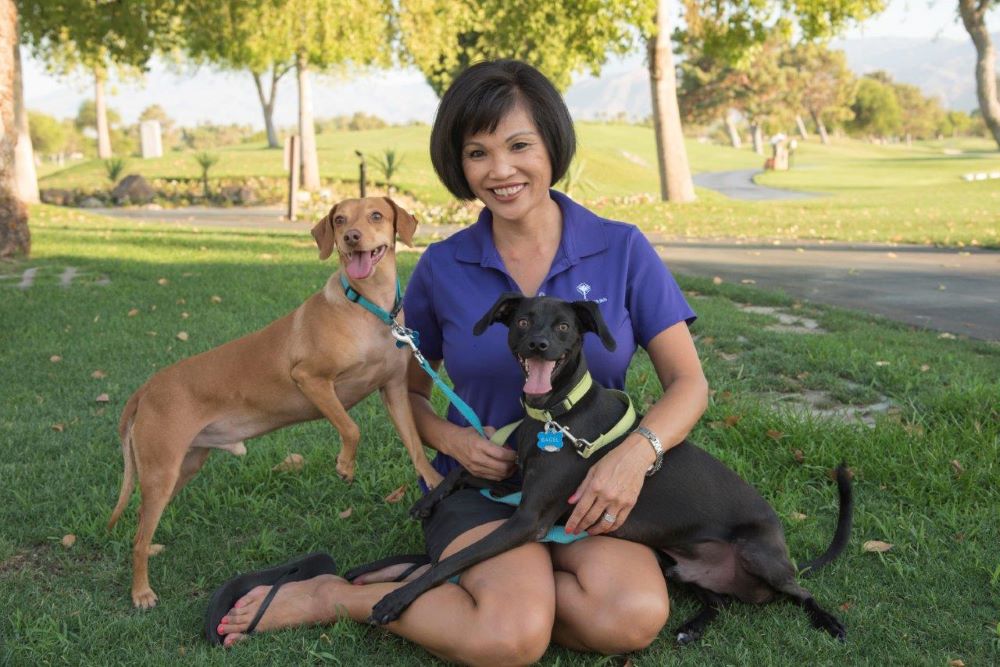 Photo: Raquel Woods leads the lobby dog adoption program at The Westin Mission Hills Golf Resort & Spa.
A Resort That's Gone to the Dogs
The dog adoption program, operated in conjunction with local nonprofit dog rescue organization Animal Samaritans—which now contains a Westin Pen at its shelter for "hotel friendly" dogs that are comfortable in a distracting environment—is just one facet of the resort's many dog-friendly offerings.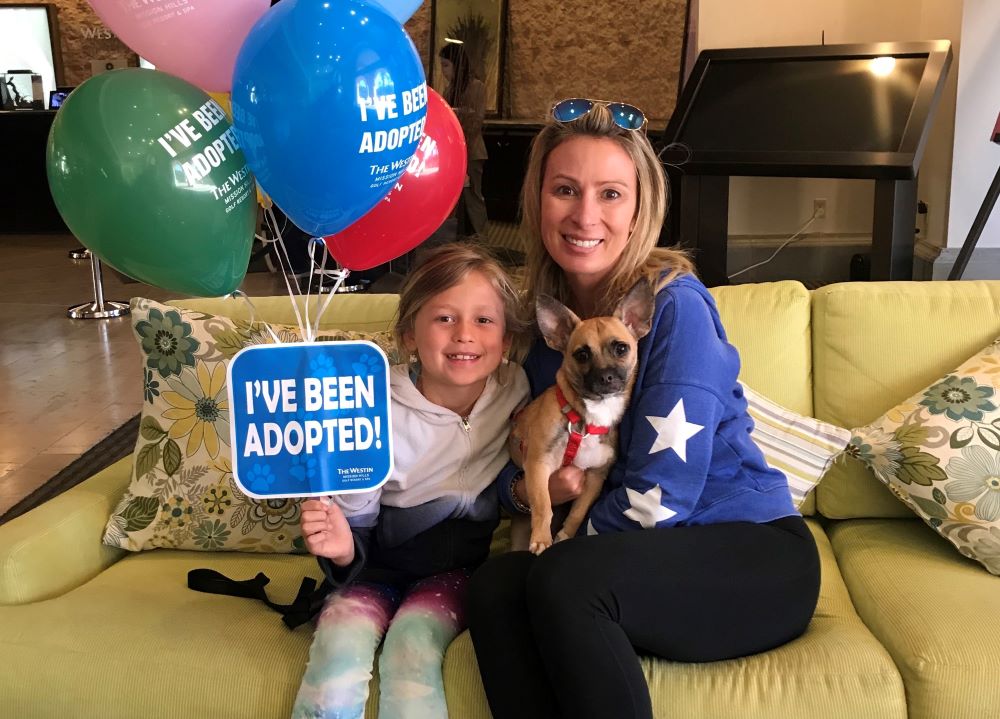 Scaramellino said the program also fosters loyalty with their pet-owning guests, who can't help but want to come back after having their hearts touched in such a way. "It is something that truly has captivated the hearts and minds or our associates and our loyal guests who have pets," he said.
[Related: Puppy Love: A Story of Loss and Being Found on the Conference Floor]
Other dog-friendly features at The Westin Mission Hills Golf Resort & Spa, which offers 110,000-square-feet of meeting space, include:
An elaborate doghouse in the center of the lobby that's a replica of the property and also gives the dogs a space an escape to get some privacy and rest during the day.
An onsite restaurant, Pinzimini, that allows dog parents to dine with their pets, and offers a Patio Pooch Menu with special chef-prepared gourmet meals for guests' canine companions. The resort's Fireside Lounge also makes accommodations for dogs.
Signature Westin Heavenly Dog Beds available in guest rooms because…why not?!
Scaramellino said the staff of the resort cherishes taking care of the dogs by taking them out for walks, and it also helps to reinforce the Westin philosophy of feeling better when you leave a property than when you arrive, for both guests and staff.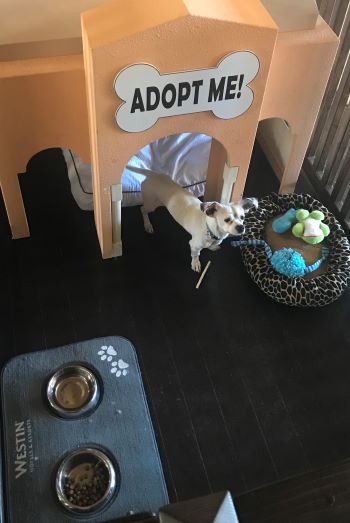 "We have a lot of overnight staff, and they love having that puppy in the lobby," he said. "It's great for retention—it's a lonely job here at night. We bring the dog behind the front desk at night; it has its own little pillow there."
"It's truly a program that lifts the spirits of our community, lifts the spirits of our guests and lifts the spirits of our associates," he added.
And while the Westin's dog adoption program has enriched the lives of more than 140 adoptees as well as other guests and staff, one adoptee in particular really stands out.
"I adopted number No. 97, Wyatt," he said. "I just fell in love with him. We didn't have a pet at home and we were empty nesters. My wife came in and Wyatt came up to her and started licking her and that was the end of it. She said, 'okay!'"
Read next: Therapy Dog Event Trend Continues