PCMA Debuts Two Alliances at Convening Leaders 2020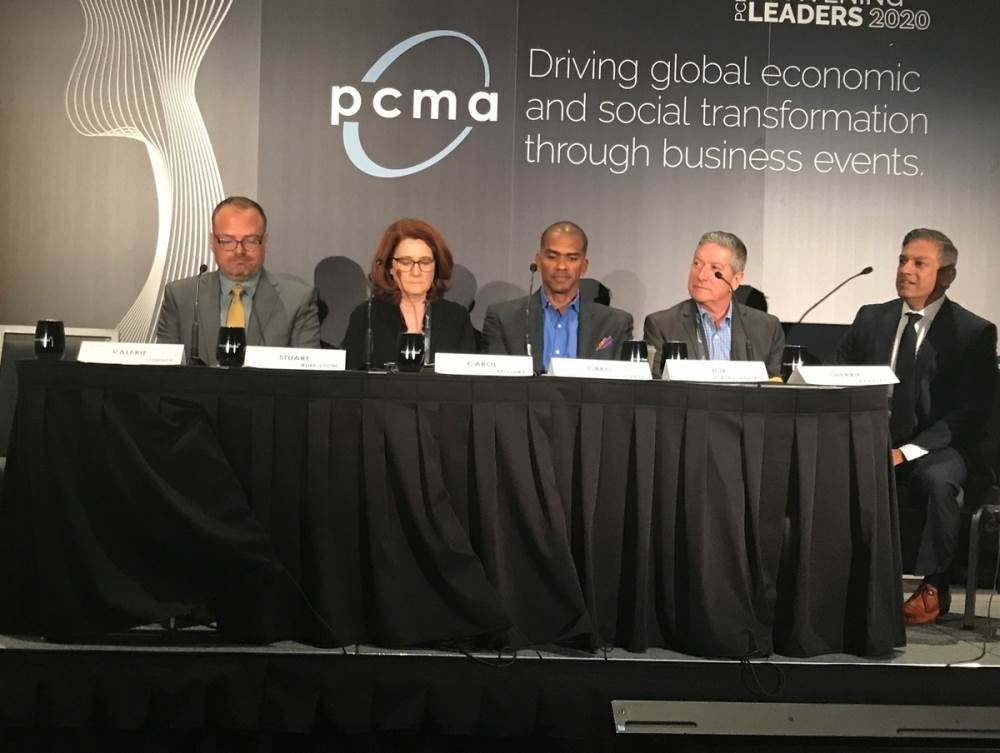 PCMA announced two strategic alliances during its Convening Leaders 2020 conference at San Francisco's Moscone Center South that are aimed to bringing its meetings, events and incentives educational reach to a wider audience.
The widest-reaching alliance has been formed with the Corporate Events Marketing Association (CEMA), a global community of corporate event marketers.
The alliance, which started January 1, seeks to increase collaboration and cross-promotion between the two associations, and will result in CEMA co-developing education at each of PCMA's four largest events: Convening Leaders, EduCon, European Influencers Summit and Asia Pacific Annual Conference.
In turn, PCMA will deliver educational content at CEMA's annual CEMA Summit and during its Study Tours.
Both organizations will also collaborate on webinars, research and other services to share content between its audiences.
"PCMA has a commitment to bring its members access to leading-edge education and content that helps them deliver economic and social transformation through business events," said Sherrif Karamat, president and CEO of PCMA, in a prepared statement.
"This strategic alliance with CEMA allows us to deliver more resources to our members while expanding our audience so we can continue to demonstrate how business events transform global economies and scales."
[Related: Meetings Data Overload? How BEAM From PCMA Can Help]
CEMA President and CEO Kimberley Gishler said the two associations shares many complementary attributes that make the partnership a good fit.
"CEMA and PCMA share a vision for the advancement of event marketing as a vital element in the marketing stack, and each brand offers unique and complementary qualities and services to help professionals learn and grow," Gishler said in a prepared statement.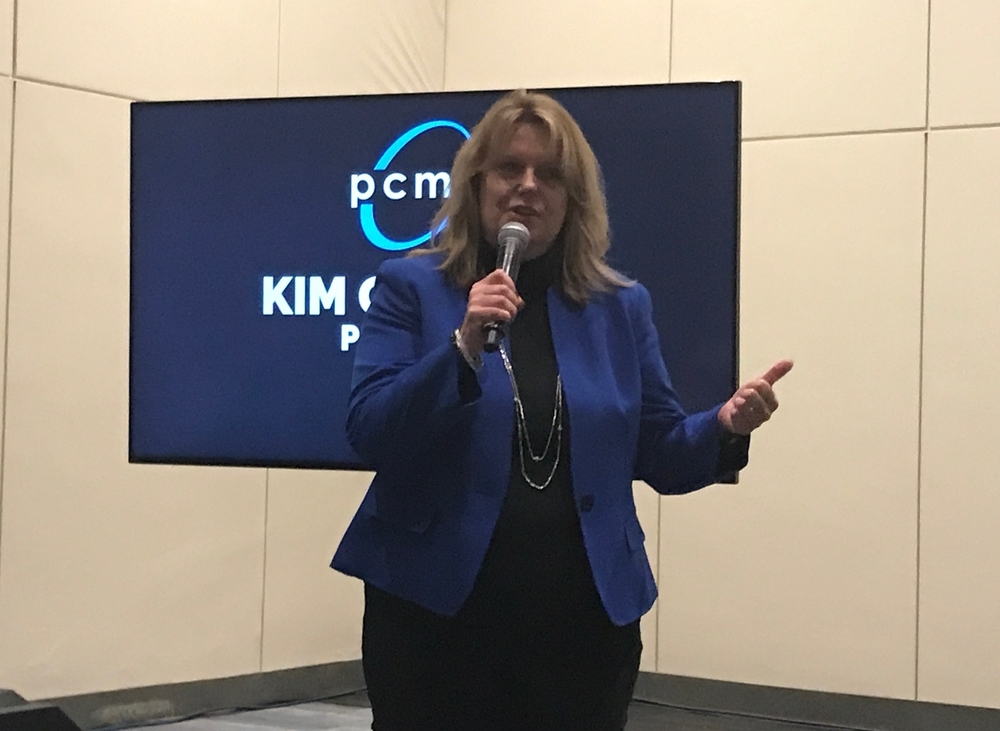 Photo: Kimberley Gishler, President and CEO, CEMA. Credit: Tyler Davidson
"We look forward to collaborating on new and exciting research and educational programming as well as expanding access to professional networking, knowledge sharing and rich event experiences to both PCMA and CEMA members."
During a press conference to announce the alliance, Gishler added that the partnership will improve the education of both associations.
"The main goal is to elevate the education in both organizations," she said. "We can help each other; we can elevate each other. It just fits and this is the right time to do this."
Financial details of the alliance were not released.
PCMA-Abu Dhabi Partnership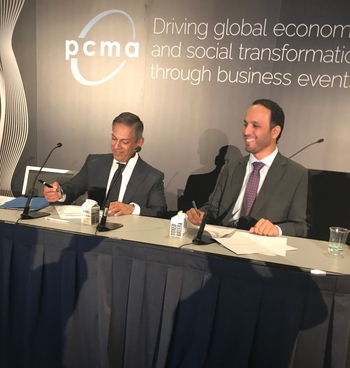 The second partnership, which was actually signed at Convening Leaders, will result in PCMA providing MICE training for the Abu Dhabi Convention & Exhibition Bureau (ADCEB).
(Photo: PCMA President & CEO Sherrif Karamat (left) and Abu Dhabi Convention & Exhibition Bureau Director Mubarak Al Shamisi sign a partnership agreement at Convening Leaders 2020. Credit: Tyler Davidson.)
The training and partnership agreement will focus on three areas:
Convention services manager training for elected executives from the Emirate.
Hosting an Abu Dhabi Advisory Summit, which is expected to take place by the end of 2020.
The introduction of a series of educational programs and PCMA membership opportunities to build the knowledge base and event management skills within the MICE industry in Abu Dhabi.
"Abu Dhabi is strengthening its industry capabilities to serve the global community of business event strategists, planners and organizers through education and knowledge sharing," said Mubarak Al Shamisi, director of ADCEB.
"And partnering with an esteemed global entity such as PCMA is key to achieving that. We are very excited about this partnership and look forward to the successes it will bring in 2020 and beyond."
2020 Convening Leaders Draws Big Crowd
According to Karamat, attendance at PCMA Convening Leaders 2020 topped 5,300. Attendance was up 14% over the 2019 Convening Leaders, held in Pittsburgh.
PCMA said 44% of the audience was comprised of meeting planners.
According to outgoing chair of the Board of Directors, Greg O'Dell, 2019 highlights for PCMA included the launching of its BEAM data tool, which provides market intelligence and data analytics for the business events industry, and the association's partnership with Destinations International (DI) for the annual Destination Showcase event.
Read next: What Makes PCMA's EduCon Tick?