6 Group-Friendly Culinary Trends in the Pacific Northwest
The Pacific Northwest is a trendsetter on the national culinary stage. The region produces some of the country's favorite craft beers, some of its best seafood dishes, and, of course, internationally renowned coffee.
Beyond those popular purveyors, it's also home to top-shelf wines, scrumptious sweets ranging from chocolates to donuts, and experimental high-end fare that is certain to impress any group.
Following is a menu of culinary trends throughout the popular meetings-friendly destinations of Washington, Oregon and Idaho for unique experiences that will wow your attendees.
Washington
Farm- and Sea-to-Table in Seattle
Locally sourced food and beverage is trending in Seattle, a city that takes full advantage of the bounty of Washington state's cold coastal waters and its farmland east of the Cascade mountains, which is filled with orchards, fresh produce, cattle ranches and wine grapes.
"As the state's largest city and port, Seattle is a gateway to the Pacific Ocean and the world," said Chantelle Lusebrink, public relations manager for Visit Seattle. "Our food and beverage scene thrives with both classic Pacific Northwest flavors inspired by the bounty of our farms and our tides, and the diverse mixing of cultures and interpretations they bring."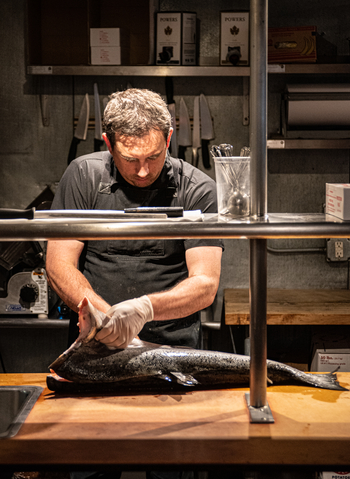 Three group-friendly restaurants with private dining spaces that represent farm- and sea-to-table culinary experiences in Seattle are Aerlume, Dahlia Lounge and Ivar's Acres of Clams.
(Photo: Fresh salmon being prepared at Dahlia Lounge, Seattle. Credit: Dahlia Lounge)
Ethnic Fusion Cuisine in Bellevue
Bellevue's emerging culinary scene features group-friendly restaurants that follow the trend of high-end, ethnic fusion cuisine with a Pacific Northwest twist.
"Bellevue's food scene has beautifully evolved in conjunction with our community's growth—our city has expanded with pioneers from around the globe," said Jane Kantor, director of sales at Visit Bellevue. "We invite groups to experience Bellevue's new takes on Chinese street food, Japanese-Latin-fusion sushi, experimental Thai food, our unparalleled fresh seafood and more."
Two prime examples of restaurants that fit this culture fusion bill are Monsoon Bellevue and Black Bottle Gastrotavern.
Waterfront Dining in Vancouver
With an exciting new development underway along the Columbia River, waterfront restaurants are trending right now for groups meeting in Vancouver.
"The waterfront development is such a fantastic addition to the city of Vancouver, and we love showing it off to groups who come into town," said Erica Thompson, communications manager for Visit Vancouver USA. "It's the first time Vancouver has had urban riverfront access in more than 100 years. The restaurants, wine tasting rooms, public art and other unique details make it a great destination for visitors and residents alike."
Two noteworthy waterfront options for a bite and a drink are:
Oregon
Hotel Restaurants in Portland
A recent trend in Portland is the return of the destination hotel restaurant, which according to Marcus Hibdon, director of communications and public relations at Travel Portland, "is back, in a big way."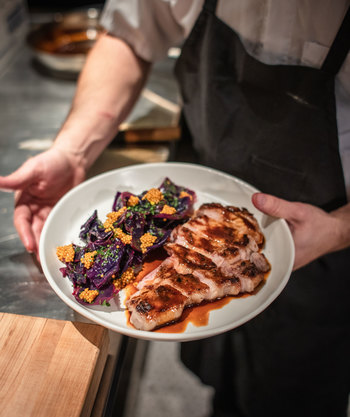 "Now, Portland's hottest restaurants are opening in hotels, and are destinations in their own right," he said. "This is great for meeting planners and attendees because this timely trend means guests can experience incredible food and drink from the comfort of their hotel, without even having to venture outside."
(Photo: Dish from Bullard inside Woodlark Hotel, Portland. Credit: Bullard)
Several local favorites are Pullman Wine Bar & Merchant, Bullard and Tope, all located within hotels with meeting space, making them perfect options for planners to book a full-service event. 
Winery Dining in Salem and Washington County
In the heart of Oregon wine country, Salem is seeing a rise in food and wine pairing experiences at local wineries.
[Related: 5 Easy Ways to Explore the Great Oregon Outdoors]
"Groups appreciate being able to experience the wines paired with a meal at the winery location itself," said Kara Kuh, assistant marketing and public relations director for Travel Salem. "They want to do more than wine-tasting. They want the full pairing experience."
To that end, an increasing number of area wineries are accommodating groups with full meals paired with their award-winning wines.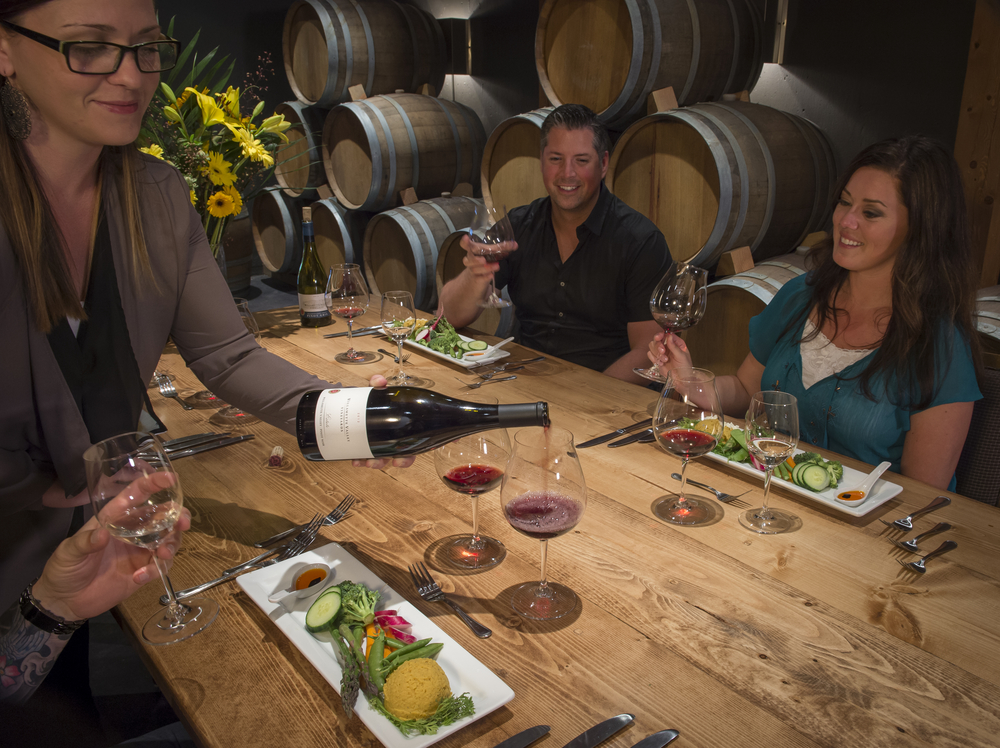 Photo: Wine and dinner pairing at Willamette Valley Vineyards, Salem. Credit: Andrea Johnson
Wineries that have full menus or serve substantial dishes beyond charcuterie boards are Willamette Valley Vineyards, St. Innocent Winery, Brooks Winery & Tasting Room and Eola Hills Wine Cellars.
Winery dining is also trending in Washington County's Tualatin Valley.
While none of the 30-plus wineries in the area have restaurants at their estate vineyards, they do offer private group dining experiences.
"One of the newest trends in Tualatin Valley is for wineries to have an in-house chef to prepare meals for groups," said Sylke Neal-Finnegan, vice president of marketing and communications for the Washington County Visitors Association. 
At Ponzi Vineyards, which recently opened The Laurelwood, its exclusive meetings and events space, Chef David Sapp pairs local Pacific Northwest menus with Ponzi wines.    
And at Raptor Ridge Winery, which hosts private events for up to 30 guests in its tasting room and outdoor deck, onsite chef Irene Bonn Laney customizes menus to accommodate each group's budget and tastes.
Idaho
Dine and Explore in Boise
Groups meeting in Boise are all about grabbing bites within close proximity to attractions so that they can stretch their legs and immediately explore the city a bit after a great meal.
Standout opportunities for a dining experience that encourages post-meal exploration are Juniper Kitchen & Cocktails, Fork Restaurant and Flatbread Neapolitan Pizzeria.
"From the doors of these group-friendly restaurants, a visitor is just steps away from the Freak Alley Gallery—the renowned graffiti installation—as well as downtown hotels, museums, the Idaho State Capitol building and the Boise Centre," said Shea Andersen, spokesperson for the Boise CVB.
Culinary Tours  
Want to explore the Pacific Northwest through food tours? The following three tour operators in Seattle, Portland and Boise facilitate engaging outings that showcase local attractions and flavors.
Savor Seattle Food Tours
This Seattle tour offers several private tours to tempt the group's collective palate.
The signature Pike Place tour, during which attendees can explore the landmark market, is perfect for first timers in Seattle. The tour includes 14 bites and sips, from Russian pastries and cheddar cheese to crab cakes and sea salt caramels. During the tour, attendees will learn about the market's history, including stories about Starbucks and the famous fish-throwing.
Brewvana
Brewvana runs a tour that encompasses several of the goodies that put Portland on the map of must-visit culinary destinations. Attendees will thoroughly enjoy the 3.5-hour Coffee, Beer and Donuts Tour featuring locally made Portlander favorites.
Brewvana also operates a private "create your own beer" experience, as well as other craft beer-focused teambuilding activities for corporate groups.
Indulge Boise Food Tours
Boise is another hotspot for Pacific Northwest craft beers, which groups can tap into with Indulge Boise Food Tours, a family-owned culinary tour service that operates the Brews & Bites Beer Tour.
Other outings available via Indulge Boise are the Historic Downtown Food and Cultural Tour, and a progressive multi-course dine-around in the popular BoDo neighborhood.
The Latest Venue Openings and Developments in the Pacific Northwest (2020)
IDAHO
Boise
Boise Centre recently completed a multimillion-dollar expansion, adding 36,000 square feet of space, including a new ballroom and eight additional breakout rooms. The facility now features over 80,000 square feet of meeting and event space. 
OREGON
Portland
Oregon Convention Center completed a $40 million renovation project in October 2019. Features of the renovation include improving the design, accessibility and sustainability aspects of the venue. The project coincides with the December 2019 opening of the 600-room Hyatt Regency Portland at the Oregon Convention Center. The hotel, which offers more than 38,000 square feet of event space, provides meeting planners a committable block of 500 rooms right across the street from the Oregon Convention Center.
At press time, Hyatt Centric Downtown Portland was scheduled to open in early February 2020 with 220 guest rooms, an onsite Spanish restaurant and four meeting spaces totaling 2,800 square feet.
Salem
The Independence, a Trace Hotel, opened in October 2019 just 10 miles southwest of Salem in Independence
The former Red Lion Hotel in Salem is now the Holiday Inn Salem. The property underwent a full-scale remodel and renovation over the summer, including upgrading of conference space and guest rooms.
Washington County   
The Hillsboro-based Wingspan Event and Conference Center is on track to open in Tualatin Valley in summer 2020. Located at the site of the Washington County Fair Complex, this new facility will feature 53,000 square feet of usable space, including 39,500 square feet of exposition space and a 12,225-square foot conference center.
WASHINGTON
Bellevue
Forum Social House, Bellevue's newest event space and nightlife attraction, opened in December 2019. The facility includes a Topgolf Swing Suite and a miniature golf course.
Seattle
Washington State Convention Center is working on a new facility called Summit, which is scheduled to open in spring 2022. The overall development is currently envisioned with up to 255,000 square feet of heavy-load exhibition space on two levels, 120,000 square feet of meeting rooms, a full-service kitchen and 60,000 square feet of ballroom, freight loading and support space.    
Four Seasons Hotel Seattle recently completed the redesign of its 147 guest rooms and 13 luxury suites.
Connect
IDAHO
Boise CVB  | 208.344.7777
OREGON
Travel Portland  | 503.275.9750
Travel Salem   | 503.581.4325
Washington County Visitors Assn.  | 503.644.5555
WASHINGTON
Visit Bellevue | 425.450.3777
Visit Seattle    | 206.461.5800
Visit Vancouver USA  | 360.750.1553
Read next: 3 Portland Food Trends: Eastern European Inspiration, Chef-Driven Hotel Restaurants and a New Varietal of Wine Bar​