4 Eastern Iowa Unexpected Offsite Venues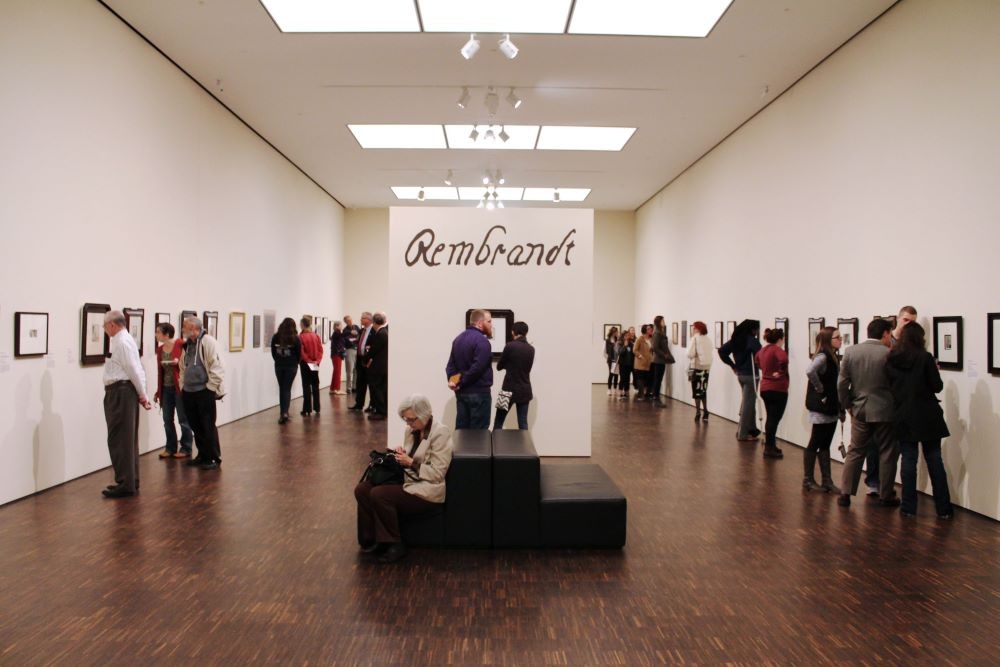 Eastern Iowa has plenty of options when it comes to offsite venues, and some of its best provide a unique backdrop while highlighting the region's past in ways that may surprise.
If you're looking for a venue away from the meeting property, hotel, convention or conference center, you can look to these options for a little taste of the local culture, history and vibrancy.
Figge Art Museum, Davenport
You'll recognize the Figge Art Museum by its landmark glass exterior on the banks of the Mississippi River. It is home to art collections and traveling exhibitions and hosts art classes, lectures and special events in its studios, auditorium and lobby space.
 
The Figge began as the Davenport Municipal Art Gallery in 1925 with 330 artworks from a former mayor, Charles A. Ficke. It was renamed the Davenport Museum of Art in 1987, operated as a city-run museum until the opening of its new building in 2005, and was renamed in honor of a major gift from the V.O. and Elizabeth Kahl Figge Foundation.
Mr. Ficke's original collection of European and American art has grown and now includes the Grant Wood Archive and works by other American Regionalist artists, a collection of Haitian art and contemporary works.
[On Topic: Iowa City Coralville Area Affordable Midwest Meetings]
Groups can get an up-close viewing of the collection with full museum access added on to an event or function in the Grand Lobby, Dining Room and Bar, John Deere Auditorium, the Community Gallery or the Nobis Boardroom Suite.
The Grand Lobby can accommodate 400 in its open-floor-plan space with high ceilings, terrazzo flooring and river views. Events can spill onto the outdoor terrace.
The museum's dining room and lounge area can seat 80 people, or 100 for a reception, while the John Deere Auditorium has 140 seats and is a great option for presentations, performances or lectures. The Community Gallery is an add-on option only with auditorium rental. This space features rotating artwork and can host 110 before or after use of the auditorium.
Smaller groups looking for space for a meeting, seminar or workshop can rent the Nobis Boardroom Suite for up to 20 people.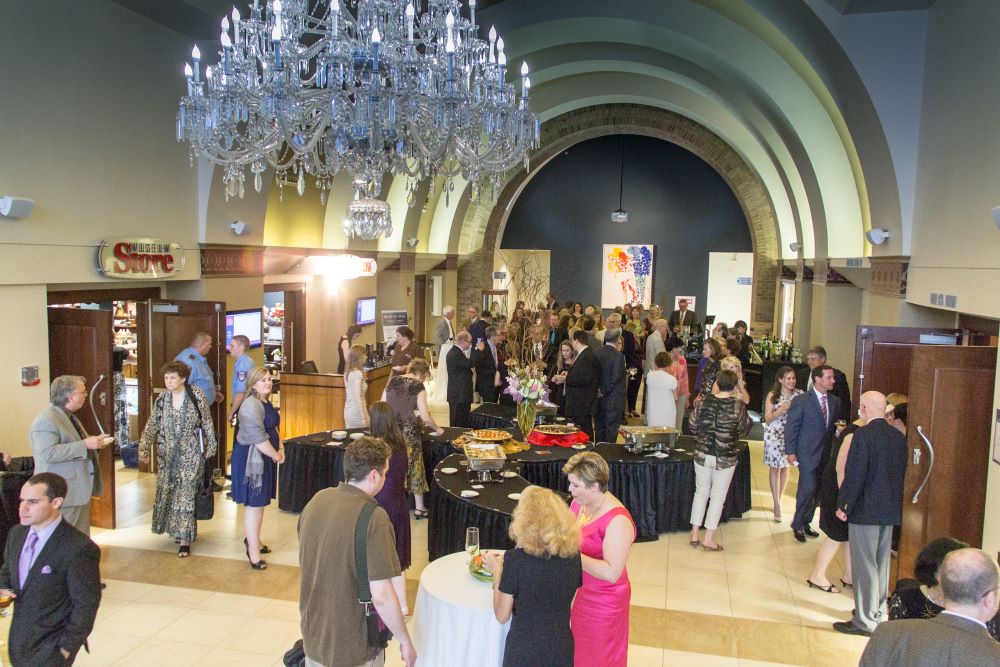 Photo: Rozek Grand Hall, National Czech & Slovak Museum & Library, Cedar Rapids; Credit: National Czech & Slovak Museum & Library
National Czech & Slovak Museum & Library, Cedar Rapids
Naturally, the National Czech & Slovak Museum & Library is located in Cedar Rapids' historic Czech Village, which carries on the legacy of the early Czech settlement in the area.
The museum uses exhibitions and experiences to share stories of history, culture and community. 
Groups can book a personalized, guided tour of the facility with museum staff members. Coffee and kolaches (a type of sweet pastry that was introduced to Cedar Rapids by Czech immigrants) or box lunches can be added to group tours and enjoyed in the classroom, Skala Bartizal Library or outdoors.
For an offsite event that ties in the city's history, functions can be hosted in several venues at the museum.
The Heritage Hall is an art nouveau-inspired space that can accommodate up to 240 guests or be divided into two smaller rooms. The Rozek Grand Hall is another space that can accommodate larger groups—up to 180 people seated.
The Naxera Terrace has views of the Cedar River and the museum's garden area and can be tented. For smaller groups, presentations, meetings or lectures, the Hemphill Theater has 51 permanently affixed seats.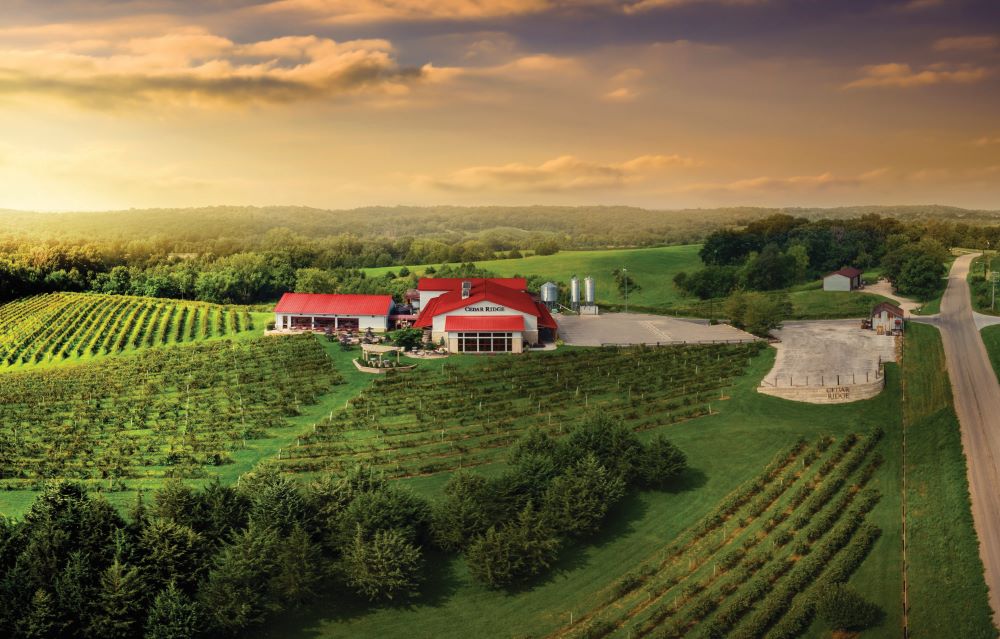 Photo: Cedar Ridge Winery and Distillery, Swisher. Credit: Cedar Ridge Winery and Distillery.
Cedar Ridge Winery and Distillery, Swisher
Cedar Ridge Winery and Distillery was founded in 2005 by Jeff Quint, whose family has farmed and distilled spirits for generations.
Since Iowa is the top corn producing state in the U.S., it was natural for Quint to want to share his homegrown bourbon whiskey with the world, and once he founded Cedar Ridge, it became the first licensed distillery in Iowa since Prohibition.
[Related: Eastern Iowa Sports Venues]
In addition to whiskey, the distillery produces brandies, rum, vodka, gin, an apple liqueur and wines. Groups can arrange for tastings of the spirts and wine as well as tour the facility.For private events, groups can use Cedar Ridge's Event Center, which can accommodate up to 200. The 15,000-square-foot venue can also open onto the outdoor terrace, which can be used in warmer seasons, and offers views of the vineyards. The Tasting Room and Vineyard Room can also host events and meetings.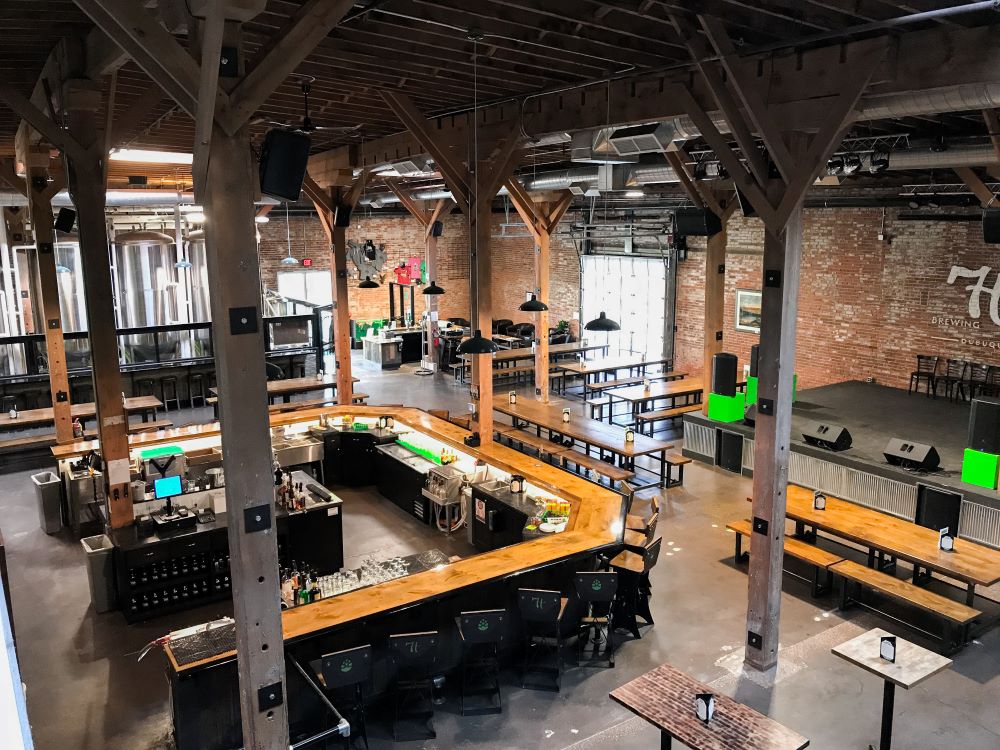 Photo: 7 Hills Brewing Company, Dubuque; Credit: 7 Hills Brewing
7 Hills Brewing, Dubuque
Opened in 2017, 7 Hills Brewing is located in a renovated old warehouse in the Dubuque's Historic Millwork District.
In addition to its own beers, this hip brewery also serves cocktails and food, and hosts events such as open mic nights, live music, comedy shows, trivia and even beer yoga.
Private events can also be held onsite at the facility's event center. The 4,500-square-foot space is also a nod the city's industrial past and features floor-to-ceiling windows, restored hardwood floors and an open layout.
Groups using the brewery as an offsite venue can select a menu from the in-house catering service, a full-bar option and use the cocktail rounds, dining tables, sound system and projector. And, of course, drink from a selection of brews made right onsite.
Whether your group opts for one of Eastern Iowa's unique museums or watering holes, the region has a surprising crop of hip, cool events that will have your attendees rethinking Iowa—and looking forward to the next time they're back.
Read Next: Omaha Council Bluffs After Hours Fun Groups