Perth's Renaissance Put On Display During Dreamtime 2019 in Australia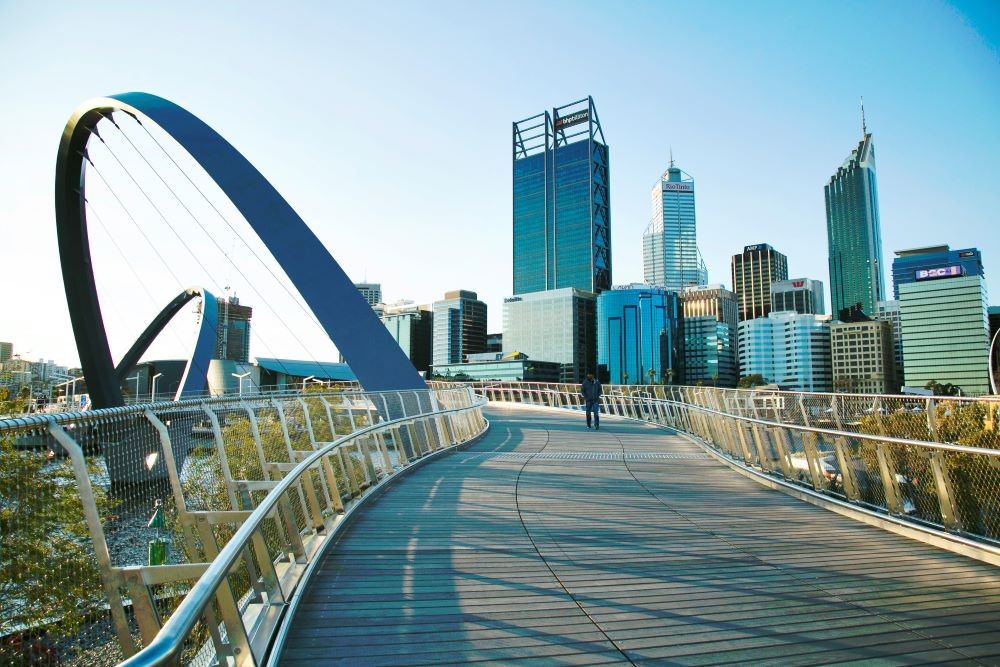 December 2-3, 2019, 120 international business event planners and media convened in Western Australian city, Perth, for Dreamtime 2019—Australia's signature bi-annual business events showcase, providing incentive planners opportunities to experience some of the country's best destinations firsthand.
Guests from around the globe had the opportunity to meet with 87 of Australia's business events industry at the Perth Convention & Exhibition Centre (PCEC), followed by a tour of the city and its surroundings.
Home to about 2 million people and situated alongside the sparkling Swan River, Perth charmed its Dreamtime attendees with its blossoming downtown district, easy access to world-class wineries and infectiously welcoming spirit.
Trending Up
While Perth is little known to many U.S. and Canada travelers in favor of easier-to-reach east coast counterparts like Sydney, Western Australia's capital city made the most of its time in the spotlight, showing off its many new amenities to visitors.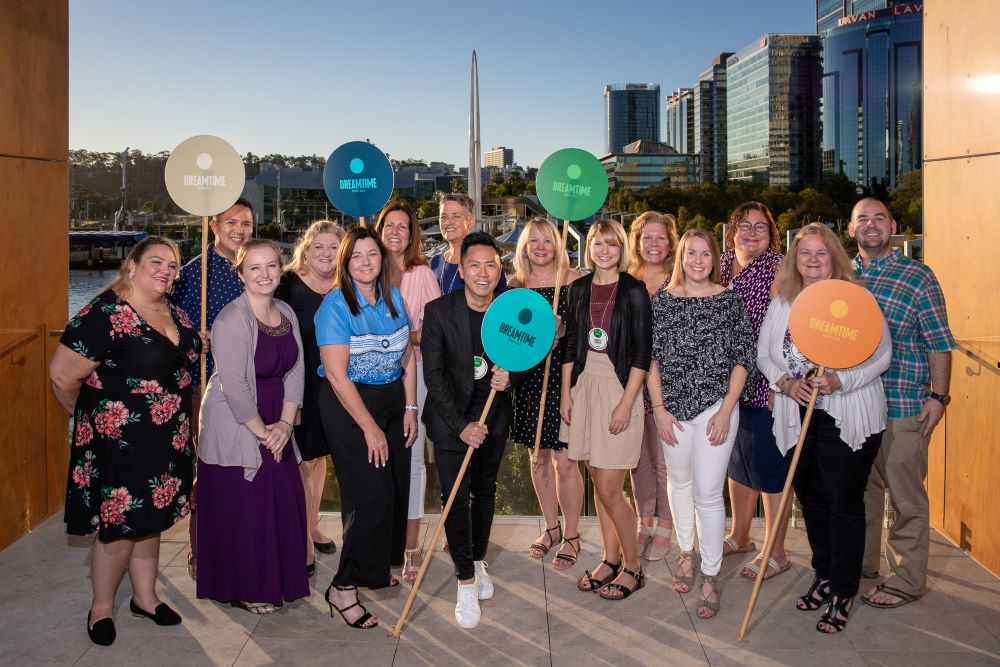 Photo: Dreamtime 2019 attendees. Credit: Tourism Australia
"For Perth, it is very much going through a period of change, and that's because of this incredible infrastructure development that's been happening in the city," said Executive General Manager of Events for Tourism Australia Penny Lion.
Lion explained that Perth has long been known as a big mining and resources city, but has recently invested in infrastructure developments to help planners realize that Western Australia has a lot of unique experiences to offer incentive programs.
"All these new hotels have gone in. Everything from the Ritz-Carlton to the Westin to the refurbishment of some properties like the InterContinental and so on."
In fact, Bradley Woods, CEO of the Australian Hotels Association (AHA) and Tourism Australia board member, said that billions of dollars have been invested in Perth's rebirth—since 2012, 4,628 new rooms and 38 hotels/serviced apartments have been added, with a further 5,188 rooms and 43 more hotels/serviced apartments proposed for development.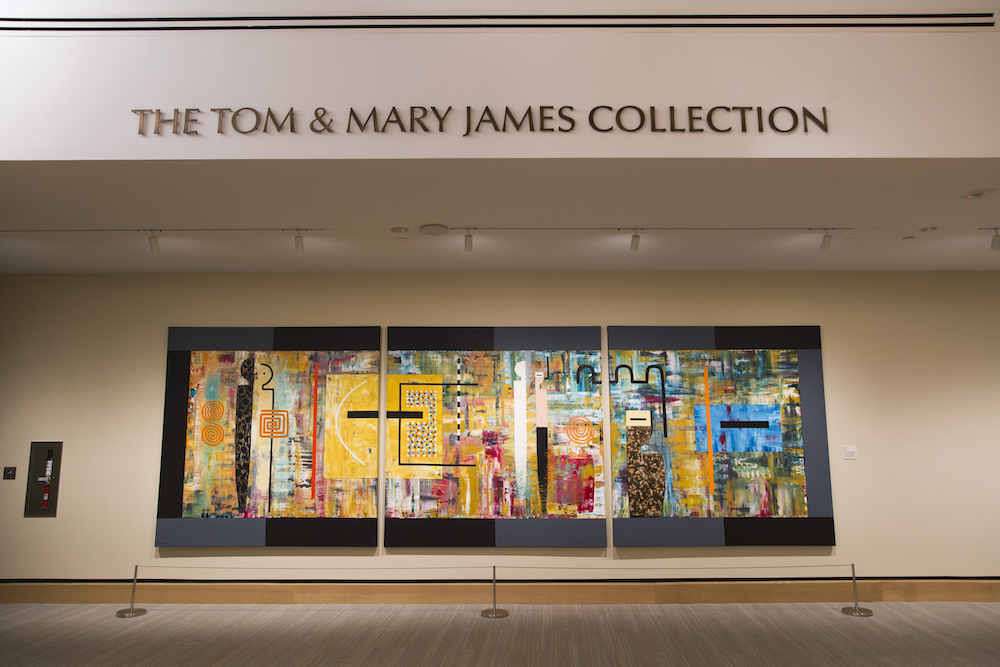 Photo: Dreamtime Closing Dinner. Credit: Tourism Australia
North American guests had the opportunity to see this hotel boom for themselves, lodging at the new Ritz-Carlton, Perth, which opened its doors in November. Floor-to-ceiling windows in guest rooms and meeting spaces give way to sweeping views of the Swan River and its revitalized riverfront, along with PCEC, just steps away.
Additional developments in the events sector include Optus Stadium, mixed-use Elizabeth Quay and a new state museum scheduled to open in the next year.
Day two of the showcase took attendees out of the meeting rooms and on the ground—and even in the air—to experience Perth's many incentive experiences. After a group breakfast on the shores of the Indian Ocean at Coast Port Beach, the North American crew of incentive planners were treated to a surprise helicopter ride over the ocean, Perth's city center and the state's oldest wine region, Swan Valley, where they got a VIP drop off on a vineyard for tours and wine tasting.
Highlights included a tasting at award-winning Sandalford Estate, where the group also experienced a teambuilding wine blending class. The nearly 180-year-old estate is in the midst of a major expansion, adding new event space.
[Related: 5 Nature Escapes in Puerto Rico]
Tangible Results
Dreamtime's formula of rotating host cities and dedicating a day to highlighting unique experiences not only delivers on an incredibly productive, enjoyable event for attendees, but also has a proven business impact.
"We know Dreamtime delivers tangible results for Australian industry," Lion explained. "The 2017 event, held in Brisbane, generated more than 201 business leads worth over AUD247 million [about $171 million], of which 73 have converted into business worth AUD50 million [about $34.6 million]."
Combine Perth's strong showing with increased air connectivity to Australia—direct flights from London and Tokyo to Perth have been added, along with more direct flights from U.S. cities like Chicago and Dallas to cities like Brisbane and Sydney—it's on track to attract more incentive business.
Watch this video to hear what North American meeting planners thought of Perth and the post-event fam trip to the Whitsundays.
On the Scene: The Post-Dreamtime Fam Trip to The Whitsundays
Following the Dreamtime 2019 program, international incentive meeting planners and media continued onto a post-event fam in various locations around Australia.
I joined the North American group on a tour of the enchanting Whitsundays, a collection of islands between Queensland the Great Barrier Reef for two full days of paradisal magic.
Of the 74 islands that dot the country's Northeastern coast, four of them are inhabited, and we visited two of them: Hamilton Island and Hayman Island.
Hamilton Island
Upon entering the Hamilton Island Airport, which is a short two-hour flight from Sydney, our group was whisked away to the island's most lavish accommodations: qualia.
Home to 60 secluded pavilions, lodging at qualia is the definition of luxury and has been graced by the likes of celebrities like Taylor Swift, Oprah and Australia's own Chris Hemsworth.
During check-in at the resort in its open-air Long Pavilion lobby, we were immediately treated to unobstructed views of the pristinely blue Coral Sea and enjoyed hibiscus tea and a delightful lunch spread on the pavilion's sun-soaked deck.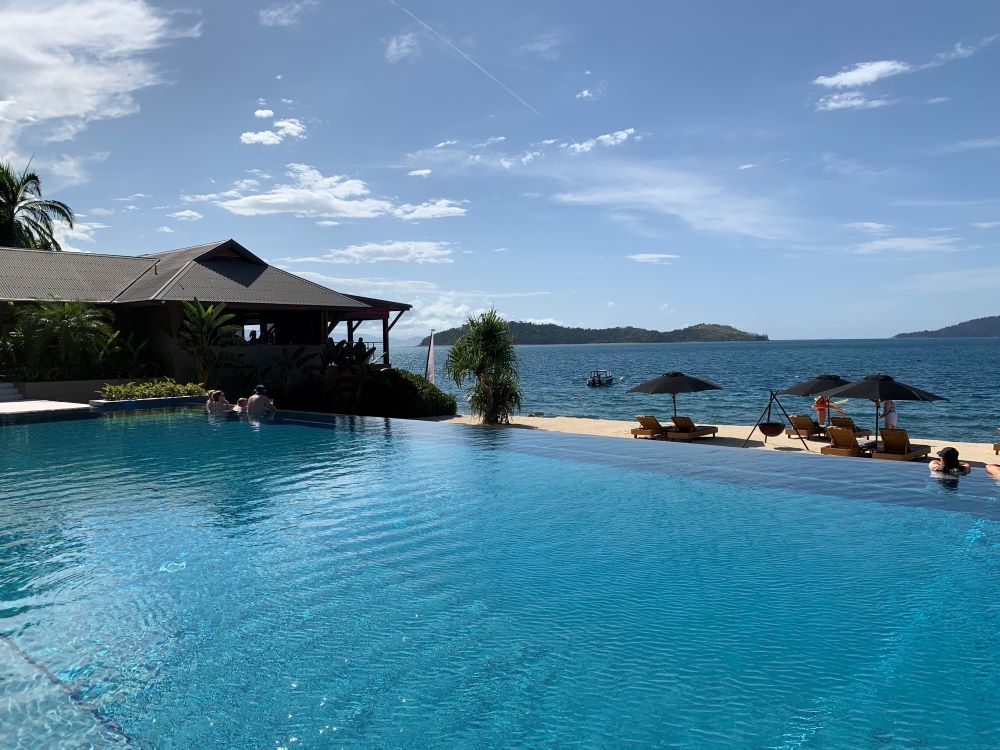 Photo: Pool area at qualia. Credit: Danielle LeBreck
We received our own golf carts or "buggies" and took pleasant rides through the narrow, winding roads of the private resort area to our own personal pavilions, which feel like a luxury sea cabins.
Each pavilion is made from local timber and stone, surrounded by native eucalyptus and views of the sea from a private deck. Some pavilions have their own plunge pools, and all of the interiors echo the dreamy natural surroundings.
Incentive planners can block 15 pavilions or fewer for groups or opt to arrange a full buyout of the resort, according to the Director of Business Events Sales on Hamilton Island, Julie Ford.
"A very small executive retreat, or a complete buyout is the best type of incentive for us," she said. "We do get a lot of buyouts, because then you've got a lot of flexibility with what you can do in the resort. As far as signage, you can pretty much own the resort. You can do signage and you can do your own special events."
Ford mentioned the helipad, the resort's own Pebble Beach and the Long Pavilion as some of the unique areas groups can take over for their events.
Hayman Island
Hayman Island, the idyllic northernmost island in the Whitsundays, is only accessible via boat or helicopter. From the Hamilton Island Airport, we walked 30-seconds to the nearby dock, where a luxury charter awaited to take us on a scenic ride to the InterContinental Hayman Island Resort.
The 45-minute cruise is eons better than your typical rideshare or airport bus shuttle. As the island came into view, we spotted four resort employees waving at us from the arrival dock, with the reimagined InterContinental behind them.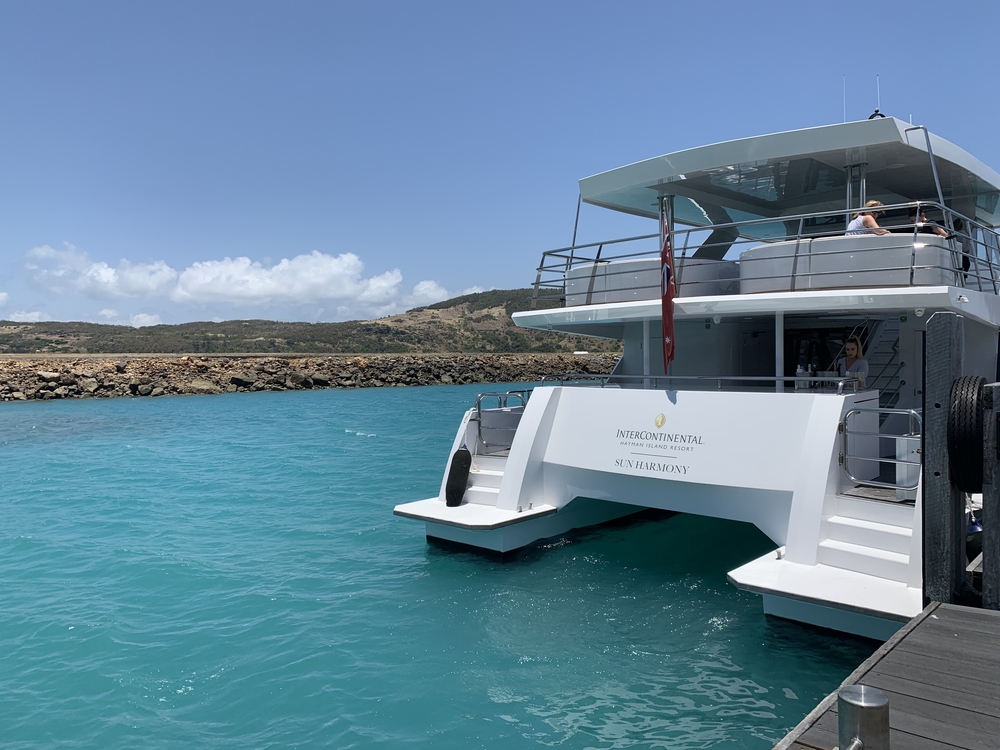 Photo: Luxury charter to InterContinental Hayman Island. Credit: Danielle LeBreck
"Hayman Island by InterContinental reopened July 1, 2019 following an all-hands-on-deck, multimillion-dollar refurbishment following the damage from Tropical Cyclone Debbie in 2017," said Arpad Romandy, General Manager, InterContinental Hayman Island Resort. Romandy explained that $93.5 million was invested into the reimagination of the resort, allocated across the island and the accommodation offerings. 
New features include 168 luxury rooms and suites across three distinct wings including two impressive private residences, wellness spa, indoor and outdoor event venues, and five restaurant and bars.
"We can host groups for small meetings of 10 all the way up to large sole-use conferences for 300," Romandy said.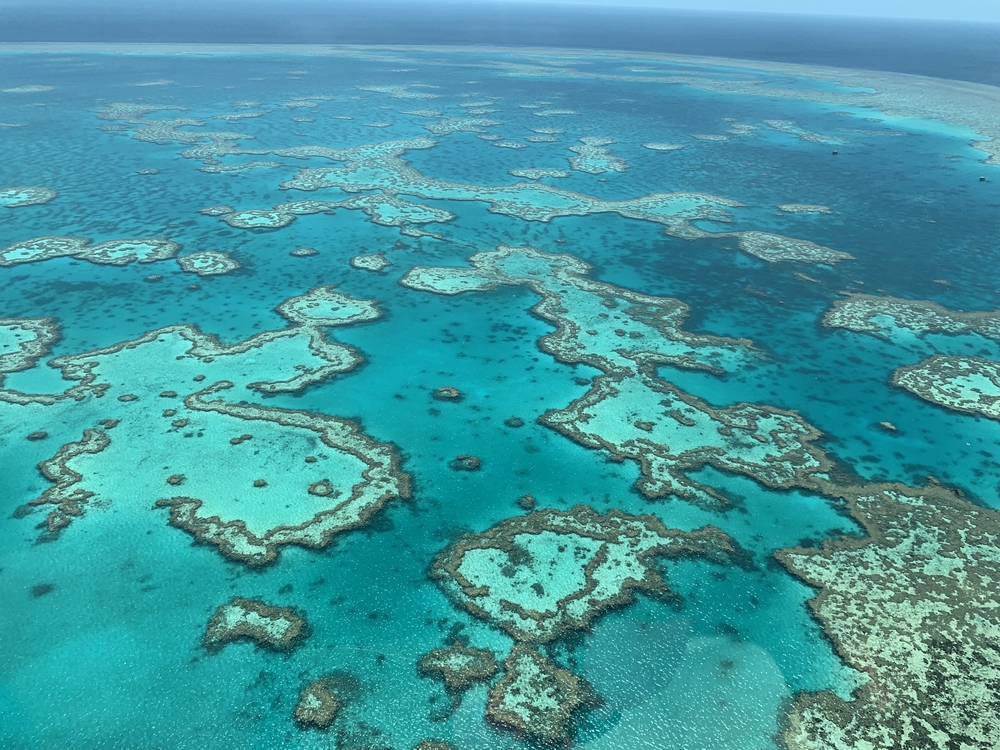 Photo: Aerial view of the Great Barrier Reef. Credit: Danielle LeBreck
"We want our incentive groups to connect with our surrounds just as much as resort guests," he added. "So our unique experience offerings have been created to offer a plethora of destination-inspired activities and entertainment."
Some of these include—of course—excursions to the Great Barrier Reef, which our group enjoyed in a scenic flight, and morning hikes along the island's designated hiking trails. Our Dreamtime group made the worthwhile 5:30 a.m. wake-up call to hike four miles, enjoying a peaceful sunrise and views of the untouched corners of the island.
*This article is brought to you in partnership with Business Events Australia.
Read next: Meetings on the Beautiful Beaches of Fort Myers & Sanibel