How Biophilic Design in Meeting Spaces Can Boost Productivity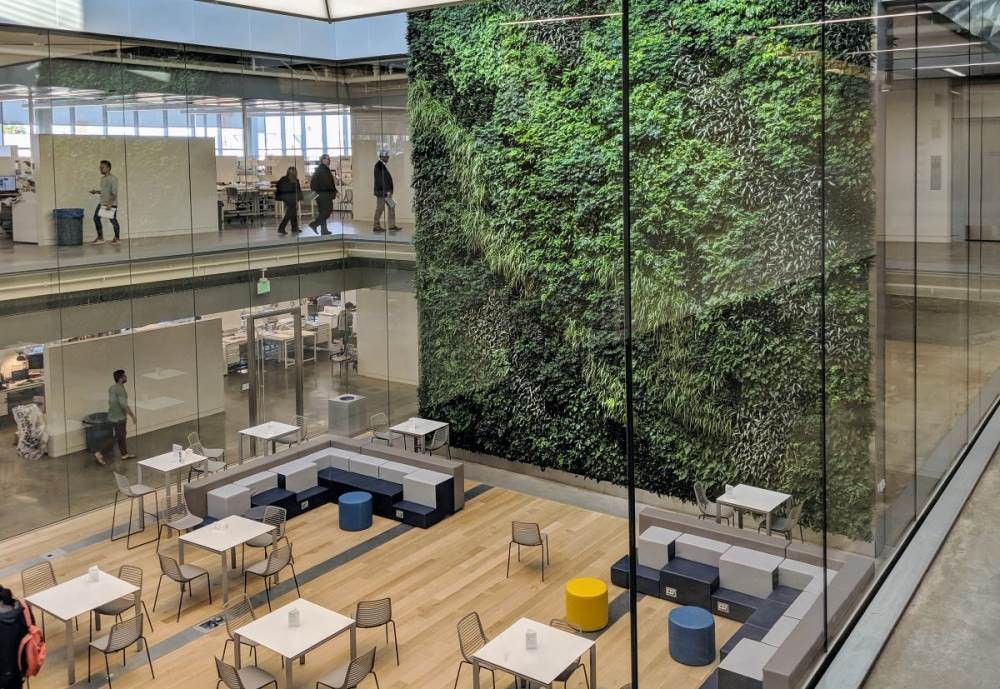 Warm sun on the skin, big breaths of fresh air, multi-colored flora and fauna eye candy—who doesn't feel instantly rejuvenated after a few moments outside on a nice day?
Turns out, there are some scientific reasons for that. Research shows that interacting with nature can support physical, social and psychological well-being. This was recently recognized by The Global Wellness Institute, which named immersion in nature as a top global trend in 2019.
Spending some quality time with Mother Nature doesn't stop at walking breaks, though. Americans spend about 90% of their time indoors, and the effects that has on our health is changing the way indoor spaces are designed. Increasingly, interior design is taking its inspiration from the outdoors, whether that's in the home, offices or even in meeting rooms.
Consequently, the design of a room can profoundly impact the meeting experience. Choosing a meeting space that embraces biophilia could significantly improve the health, productivity and happiness of your attendees.
What is Biophilia?
Biophilia suggests that humans have an innate connection with the natural world. Biophilic design brings elements of nature indoors, using this connection to improve the wellbeing of those experiencing the space.
But it's more complex than many may think, said Larry Traxler, senior vice president for Hilton Global Design.
"Simply putting a potted plant or a simple patch of moss on the wall is not enough to provide the lifting experience that many are seeking from this design philosophy," he explained. "It's important to note that biophilia should be multisensory. Well-orchestrated meeting environments with a biophilic focus should be immersive experiences that are relaxing, calming and sustainable."
[On Topic: Renaissance Schaumburg Celebrates Historic Wetlands]
Air, lighting, greenery, and floor and furniture design that mimic natural landscapes all combine to improve the indoor experience.
Peter Scialla, president and chief operating officer of Delos, has done extensive research in collaboration with Mayo Clinic to study the effects of indoor environments on human health, which helped launch the Stay Well hospitality and meetings programs at select hotel properties.
"Delos Stay Well program was built off the growing body of evidence of the ways that key indoor environmental parameters impact occupants' health," Scialla explained. "Poor indoor air quality can contribute to health concerns such as headaches, asthma attacks, respiratory diseases and heart disease, as well as lower productivity by an estimated 6-9%.
[Related: Clean Air Affects Concentration Productivity Meetings]
"Recent scientific discoveries have pointed to the effects lighting has not just on our vision, but on our health, mood and performance," he added.
To combat these negative effects of the indoors, Scialla turned to biophilia.
Why is Biophilic Design Important in Meeting Spaces?
When it comes to the meeting room, the harmful effects of poor air and lighting, and uninspiring surroundings can take its toll on the overall well-being of attendees. For meeting planners, choosing spaces that incorporate biophilic design elements can have a significant impact on the productivity of meetings and attendees' overall happiness.
"People naturally gravitate toward representations of nature all around them. Artificial light and 'beige box' meeting spaces are often considered draining to folks who count down the minutes until they can get outside," Traxler said.
Scialla noted some biophilic design features and their positive effects from Delos' research. These include:
Active green walls: Living walls, constructed from plants or moss, bring the outdoors in to improve productivity and can also help remove contaminants from the air.
Lighting systems or natural lighting: Bright light during daytime hours can help promote productivity and alertness, in addition to increasing energy and better performance on cognitive tasks. Lighting systems that simulate natural sunlight or actual natural sunlight can help maintain circadian rhythm and improve energy, mood and productivity during meetings.
Purified air: Air purifiers and active green walls that filter the air can increase the ability to focus and improve respiratory health.
Floor and furniture materials: Meeting rooms with patterned carpets or with floors and furniture that mimic natural elements like water and trees, such as wood or wood laminate meeting tables, can help enhance attention and task performance.
[On Topic: Circadian Lighting Hotel Sleep]
Hotel Meeting Rooms That Use Biophilic Design
Not sure where to find meeting rooms that integrate biophilia into their design? For the following hotels, biophilic design is now a key focus when creating and improving existing meeting spaces.
MGM Resorts partnered with Delos to create Stay Well meeting rooms in its MGM Grand Hotel & Casino, Park MGM and The Mirage Hotel & Casino properties, and chief sales officer Stephanie Glanzer said her team has received tremendous feedback.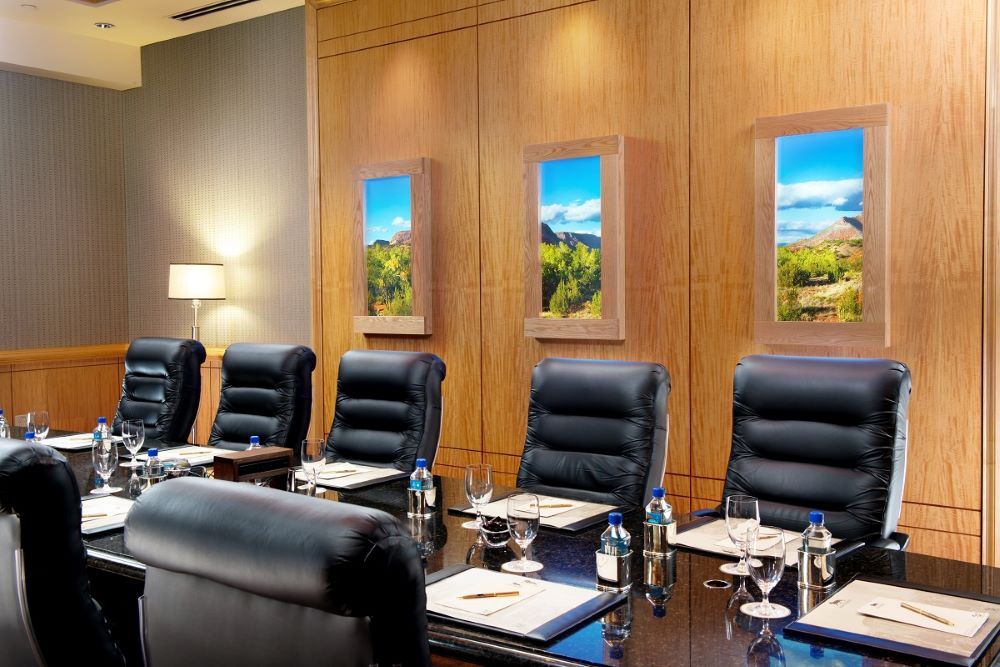 Photo: Stay Well Meeting Room with decorative glass featuring nature patterns; Credit: MGM Resorts
"Several clients have shared their post-conference survey results and attendees felt more focused and engaged during their meetings," she said. "We find it can enhance the creative process, and when you're attending a meeting or event, that is a very positive experience."
Delos also works with Wyndham Hotels and Resorts and Marriott Resorts International on the Stay Well program.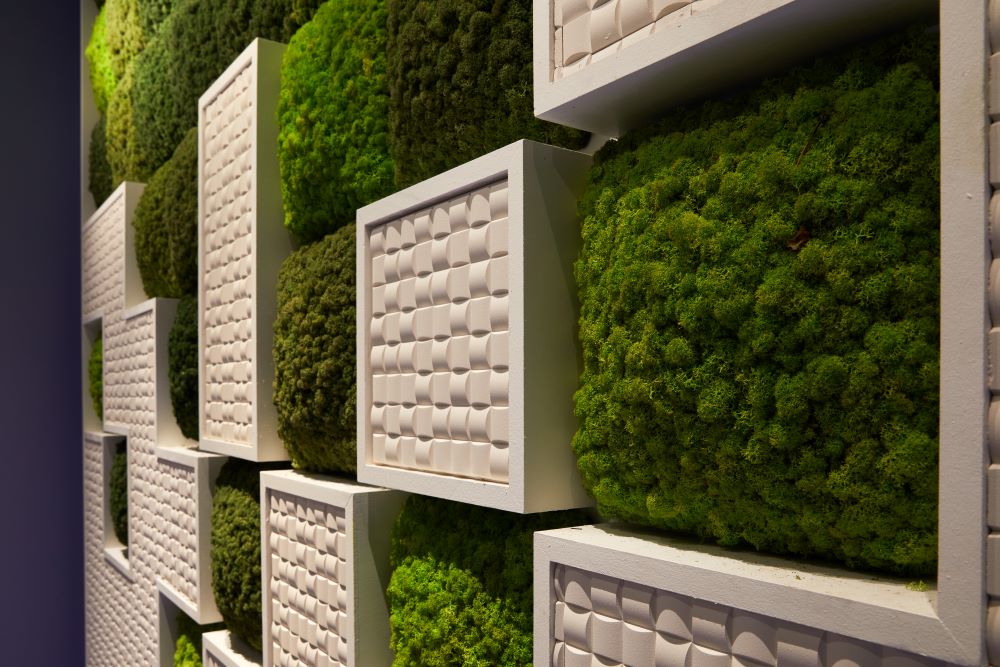 Photo: Living wall in Hilton McLean Tysons Corner's Innovation Gallery; Credit: Hilton Hotels
Additionally, Traxler says that most of Hilton Hotels' properties now incorporate biophilic design elements throughout common areas and meeting spaces. Some notable properties include: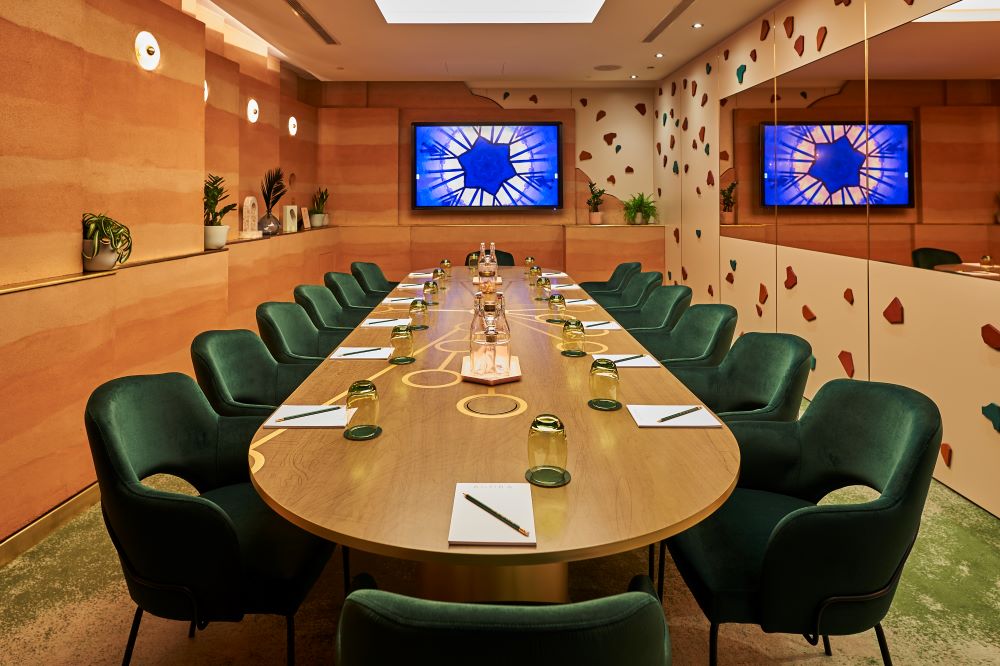 Photo: Hilton London Bankside AGORA Meeting Room, which features multi-sensory biophilic elements; Credit: Hilton Hotels
Scialla also noted that biophilia's restorative effects on health can be gained not only through real exposure to natural elements, but through virtual experiences, too. "Exposure to digital nature scenes for as little as five minutes have been observed to produce meaningful effects, such as improved recovery from stress when viewed during work breaks," he explained, adding that some Stay Well meeting rooms feature decorative glass with nature patterns such as leaves or grass.
Happy Attendees Means Good Business
Science backs up the benefits of choosing meeting spaces that feature biophilic design, and Traxler adds that the genuine satisfaction reported by attendees makes it a win-win strategy.
"Biophilic designs are a real treat for our meeting and event attendees," he said. "We live most of our lives indoors, so bringing these natural elements into a place where we spend our working hours makes people happier, more focused and engaged.
[Related: Westin Wellness Meetings Events]
"Attendees often comment on appreciating the ability to enjoy the feeling of more open space and recognize that being in this type of environment helps reset their senses and re-energize them during what typically is a long day of meetings."
The Living Wall
Aesthetically appealing and loaded with health benefits, living walls are a fan-favorite biophilic design feature. We spoke with Sagegreenlife—a Chicago firm that builds custom green walls for hotels, offices and public spaces—to dig in deep into this growing trend.
How Do Sagegreenlife's Living Walls Work?
The early issues with living walls derived from their design: soil held in by felt. In this design, gravity erodes the soil and water isn't evenly dispersed, raising the maintenance costs of the walls, according to Richard Kincaid, CEO of Sagegreenlife. The design's faults prompted him to help develop a new product.
Sagegreenlife's living walls use hydroponic technology instead, with a layered rock fiber, rockwool, that evenly distributes water, oxygen and nutrients. The walls don't decay, mold or break down over time. This means lower maintenance costs and longevity. They are also smart walls, so you can remotely monitor them 24 hours a day.
Where Can You Put Living Walls?
The hands-off nature and reasonable cost of Sagegreenlife's walls has attracted the attention of various facilities around the world—hotels, offices, bars, lobbies and outdoor facades are just some of the places you'll see a pop of green.
"We have a lot of custom walls in hospitality. We have this full line of unattached movable walls that come with built-in tanks, LED lights, and on wheels that you can move around," Kincaid said. "Ours are also the only systems that can go outside in harsh weather."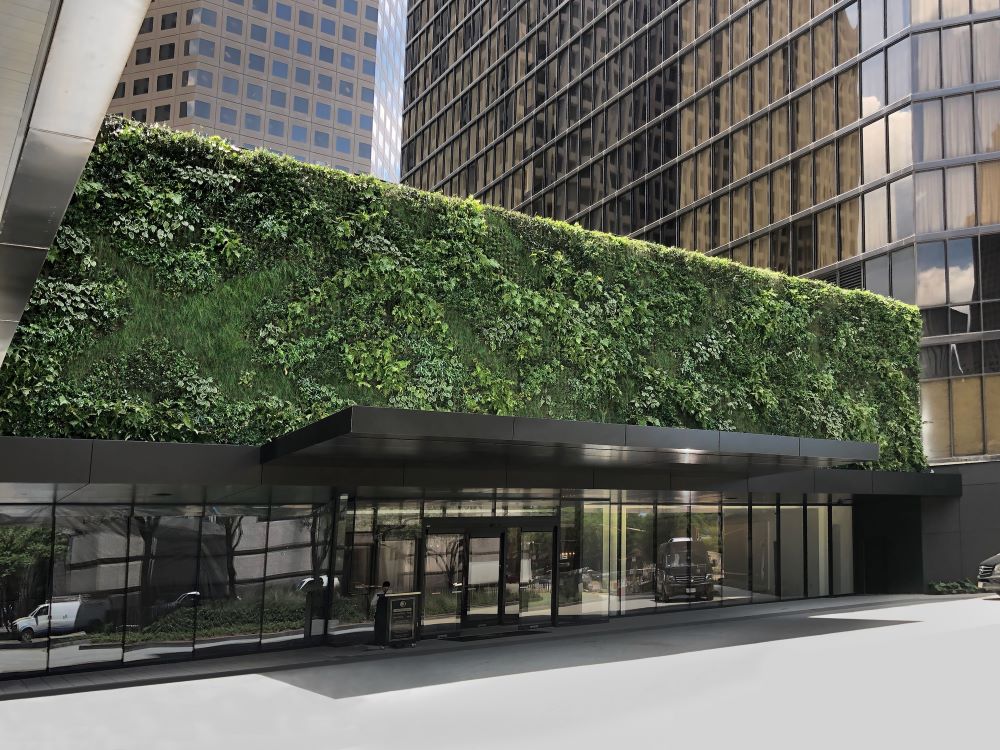 Photo: An outdoor living wall facade at C. Baldwin. Sagegreenlife's living walls can withstand harsh outdoor conditions; ​Credit: Sagegreenlife
The Sagegreenlife living walls are totally customizable. Putting them together is sort of like playing with Legos. Clients can choose the "Biotiles" of greenery they want, and even switch tiles out according to season.
"For some of our larger clients, we've rotated in new tiles or replanted them, like putting poinsettias in at Christmas."
[Find 7 Hot New and Upcoming Sioux Falls Offsite Experiences]
How Can Living Walls Be Used at Events?
Kincaid has seen an uptick in interest from hotels and event spaces as living walls continue to trend.
"We have talked for a long time about working with an event company to rent these," he said. "Depending on the venue you can add signage [to the walls] and put a company name or logo that's pin mounted.
"A lot of our spaces [with the walls] are turning into event spaces that weren't planned," he continued. "There's a wall in a Chicago high rise, originally a tenant amenity, that became so popular that they are renting the space out now."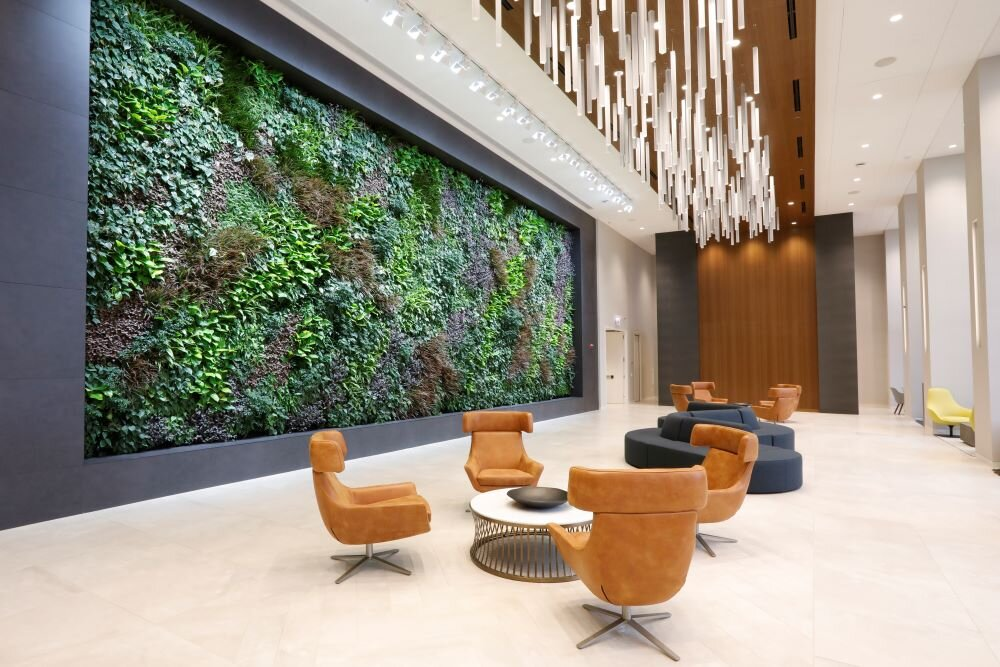 Photo: This living wall installed in a downtown Chicago complex wasn't originally planned as an event space, but is now routinely rented for events; Credit: Sagegreenlife
Similarly, he said Washington University recently installed a two-story living wall in a break-out space that's now used for events such as panels.
Kincaid also noted that the living walls absorb sound, which is just another added benefit for event spaces, in addition to awarding buildings with sustainability points by helping regulate building temperature, which can lower energy costs and carbon footprints.
Read Next: Hilton Meeting Space Design New Approach