3 Sweet Mexican Dessert and Beverage Recipes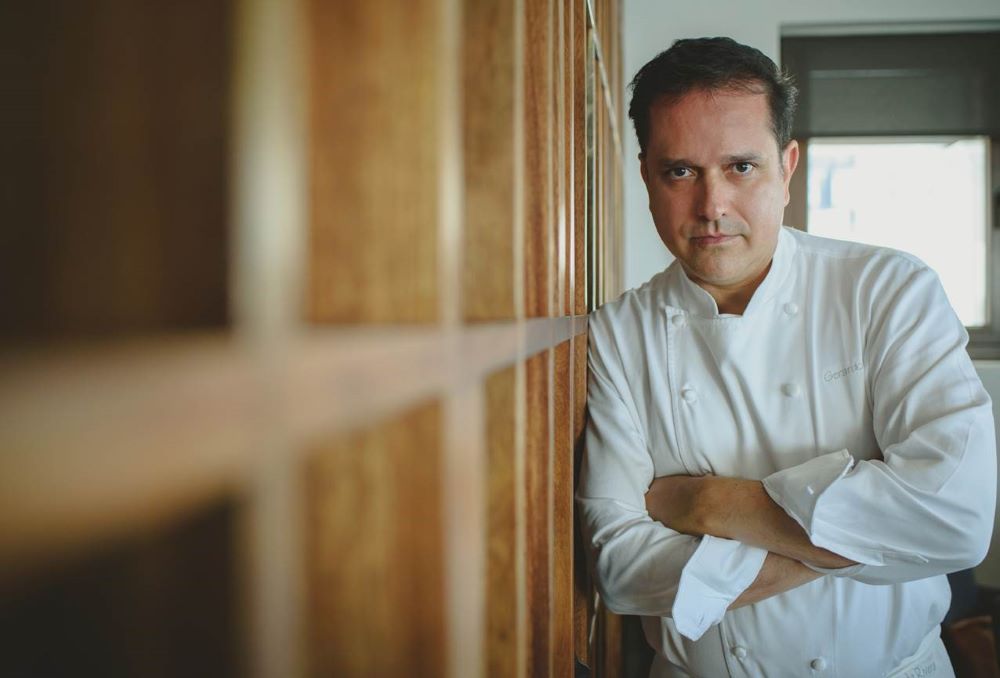 Posadas Corporate Chef Gerardo Rivera, who oversees F&B operations at Live Aqua, Grand Fiesta Americana and Fiesta Americana, provided two Mexican dessert recipes and a fruity punch concoction meeting and event planners can transport from his catering kitchens to their homes.
Following are recipes for Bunuelos de Rodilla, a sweet fritter commonly referred to as Mexican Christmas fritters, chocolate tamales and Ponche de Frutas, an exotic fruit punch that can have rum added for a little "extra punch."
Bunuelos de Rodilla
Serves: 4
Ingredients:
2 cups all-purpose flour
1 cup sunflower oil
½ cup water
½ spoonful of anise
¼ cup of sugar
4 tbsp. unsalted butter or vegetable shortening
1 pinch of salt
½ teaspoon ground cinnamon
Directions:
Pour the flour in a bowl, sift it so that there are no lumps and sieve it along with the sugar, pinch of salt and ground cinnamon.
In a saucepan, heat the water with the anise so that it aromatizes the water. My mother prefers to aromatize the water with anise, but you can also use the peel of tomatillo or green tomato to give softness to the dough.
Add the butter at room temperature or vegetable butter to the flour, and now it is time to start integrating it. It is easier to integrate the butter with your hands.
Once the butter is mixed in with the flour, add the water flavored with aniseed little by little until the dough is well mixed. Then knead it perfectly until the dough detaches from the hands and is elastic.
Leave the dough to rest for 10 minutes with flour on top so as not to create a crust.
Once the 10 minutes have passed, begin to make little balls to go forming the bunuelos. I recommend that you put a little oil in your hands so that you can work the dough better.
With a roller, stretch the dough in a circular shape, but if you like to follow traditions I advise you that with the help of a wet cloth stretch the dough on your knee and you will see that it is faster to stretch the dough.
Once all the fritters are formed, fry them in a big frying pan and add the 250 milliliters of oil; when hot, add the fritters. Fry on both sides and try not to burn. To turn over, use skewer sticks.
Once the fritters are filled, make a mixture of ground cinnamon and sugar and sprinkle the fritters with it.
[Related: Impressive Desserts Holiday Parties Events]
Chocolate Tamales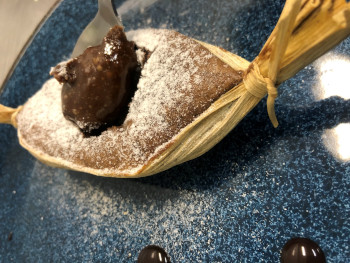 Serves: 4
Ingredients:
Tamale filling:
4 cups butter
7 cups of semisweet chocolate
1 cup cocoa
1/3 cup cornstarch
2 1/2 cups refined sugar
15 egg yolks
15 egg whites
1/4 cup cardamom
Chili paste:
14 guajillo chilis
2 1/2 cups piloncillo or brown sugar
1 1/4 cups water
Directions:
Form a ganache with chocolate and butter.
Let it cool a little, add egg whites and sugar until a meringue is formed, and then add yolks, lower blender to speed 1 and add cocoa and cornstarch.
Add the ganache: only a part and then the rest. Add outside the mixer with the help of a rasp.
Ponche de Frutas
Serves: 4
Ingredients:
17 cups water
1 large piloncillo cone or 2 cups brown sugar
4 cinnamon sticks
3 1/3 cups of tejocotes
12 medium  guavas
3/4 cup chopped prunes
1½ cup chopped apples
1 cup chopped pear
½ cup raisins
3 pieces of sugar cane, about 6 inches long, cut into four pieces each.
1 cup of peeled tamarind pods or 1 cup of Jamaica flowers
Rum or eau-de-vie to taste
Directions:
Place water in a large saucepan.
Add the piloncillo (or brown sugar) and the cinnamon, cook for about 15 minutes.
If you are using fresh tejocotes, add them with the piloncillo and cinnamon, as they take longer to soften.
Add the chopped guavas, apples and prunes along with the rest of the ingredients, such as pieces of sugar cane, tamarind pods or Jamaican flowers. If you're using the canned version of the jeans, add them in this step.
Simmer for about 1 hour. Serve hot in cups, serve some fruit and add rum to taste.
More recipes you can try at home! www.meetingstoday.com/recipes