New Meetings and Events Developments Have Charlotte Rocking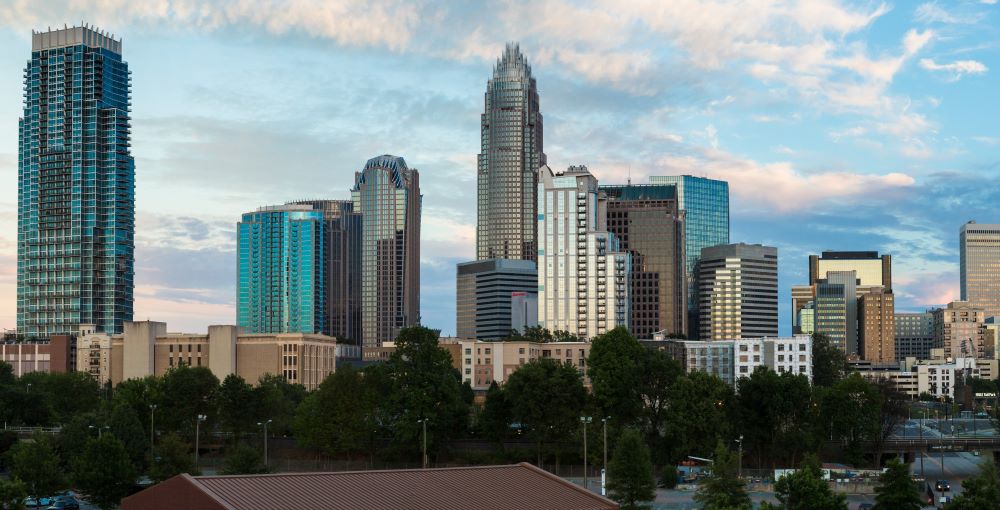 Charlotte, North Carolina, is a meetings destination on the move, welcoming a convention center expansion project that will add a significant amount of meeting spaces, new meetings hotels and a variety of intriguing offsite venues that, in many cases, are located within its convention district.
"Whether it's a large convention or a small convention, there's a lot going on," said Mike Butts, vice president of sales and executive director of Visit Charlotte. "This city is a different city every five years—it's changing that much. It used to be you would come downtown and everybody went home at night, and there were no restaurants and attractions—that's different now."
[Related: Sports Venues—A Hot Option for Charlotte Meetings Groups]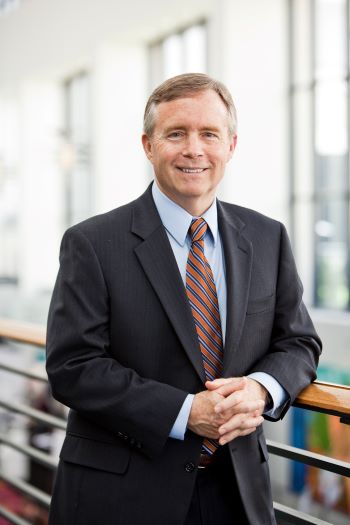 The word is getting out, as many major events have recently booked the city, including the Republican National Convention in August and ASAE, which selected Charlotte for its 2027 Annual Meeting. (Photo: Mike Butts, vice president of sales and executive director of Visit Charlotte; Credit: charlottesgotalot.com)
"That's a pretty big vote of confidence, because of all the entertaining going on," Butts said of ASAE's selection of the city, adding that the association was particularly interested in Charlotte because of its large number of unique offsite venues near the convention center.
One could argue that one popular offsite venue is not really "offsite" at all, as the NASCAR Hall of Fame is actually connected to the convention center and offers its own 10,000-square-foot ballroom and myriad activity options centered on the iconic stock car racing brand.
"It was not designed as your typical hall of fame and museum; it was designed as an attraction," Butts said. "The Charlotte Regional Visitors Authority operates it, so we do all of our own catering. Meeting planners can do contracting through one package; they don't have to decorate anything and there's no transportation. You can do all of your catering through the convention center and NASCAR Hall of Fame together on the same contract."
The Charlotte Regional Visitors Authority also manages Visit Charlotte and the convention center, which gives it a leg up on other destinations in its competitive set.
"It's very unique, in that it provides us the ability to promise and do things where other cities have to find a way to get on the same page with their partners in the city," he said. "We're able not only to make promises, but also deliver on those promises. It becomes a great benefit for meeting planners and avoids a lot of headaches."
Another benefit of the city's convention package is its close proximity to the airport. Charlotte Convention Center is only seven miles from Charlotte-Douglas International Airport, which is the sixth busiest airport in the U.S. and offers more than 700 flights daily, with 178 domestic and international destinations served by nonstop flights.
Charlotte Convention Center Expansion
Leading the meetings and conventions charge is the $127 million expansion of the Charlotte Convention Center. The project also includes a new JW Marriott hotel.
"The convention center itself has developed into a convention district," Butts said. "On Stonewall Street outside of the convention center there's $4 billion worth of development, and as part of this expansion, with the [additional] breakouts there will be a skybridge that goes across the street to the Westin and the light rail.
"That development—and what comes with it is a JW Marriott—just continues to enhance the convention package and the walkability," he continued. "Downtown has just continued to grow and become more dynamic and allows people to do things that are more flexible because of the additional attractions in the convention district."
According to Visit Charlotte, highlights of the convention center expansion, which is scheduled for a late-summer 2021 opening, include the following:
Total leasable space will increase from 550,000 square feet to 600,000 square feet
The addition of approximately 50,000 square feet of meeting room and prefunction space
Total number of meeting spaces will increase from 41 to 55, including two 10,000-square-foot spaces each divisible into 19 configurations
The creation of an over-street pedestrian walkway to the 700-room The Westin Charlotte hotel and a light rail station stop that provides connectivity to Center City's 200-plus restaurants, 5,600 hotel rooms, and additional retail and nightlife options in outlying Charlotte neighborhoods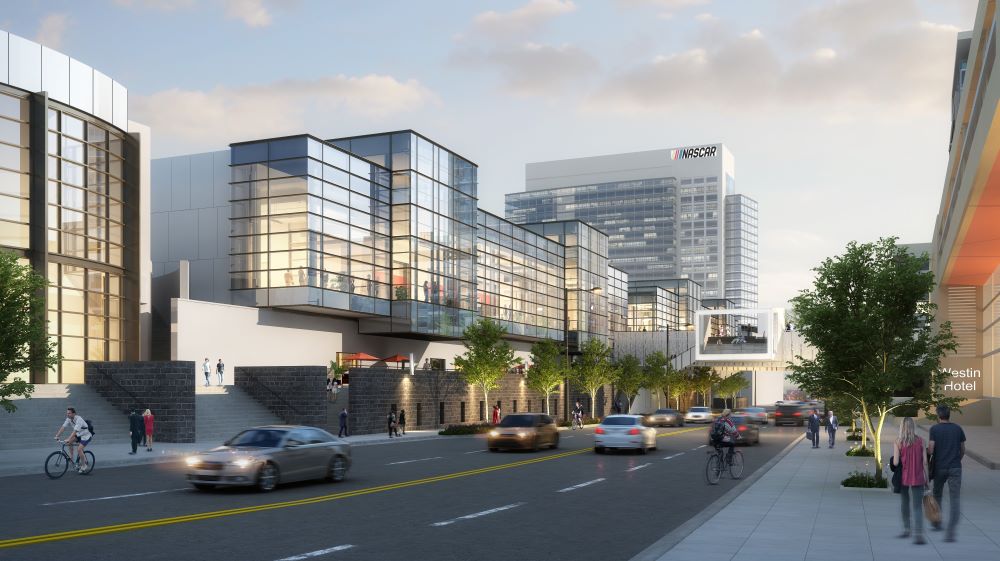 Photo: The expansion of the Charlotte Convention Center will add a significant amount of meeting rooms when complete in summer 2021; Credit: charlottemeetings.com  tvsdesign
New Charlotte Meetings Hotels
Besides the convention center expansion, Charlotte is also benefitting from the addition of new-build hotel inventory. The destination estimates it will offer more than 7,600 new hotel rooms by the end of 2020.
Highlights of new Charlotte hotels include the following:
A 381-room JW Marriott is under construction across the street from the Charlotte Convention Center. The luxury property will include 222,000 square feet of meeting and event space and approximately 7,000 square feet of breakout space.
The 157-room Marriott Charlotte SouthPark opened in early 2020 in the SouthPark neighborhood, near Ovens Auditorium and Bojangles Coliseum. The property offers 10 meeting rooms and 8,100 square feet of space, with a maximum capacity of 270 in its largest space.
The 254-room Grand Bohemian Hotel Charlotte, Autograph Collection, located in the Uptown neighborhood, is expected to open in early April 2020 and will feature 16,000 square feet of meeting and event space. The property will offer Argentinian-influenced guest room design and a rooftop bar overlooking downtown.
A 257-room InterContinental hotel is being constructed in a 27-story tower above the Carolina Theatre, which itself is undergoing a more than $40 million renovation. The property, which is anticipating a spring 2022 opening, will feature a rooftop bar and conference space.
The 221-room UNC Charlotte Marriott Hotel and Conference Center, offering a 24,000-square-foot conference facility, is being constructed at UNC Charlotte, with a targeted opening date of early 2021.
Charlotte Offsite Meetings Venues for Events
Charlotte boats a variety of splashy—and thrill-inducing—offsite venues that will get attendees' blood pumping.
Following are some select examples of venues that are available for event rentals.
Located on the northern end of downtown, this sprawling entertainment district operated by Live Nation on a former mill site contains two concert venues, the Charlotte Metro Credit Union Amphitheatre and The Fillmore Charlotte. Other venues include Club One, The Comedy Zone, La Revolution, Small Bar, The Underground, VGGB, World Night Club and Explicit Bistro & Lounge. A standout event venue is 8.2.0 Pizzeria & Bar—winner of the Charlotte Regional Visitors Association's Nightlife/Entertainment Venue of the Year 2019—which boasts an upscale karaoke lounge, "hidden library" and large event rooms with cutting-edge AV that are divisible into smaller configurations.
This 76-acre historic industrial site in the North End Smart District is dedicated to creativity and innovation, perfect for the "makers" in your group. The site features small- and large-scale creative offices and a variety of restaurants and retail shops. Buzzing with creative energy, Camp North End can accommodate groups of up to 400 seated and 2,000 standing in a variety of indoor and outdoor venues, including the outdoor Boileryard venue that is frequently used for large gatherings and dance parties. A 1,544-square-foot Free Range Brewing brewpub is slated to join the roster of event venues by the end of summer 2020.
[On Topic: Hip-Hood: Explore Charlotte's South End]
Three cooking class formats—Hands-On, Chopped Challenges and Tapas Tastings—are available for private events. The Hands-On Class, for groups from 12 to 24, finds participants preparing a meal from one of six curated, seasonal menus. The Chopped Challenges, for groups from 25 to 60, pit teams of four to six competitors to make the best dish from a "mystery basket" of ingredients. Tapas Tastings, for groups from 35 to 70, find guests wandering from station to station, each operated by chef, making and sampling small-plate dishes.
This tribute to the iconic sport of stock car racing is connected to the Charlotte Convention Center and features full facility rentals and in-house food and beverage service for groups of up to 2,400. The 86,500-square-foot venue features a Great Hall reception area loaded with racing memorabilia. Groups can also dine near Hall of Famers' cars or hold smaller gatherings in its Legends Room. Attendee activity options include pit crew challenges, simulator rides and exhibits featuring artifacts from NASCAR legends. The Hall of Fame also offers a 19,000-square-foot patio and a 278-seat theater with a 64-foot-wide projection screen, among other event options.
Billing itself as the "happiest place on Earth"—don't tell Disneyland!—Optimist Hall is a former textile mill that was transformed into a flexible space with artisan food stalls, bars and specialty shops, which is a popular option especially for younger attendees who crave a hip "food hall" experience. While the entire facility is not available for a special event buyout rental, planners can reach out to individual tenants to enquire about rentals in their individual spaces.
Located about 20 minutes from Center City, the U.S. National Whitewater Center (USNWC) is the largest whitewater center on Earth, according to Visit Charlotte. Features of the 1,300-acre facility include guided boat excursions on rapids over multiple levels, low and high ropes courses, ziplining, whitewater and calm water kayaking, an ice-skating rink, climbing, bungee jumping and mountain biking, among many other activity options. Corporate groups can also arrange for teambuilding programs and utilize its onsite conference center or multiple outdoor event spaces. Catering options include buffets, plated meals and bar service from its in-house culinary staff. AV services and event design support is also available.
Connect
Visit Charlotte | 704.334.2282
Check out More North Carolina Meeting Destinations