Inspiring Stories from the Meetings Industry During the Coronavirus Crisis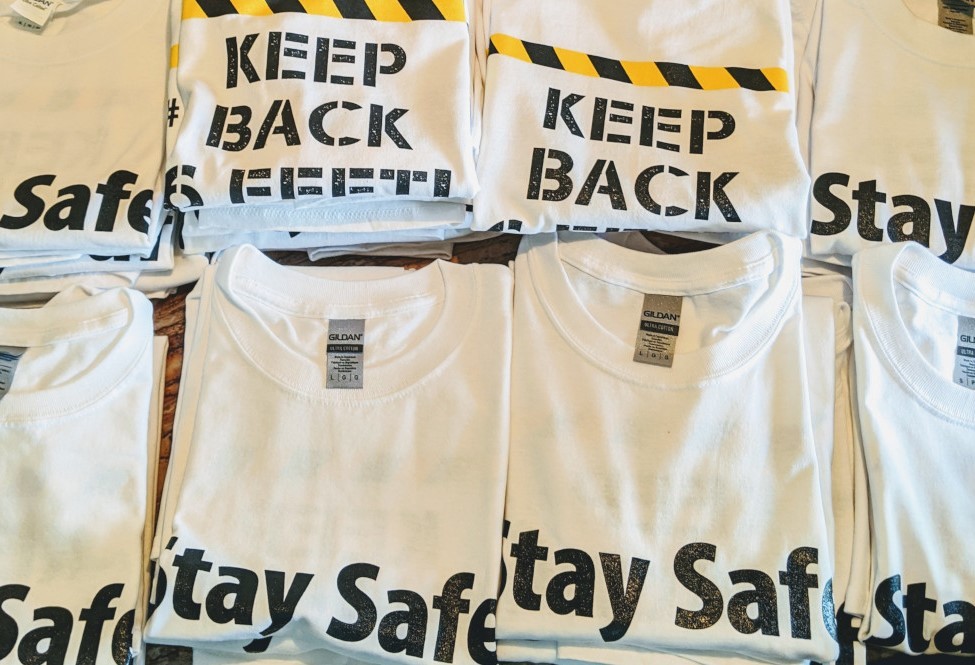 These are unprecedented times for meetings and events.
The COVID-19 crisis has brought on some tough changes, but the meetings and hospitality industries are strong and resilient—the best we can do right now is lean on each other. We are all in this together!
This spring, we asked our readers: What acts of kindness and support have you seen lately?
Whether it's creating community when we can't meet face-to-face; offering a free service on something you might otherwise charge; or inspiring acts to help fellow meetings and hospitality workers, professionals and businesses, the uplifting stories of the meetings, events and hospitality industries spread help and hope is to keeping us inspired as we navigate these hard times.
Here are the many submissions of inspiration!
---
StaySafeTshirts.com T-Shirt Sales Support Mask Making Effort
It's been a rough time for all of us due to COVID-19. One of the hardest hit industries has been the meetings, travel and tourism industry. Millions of people worldwide have been furloughed or laid off. 
However, the incredible resilience and courage displayed in the hospitality community has been AMAZING! Many people are utilizing their time by making masks for healthcare providers in need. Yet, affording the material to make masks has become a financial challenge. 
So, we created www.StaySafeTshirts.com, where anyone may purchase a t-shirt, with ALL THE PROCEEDS donated to hospitality professionals that are making masks for health care providers in need. 
And, the story doesn't end there. A couple weeks ago, a woman-owned small business printing company, Arizona Screen Print, was desperately pleading on social media for any business or the owner would have to lay off her employees. But, due to this project, they were able to keep her employees working through this difficult time. Everyone wins! 
—Deborah Gardner, Hospitality Trends Expert & Author 
---
PSMI Donates Health Kits to Hospitality Friends and Association Members
As the virus paralyzed a portion of our business when all meetings, conferences, and tradeshows stopped, PMSI Promos decided it was important to do something to help our fellow hospitality friends and families.
So, we had secured large quantities of masks, pouches and sanitizers and began offering to PCMA, ASAE, MPI, IAEE, FSAE, ESSAE, AMC Institute and several other industry groups the free, no charge health pouch to be sent to the homes of all who emailed me their home address.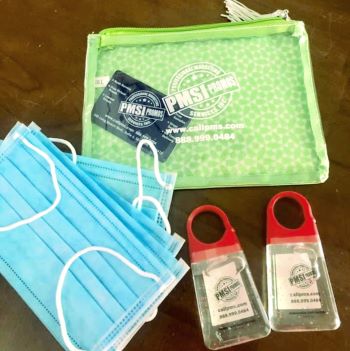 We promoted the offer through email campaigns and social media communications. We then quickly expanded the program to offer the health pouches to the elderly parents and isolated children of our Industry as well.
It has kept our dedicated PMSI Promos staff very busy. To date, in the past three weeks, we have sent out over 5,800 packages. The response has been overwhelming. We never realized how many of our friends have been isolated, have spouses or parents with compromised health issues.
I am so proud of our staff. Their dedication to this program makes me very proud.
—Marty Bear, President of PSMI
---
Austin Convention Center Hosts Food, Face Shield Programs to Support Community
The Austin Convention Center Department is involved with two local community programs to aid and support the assembly of food with the Eating Apart Together Initiative and with the Dell Medical Face Shield Project.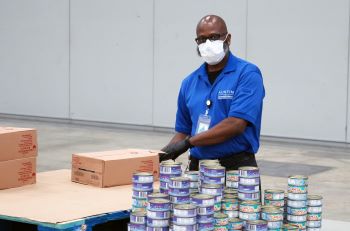 Changes in the food system caused by the COVID-19 have hit people and families experiencing homelessness especially hard. To help everyone stay well and safe, the city and community organizations created the Eating Apart Together (EAT) Initiative to source and deliver food to those in need. The Austin Convention Center Department is providing space and people power to package food that is then delivered by outreach organizations across the city. Following the first food drop of shelf-stable food from the Central Texas Food Bank, the Austin Convention Center Department staff, in 8 hours, packaged more than 1,000 bags for the week. The facility will continue to host the packaging and distribution of food to organizations as the initiative grows.
Dell Medical Face Shield Project is an Austin-based volunteer organization manufacturing and assembling face shields for healthcare workers and first responders at the Austin Convention Center. This is a partnership between the local companies, the City of Austin and the UT Dell Medical School. The convention center hosted shifts during the month of April with the goal of assembling 30,000 face shields in two weeks.
—Derick Hackett, Austin Convention Center
---
Couples Resorts Implements Employee Relief Plan & Provides Medical Equipment Contributions
Couples Resorts is a collection of four all-inclusive properties in Jamaica that has been in the hospitality industry for 76 years. While they've had to close due to the global pandemic, the safety and financial security of their employees is still of the utmost importance to the hospitality organization. As part of Couples Resorts employee relief plan, each employee will be entitled to paid vacation, all their benefits and a portion of their salary during the closure due to the pandemic. This brand recognizes the important roles each essential employee brings to the brand's success and aims to help prioritize their health and safety during these challenging times. 
Additionally, Couples Resorts' non-profit organization, The Issa Trust Foundation, has provided more than $250,000 of critical medical equipment and supplies—including ventilators, x-ray machines, hand sanitizer, beds, and stretchers—to help hospitals in Jamaica fight COVID-19. 
—Abraham Issa, COO, Couples Resorts
---
Jade Mountain Helps St. Lucian Locals
At Jade Mountain, the welfare and happiness of our employees and neighbors is most important. We are pledging $100 from each reservation made by June 30th towards a community fund we've created to aid more than 540 resort employees.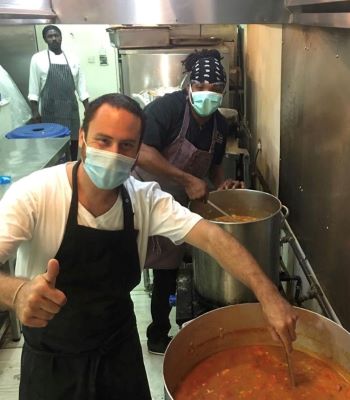 We've also partnered with the St. Lucia Hospitality & Tourism Association (SLHTA) to assist unemployed workers with the cost of living expenses, medical bills, and more. 
Our chefs and team members are helping with food donations and the preparation of meals for those in need as part of an island-wide initiative, and our Consulting Chef Allen Susser has created a GoFundMe account where all contributions will be distributed to the resorts team members and their families.
While we look forward to welcoming guests again soon, we're currently offering a glimpse of our world through social media and our virtual traveler in hopes to inspire and uplift from afar.
—Karolin Troubetzkoy, Jade Mountain
---
West Palm Beach Hotel Donates Food to a Homeless Shelter After Grand Opening Postponed
The Canopy West Palm Beach Downtown hotel is a new luxury hotel near the Palm Beach County Convention Center. The Canopy features a 13th floor rooftop pool deck and lounge and spectacular artwork and architectural features throughout. The hotel has 7,000 square feet of meeting space plus a 1,900-square-foot outdoor terrace. Because of its location and appeal to travelers, they were prepared for a significant level of meetings and event bookings.
The Canopy was just days from opening as the impact of Coronavirus was becoming more prevalent. The 85-member staff was fully trained, the rooms and public spaces were set and ready for guests, the kitchen was fully stocked, and the entire staff was excited to launch this dynamic new property.
Then, less than a week before the scheduled launch, the decision was made jointly by owner/operator Driftwood Capital and hotel management that the grand opening would have to be postponed. GM Chris Steele delivered the news personally to the staff. It was heartbreak all around.
In the days following, F&B Manager Serge Saouma decided to help the community however he could. Knowing he had a huge stash of food on hand for the hotels two restaurants, Banter and Treehouse, he decided to donate $4,000 worth of high-quality vegetables and produce, cheeses, milk, yogurt, eggs and more to the Lord's Place, the local non-profit that serves the homeless. They were thrilled with the donation.
That same weekend, hotel management came up with another idea to show their support of the local community, by creating a huge heart display on the side the hotel, seven stories tall using 22 rooms to create the outline.
—Tony Theissen, O'Donnell Agency
---
Hilton Garden Inn Atlanta Northpoint Donates Food for School Lunches

We are the Hilton Garden Inn Atlanta Northpoint located in Alpharetta, GA. Terry Bryant (General Manager and myself, Denise Ruiz, Director of Sales) have been at this location for over 15 years. We have been heavily involved in our community, but most recently decided to take on a food pantry located inside a local middle school and regularly hold drives at our hotel and fill their pantry so that children may take home food for days when they are not in school
It was only natural that when we learned we would be suspending operations that we thought of our local kids. In GA, spring break was the following week and there had been announcements that there would be no free meal services for the children at the schools at that time.
On the day of our closing my GM and I went through all the perishable items in our kitchen. We let employees take what they needed and the rest we decided to donate. I contacted the School Meal program who was partnering up with restaurants to cook and distribute food to the children during this time.
We were able to coordinate a same day pickup and donated over half of our walk-in freezer to those in our area who were in need
—Denise Ruiz, Hilton Garden Inn
---
Scotland Hospitality Community Rallies for Food Donations, Whisky Hand Sanitizer Production and More
Here are some initiatives that are making a difference for the Scotland community during COVID-19:
—VisitScotland Business Events 
---
West Coast Meeting Planning Company Helps Families in Need on Easter
Despite the fear and uncertainty we are currently facing during this pandemic a silver lining has emerged: All over the world kindness is spreading.
People are: grocery shopping for their elderly neighbors, making and donating masks, delivering food to health care workers, singing on their balconies in Italy to lift spirts, creating GoFund me pages to help furloughed colleagues.
To join the kindness movement, the team at Site Selection Services, in California and Oregon, decided to make Easter a little brighter for some families in need.
300 bunny bags were created, stuffed and distributed to food insecure families in CA and to a homeless youth and community shelter in Oregon.
If we make a few children smile on Sunday, we reached our goal!
—Kim Paine, Site Selection Services
---
Seattle Production Company Provides Cost-Effective Live-Streaming Services

With the COVID-19 global crisis, the Arts and Entertainment Industry faces an unprecedented challenge. In response to those challenges, PNTA, a Seattle-based event production company, has partnered with a local event space to provide a cost effective, superior quality streaming soundstage for event production. Utilizing the CANVAS event space, they will introduce #SeattleLives and bring together a location-based streaming solution to citizens of the Seattle community that seeks to educate, inform and entertain worldwide. The space is capable of hosting a variety of things from live streaming entertainment that bring pockets of joy to people as they shelter in place or charity fundraiser for non-profits that are not able to sustain critical needs at this time to corporate business solutions in an oversaturated virtual work environment.
The primary focus of #SeattleLives is to spread hope to the entire community at large in these dark times. The company PNTA has donated over $100,000 in equipment to facilitate this effort.
—Janelle McKinsey, Development Councellors International (DCI)
---
ESPA Members Helping Making a Difference
With conferences and events cancelled, members of the Event Service Professionals Association (ESPA) are redirecting their energy and resources to serving the community, as well as preparing for the myriad of planner needs and new services expected when meetings make their return. After all, nurturing planner relationships to serve as an extension of their team is what service professionals do best. ESPA members are continuing to do that by pivoting their focus to fight against the impact of coronavirus: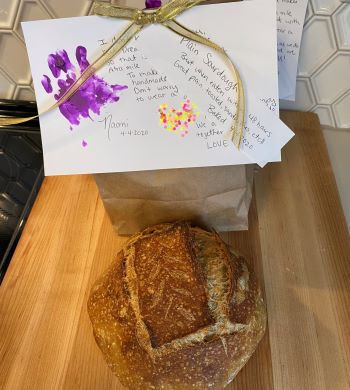 CVBs are connecting with planners in creative ways. Visit Denver offers a "Mile High Mondays" communication series, which features fun, surprise activities for planners each week. Visit Indy is offering "Indy-inspired" virtual care packages to help planners unwind during these stressful times. The care package includes tranquil spring scenes from the Circle City, a "chill" playlist, a link to download a coloring book or puzzle and links to recipes and podcasts. That's not all. The Visit Indy convention services team is making and delivering homemade sourdough, "loaves of love," to essential workers. The ingredients for the bread are sourced from a local bakery, Amelia's Bread.
Several convention centers around the United States are being converted into health facilities to provide care for COVID-19 patients. Services teams are pitching in to help collaborate on logistics at the facilities. The David L. Lawrence Convention Center is contracted with the State of Pennsylvania to become an alternate care facility for non-COVID-19 patients, which will free up hospitals to care for patients with coronavirus.
Discover The Palm Beaches is offering virtual town hall meetings for community partners—hotels, attractions, restaurants, transportation companies and cultural institutions—as a way to keep up with the latest coronavirus news and to share updates about group sales and new bookings. Discover The Palm Beaches has also created a virtual library as a way to share resources. On the services side, Discover The Palm Beaches is creating a new Citywide Tool Kit that will support future business. The organization is also helping to field calls from essential workers who need hotel accommodations.
When recovery comes, budgets will be impacted for a while. Events will need to be financially successful and that means there will be a demand for savvy and resourceful event professionals who can coordinate attendance promotion, deliver messaging about destination and venue safety and respond to new challenges regarding social distancing impacts, food service changes, and food supply chain delays. Richmond Region Tourism is using the downtime to get prepared for when recovery comes. The staff is working on pre-promotion, fine-tuning new messaging and updating digital resources and toolkits, as well as brainstorming fresh ways to activate local partners.
—Kimberly Tjoumakaris, PR Manager for ESPA
---
Pechanga Tribe Donates 3,000 N95 Masks to Hospitals
As the number of COVID-19 cases continues to rise throughout Riverside County, the Pechanga Band of Luiseño Indians donated 3,000 N95 masks to three local hospitals in April, including Temecula Valley Hospital, Rancho Springs Medical Center, and Inland Valley Medical Center.  Each of the facilities received 1,000 N95 masks for doctors, nurses, and frontline medical staff. 
The Pechanga Tribe owns and operates the Pechanga Resort Casino in Temecula, California.
"We deeply appreciate the critical work of our frontline medical professionals," said Tribal Chairman Mark Macarro.  "These hospitals serve our Tribe, our Team Members, and our community.  We're going to do all we can to help get through this pandemic together."
"You have no idea, this is like receiving gold, literally," said Darlene Wetton, CEO of Temecula Valley Hospital. "It is so important that we protect our healthcare workers. With the 1,000 masks, this will last us about ten days because we are using about 100 per day."  
"As Chairman of the Board of Southwest Healthcare that includes Rancho Springs and Inland Valley Hospitals, I know the depth of Pechanga's generosity to our community," said Joan Sparkman. "This latest contribution of masks in the midst of this pandemic is so typical of their care and concern for others." 
The N95 masks were delivered by Pechanga Fire officials to all three hospitals this morning.  Pechanga also donated food to the Temecula Valley Hospital two weeks ago to bolster food supply and increase capacity for nurses, doctors, staff and patients. 
—Ciara Green, Pechanga Resort & Casino
---
Meetings and Events Organizations Create COVID-19 Response Hotline
In response to the COVID-19 public health crisis, several organizations in the meeting and event industry have come together to create the initiative Hospitality and Events Fight Back (HEFB-20), in an effort to support the health community through public-private partnerships and brand diplomacy.
It's well known that the meetings and events industry has been hit particularly hard during this crisis, but we are hard at work combining our collective skills and resources so that we can make a significant impact in the fight against COVID-19 by doing what we do best- building temporary structures, transforming spaces and serving others.
We've built a call center that will assist organizations who seek to connect directly with vetted suppliers and resources to manage COVID-19 response initiatives. We are immediately available to assist in any or all aspects of hotel-hospital space conversions across the United States. HEFB-20 can support hotels, city, state and local governments in need of logistics support.
—Tracy Judge, Soundings Connect
---
NYU's Center of Hospitality Launches Masks for Shelters Initiative
NYU's Jonathan M. Tisch Center of Hospitality has launched the Masks for Shelters initiative, a collaborative effort among students and professors to produce masks for New York City's homeless population.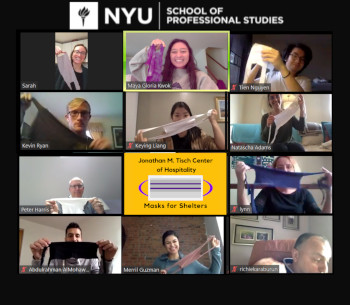 When news emerged that a city-wide shortage of masks was severely impacting homeless shelters, we assembled a student task force to organize a large-scale donation of homemade masks. The task force inquired with local shelters and researched suitable mask-making techniques, ultimately creating a simple guide that allows anyone to make and donate a five-minute no-sew mask.  
In addition to seeking mask contributions from the public, the task force has hosted weekly mask-making events for NYU students on Zoom. These events bring together students from the Hospitality, Tourism Management, and Event Management programs, as well as other programs throughout NYU.
The first goal of the Masks for Shelters initiative is to donate 1000 masks to the Bowery Mission. Here's how you can join the effort. Some feedback from students:
"I am overjoyed by the response our initiative has gotten in just the beginning stages. Everyone sincerely wants to support our NYC community, and how beautiful that it brings us together in the process!" (Maya Kwok)
"Local shelters are working hard to assist NYC's homeless population during this crisis, and I'm so grateful that our program has come together to show our support! It's been amazing to see how students are willing to dedicate their energy and resources even during this difficult time." (Sarah Weisbuch)
—Professor Richie Karaburun, NYU
---
Washington, D.C. Design and Production Company Delivers Flowers to Frontline Workers
When COVID-19 paralyzed the D.C. events industry in early March, local design and production company Encore Decor had a number of idle floral designers and fresh flowers without homes. So they got to work creating dozens of cheery spring arrangements for the men and women manning the front lines. Each piece was donated on behalf of a client.  The team then geared up in hand-made masks, donned surgical gloves and delivered to the health heroes at local facilities such as MedStar Health's Department of Infectious Diseases and a DC Fire station
The response we received was priceless and it felt good to brighten the day of those essential workers who put their lives on the line to help others. When tragedy strikes, we feel that it's important for businesses to do whatever it is they do best to make a difference in the community. Our clients also appreciated our facilitation of a complimentary donation on their behalf. Just a small way to express gratitude at a time when we are all looking for the light at the end of the tunnel.
On behalf of all of us here at Encore Décor – stay well, stay safe, stay home!
—Sara Harmon, Encore Decor Event Design and Production
---
Baltimore Hotel Offers Restaurant Space to Local Food Business to Assemble Bagged Lunches, More
Supporting Baltimore City and its community has always been at the heart of Hotel Revival's mission, so when the COVID-19 pandemic sent the economy spiraling, leaving business owners fighting for their livelihood, thousands without jobs, and first responders on the front-line day after day, the award-winning Joie de Vivre hotel felt compelled to offer support to those in need. 
From the former Square Meal restaurant space the hotel is offering to small food businesses without a brick and mortar location, to utilizing spaces no longer teeming with guests to assemble care packages and bagged lunches, and offering rooms no longer occupied by travelers to the city's police officers and firefighters, and also military personnel. 
Recognizing value in banding together with others, Hotel Revival has partnered with marketing and events company Kiss Tomorrow Hello, local produce purveyors and the newly established Baltimore Restaurant Relief Fund and the Baltimore Service Industry Fund to serve those in need.  
 Hotel Revival continues to coordinate efforts to gather and distribute essential items including food and toiletries for those in need. Stay updated on Hotel Revival's efforts via its Instagram: @revivalbaltimore.  
—Hotel Revival
---
Maui Resorts and Hotels Donate Supplies to Hospital and Quarantine Centers
Maui resorts and hotels have shown great aloha in providing support for our community efforts to manage the COVID-19 crisis and help assure the safety and wellness of our residents.  The Westin Maui Resort & Spa has generously donated an abundance of sheets, pillowcases, towels and other linens for quarantine centers. Bill Countryman, general manager of Marriott's Maui Ocean Club, has donated 50 beds to aid with any overflow of patients at the local hospital.
Four Seasons Resort Maui at Wailea has donated masks and sanitizers to the local hospital and linens to quarantine centers.  The following hotels have committed to providing accommodations for doctors, nurses and first responders as needed: Paki Maui, and Kamaole Sands (both Castle properties), and Maui Beach Hotel. It's our belief that this genuine aloha will continue to be extended to the community by the Maui resorts and hotels to help put these challenging times behind all of us. 
—Randy Parker, Maui CVB
---
Costa Mesa Restaurants Feed Frontline Workers in Hospitality Industry
This week, Social Kitchen & Craft Bar launched an initiative to Serve those Who Serve us and will be feeding to-go meals daily to frontline workers in the hospitality industry who have lost their job or been furloughed.  They've also set up a Go Fund Me page to help collect donations to continue to support this effort until the crisis is over, and so the restaurant can reopen.
After opening their doors for the first time in Orange County on March 17, Café Sevilla closed temporarily to get through the Coronavirus crisis and help support other local businesses. They donated more than 2,000 pounds of food to local non-profit food banks including Someone Cares Soup Kitchen in Costa Mesa.
—Debbie Megna, Travel Costa Mesa
---
Fast Forward Events Creates Free Webinar Series, Supports F&B Partners
To assist beverage and culinary industry partners, Fast Forward's San Diego bay Wine + Food Festival event created an "online newsroom" to give updates on what restaurants, wineries, breweries, etc. are doing in order to continue serving their customers during this time. The newsletter is distributed daily to our clients and community. 
We also are doing a similar newsletter for our client, the Boys & Girls Club of Alameda, to keep them connected with their community and their partners for their Corks, Forks, Rhythm, & Brews event. These newsletters showcase all the amazing ways restaurant, breweries, wineries, and more are serving their customers and staff during COVID-19.
Also, Fast Forward created a webinar series for our SommCon® event to act as a free resource for professionals, across the country and internationally, to navigate the effects of COVID-19. The webinars feature credible industry professionals as panelists and provide valuable take-aways. 
—Elise Urbaniak, Fast Forward Events
---
Texas' The Inn Between Donates Supply of Toilet Paper to Local Residents
We live in a community that has a median age of 60, meaning most of our residents are part of those who are most at risk to COVID-19. We made the decision to close The Inn Between and stay at our property as much as possible to help promote social distancing.
Without any bookings on the calendar, we had a small supply left of toilet paper. We reached out to the community and offered residents to come by and take some as needed. A local in Uvalde County ended up reaching out because her grandmother was running out of toilet paper and could not leave her house in time to go to the grocery store and buy supplies. We took our toilet paper to her home and left it on her front porch. The women reached out and told us that when we dropped it off, her grandmother was crying the whole time. Hearing this made us cry, as we know she was thankful for what we had done.
—Leah and Jake Guerrero, Owners at The Inn Between 
---
Small Care Package Goes a Long Way with Regular Guest at Hyatt House Minot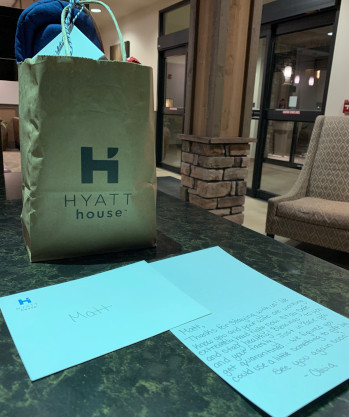 We have a guest that stays with us every week. Just because COVID-19 has halted a lot, his job continues. He shared with our staff that his job has gotten more complicated as the Minot Air Force Base has extra checkpoints and it takes longer for him to go there. His wife is a nurse and she is working long hours. She is worried about their capacity to manage a potential influx of patients to the ICU at that hospital. They have a 3-year-old and now they are shuffling to find care for their kiddo while both of them are serving the community.
Olivia (a front desk employee) made a care package for him and his family. She included items they may want during a potential quarantine like an oven mitt with a cookie cutter for making cookies, wet wipes, Emergen-C and more. She also included a wireless phone charger, coffee mug and pretzels.
We know that we can't take away the stress this family is going through. However, as a Hyatt Family she wanted him to know that we care, and we recognize him and his wife are in need of support and appreciation.
—Lorena Starkey, General Manager at Hyatt House Minot
---
Valley Forge Tourism & Convention Bureau Launches T-Shirt Fundraiser to Support County COVID-19 Response Fund 
The Valley Forge Tourism & Convention Board (VFTCB) has launched a #MontCoStrong t-shirt fundraiser to help support Montgomery County, PA's COVID-19 Response Fund, which was recently established to support local relief efforts in response to the coronavirus outbreak.
The MontcoPA COVID-19 Response Fund will exclusively assist community safety net organizations critically impacted by the current public health crisis such as those serving low-income and food-insecure residents, senior citizens, veterans, homeless and homebound individuals.
The VFTCB designed the shirt, and is partnering with DJB Specialities, Inc., a VFTCB member in North Wales that specializes in custom apparel and promotional products, to sell them for $25 apiece.
The VFTCB is asking people to share who they're #MontCoStrong for by posting images of themselves wearing the shirts on social media. To order a shirt, please visit https://www.valleyforge.org/montco-strong-t-shirts/, or https://www.djbspecialties.com/showrooms.htm.
—Valley Forge Tourism & Convention Board
---
Fern Expo Keeps Benefits for Furloughed Employees
I wanted to shout out to our partners at FERN EXPO. We struck a long-term relationship with Christine Skrak when she headed Triumph Expo at Seattle, now within Fern, because of their service and honesty, but also because of their commitment to their staff. They are showing it again during the crisis.
Like many companies in the tradeshow and event space, Fern had to make a difficult decision last week to furlough a number of its employees, as most of us event organizers were postponing or canceling our plans.  Fern was one of the last in their competitive set to do so, and it was comforting for us as clients to keep friendly voices to help us navigate the crisis. 
During the furlough period, their compassion and values show. Fern will be carrying the full cost of health insurance for all employees impacted.  Additionally, realizing that for many individuals today, their mobile phone is their only phone, Fern is allowing all furloughed employees to keep their company-issued phones. They did not want their impacted employees to have to deal with the added initial expense and stress of getting a new phone during what are already stressful times. Though that might seem like a small detail in the wake of a furlough, most companies would not have thought of the consequences of retaining company-issued equipment.
Fern has always been a value-driven organization, and one of their principal values is PEOPLE FIRST.  Their actions during this time prove to us as customers that they live those values day in and day out.
—Anne-Sophie Whitehead, Conference Director
---
Austin Hotel Chef Helps Feed the Homeless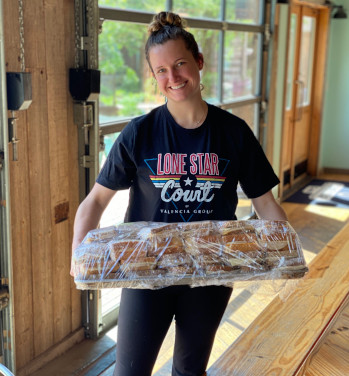 We are seeing with our own eyes that in a time of crisis, people naturally want to help and serve.  We are playing witness to some of our own team members giving back to the communities where we are built as well as to our own associates. Chef Emily Hill of the Water Trough at Lone Star Court made over 100 meat & cheese sandwiches with other accompaniments to feed the homeless in downtown Austin after being inspired by her Pastor's message.
—Amy Trench, Valencia Hotel Group
---
Marriott and Sheraton Hotels Lighten Hearts in Waikiki
Starting last Sunday evening in an initiative spearheaded by Sheraton Waikiki Front Desk Manager Derek Lin and his girlfriend Jacelyn Chang, who worked with the hotel's Engineering Team, Sheraton Waikiki heart lit up, involving 64 rooms from floors 9 through 20.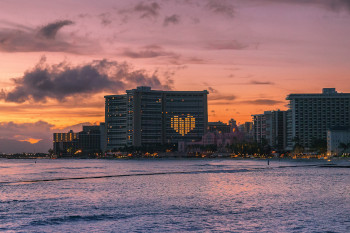 Heart lights were also on in 34 rooms in the magnificent Ainahau Tower at Sheraton Princess Kaiulani…and they're all LED lamps!
Also, a heart can be seen at Waikiki Beach Marriott Resort & Spa's photo, which consists of 34 rooms in the Kealohilani Tower.
"The hearts are part of a #MarriottStrong initiative in an effort to show solidarity to everyone in this time of uncertainty…and how we believe in getting through this together," said Sheraton Waikiki General Manager Tom Calame. Since, Marriott properties across the country have illuminated the same.
—Dara Young, Marriott Waikiki Collection
---
Knoxville's Yassin's Falafel House and Hilton Knoxville Donate School Lunches
Once again, Yassin's Falafel House is proving why they're the "Nicest Place in America" (winner of the 2018 Reader's Digest Poll, announced on Good Morning America). Yassin Terou, a Syrian refugee, and his team are well known for helping the community. Right on the heels of traveling to middle Tennessee to support Nashville's tornado victims with food donations, this restauranteur partnered with Gateway Delivery to ensure no students in need of a school lunch would be left hungry in the midst of the COVID-19 pandemic.
With this partnership, the Middle Eastern restaurant served one daily meal prior to Knox County Schools resuming duties post-spring break. And they're not the only ones—Hilton Knoxville stepped up to the plate to provide students with free lunches, along with Maple Street Biscuit Company, Token Game Tavern and Wings Over Knoxville. Tennessee is the Volunteer State, after all—and we're all in this together.
Yassin's motto is "We all need love plus falafel," and people like him and others in this incredible community are part of what make Knoxville such a nice place to be.
 —Sarah Rowan, Visit Knoxville
---
Gulf Shores & Orange Beach Tourism Launches Q&A Newsletter to Help Planners, Offer Complimentary Services
As we dream of the days when meetings can return to the sun, surf and sand in coastal Alabama, the Gulf Shores & Orange Beach Tourism sales team is helping planners be proactive and stay in good spirits. We are rolling out inspirational memes on social media featuring Alabama beach imagery with quotes from various leaders.
We have also issued a special edition of our quarterly newsletter, "Beach Meets," to planners in a Q&A format. The newsletter showcases our complimentary services, including: marketing tools, such as custom save-the-dates and custom banner ads to use when the time is right to rebook or plan future meetings; matching groups with appropriate meeting locations and sourcing proposals as well as recommending local services, suppliers and offsite activities; and connecting planners with properties to reschedule meetings. We're are in this together.
—Ally Dorrough, Gulf Shores & Orange Beach Tourism
---
Rapid City's Mt. Rushmore Mascots Spread Positivity and Tips to Teleworking Professionals and Their Families
With some professionals shifting into teleworking and now juggling parenting/teacher duties; Visit Rapid City has launched a fun video series to help out. Visit Rapid City's Mt Rushmore Mascots are a hit when promoting the destination and make for great actors when engaging with parents and kids.
Through this video series, the four Mt. Rushmore Mascots can be spotted giving tips on ways to stay positive and productive as we all do our part to social distance. You can follow the Mt. Rushmore Mascots through the Visit Rapid City social media accounts. www.VisitRapidcity.com
—Stacie Granum, Visit Rapid City
---
Goodwill from Local Monterey, California Restaurant Businesses
The businesses in Monterey County, Calif., are coming together more than ever during these unprecedented times. Just a few examples of the goodwill efforts happening locally:
—Ann Marcum for SeeMonterey.com
---
South Point Hotel-Las Vegas Guarantees Pay and Health Insurance for Full-Time Employees; Waives Cancellation, Penalty and Attrition Fees
The South Point Hotel-Las Vegas has an owner, Michael Gaughan, that has guaranteed that all full-time employees will get paid as well as keep their health insurance, which is so important now.
He has put this into effect from the beginning of the shut down until December 31. He has also guaranteed all employees will return in their present jobs. This is such a benefit to our clients to know they will be working with the same people after this is over.
Another great thing Mr. Gaughan has done for the hospitality industry is that he has waived all cancellation fees/penalties for groups that had to cancel due to the virus. In addition, for those groups that are hanging in with us for future months, we have waived any room attrition fees, and the food and beverage minimums will be just the numbers the client guarantees for the contracted functions.
This is helping out our clients to be able to still have their event/meeting without the worry of financial ruin due to a decrease in attendance.
—Maureen "MO" Robinson, South Point Hotel-Las Vegas
---
Victoria, British Columbia's The Parkside Hotel Offers Community Rate to Essential Workers
For The Parkside Hotel & Spa, we are in the unique position of being an all-suite property. All of our guest rooms are self-contained and have a partial or full kitchen. Early on we, as most hotels, closed down our meeting spaces and the hotel amenities—the pool, fitness facility, spa, and theatre. Like most hotels, we also were having to lay off the majority of our employees and close down one of our towers. It became apparent that there was a need to do what we can to help essential community workers during this difficult time. 
We came up with a "Community Rate" to offer to those who needed to isolate and protect themselves from potentially spreading the virus. To be able to provide an option was our priority.  
As well, our exclusive catering partner, Truffles Catering, have created an Express menu that caters to our hotel guests and community folks who can opt to have home-cooked meal delivery right to their door.  
It all comes back to what can we do to get through this TOGETHER. The new normal is uncomfortable for everyone but we will get through this and our industry will be stronger than ever.
—Tauna Eden, The Parkside Hotel & Spa
---
Chicago's Dimension Design Makes Masks and Gowns for First Responders and Nursing Homes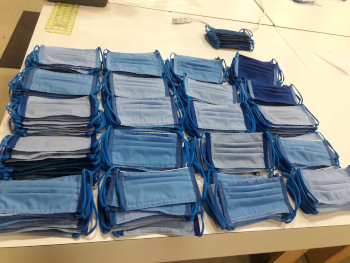 Chicago tradeshow booth design and building company Dimension Design has converted its production capabilities from booth design and building to making masks and gowns for first responders and nursing homes. The effort allowed the company to rehire employees who had been recently furloughed. The first masks and gowns were delivered the week of March 23. The company, which is now on the hunt for additional cotton fabric, expects to produce about 500 items per day.
—Lisa Kenny, Choose Chicago
---
Paducah's National Quilt Museum Helps Distribute Hand-Stitched Masks to Medical Professionals
While the world's largest museum dedicated to contemporary quilting, the National Quilt Museum in Paducah, Kentucky, is closed to visitors due to the pandemic, the community of quilters surrounding the museum have stepped up to help.
As thousands of quilters have come together throughout the country to hand stitch face masks for medical professionals on the front lines of COVID-19, Frank Bennett, CEO of the museum, saw an opportunity to take the lead. He knew the museum could play a role in facilitating the distribution of masks to the medical facilities and professionals in need by leveraging its large social media following and connections to many online groups. Learn more information, here.
—Laura Oswald, Paducah CVB
---
Memphis Tourism's Music Hub Launches Online Music Festival to Support Local Musicians
In an effort to support Memphis' local music community and engage global audiences, Memphis Tourism's Music Hub created a virtual music relay festival. The event kicked off with one performance on Thursday, March 26th, 2020 and continued through Saturday evening with performances scheduled at a variety of times over three days. The festival was held via a Facebook event, co-hosted by Memphis Tourism and I Love Memphis.
Memphis Tourism's Music Hub partnered with Music Export Memphis to collect donations for a COVID-19 Relief Fund benefiting musicians who have lost gigs as a result of the health crisis.
Memphians, especially our musicians, have always given back in times of need. This project serves as a way for the global community of music fans to help support the Memphis music community during this challenging time.
The lineup, which included headliners such as Mononeon, Ben Nichols of Lucero, and Grammy-nominated band Southern Avenue.
—Jeff Homad, Memphis Tourism
---
Indianapolis Spreads Civic Pride and Raises Dollars for Tourism Industry Workers with Indy T-Shirts
Within just six days, Visit Indy, The Shop (local t-shirt provider) and the Indianapolis community raised $61,055 to support the local hospitality community workers in need, while showing civic pride.
Photo: T-shirts by The Shop; Credit: Visit Indy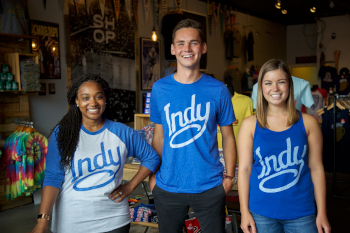 This campaign was to support the 83,000+ Indy men and women who rely on tourism for a paycheck. The dollars have been split between The United Way of Central Indiana's Relief Fund and The Arts Council of Indianapolis' Artist Relief Fund. The money was raised by the community coming together to purchase randomly colored Indy t-shirts from The Shop for just $10.
We are encouraging everyone to continue to show off their #LoveIndy civic pride while supporting those in need. We are asking the Indy community to snap a photo wearing an official Indy tee and post to social media using the hashtags #LoveIndy and #IndyKeepsCreating.
—Nate Swick, Visit Indy
---
Caesars Entertainment Donates 250,000+ Pounds of Food and Thousands of Personal Protection Supplies
Caesars Entertainment is donating food, as well as essential personal protection equipment across the country to assist healthcare workers, law enforcement and more. To date, the company has supplied more than 250,000 pounds of food, which is equivalent to approximately 208,000 meals to numerous food banks and charities. Additionally, Caesars Entertainment has provided thousands of items including gloves, masks and hand sanitizer to local hospitals, first responders and local charities.
Photo: Emergency Worker Message, Atlantic City; Credit: Caesars Entertainment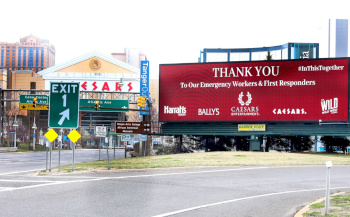 All Caesars Entertainment resorts and casinos across the United States have volunteered to assist their local communities, including in Las Vegas, where 116,000 pounds of perishable food items were donated to Three Square Food Bank and gloves, masks and hand sanitizer was donated to University Medical Center Las Vegas.
—Caesars Entertainment
---
Distillery in Chicago Suburb Ditches Whiskey for Hand Sanitizer Production
During these difficult times, many of our members have been working diligently to provide any services they can to give back to the Chicago Southland community. Thornton Distilling and Brewing Co. in Thornton is doing their part by temporarily pausing production of their signature whiskey and to instead produce hand sanitizer.
Andrew Howell, co-founder of Thornton Distilling and Brewing Co., said he and the team had been mulling over the idea for about a week. After the mandated temporary restaurant closures, they sprang into action. The production floor was turned into a hand sanitizer prep room, using their own alcohol as well as World Health Organization-recommended supplies to create batches. Additional bulk supplies have been ordered to continue the production and keep up with local demand.
Thornton Distilling and Brewing Co. is one of many distilleries across the country that are currently producing hand sanitizer for their communities, as mentioned in Forbes.
The hand sanitizer will be distributed to the at-risk community in Thornton and surrounding towns first, including first responders at fire departments and the Thorn Creek Senior Living facility next door to the distillery, with any remaining supplies being distributed to the public. Despite business being on hold, Howell plans on sharing this hand sanitizer free of charge.
—Katie Arvia, Chicago Southland CVB
---
Local Caterer in Springfield, Illinois Gives Free Meals to Food Service Workers
The strong tourism and hospitality community in Springfield, Illinois was put to the test on March 21st when the Governor of Illinois mandated closures of historic sites, hotels and restaurants due to COVID-19. For many of our service workers, this not only means they are left without a paycheck, but also the uncertainty of when they would be able to return to work. Seeing an immediate need and wanting to offer support to fellow food service workers, Brian Reilly, owner of Springfield based Cured Catering, along with his wife, Melissa, implemented the idea to provide meals for those out of a job. He started by using his own food inventory and since has received an outpouring of community support and donations. Currently, over 500 meals a night are picked up free of charge.
Will Hoecker, owner of several restaurants and bars in Springfield, also came forward providing his own workers with meals from his restaurants inventory. This gave Will the opportunity to support his well-deserving employees that give him so much of themselves every day. Springfield hospitality and the service industry will continue to remain strong and support one another.
—Amy Beadle, Springfield CVB
---
Bentonville, Arkansas Eatery Serves Free Takeout to Service Industry Workers
While many in the service industry are now without work, a Bentonville, Arkansas eatery responded to the COVID-19 impact by making sure those in the hospitality sector are not without a meal.
On March 25, 2020, The Hive in Bentonville, with the assistance of several vendors, served over 300 take-out meals for free to those in the service industry. Executive Chef Matthew McClure said his team felt the need to do something positive in response to the pandemic. "I saw this need in the community with all the hospitality workers, many of them being laid off or reduced work and just felt like we had to do something to make an impact," McClure said.
The delicious menu included salad, grazed brisket, mashed potatoes, and plenty of desserts.
—Aaron Mullins, Visit Bentonville
---
Bryan College Station, Texas, Hotels Partner with Meal Prep Service to Help Students in Need
Two Valencia Hotel Group properties in Bryan College Station, Texas, The George Hotel and Cavalry Court, have partnered with a local meal prep service called "Dorm Dish" to help Texas A&M students who are in need of a meal.
Photo: Meal Service for Texas A&M Students, Bryan College Station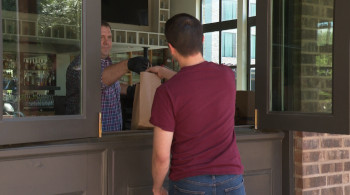 In this partnership with the two Valencia Hotel Group properties, Dorm Dish agreed to provide microwavable dinners to the students, with Valencia Group's catering service providing lunch. Meals are picked up at Cavalry Court's onsite restaurant, The Canteen, from 11:30 am-1:00 pm, and 5:00 pm-6:30 pm, Monday-Friday. Funding for the meals is provided solely through donations via GoFundMe. The program currently sits $1,300 away from being able to feed all 30 students on their list through the rest of the semester (April 28th).
The idea for the program is similar to that of "sponsoring an Aggie student," and the organizers have hopes that it will continue long after COVID-19 ends. The joint effort between these businesses not only embodies how important it is to come together during a time of crisis, but also showcases Bryan College Station's southern hospitality and Aggie spirit.  
—Kendra Davis, Experience Bryan College Station
---
The Oak Bay Beach Hotel Expands Their Home Delivery Offerings to Groceries
The Oak Bay Beach Hotel in Victoria, B.C., is rolling out a new initiative to support their local community with an expansion of their delivery service. In addition to prepared food delivery, this program allows customers to select fresh grocery items, dry goods and beverages online through the hotel's website or by phone and have them delivered to their homes the next day.
As the COVID-19 pandemic has continued through these past few weeks, the hotel, as well as the entire community, has had to make some significant and difficult changes to the way they operate. With the temporary closure of their iconic Snug Pub and elegant Dining Room, the hotel began offering a limited takeout and delivery menu like many other restaurants in the city. However, we began to notice the gap between food service distributors, and those struggling to order groceries from the comfort and safety of their own homes. The Oak Bay Beach Hotel saw the opportunity to enhance their offerings to help fill this temporary gap by offering an expanded free delivery service.
The Oak Bay Beach Hotel has been at the heart of this community and a place of gathering for over 90 years, so it has been especially difficult to know that so many of our neighbors have voiced their challenges accessing grocery delivery. We are encouraging everyone to be safe, stay home and practice social distancing as much as possible, therefore we knew we had to find another way to continue to support and serve our community during this time of need. We looked at our resources and realized that this is something we could offer which could make a difference and allow us to stay connected to the community, until the time comes where we can welcome everyone back.
—Madone Pelan, The Oak Bay Beach Hotel
---
Baton Rouge, Louisiana Leans on Virtual Experiences During Festival Season
Baton Rouge is no stranger to community crisis as we have overcome numerous hurricanes and floods together over the years. While the circumstances surrounding this crisis are different, the Baton Rouge community has come together to help local businesses in the hospitality industry.
Something the south and Louisiana in particular are known for is gathering. We are in the midst of crawfish and festival season—a time when our communities and families gather together to celebrate our most treasured crustacean, music, cuisine and the culture that makes our state and city so unique. During this time of separation and mandated distancing, you can imagine—people of Louisiana are going through all of the emotions of missing family and friends to knowing this year's annual festival they look forward to has been cancelled.
We have seen so many creative and innovative ways to still celebrate together (or alone together) during this time. Our 3rd Street Songwriters festival held virtual events this year, allowing locals to experience the raw and authentic music they are used to hearing virtually from their homes. Baton Rouge's annual Blues Festival held each April has also turned to a "virtual" experience, offering performances live on Facebook and Instagram from blues musicians across the world.
While many of our meetings and conventions have been postponed and our hoteliers experiencing a steep decline in bookings—the community has rallied together to support the hospitality industry during this trying time. Several local groups have come together to create campaigns to support the workforce behind this great industry.
The Keep BR Serving Campaign promotes area restaurants by the purchase of gift cards to use at a later date. Many restaurants are using the funds received from gift cards to pay employees during this time. In addition, several area restaurants, including hotel restaurants have remained open on a takeout or delivery basis only. Our mission during this time is to support our hoteliers and local hospitality businesses in every way we can to ensure when this passes, we will be back and ready for business stronger than ever.
Many of our attractions have begun offering "virtual experiences" of their museums. Visit Baton Rouge has put together a list of ways you can explore Baton Rouge from home to support these efforts. We hope these will inspire future visitors and locals alike to visit these attractions once business resumes as normal.
—Meredith Conger, Visit Baton Rouge
---
Greater Palm Springs CVB Launches Online Community Coronavirus Resources 
The Greater Palm Springs CVB has taken a leadership role for the region, sharing critical information and updates beyond their 2,000 hospitality businesses. After launching a Coronavirus resource page, the team created several microsites to assist hospitality workers and residents in the local community: 
This campaign was developed to encourage residents to support local restaurants by ordering delivery or takeout for their next meal. The website includes a continually curated list of 380-plus restaurants and has received more than 21,000 pageviews since launching on March 18. 
Photo: Greater Palm Springs CVB's Oasis at Home Online Portal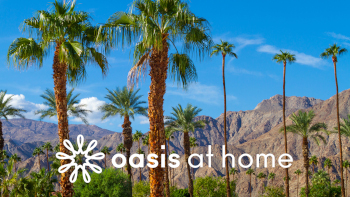 Oasis at Home 
Until it's time to travel again, visitors can enjoy Greater Palm Springs from home thanks to this new online portal filled with more than 50 experiences ranging from virtual tours to local foodie and fitness classes to at-home activities for kids. In its first five days, the site received more than 3,800 pageviews. 
To help keep the local community's senior residents safe, a Seniors First page was created that highlights special store hours for seniors and other at-risk customers, receiving 1,133 pageviews in its first two weeks. 
The CVB is also working with Riverside County on a PSA television commercial for the region reminding the community to "Stay in Your Place. Maintain Your Space. Cover Your Face."  
And to support tourism and hospitality workers in the Coachella Valley, the CVB's Tourism Foundation has established a support fund and partnered with Lift to Rise and United Way of the Desert to collect donations for local families who have been financially impacted by COVID-19. 
—Scott White, President & CEO, Greater Palm Springs CVB 
---
Minneapolis Rallies to Support Local Business with #WeGotThisMPLS Campaign
#WeGotThisMPLS. That's the message that the team at Meet Minneapolis is sending to a wide audience during the COVID-19 crisis. First, Meet Minneapolis created an inspirational video to show support for local tourism and hospitality workers. It was shared across social media and distributed to all members of the Minneapolis City Council.
Photo: Meet Minneapolis Supports Local Businesses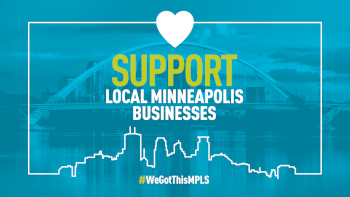 The team also unveiled a section on the Meet Minneapolis website (Minneapolis.org), to provide ways for residents to support the local community. The site includes suggestions for ways to help local businesses and people, lists of Minneapolis businesses that offer online shopping, curbside pick-up and delivery, links to businesses and organizations stepping up during the crisis, ways to practice social distancing in Minneapolis, and more.
In addition, the Meet Minneapolis team has personally reached out to its 700 partner businesses to show support, have hard conversations about what they really need during this time, and to personally gather information about how business has pivoted so the team could promote. A special section on its website was also created to provide small business, employee and marketing resources. Meet Minneapolis social media channels have been active, highlighting positive stories from around the community and creating a Spotify playlist with local music to enjoy while social distancing.
—Kevin Kurtt, Meet Minneapolis
---
Coastal Mississippi Casinos and Dining Services Rally to Help Community
Some positive stories coming out of Coastal Mississippi during this time:
—Anna Roy, Coastal Mississippi
---
Education Services and Free Meals for Impacted Hospitality Professionals in The Palm Beaches
In an effort to help hospitality and tourism workers directly impacted by the Covid-19 pandemic, the Boca Raton-based Florida Atlantic University is offering its Executive Education Certificate in Hospitality & Tourism Management (usually $900) for free.
Additionally, Subculture Group owner Rodney Mayo, who operates more than a dozen restaurants in The Palm Beaches, has spearheaded his own community group to feed those in need following thousands of layoffs caused by the pandemic. In partnership with other nonprofit organizations, the Subculture Group formed Hospitality Helping Hands, which serves out hot meals with vegetables, side salads and a roll of toilet paper from its Howley's Restaurant location in West Palm Beach.
—Gina Kramer, Discover The Palm Beaches
---
Dubuque, Iowa Meeting and Event Venues Support Local Community
Dubuque, Iowa's meeting venues have been hard at work supporting #WhereIowaStarted since COVID-19 related shutdowns began hindering much of their usual business. Five Flags Center and Q Casino donated truckloads of food to Project Rooted, a non-profit connecting kids to healthy food from the ground up. This donation, along with others across the community, was prepared into healthy sack lunches for children with limited or no access to meals.
Hampton Inn & Suites has offered medical and emergency service workers a deeply discounted room rate to provide a place to stay as they come into the community or for those looking to stay away from their homes during this time. The National Mississippi River Museum & Aquarium began offering daily enrichment videos and activities via their Facebook page. This has included cooking lessons from their historic Mathias Ham House Site as well as visits to curious critters throughout the museum and aquarium.
—Taylor Cummings, Travel Dubuque
---
Visit Tampa Bay Fights Hunger With Destination Culinary Journal Discount
With many people out of work or working reduced hours during the COVID-19 crisis, Tampa Bay has reached a crucial time for food insecurity in the community. Visit Tampa Bay is stepping up to help.
Visit Tampa Bay launched the Feeding Tampa Bay program by giving 100 percent of the proceeds from sales of its twin culinary journals—Tampa's Table and Tampa With A Twist—to assist local families in need of food aid. The limited-time #TourismStrong bundle is $20 (plus $3 shipping), which is a 50 percent savings, and is available at Visit Tampa Bay's online store: shop.visittampabay.com.
"Both journals were developed with the help of dozens of Tampa Bay's most creative chefs and bartenders. Due to social distancing restrictions, many of those same people are now finding themselves out of work or working shortened hours through no fault of their own," said Santiago C. Corrada, president and CEO of Visit Tampa Bay, in announcing the program. These beautiful books are a way for the community to offer them and others our support—and enjoy their wonderful food in our own kitchens until they can get back into theirs."
Tampa's Table was developed in conjunction with 50 local chefs and includes 60 recipes for everything from appetizers to desserts. It also includes stories exploring Tampa Bay's unique culinary history, including the origins of the Cuban sandwich and the guava pastry.
Tampa With A Twist carries that idea behind the bar, documenting the city's rich history in Prohibition as well as the top-shelf bartenders who are leading the evolution of Tampa Bay's thriving cocktail culture. Its pages are filled with Florida-inspired cocktail recipes, wine and beer discoveries, and bar bite recipes.
—Stephanie Fred, Visit Tampa Bay
---
Greater Philadelphia Hotel Association Sets Up Pantry for Hotel and Restaurant Workers
The Greater Philadelphia Hotel Association is putting into place a food and supply pantry for more than 10,000 members of the organization. As with destinations throughout the world, since the beginning of the COVID-19 outbreak conventions and meetings have been cancelled in Philadelphia and surrounding counties, resulting in industry workers being laid off and a decrease in hours available.
Pennsylvania Gov. Tom Wolf and Philadelphia Mayor Jim Kenney had strongly urged non-essential businesses across the state to close for at least 14 days to help mitigate the spread of COVID-19. The request protected employees, customers and suppliers, and seeked to limit the spread of the virus through personal contact and surfaces. Governor Wolf has since issued a statewide "Stay at Home" order.
As one of the primary member associations for the hotel and restaurant industry, we are coordinating efforts with partners, like the Philadelphia Convention and Visitors Bureau, Visit Philadelphia, Pennsylvania Convention Center and many others.
To contribute to the Greater Philadelphia Hotel Association's Hospitality Workers Relief Fund, visit www.discoverphl.com/hospitality-workers-relief-fund. To date, we have received $450,000 in donations.
—Anthony Stipa, Philadelphia Convention & Visitors Bureau
---
For more heartwarming stories from the meetings and events industry, read more from our Making a Difference column.