4 Reasons Galveston Perfects Bleisure Travel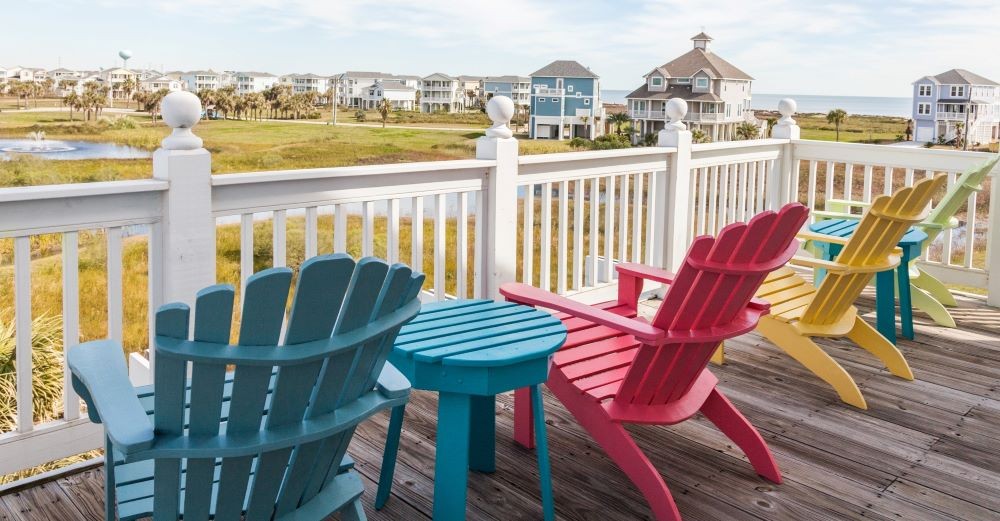 Bleisure travel—combining leisurely down time with business travel—continues to grow in popularity, but for locations like Galveston, Texas, it's nothing new.
The small Gulf Coast island's varied event offerings, sparkling beaches and huge variety of activities to enjoy after hours or on extended stays make Galveston a natural fit for mixing work and play.
The rich history of combining business with pleasure dates back to the 1830s when the island was an independent republic. The island's reputation as a home for debauchery may be slightly tempered from the independence days, but contemporary Galveston offers incredible experiences for travelers and event attendees with all kinds of interests.
While the idea of bleisure travel may seem silly at first glance, the trend is catching on for a reason, and forward-thinking event planners are taking notice. Including promotions for options like hotel room extensions at the event rate or leisure activities can be a great option for planners to improve attendance and meeting engagement.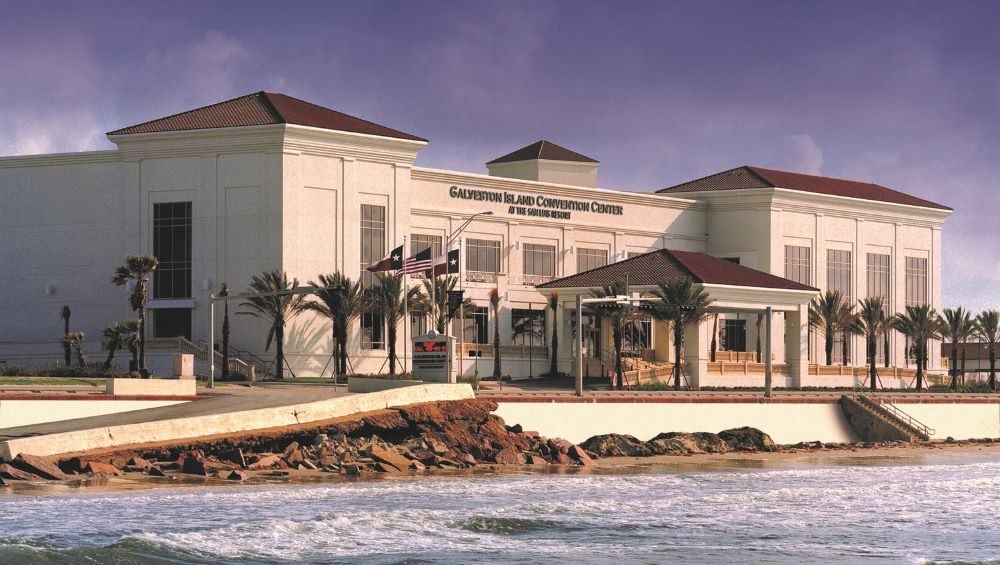 Photo: The Galveston Island Convention Center offers huge meeting space options for planners; Credit: Galveston Island Convention & Visitors Bureau
If your budget is tight or your schedule is inflexible, finding a location near lower-engagement activities that attendees can take part in during breaks in the event or in the evenings can make a big difference, too. Also consider the benefits of choosing a location with a variety of regular events, so potential attendees know there's plenty to do outside the meeting halls.
Galveston meets all of these criteria, and then some, making it a compelling destination for your next meeting. Here are four reasons that Galveston should be at the top of the wish list for bleisure-oriented travels and future-focused event planners:
1. Resorts Made for Events
Galveston isn't just a great destination for tourists. The island boasts over 300,000 square feet of meeting space and over 5,000 hotel rooms collectively, so there's no shortage of places to host a meeting or event.
The wide range of accommodations and meeting room types available on the island means you can find the perfect location for attendees no matter how much space your group or budget requires.
Additionally, Galveston's small geographic size at just 32 miles long means coordination between hotels and event spaces is common and expected, so planners can look forward to an easier, streamlined planning process and fewer headaches.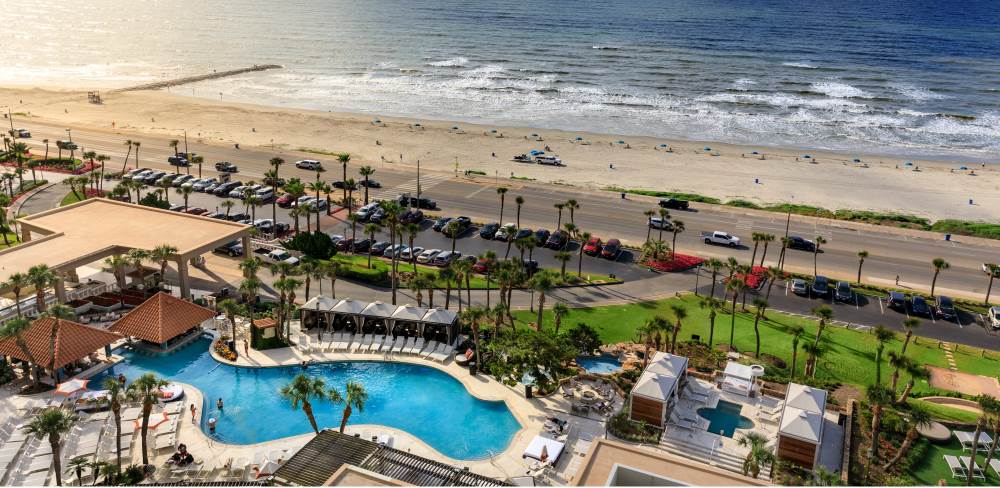 Photo: The San Luis Resort offers a wide variety of leisure options for planners to include in event itineraries; Credit: Landrys
Some of the largest hotels on the island such as Moody Gardens and The San Luis resorts offer options for meeting and event attendees to extend their hotel stays at the event rate. Event attendees love these options and planners can use this opportunity as a promotional tool to give more value to meeting attendance and cost savings for attendees who want to take advantage of the location for some fun after work.   
Look for unique offerings, too! Mary Beth Bassett, public relations director for The Galveston Island CVB says there's one interesting benefit that can be tantalizing to travelers looking to take advantage of already being on the road. "The island is home to the nation's fourth busiest cruise terminal. So, after a meeting or convention, attendees can hop on a four-, five- or seven-day trip on a Carnival, Royal Caribbean or Disney cruise."  
2. Memorable Activities
Galveston packs so many can't-miss activities onto the island, even groups with diverse interests won't be bored.
If bleisure means "kick back and relax" to some attendees, the island has many luxury spas and the pristine Gulf Coast beaches that surround the island give it a vacation vibe.
[Related: Incorporating the Bleisure Travel Trend]
For more active attendees, Galveston offers a huge variety of guided and self-guided tours, regular festivals and events, and opportunities for wildlife watching, kayaking and other great ways to move around and enjoy the island life—as you may have guessed of a Gulf Coast destination, the weather is usually pretty great.
Planners looking for ideas that draw off of island fun for teambuilding activities have plenty of unique options that attendees will like. Local conservation group Artist Boat hosts kayak adventures, that allow participants to see some of the island's waterways, birds and marine mammals up close, plus, the chance to work on painting skills—watercolor demonstrations are included in the tours.
Stand-up paddleboard lessons or a chartered fishing trips are other ways to bring your group into the bleisure space with outdoors exposure.
Jamie Weir, director of sales and marketing for Moody Gardens Hotel, Spa and Convention Center in Galveston, offers other popular ideas at the resort for bringing the fun into your event. "Smaller groups tend to enjoy taking part in a behind-the-scenes tour with a Penguin Encounter," Weir said. "Our ropes course, zipline, and scavenger hunt are also favorites for groups looking to add some activity to teambuilding."
If your group is strapped for time or you're looking for activities that can fit into a gap of free time during scheduled events, Jacque Stillwell, regional director of sales for The San Luis Resort, suggests: "Whether it be a quick break or a few hours, The San Luis offers 10-minute chair massages between events, or even private yoga classes for event attendees.
"'Michelangelo and Meatballs', an Italian-inspired painting class, and our interactive mixology course are two of our most popular activities for planners to include as teambuilding exercises," she added.
3. Heaven for History Buffs
With history going back all the way to the 1830s, Galveston offers incredible opportunities to indulge your inner history buff and learn about this small island's big place in the past.
Visit the Strand Historic District to learn more about Galveston's unique history. From the time spent as an independent republic in the 1830s, the destruction of much of the original Galveston in The Great Storm of 1900, and the reborn city's fame as an outlaw and resort town characterized by Prohibition-era bootlegging, gambling and prostitution, you'll find plenty to pique your interest.
[Related: 3 Resorts That Make the Texas Gulf Coast Locale a Meetings Magnet]
Galveston is also the home of many firsts for Texas' African-American community, including being the birthplace of the Juneteenth holiday—which is also known as "Freedom Day," and marks the Galveston announcement of the abolition of slavery in Texas on June 19, 1865. The historical marker is one of the major African-American landmarks that can viewed as part of self-guided tours arranged by The Galveston Island Visitors and Convention Bureau.
Visitors and groups who are interested in learning Galveston's unique history can take seasonal tours of the historic buildings and homes still standing on the island. Bassett also suggests visitors stop by The Galveston Historical Foundation for a tour of properties it oversees, such as the 1892 Bishop's Palace and 1877 Tall Ship Elissa.
"These make great team events and we hear attendees raving about the experience. If you're interested in even more, The Bryan Museum, which houses one of the world's largest collection of artifacts related to the Southwest, is a must-see for history-minded visitors," Bassett said.
4. Fun in the Sun
Possibly the biggest draw for travelers looking to inject a little fun into a business trip? All those beaches! Galveston offers 32 miles of shoreline with five public beach parks to explore, so no matter how you'd like to take in the sun, you'll find sand and blue waters waiting, with warm Gulf waves and swimmable water to enjoy from spring to late fall.
For nature-minded travelers, Galveston offers some of the most unique birding opportunities in the world. Its location at the 95th meridian, the center of the Trans-Gulf Migration Route, means that you can expect to see incredible variety in visiting species in the spring and fall, with many staying through the winter. The island is also home to a hugely diverse population of local birds that make the beaches, wetlands, bays, woods and ponds of Galveston their home, so you can expect viewing opportunities no matter when you visit.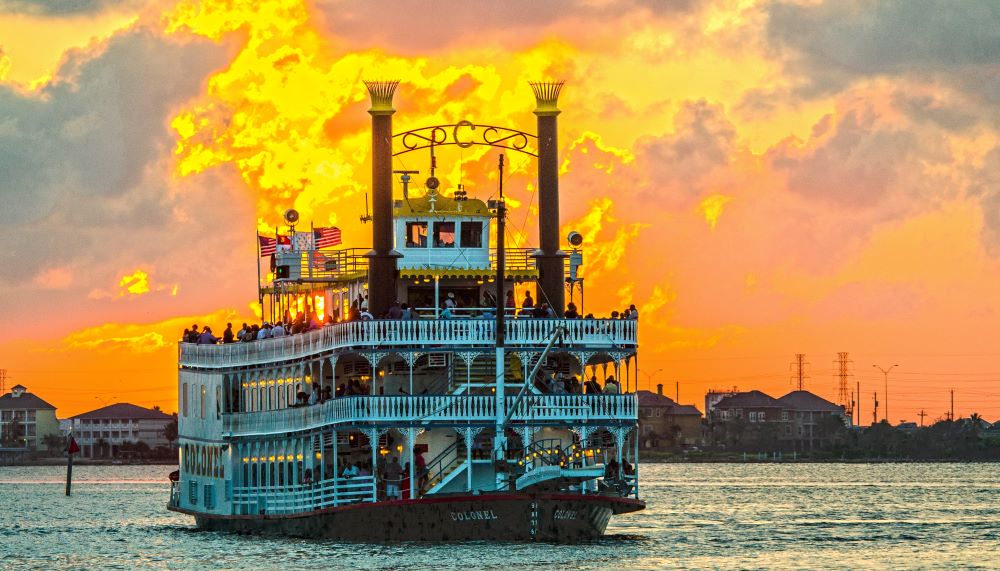 Photo: Relax in style on Moody Gardens' Colonel Paddlewheel boat; Credit: Galveston Island Convention & Visitors Bureau
If you're looking to bring some rays to your group activities, consider a boat ride. Teams can relax on the Colonel Paddlewheel Boat docked at Moody Gardens, take a dolphin-spotting voyage, a tour in an airboat or duck boat, or just enjoy a sunset cruise around the island for relaxing teambuilding activities that everyone can take part in.
Connect
Galveston Visitors and Convention Bureau | 888.425.4753
Planning events in Texas? Read our Meetings Today Texas supplement!