3 Renovated Hotels in Arizona and California Feature Fresh Colors and Ideal Locations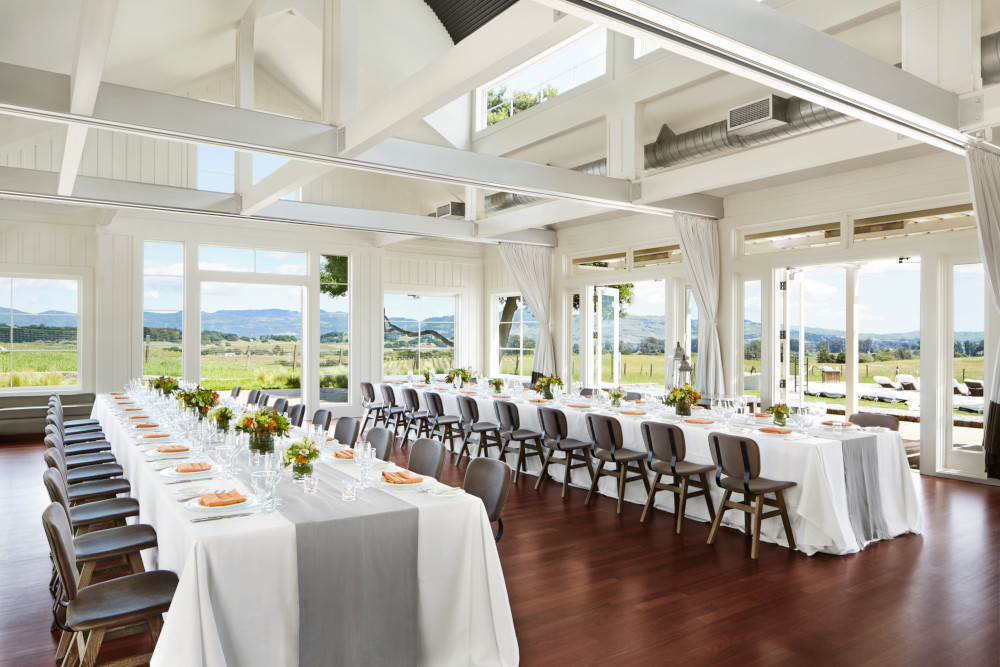 Stay up to date on the latest venue openings and property renovations, including these found in the West.
Arizona
Marriott Phoenix Airport has completed its top-to-bottom renovation and introduces new guest rooms, meeting and public spaces, a restaurant and bar, concierge lounge and pool area. 
The hotel's style inspiration behind the renovation of the 346-room property is the Greek myth of the phoenix bird that regenerates itself, featuring raw elements, rich desert tones and energetic geometric patterns that take guests on a sophisticated journey. 
In line with this design inspiration, the lobby and all meeting and public spaces at Marriott Phoenix Airport have been completely upgraded to meet the modern needs of today's travelers. The hotel's more than 24,000 square feet of versatile meeting spaces comprise 15 event rooms, which can be broken into 10 breakout rooms, with the largest space accommodating up to 750 guests. All of the meeting rooms have been updated with new amenities and decor, including carpeting, lighting, sound systems and air walls, as well as newly automated digital signage system featuring the events of the day.
Upon arrival, guests will notice the hotel's refreshed Greatroom located on the lobby level, which offers space for private events, impromptu gatherings after the day's work is done and quiet nooks for more intimate conversations. Additionally, the hotel's newly-designed bar and lobby serve as flexible gathering spaces to accommodate corporate travelers, as well as the many social events hosted at the property.
California
Carneros Resort and Spa, suited with 27,000 square feet of indoor and outdoor venues, caters to gatherings of all sizes, and now through any season with a new event tent available.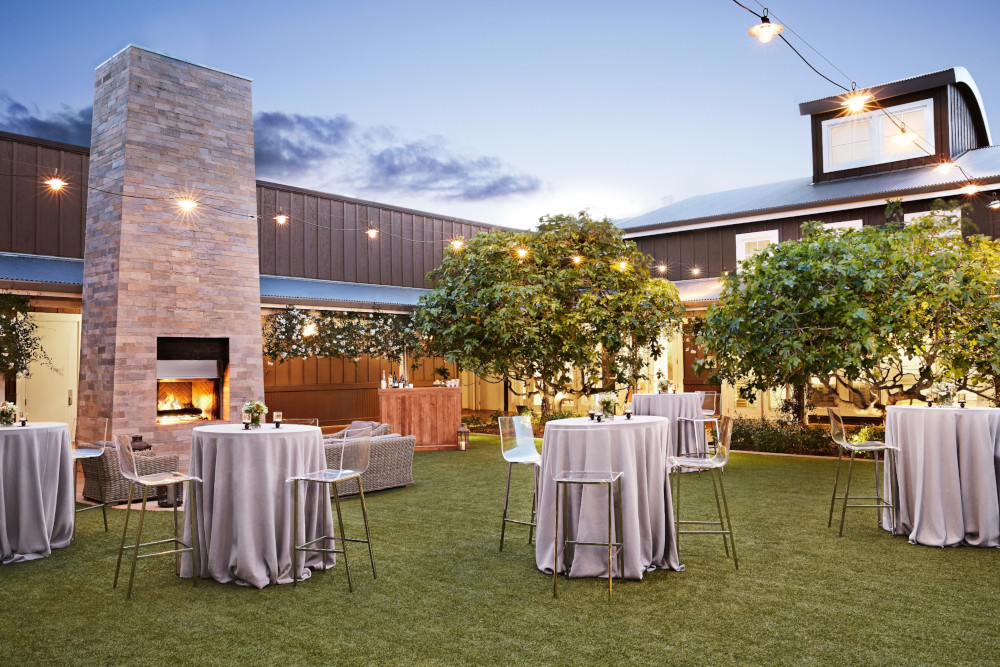 Photo: Carneros courtyard setup for evening cocktails
The event tent can transform the Carneros Courtyard into a winter retreat for year-round events under the stars. Nestled between the two ballrooms, the tented Carneros Courtyard is 3,400 square feet and provides space for breakout sessions, evening cocktails or other outdoor events holding up to 226 guests. Additional meeting and event space includes:
Two distinct lush outdoor venues
State-of-the-art meeting rooms and ballrooms
Event spaces with panoramic views
Bus and valet parking available
Property takeovers for groups of 75 or more people
Surrounded by rolling hills and scenic vineyards in the Napa Valley, Carneros Resort and Spa also offers three on-site dining destinations, an upscale general store, a high-end fashion boutique, and a newly-renovated spa, fitness center, family pool and an adults-only pool with vineyard views.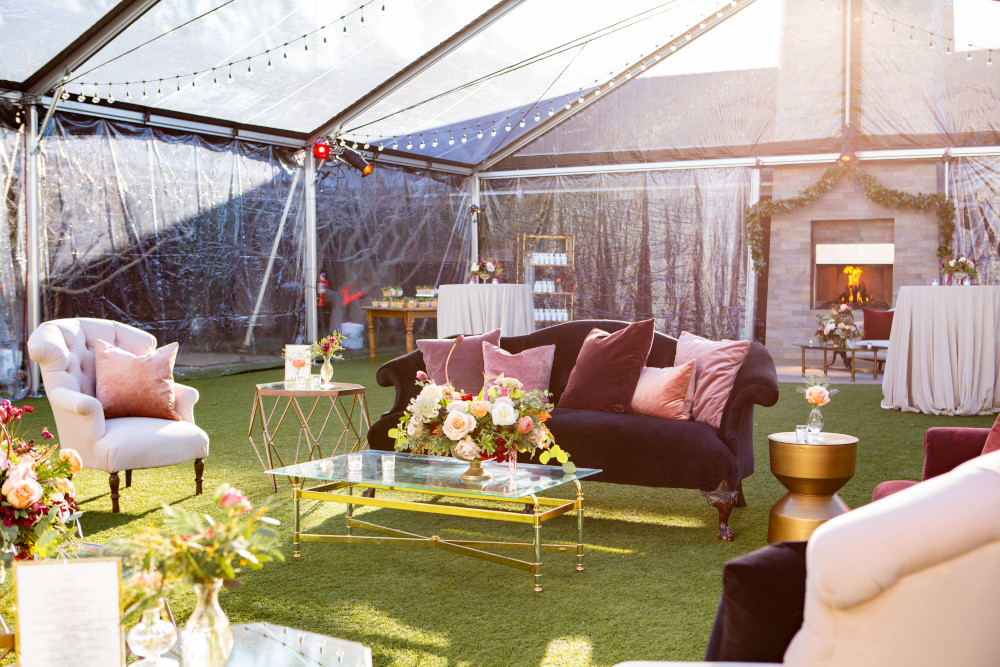 Photo: Carneros Courtyard
Another renovated property in California includes The Cassara Carlsbad, Tapestry Collection by Hilton, a 90-room hotel that just unveiled a total redesign of its lobby and check-in areas and fully updated guest rooms with Pacific Ocean coastal views. It originally opened as the Grand Pacific Palisades Hotel in 1999 and recently joined the Tapestry Collection by Hilton, which includes upscale, original hotels.
The modern hotel now features pops of color the minute you walk into the lobby. Its logo embodies the colorful rows of the blossoming ranunculus flower, which is interpreted throughout the hotel with help from an iconic Mediterranean shape found in century-old Spanish, Portuguese, and Italian architecture and art forms.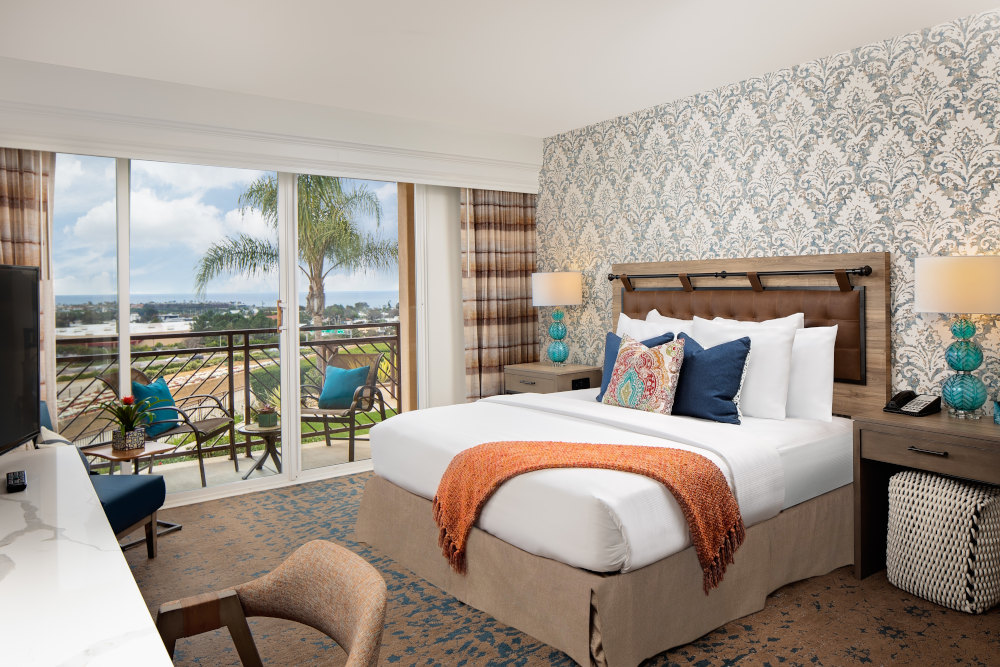 Photo: Cassara bedroom with coastal views
With 2,800 square feet of meeting space, The Cassara Carlsbad can host a variety of meetings and events. Offering full-service amenities, the Terrace Room can accommodate up to 100 guests. It is immediately adjacent to LEGOLAND California, which features a private pedestrian entrance, a family pool with water features and quiet pool options, and locally-sourced sustainable food and cocktails served at the Costa Pacific Kitchen & Bar.
Read Next: St. Thomas and Mexico Offer 3 New Meeting Venues with Vacation Vibes