The Broadmoor Ups Its Tradeshow Game With New Broadmoor Exhibit Hall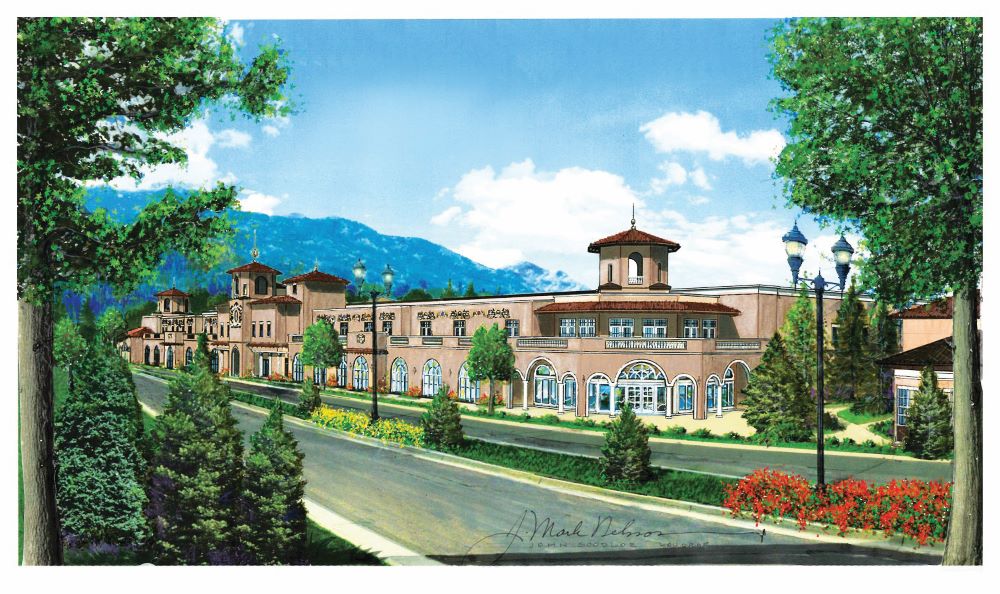 With a colorful history stretching back more than 100 years and a reputation for quality and luxury exemplified by its Forbes Five-Star and AAA Five Diamond designations, The Broadmoor in Colorado Springs, Colorado, has always attracted a high-end clientele for large annual meetings, incentives and executive retreats.
The only element missing was the capacity to tap the large tradeshow and exhibits segment, but all that has changed with the addition of The Broadmoor Exhibit Hall, which adds 125,000 square feet of multifunctional, limited-column space to the property.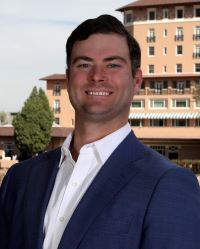 "The Broadmoor has always been known as a great leadership retreat destination, smaller and large association and incentive market destination, but for a meeting with a large exhibit component, we were really never known for that—until now," said Curtis Robison (pictured), director of national sales for tradeshows and exhibits for the 784-room property.
Robison is the right person for the job, too, as he has a history of selling to the large convention market, coming to The Broadmoor from convention sales positions at Hilton and Gaylord.
"The Broadmoor can now handle convention groups ranging from 400 to 1,000-plus on-peak, which gives them carte blanche to essentially 'own' The Broadmoor for all their sleeping room, meeting and exhibit space needs," Robison added.  "The Broadmoor has that niche option for groups that want the intimacy factor of being the main or only group in the hotel but require the meeting infrastructure typically offered at only convention center or 'big box' convention hotel properties."
The Broadmoor Exhibit Hall Features
The design of the new Broadmoor Exhibit Hall blends seamlessly with the resort Main campus and brings The Broadmoor's total amount of meeting space to just over 315,000 square feet, with over 90 individual meeting rooms that range from boardrooms to large, modular ballrooms that can accommodate a wide variety of programs ranging from groups of 10 all the way up to 5,000-plus attendees.
All of the large space is on one level, so you have the ability to move more than 5,000 attendees from The Broadmoor Hall to the exhibit floor without anyone having to go outside or change floors," Robison said. " You can open up the doors to the expansive internal corridor and transition your entire general session easily and efficiently to the exhibit center."
Take a four-minute walkthrough:
Key features of The Broadmoor Exhibit Hall include:
A location adjacent to and connected via a 28-foot-wide walkway to the existing 60,000-square-foot Broadmoor Hall.
125,000 square feet of total space with a 93,500-square-foot exhibit hall with polished concrete floors and 25-foot-high black piped ceilings.
A grand foyer with large windows looking out to the Cheyenne Mountains that can be used for registration or function space.
18 breakout rooms on the first floor with dedicated food-service areas and three sets of restroom facilities.
A second-floor mezzanine with an additional 14 meeting rooms and nearby restrooms.
An 8,000-square-foot outdoor terrace that is ideal for outdoor receptions and food functions.
Six dedicated loading docks, including five traditional docks that can accommodate semi-truck load-in through its 16-by-16-foot ground-floor doors.
Built-in Food Service Concession areas for "grab n' go" options.
Large video screens for marketing and branding opportunities located throughout the connecting corridor.
In keeping with The Broadmoor's elegant design, The Broadmoor Exhibit Hall will offer an upscale environment that requires minimal decorating for tradeshows and exhibits.
"It's more streamlined than most exhibit centers," Robison said. "The columns are wrapped and covered from the top and the surrounding walls are finished. We're giving an upgraded exhibit experience as opposed to a customary space—it's cleaner and more finished than most of the facilities out there."
Robison added that The Broadmoor will market to the corporate and association segment equally, and also focus on its existing customer base that has large exhibit components such as for annual meetings that it couldn't accommodate before.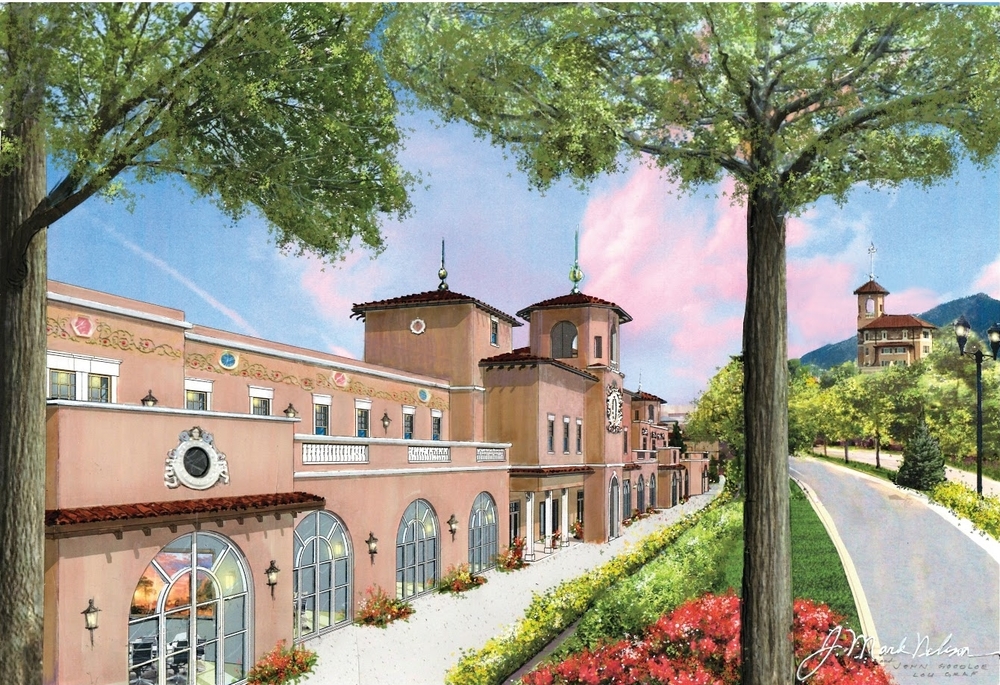 Photo: Exhibit Hall Sidewalk Rendering
"We're trying to change the message for our existing customers," he said. "We've been a great location for your board meetings, incentive meetings, but now we've expanded our capabilities, which makes us a great location larger annual programs—programs that are more tradeshow- or exhibit-related."
 "I've lived and breathed the large meeting and convention market for the last 10-plus years and I've never experienced a property that can offer the amenities and service levels of a luxury hotel with the meeting and exhibit infrastructure of a large scale convention property," Robison added. "The Broadmoor is the only hotel destination that can offer Forbes Five-Star- and AAA Five Diamond-level service with convention level meeting and exhibit space."

Connect: The Broadmoor | 800.633.7711
Read next: A Sneak Peek at Bartolin Hall, The Broadmoor's New Addition
Editor's Note: This article is sponsored by and was produced in collaboration with The Broadmoor.