Coastal Virginia Offsite Venues That Celebrate the U.S. Military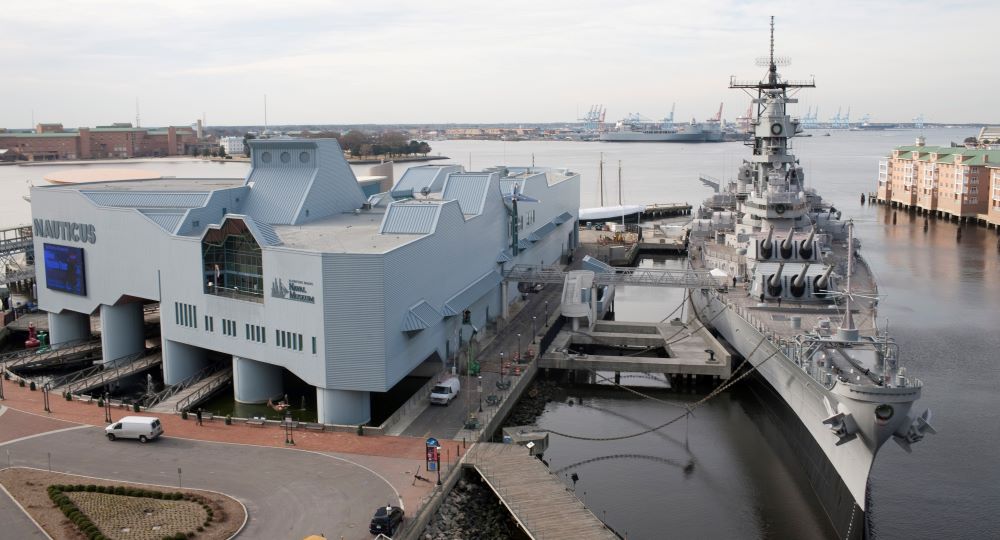 From the Norfolk Naval Shipyard to major U.S. Coast Guard installations and Langley Air Force Base, the massive military presence on the Virginia Coast makes the region a natural fit for meetings groups wanting to celebrate the history of the U.S. armed forces.
Encompassing the primary meetings destinations of Norfolk, Virginia Beach, Hampton Roads and Newport News, the military history of the region translates into a wealth of offsite options that will add more than a touch of patriotic flare to an event.
And although most any group will appreciate the region's history, military reunion groups in particular are a natural fit on the Virginia Coast.
"Reunion planners seem to gravitate not only to East Coast destinations, but also destinations that have a military emphasis," said Sharon Danitschek, president of Military Reunion Network, which facilitates military reunion meetings and educates military reunion planners. "As an event planner, to have a very unique venue for an opening reception is always a lot of fun, and you don't have to be a military group to seek it out and enjoy it. Successful meeting planners are not only excited about a great venue for that event, but they can also include specific venues for unique elements for their program."
[On Topic: Coastal Virginia Brims With Historic Experiences and Venues]
Danitschek added that the region also brims with historic sites and venues that are not specifically related to the military, singling out Hampton as boasting, for a city of its size, a large number of venues and attractions that are relevant to American history in general.
Following is a list of standout offsite venues on the Virginia Coast that showcase the proud history of the U.S. military.
Military-Themed Offsite Venues in Norfolk
Home of the largest naval base in the world, groups meeting in Norfolk can mingle amongst aircraft carriers, destroyers, amphibious assault ships and discover the history of Naval Station Norfolk as part of the facility's guided 45-minute tours conducted by Naval personnel. Local company Tidewater Tours can be hired to conduct bus tours of the facility.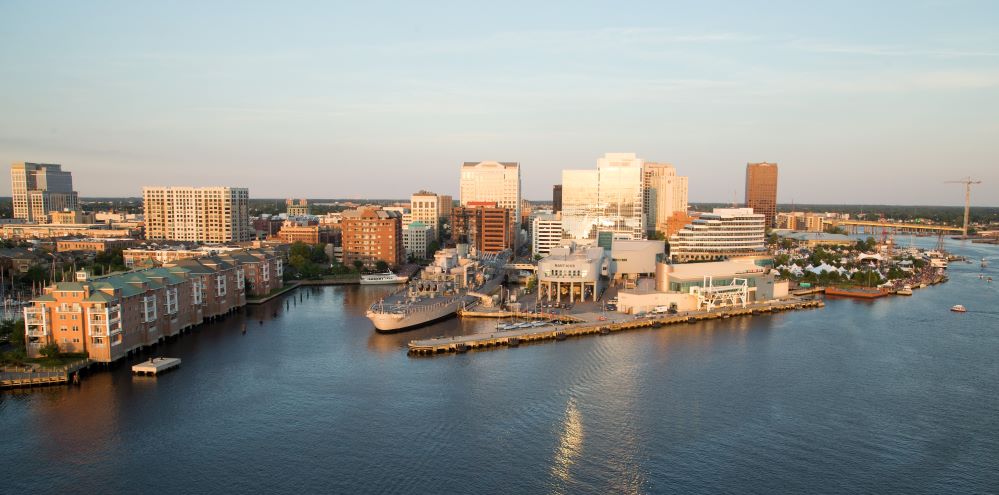 Photo: Norfolk skyline; Credit: www.visitnorfolk.com
Naval Station Norfolk
Naval Station Norfolk also offers special event and conference rooms that are available to active and retired military personnel, including the Drydock Catering & Conferencing Center, for groups from 50 to 550, and Vista Point Catering & Conference Center, which can accommodate events from 10 to 450.
Nauticus and Battleship Wisconsin
 Another popular offsite venue includes the National Maritime Center. Event venue options here include:
Decker Half Moone Center, offering views of the Norfolk skyline and waterfront from its Grand Rotunda.
Nauticus, which features interactive maritime exhibits and can accommodate seated groups of up to 350 in a variety of galleries and function rooms.
Battleship Wisconsin, which earned six Battle Stars for service during World War II and Korea and can accommodate up to 600 guests standing on the main deck and lessor numbers in seven other spaces, including a gun turret, admiral's cabin and veranda, fantail and officer's wardroom.
Military-Themed Offsite Venues in Hampton Roads
"From Fort Monroe, the largest stone fort ever built in the United States, to Langley Air Force Base, Hampton has a proud military history and tradition, said Mary Fugere, director of the Hampton CVB. "With the Hampton Roads Convention Center and an array of unique intimate venues, we invite groups to meet in Hampton and visit our many military heritage sites."
Commanding General's Residence and Garden
Groups holding an event at Fort Monroe can rent this elegant, Classic Revival-style brick home that dates to the turn of the last century. The venue, built as an edition to the historic stone fort dating to 1834, was the former home of the fort's commanding general and was decommissioned in 2011. Highlights include a formal garden and a capacity for events of up to 150 people. Planners need to arrange for their own catering.
Virginia Air & Space Center
As the visitor center for NASA Langley and Langley Air Force Base, the Virginia Air & Space Center offers interactive exhibits covering 100 years of flight, along with 30 historic aircraft, a space gallery and unique space-flight artifacts. Groups can rent its Main Gallery, Aerospace Library, Observation Deck and IMAX Theater for a variety of events, including standing receptions for 2,000 and seated banquets for up to 500 in the Main Gallery.
Vanguard Brewpub & Distillery
Housed within the circa-1936 Hampton National Guard Armory, Vanguard brews and distills its own beer and spirits onsite under the Caiseal brand, and also features live music and a full restaurant that pairs cuisine with its craft cocktails and brews. The Vanguard is listed on the National Register of Historic Places and has maintained the classic industrial style of the Works Progress Administration-era armory.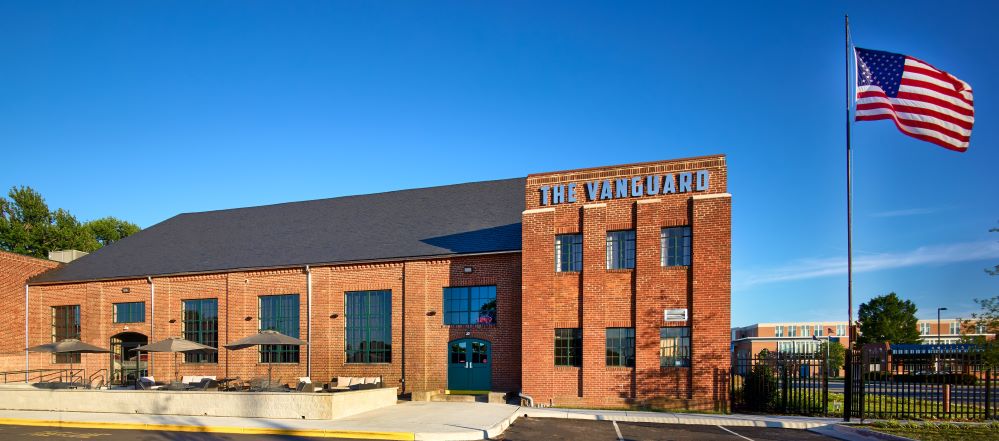 Photo: Exterior of Vanguard Brewpub & Distillery, Hampton Roads; Credit: Michael Pennello
The Bandstand at Continental Park
A focal point of Fort Monroe entertainment and social gatherings for nearly 80 years, groups of up to 150 attendees can utilize the open lawn and waterfront gazebo with panoramic views of the Chesapeake Bay.
Miss Hampton II Harbor Tours
Groups who want to take advantage of the prodigious maritime offerings of Hampton Roads can take to the sea via Miss Hampton II Harbor Tours, which showcases the military history of the area. The onboard narrative covers Fort Wool, Fort Monroe, Norfolk Naval Base and the iconic "Battle of the Ironclads" Civil War confrontation. Miss Hampton can accommodate groups of up to 120 for tours, receptions and other gatherings.
Military-Themed Offsite Venues in Newport News
The military history of Newport News spans the entire history of the U.S.
"Newport News was built upon centuries of history and heritage," said Cheryl Morales, marketing manager with Newport News Tourism. "Since the Revolutionary War, this area of Coastal Virginia has played an influential role in the history of the United States."
In modern times, the city has fueled monumental U.S. war efforts as a naval shipyard during both world wars.
"Beginning in 1896, Newport News Shipbuilding began building the first of many battleships," Morales said. "During World War I, the shipyard built and launched the battleship Missouri and 25 destroyers. World War II saw the shipyard build the battleship Indiana, as well as cruisers and a variety of landing craft. During one remarkable 30-month period, the yard built eight aircraft carriers.
"Today, Newport News' military heritage includes both the modern and the historic. Thousands of troops are stationed at Fort Eustis, home of the U.S. Army Transportation Corps, while Newport News Shipyard continues to build nuclear aircraft carriers for the U.S. Navy," Morales continued, adding that the CVB can arrange for costumed interpreters to appear at events as an icebreaker.
The United States Army Transportation Museum
The United States Army Transportation Museum's Regimental Room, which dates to the early 1920s, can seat 80 but has room for 100 standing. The historic room features small exhibits and photos that show different periods of Army transportation history and recently added more than 2,000 square feet of space that it uses for updated exhibits dedicated to the conflicts in Iraq and Afghanistan. The warm space features a stone fireplace, gilt ceiling, period ceiling fans and an overhead projection system and portable tables and chairs.
[Related: Virginia's History, Resorts and Culture—Attractive Meetings Destination]
The Mariners' Museum
The Mariners' Museum boasts eight indoor and outdoor function spaces. It also offers special behind-the-scenes tours of its USS Monitor Center conservation labs where attendees will see artifacts from the USS Monitor, the Union ironclad pitted in the epic Civil War "Battle of the Ironclads," or Battle of Hampton Roads.
Meeting space options include: The Front Lawn, The Concourse & Patio, The Lobby, The Monitor Replica, The Virginia Courtyard, The Great Hall of Steam, The Huntington & Anna Rooms and The South Courtyard.
The museum can accommodate up to 500 standing, with each of its event rooms offering unique decor for anything from an intimate cocktail affair to seated receptions. Various rental packages are available.
Other Military-Themed Activities
Aside from venue rentals, groups can also take part in several military-themed tours and activity options in Newport News, including:
Tours of the Virginia War Museum, which offers a large collection of artifacts from 1775 to the present.
A group photo at the Victory Arch, dedicated as a memorial to all who have served in U.S. armed forces during war.
Motorcoach tours of downtown Newport News to learn more about the history of the shipyard.
Military-Themed Offsite Venues in Virginia Beach
Military Aviation Museum
This tribute to warbirds offers twin 15,000-square-foot hangars and two floors of exhibit space. Groups can request WWII-era Army Air Corp or Navy airplanes as a backdrop, or even have an event in its 12,000-square-foot WWI hangar.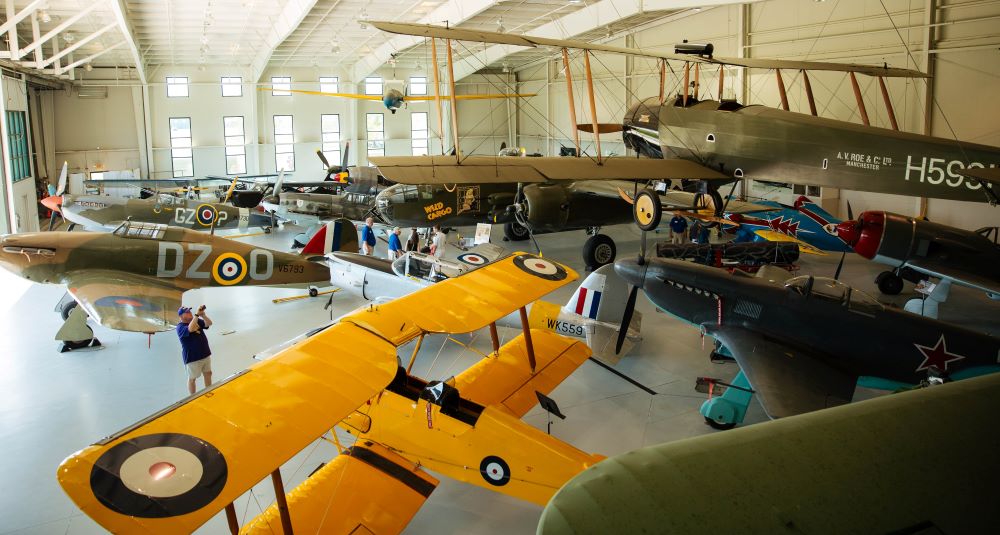 Photo: Military Aviation Museum
The museum includes docents on hand to describe its fleet of aircraft and select planes can be rented for a flyby or full private airshow. The facility features a prep kitchen for caterers, with the capability to accommodate small board meetings up to a picnic for up to 5,000 with staging and tents.
The Bunker and Young Veterans Brewing Company
Owned and operated by two Army veterans and another partner, this oceanfront brewpub and restaurant features live local and national music acts and more than 60 craft beers on tap. The owners boast that the venue, which can accommodate up to 400 guests, offers the best sounding room at the Virginia Beach Oceanfront and is so intimate "you'll be able to read the brand name on the drummer's sticks."
Virginia Beach Surf & Rescue Museum
Although not strictly a military-related facility, this oceanfront venue located in the center of the Virginia Beach Boardwalk and celebrating the history of Virginia's coastal communities and maritime heritage can host events in its galleries, beachfront yard and large back lawn.
Connect
Hampton CVB | 757.722.1222
Newport News Tourism | 757.886.7777
VisitNorfolk | 757.664.6620
Virginia Beach CVB | 757.385.4700
Read next: Coastal Virginia—Unique Flavors From Fresh Seafood to Quality Spirits