3 Esports Stadiums to Consider for High-Tech Meetings and Events Offsites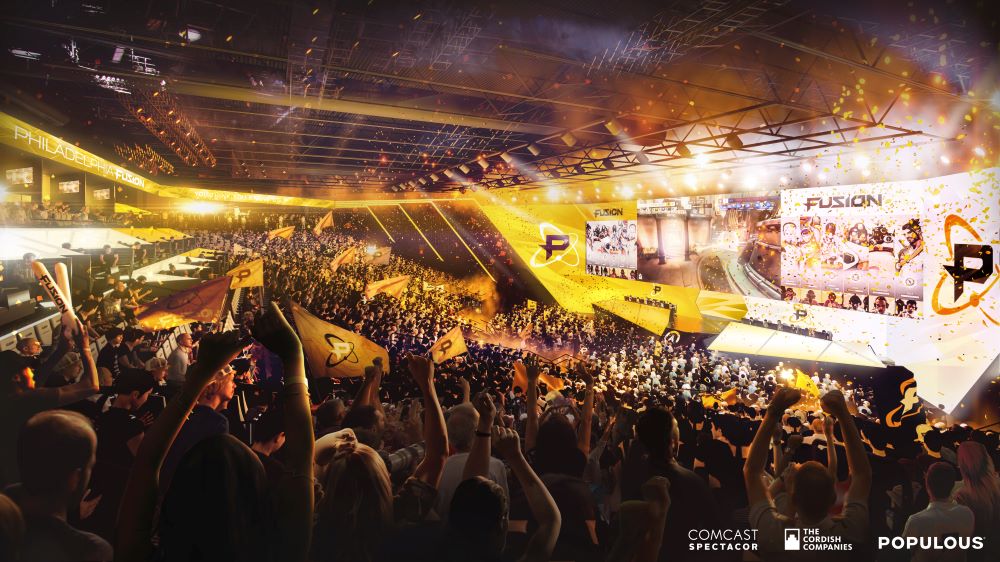 When incorporating traditional sports venues into a meeting or event program, images of expansive grassy fields might come to mind.
You'll find no such terrain at the many state-of-the-art esports venues located around the U.S. (although the cheering and fanfare are certainly in no shortage). Instead, think crystal-clear LED screens, premium seating and opportunities for a high production value built right into the facility.
As the esports (competitive video gaming) industry continues to grow at a rapid pace—in 2020, its global revenue will surpass the $1 billion mark for the first time—these high-tech arenas are attracting players and spectators from around the world.
But these facilities are inherently multipurpose, so opportunities abound for meeting planners looking to host attendees somewhere exciting and cutting edge.
[Related: Esports Facilities Provide Electric Event Venues]
"It's so much different than walking into a ballroom or regular convention center," said Matt Wilson, executive director of the Arlington Sports Commission and vice president of sports and events for the Arlington CVB. "These venues already have the LED lights, the LED backdrop–and you're not having to pay to build a stage or bring in technical equipment. It's all very turnkey."
We break down the offerings at two major esports venues, as well as the much-anticipated Fusion Arena in Philadelphia, set to open its doors in 2021.
Fusion Arena
Nestled in South Philly's sports complex, the Fusion Arena will be the new home of the Philadelphia Fusion, the city's professional Overwatch esports team. The $50 million facility located adjacent to the Xfinity Live! dining and entertainment district will boast 60,000 square feet and a 3,500-seat theater.
"Fusion is being built with multifunctionality in mind," said Larry Needle, executive director of PHL Sports, a division of the PHL CVB. "It recognizes many opportunities out there related to convention groups, corporate groups, product rollouts and even things like high school graduations."
"This is a new genre of facilities that meeting planners are going to be able to utilize," he added.
Along with the theater, the arena will comprise a large main foyer available for gatherings and tradeshow tables or booths. The first 10 rows of floor seats in the theater will also be removable to create space for meetings and conventions. An outdoor patio will feature fixed food and beverage stations as well as a stage and video capabilities for special events both public and private.
Esports Stadium Arlington
Completed in November 2018, Esports Stadium Arlington has taken over what was once the Arlington Convention Center. Since its opening, the stadium has hosted—in addition to esports events—lecture series, tradeshows, awards shows and a Texas coaching convention.
Its state-of-the-art technology includes LED screens, fiber optic connectivity and a professional broadcasting suite and production studio.
"The stadium has a high ceiling of capabilities that traditional venues just aren't going to have," said Jonathon Oudthone, president of Esports Stadium Arlington. "It's exciting to see others take our look, our feel, our technologies and leverage them for events. We're also extremely accessible from an economic perspective. We're able to save [planners] on the front end for labor costs for setup and loading days. Our team is also extremely well-versed and experienced in the space."
[On topic: Arlington Unveils Plans for Massive Esports Stadium]
Along with the 2,500-seat arena, the stadium also comprises a 50,000-square-foot open floor expo hall and a kitchen for private catering or public concessions. The arena seating can be scaled down if a more intimate setting is needed—with the high-end audiovisual technology still in place.
"We really make the planner's job easy," Wilson said. "Everything's set in place."
Arlington's Texas Live! entertainment district is steps away from the stadium for additional post-event dining and nightlife needs.
HyperX Esports Arena Las Vegas
Located at the Luxor Hotel & Casino on the Strip, HyperX Esports Arena Las Vegas boasts a 30,000-square foot, two-level arena and a 50-foot-long LED video wall.
Along with live gaming events, the arena, which opened in March 2018, can also host keynote presentations and opening or closing cocktail receptions. The space can also be used as an exhibit space for smaller groups, and buyout opportunities are available.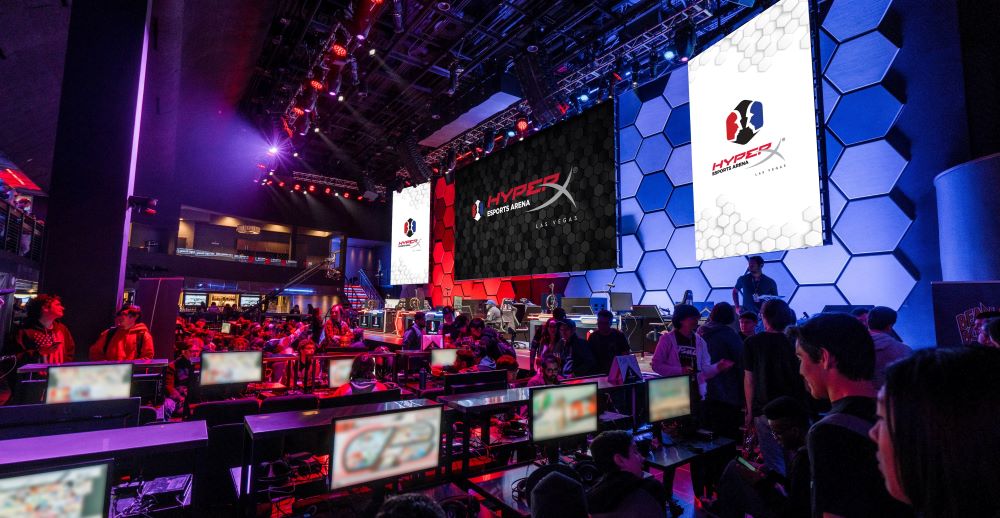 Photo: HyperX Esports Arena Las Vegas boasts a 30,000-square foot, two-level arena and a 50-foot-long LED video wall; Credit: HyperX Esports Arena Las Vegas
Gaming pods in the main area can be removed, or a few can be kept for planners to create an interactive component to an event.
"We are eager to get back into the arena to not only bring our gaming communities and partners back together, but also our B2B clients who are looking for high-quality production as part of their event or simply want to add an exciting gaming element for their guests," said a spokesperson for Allied Esports.
Read next: Meetings Today LIVE! West Wraps in Vegas