5 Top Tips for the Best Beach Events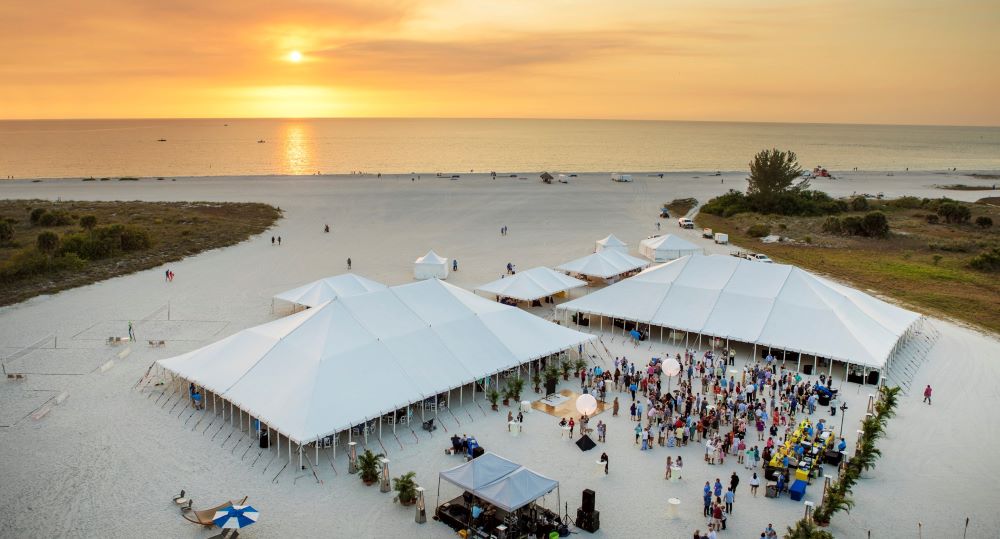 What's not to love about meetups on the beach? Whether you're planning a sunset dinner party, casual corporate networking event or a large banquet, special events on the sand in sunny destinations immediately stand out on the itinerary and drum up genuine excitement from attendees.
It's not hard to see why. Time on the beach means extra time outside, and the vibe is inherently laid back, encouraging attendees to unwind and naturally network with one another while having (almost) as much fun as they would on vacation.
The Southeastern U.S. is well-known for its white-sand beaches and sunny respites. In destinations like Florida and the Carolinas, beaches can often tip the scales in their favor when it comes to destination selection for meetings and conventions.
[Related: Food Tours, Cooking Classes and More in Palm Beach and Treasure Coast]
Getting to the beach is easy—these locations are popular business and leisure spots, so airlift abounds. Organizing an event on the sand once you get there, however, takes a little extra thought and planning than your average business bash. We talked to some seasoned beach event experts and partners in the Southeast to parse out the must-know tips for planning the best beach events.
1. Pick a Resort on the Beach
While it's possible to plan events on public beaches, the easiest route possible for most groups is to work through a resort. Resorts with private beach access are ideal—they can help planners avoid extra steps like obtaining special events permits.
"Typically, we recommend the meeting planner organize their beach event through the host property. Each property has a conference services team specializing in beach events, which makes the planning process seamless," recommended Carley McMillian, sales manager at Visit South Walton, noting that nine of the 12 South Walton meeting properties have private beach access, ideal for all types of beach gatherings from small corporate retreats to large conventions.
A built-in conference services team automatically gives a meeting planner a set of extra hands and minds, too, to help execute a successful event.
"The ease of access to take in and out of all the equipment is another benefit," noted Debbie Boehning, director of planning at Sheraton Sand Key Resort in Clearwater Beach, Florida. "If you're arranging something on a public beach, there's a lot more work involved. You have to rent the park, you have to arrange for a catering company to come to do it there, etc."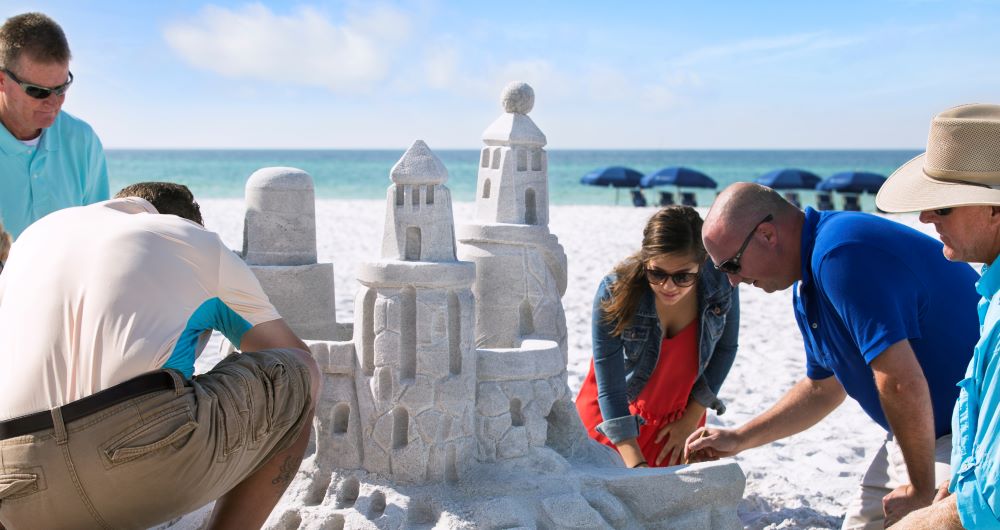 Photo: Teambuilding on the beach, South Walton, Florida; Courtesy of Visit South Walton
If a resort on the beach is not an option for your group, work with the local CVB to make sure you know the rules of the public beaches and secure a special event permit if needed. And above all, Valeria Palmertree, communications and content strategist for South Walton's The Pearl and WaterColor Inn & Resort, advises groups to respect the surroundings.
"Events on the beach can bring everyone together to create lasting memories—just be sure to 'leave no trace.' Check to confirm local permits and make sure everything you have planned fits within the destination's environmental guidelines," she said.
2. Always Have a Backup Plan Indoors
Though this point might seem obvious, conference service teams who know these beach destinations best also know that you can't always bank on the sun showing up for your event.
"In Florida, on the beach, you should have a tent," advised Boehning, acknowledging that the Sunshine State is known for random spurts of rain sprinkles. For more prolonged showers or storms, she said that Sheraton Sand Key Resort always has space reserved inside if a group opts to take the event indoors.
"We don't always set it, if it's sprinkling or that type of thing, but we have it reserved," she said. "We don't make a decision until about three hours out if the client says, 'I don't want to risk it.'"
[On topic: One-of-a-Kind Group Experiences in Florida—That Aren't Theme Parks]
Planners should keep in constant communication with the conference services team at the resort during times of weather uncertainty to ensure that a backup plan is in place, and the special event can still go on.
McMillian added that certain times of year in Florida are rainier than others. If hosting an event on the beach is a must-do during your program, avoid the rainy season, which is typically May-October.
3. Don't Overdo the Decor
While creative decor can take indoor events to new, impressive levels, it's recommended to take the opposite approach when planning an event on the beach.
"The scenery is great, so we try not to deter too far away from what nature has to offer," Boehning said.
The bottom line? Do more by doing less.
Boehning pointed to a recent event on Sheraton Sand Key Resort's beach that kept the decor simple—Meetings Today's own LIVE! event in November 2019.
"Meetings Today LIVE! was very simple, the theme was a treasure hunt, but we didn't disturb the surroundings," she explained.
The "treasure hunt" theme was more concentrated on the food and beverage experience. The white tent and picture-perfect sunset provided all the impressive "decor" the event needed. 
Palmertree, agreed, saying that many resorts in the South Walton area, like WaterColor Inn & Resort, for example, consider the coastal landscape their top decor feature. She said adding small items to the event can help enhance the event setup.
"Special decor touches, like locally curated centerpieces also help bring beach meetings to life," she offered.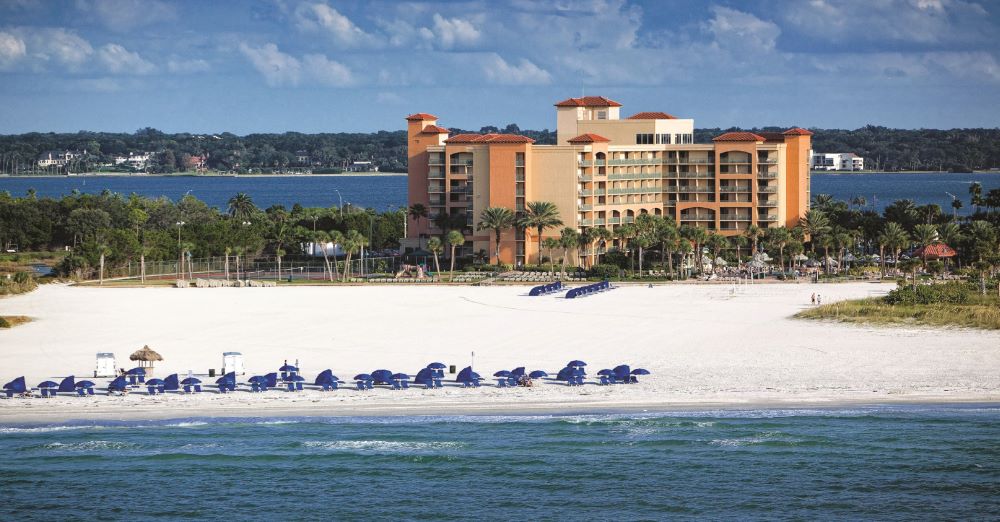 Photo: Sheraton Sand Key Resort; Credit: Sheraton Sand Key Resort
4. Get Creative with F&B
Though serving food on the beach can present some challenging logistics, Sheraton Sand Key Resort's executive chef, Andrew Basche, thinks that groups can use this to their advantage to wow attendees with a creative food and beverage setup.
"With a hot box, there's the possibility of having that extra travel time from kitchen to beach," he said. "Instead, you can set up action stations and prep food in front of people—one of the things we aren't able to do inside."
He also added that while cold food has to be on ice outside, his team has specially designed ice tables and can use that to present food in an appealing way.
[Related: Florida Group Magnets Share Top Group Dining Trends for 2020]
By prepping food outside and setting up food stations, the F&B experience is more interactive.
Bob Harris, executive vice president of group sales for Visit Myrtle Beach, points out that serving fresh seafood that is native to the destination is another way to make the event stand out from typical banquet food. In South Carolina, that can mean Lowcountry boils, blue crab, shrimp; in Florida that can mean grouper, snapper, pink shrimp and more.
Serving beverages creatively on the beach is possible, too.
At Meetings Today LIVE!'s beach event at the Sheraton Sand Key Resort, a bar in the middle of the tent had lights on it that changed color every time a new cocktail was ready for guests to try. Mixologists prepped the cocktails behind the bar for guests to watch, too.
5. Remind Your Attendees of the Dress Code
Casual wear and flip flops may be a no-brainer when you know you're going to the beach, but many of your attendees may be traveling to the beach from all over the country, and you'd be surprised at how many may show up in heels if you don't communicate a dress code.
"Overcommunicate with your guests prior to arrival," Palmertree said. "Seemingly minor things like time zone and average temperatures can make a huge difference in your guests' experience. Let them know the theme and dress for each event."
[On topic: Unique (And Free) Ways That Florida CVBs Can Boost Meetings and Events]
Some attendees may still forget to pack a suitable pair of beach shoes, or may not have time to run to their room after a long day of meetings inside. In this case, Basche suggests a fun solution.
"A cool giveaway idea [when they arrive] are sandals with your logo on them," he said, noting it's an easy way to ensure each attendee has a practical pair of flip flops. Swag flip flops are also a reusable souvenir from the event and are a natural branding/sponsorship opportunity.
Can't Meet on an Iconic Beach? How to Still Incorporate it in Your Event
Myrtle Beach, South Carolina's most notable attraction is its coastline—visitors are welcomed by 60 miles of white-sand beaches overlooking the Atlantic Ocean. The city takes pride in this asset and has worked hard to protect it while still making it easy for leisure and business travelers to enjoy.
"Our city and county have worked very hard to create regulations that protect our biggest asset, the beach," said Bob Harris, executive vice president of group sales for Visit Myrtle Beach. "As a result, most of our properties don't do events down on the beach itself."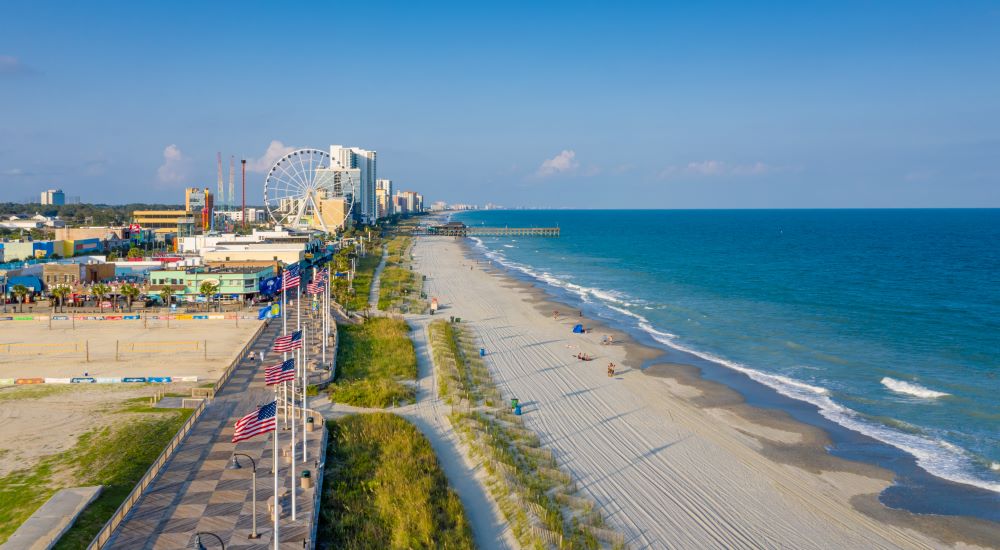 Photo: Myrtle Beach, South Carolina, is a top beach meetings destination; Credit: Visit Myrtle Beach
However, that's not to say planners can't leverage the beach and its beautiful surroundings for their events.
"Just on the other side of our beach are the dunes with beautiful views of the waves and dolphins," Harris noted, saying that hosting events here is a popular option.
[On topic: Myrtle Beach Food Experiences Group Dining]
Many of the meeting-friendly hotels and resorts in Myrtle Beach are located right on the ocean, and have outdoor space directly overlooking the beach and ocean. Some of the most popular include:
DoubleTree Resort by Hilton Myrtle Beach Oceanfront
The Hilton Myrtle Beach Resort
Marriott Myrtle Beach Resort and Spa at Grande Dunes
"The Marina Inn at Grande Dunes also offers views and access to the Intercoastal Waterway, and frequently does events overlooking the water," Harris said. "They also offer a free shuttle service to their private beach on the ocean."
Events on the water can range from small to large. Harris noted that Myrtle Beach hosted The Carolina Country Music Festival, where the stage was over part of the beach with the ocean as a backdrop, attracting more than 30,000 people each day of the event.

Photo: A clam bake at Myrtle Beach is a sure-fire attendee pleaser; Credit: Visit Myrtle Beach
Harris also stressed that all the key ingredients to a successful beach event apply when organizing a Myrtle Beach event outdoors.
"The key to a successful event overlooking the ocean is great food, comfortable seating, fresh seafood prepared the way we love in South Carolina, a nice cool breeze and a backup plan indoors should the weather not cooperate.
"And, relying on the experience of the professionals on our team and those at our area partners' properties will make every event a success," he added. "These folks have years of experience planning events in this destination and they know what will work."
Learn more about meetings in Florida in the 2020 edition of the Meetings Today Florida supplement.