This Magician and Comedian Is Now a Virtual Events Sensation
Did you know it was possible to get a standing ovation via Zoom?
I didn't, until I saw Harrison Greenbaum perform a virtual comedy show and do just that.
I know I wrote about Harrison many months ago for Meetings Today, and told you how wonderful he was to bring to an event, but since the entire Cerbelli Creative Team had to turn on a dime to producing virtual events, we have been literally working nonstop with Harrison to produce his comedy—and magic—show from his tiny apartment in New York City!
Harrison Greenbaum is a nationally touring stand-up comedian who has been featured on major television shows like America's Got Talent, Last Comic Standing and Conan. He's also an award-winning magician and one of the stars of The Illusionists: Direct from Broadway, the biggest-selling magic show in history.
As one of the most in-demand comedians in the U.S., both TimeOut New York and the NY Daily News have described Harrison as "the hardest-working man in comedy." 
That combination of incredible skill and unbelievable work ethic has paid off yet again: During an unprecedented time in which the global situation has drastically changed the entire entertainment landscape, Harrison has quickly established himself at the forefront of livestreamed, virtual entertainment.
[Related: How Live Event Entertainers Are Going Virtual] 
Harrison is currently the host of National Lampoon Live with Harrison Greenbaum, the first-ever livestream in National Lampoon's 50-year history, raising money and awareness for the COVID Foundation; Who Books That? with Harrison Greenbaum, a biweekly interview series featuring top magicians and entertainers presented by the International Brotherhood of Magicians; and is the co-host of SCAM Online, NYC's first and only weekly livestream magic show.
Harrison has also done an incredible amount of private and public comedy shows via platforms such as Zoom as both a comedian and as a magician.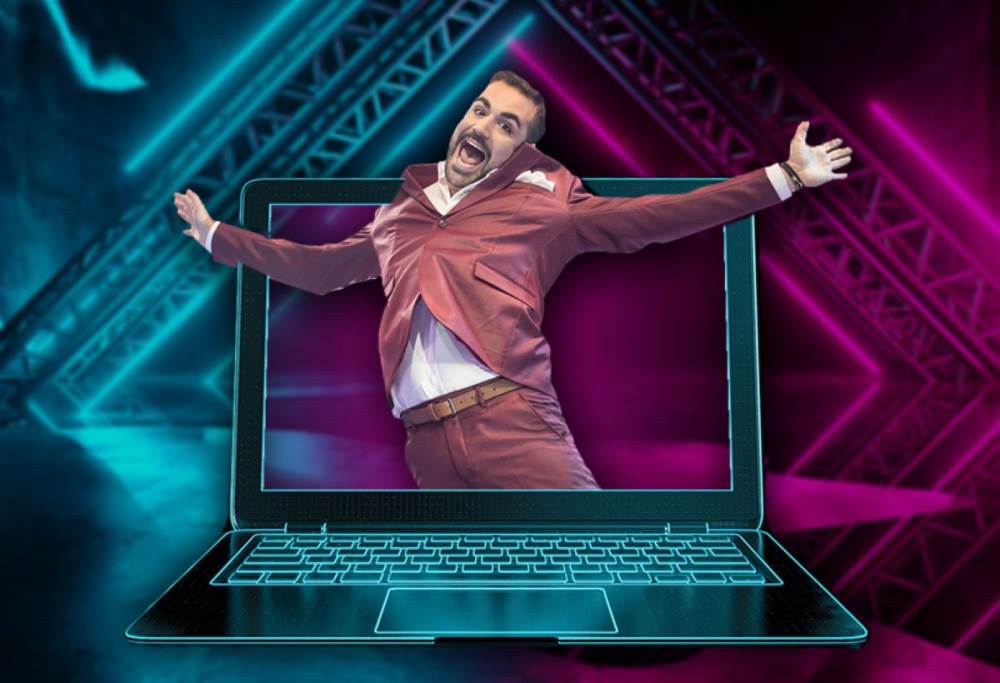 (Photo: Harrison Greenbaum Logo; Credit: Harrison Greenbaum)
Setting the Virtual Events World on Fire
In fact, in just three months, Harrison has used virtual platforms to perform LIVE on more than 100 virtual shows and for over 300,000 people around the world.
Harrison hasn't just adapted to the new medium of live virtual content, but is excelling in it. 
He draws an entire audience in, making them active participants in both his comedy and his magic. 
In Harrison's virtual shows, everybody has a front row seat and everybody gets to be a part of the action.
The New York Times once described Harrison's comedy as "fast-paced, smart, and interactive," which perhaps explains why he's been so successful as a virtual performer: His speed, his intelligence and his ability to engage the entire audience is the perfect recipe for a virtual performance that is quite possibly just as fun, hilarious and energizing as the amazing live shows on which he's built his stellar reputation.
It also doesn't hurt that Harrison has a background as a warm-up comedian and television producer—he's produced television shows for networks such as ABC, VH1 and Telemundo—so his livestreams and virtual shows have the polish and quality of an actual TV show.
With an unrivaled expertise in the technology and presentation of virtual livestream content, Harrison can customize a stand-up comedy or comedy magic show that will wow your friends, family or colleagues. 
Who needs Netflix? Bring in Harrison as your live, virtual entertainment and prepare to have a side-splitting and jaw-dropping experience you will never forget.
[Related: An Online Event Act That Aims to Deceive] 
A Closing Word
A world-wide deadly pandemic. Unemployment. A complete halt to in-person gatherings, celebrations and events. 
Small businesses hurting. An incredible world-wide movement demanding change. With resolve and creativity, we'll all get through it.
Please never forget to smile, and it's okay to laugh, too.
Look for more Cerbelli: Hot Virtual Event Ideas in the upcoming weeks, and most of all, stay healthy, stay safe, stay home and stay #EventStrong.
Please sign up for Cerbelli Creative's inspirational bi-weekly newsletter at eventstrong@cerbellicreative.com.
Read next: Digital Events Featuring a TV Host for Hire