The Census Bureau Must Meet—Even During a Pandemic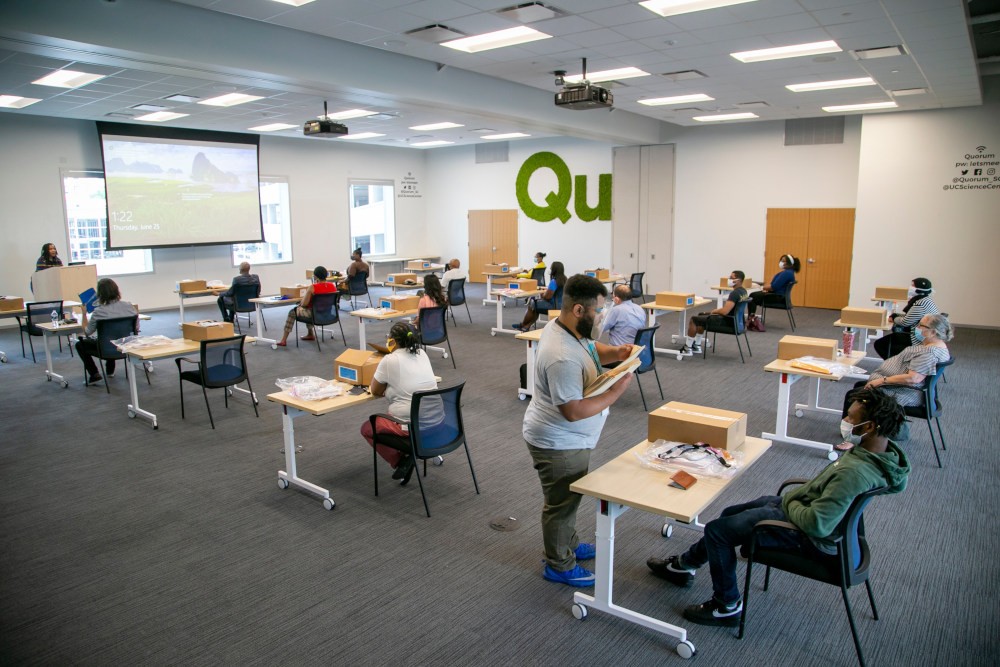 The United States Census Bureau doesn't let a pandemic get in the way of its hallowed duty every decade.
Like the Postal Service delivering "neither snow nor rain nor heat nor gloom of night," or a Broadway cast bucking up and proclaiming "the show must go on," the Census Bureau has to do its count, and the actual counters—or enumerators, as they're officially known—need to meet for a critical orientation that just can't be done virtually.
So while the rest of us have been sheltering in place and forgoing even the smallest of meetings both socially and professionally, the Census Bureau has been gathering small groups, following strict protocols, for face-to-face training meetings.
One Census office handling the effort in Philadelphia—which has two offices in the city—selected Philadelphia's Quorum for individual three-hour training sessions that each on-boarded 15 enumerators, which included filling out paperwork, team introductions and the issuing of devices they will use in the field.
The process will be replicated at Quorum on five additional days through August so the training can be done in batches of smaller groups in order to provide safe social distancing.
"Essentially, the census has to go on, and if we don't have places to do this, the area is going to suffer very badly," said Anthony Thornton, field operations manager for the U.S. Census Bureau, who helped organize and facilitate the meeting. "Due to the pandemic, there were many venues and locations that had originally agreed to help us, and while it was going on and some of the dates were lessening their quarantine and gathering restrictions, Quorum was one of the few locations that really stepped up to assist us in this area."
"Quorum was very receptive to civic mindfulness and helping us get the world out and assist us in our enumeration efforts," he added. "They are very aware that Philadelphia needs to be counted as best we can, and they were able to accommodate us."
Safety Protocols for Census Meeting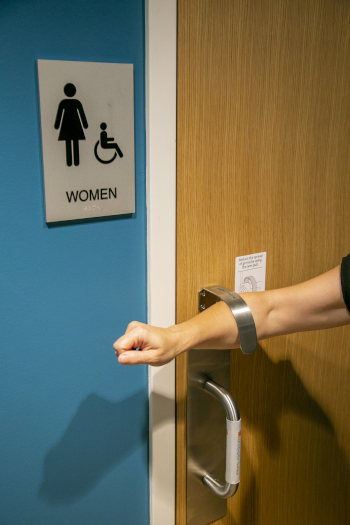 For the 15-enumerator meeting, the Census Bureau and Quorum followed CDC guidelines in making sure tables and chairs were six feet apart, wiped down all surfaces frequently, and provided masks and sanitizers for each person in attendance.
According to Lynette Moore, director of Quorum, the Census group had about 24 people in a room, which was set in a modified classroom style with tables and chairs six feet apart.
(Photo: Quorum conference center used bathroom door handle devices that allowed the use of arms instead of hands. Credit: Quorum)
"We also had kind of a flow of entry into and out of the room, trying to limit contact as much as possible," she said.
The facility also had hand sanitizers on each floor and an infrared thermometer at the entrance to check attendee and staff temperatures.
[Related: Navigating the New Meetings Landscape eHandbook]
Quorum also used restroom door handles that can be opened with arms rather than hands, as well as marking proper social distancing space on furniture with tape and adhering stickers to the floor to instruct people where it was safe to stand.
The three-hour meeting did not include a meal function or service, so F&B did not enter into the equation.  
We Have a Quorum
Quite ironically, the word Quorum is defined as "the minimum number of members of a deliberative assembly necessary to conduct the business of that group." Quite fitting for the reduced-attendee Census meetings during the COVID-19 pandemic.
Quorum is a day-use conference center operator that has been in business for about nine years, having expanded to 15,000 square feet of space after moving to its new location about two years ago.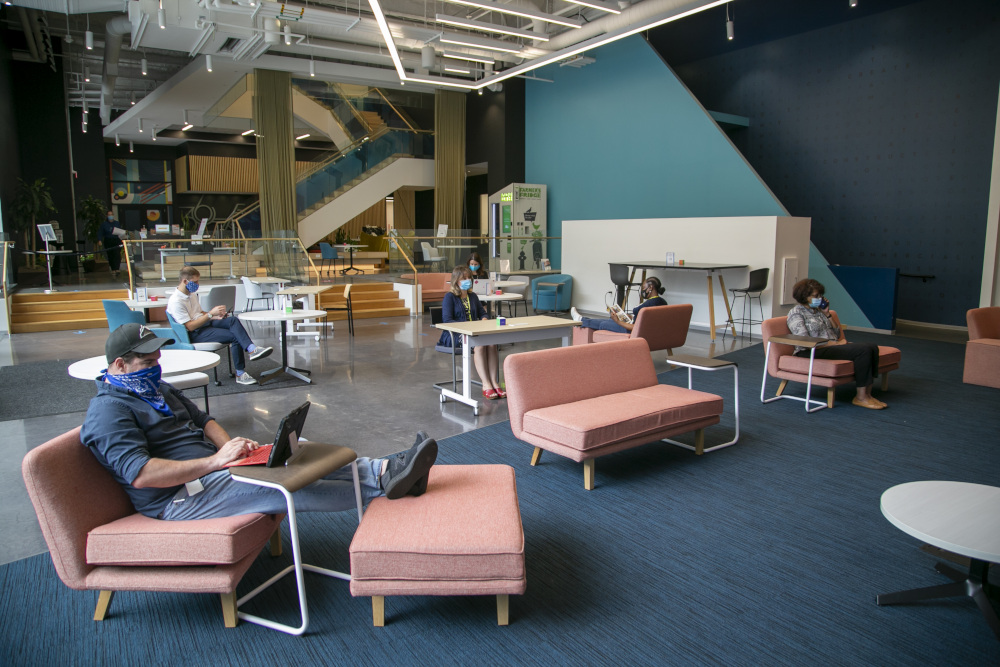 Photo: Social distancing guidelines were marked with tape on couches to ensure attendee safety at Philadelphia's Quorum conference center. Credit: Quorum
Because of their very nature, day-use conference centers such as Quorum can provide a meeting environment that works well during the pandemic.
"The nice thing about Quorum is we're very flexible space because we aren't connected to a hotel," Moore said. "We have moveable furniture—whatever you need we can make happen."
Moore said Quorum has used the pandemic slowdown to reevaluate its near-term business model to facilitate formats such as hybrid meetings, and also enhance its state-of-the-art tech offering.
[See all of our coronavirus coverage.]
One major challenge is that the attendees-to-space ratio pandemic math for any meeting facility is daunting and revenue draining.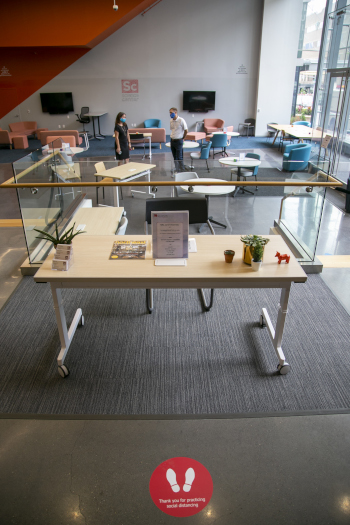 "Our 'showcase' room used to accommodate a little more than 200, but with social distancing the revised estimate is 48 people—that's basically a 75% reduction," Moore said.
(Photo: Sign of the times: Floor stickers instructed attendees about safe social distancing at Philadelphia's Quorum conference center. Credit: Quorum)
In the future, Moore said Quorum is exploring a variety of room setup options in post-shutdown meetings.
"Moving forward, when talking to clients with bigger conferences, we can do things such as set up the speakers in the front of the room—sort of news broadcast-style, and have AV bring in cameras and so forth, so people at home don't think it's just another Zoom meeting," she said. "The biggest thing is, as they come into the building, they're wearing a mask, and they can use an elevator or we have a great staircase, and at the start of the day the staircase is for up-traffic only. A lot of it is pre-planning and thinking of the flow of people and maneuvering them in a way that they feel—and we know—is safe."
Moore said she is continuing to work with caterers to bring in individually wrapped box lunches that will be delivered to attendees at their chair or desk, or available on a table so they can pick it up in an orderly manner and won't bump into each other.
Advice for Future Meetings
Moore said meeting and event organizers as well as facilities should tap into the knowledge of their colleagues for intelligence on how to hold safe pre-vaccine events.
"Collaborate with other people in similar spaces, and vendors," she stressed. "We all know what we need to do. Every day we're reevaluating—looking and seeing what other people are doing for best practices. People are going to decide what's worth going out in public for again.
"It's all about trying to keep your clients welfare in mind—you want them to feel healthy and safe and you want them to be healthy and safe while they're here," she continued, adding that the new GBAC STAR certification for destinations and facilities will help both the perception and reality of a safe environment. "There's people that are definitely missing that face-to-face interaction and will probably be pioneers for us when we continue having events. As soon as we can have a couple of meetings and show success, and people are safe and healthy and not getting sick, that will definitely help us."
Read Next: Together Again Expo: Face-to-Face With the Brave New World of Meetings