How CVBs Are Using Virtual Tech to Help Meeting Planners Scout Destinations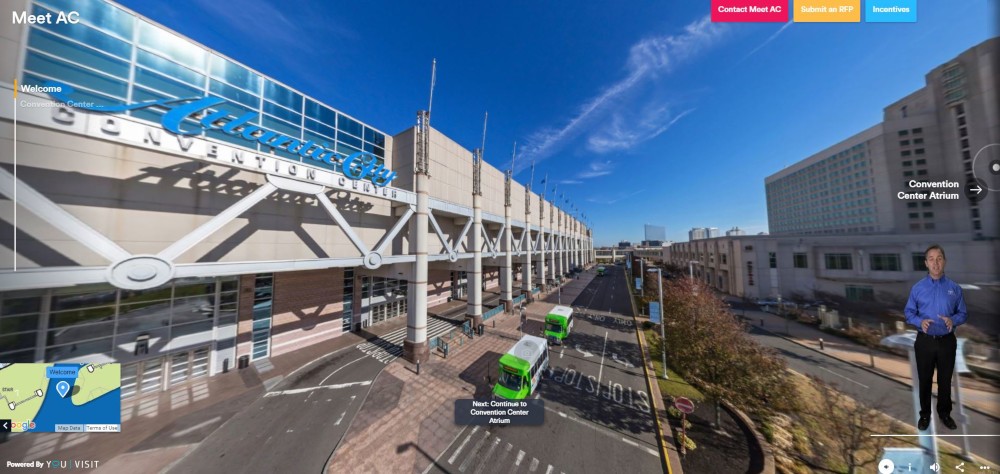 Site inspections and FAM tours are some of the main tools in a CVB's toolbox when convincing planners to bring their meetings and events to a destination.
That logic got thrown out the window this spring, as the COVID-19 pandemic brought the MICE industry to a standstill. Often with smaller staffs and budgets, CVBs put on their creative hats to quickly bring unique virtual marketing ideas to fruition to drive awareness to their destinations, keep in touch with prospective clients, and drum up interest—all through a computer screen.
Here are a few ways CVBs brought their iconic destinations and venues to meeting professionals in 2020, and what you can do to explore prospective meeting locales from home.
Virtual Tours
Although many CVBs had to turn virtual tour tech around quickly from scratch this spring, Meet AC has been ahead of the virtual reality (VR) game. For a few years now, the CVB has hosted an award-winning, interactive 360 VR tour of the Atlantic City Convention Center on its website.
"Since Meet AC's inception in 2014, we have been growing our digital footprint to serve relevant Atlantic City content to the industry," noted Marketing Director Karina Anthony. "We've compiled a library of videos to showcase Atlantic City experiences to meeting planners and most recently utilized virtual reality to allow planners to tour the city from their homes or offices."
Anthony added that even prior to the pandemic, the Meet AC team used the VR experience to capture leads for the sales team. When meeting professionals suddenly couldn't travel, the tool immediately solved site inspection issues, along with Meet AC's existing videos of sites and venues.
Interactive Classes and Video Series
Pre-pandemic, the Greater Palm Springs CVB had experimented with virtual technology, conducting a handful of site visits and walkthroughs of attractions and producing a video series, but it was never the main priority.
Come March 2020, the destination—like many—was in crisis mode due to the halt in meetings and travel.
"This was devastating for our destination where one in five jobs is supported by tourism," said Colleen Pace, chief sales and marketing officer for Greater Palm Springs CVB. "Our focus as a DMO became local. We developed the Oasis at Home program, curating all virtual destination opportunities."
Later in the spring, during National Travel & Tourism Week, the CVB did a week of daily virtual events ranging from professional development sessions to cocktail and yoga classes, extending the invite to meeting planners.
[Related: Coastal Mexico Destinations Set to Reopen; Bridge Gap with Virtual Experiences]
"It was an opportunity to go beyond selling the destination but about helping to uplift the meeting professionals community we work with," Pace said. "The response was positive and even led to a new contact and new lead."
Building on this success, the CVB is leaning into the virtual world, launching "GPS Reboot, a VirtuWELL Series" in July to stay connected to meeting planners and hotel partners by offering virtual events hosted by wellness experts from the Coachella Valley to offer advice on subjects like exercise, nutrition, stress management, sleep and community connection.
Virtual FAM Trips
Taking their video game one step further, some CVBs have gone as far as to build an entire FAM trip for meeting planners that they can attend on their computer.
Quebec City Business Destination hosted its first three-day virtual FAM "trip" in June and utilized: 360 video for site inspections, educational webinars, video conference tools and good old-fashioned web content like articles to engage its participants.
"Each day, the content was available on our website and accessible via an email sent out to participants," explained Emilie Belisle, assistant director and new communication officer for Quebec City Business Destination. "We basically wanted to offer the same experience and structure we would have if guests were able to travel to Quebec City. We even included some free time."
Belisle said that the team received positive feedback from participants, grateful to have a tool to learn more about the destination during a time they could not travel.
"They enjoyed the virtual visits and webinars most of all," she noted, and said that the organization plans to tweak the program and host similar FAM trips going forward.
Late June, the Connecticut Convention & Sports Bureau hosted its first virtual FAM tour for meeting and event planners, including presenters from key meeting venues like CT Convention Center, Foxwoods Resorts Casino, and Mohegan Sun—the last of which mentioned it was gearing up to host its first meeting since reopening.
CTCS's FAM "trip" was one session presented webinar-style, as opposed to Quebec City's three-day long tour. Both examples illustrate the range and experimentation the CVBs are taking with the virtual FAM concept and the creativity that can be applied to it.
Read Next: Virtual Teambuilding: How to Keep a Group Connected and Engaged Remotely