A Pandemic Spike in Golfing Customers Has Resorts Pondering Meetings Potential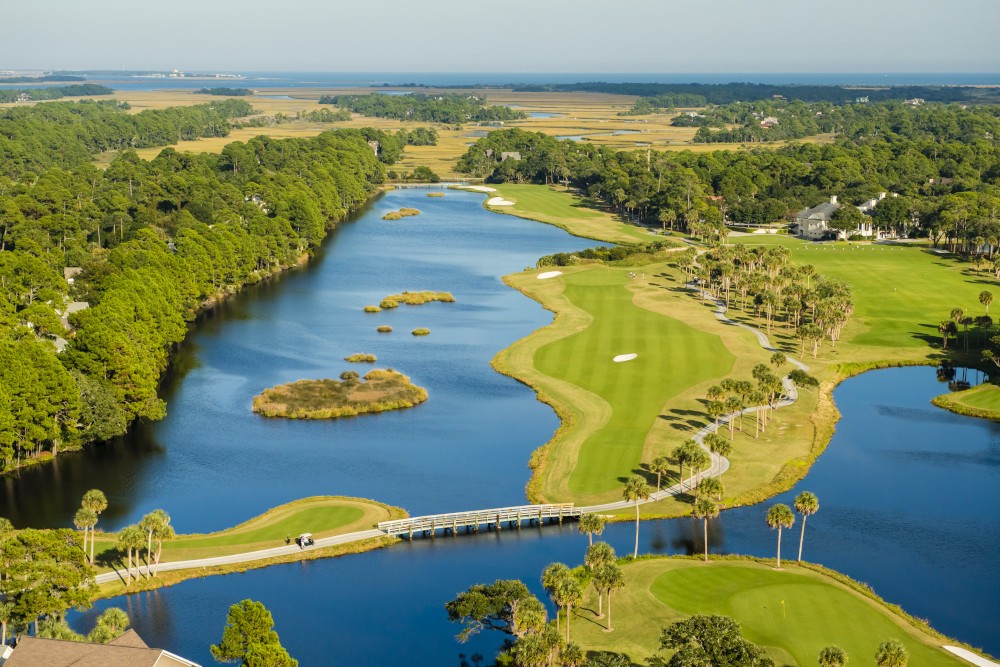 Golf as a meetings activity has suffered its share of trials and tribulations in recent years, with the length of a traditional round and a generational lull in new golf enthusiasts threatening its standing as a core program element.
The COVID-19 pandemic has changed all that, at least in the near term, with a surprising increase in rounds nationwide.
According to statistics from golf market research firm Golf Datatech and reported in the Philadelphia Inquirer, the number of rounds played nationally was up 20.6% in August 2020 when compared to the same month in 2019, with a 13.9% increase in June and a 19.7% rise in July.
At least as a leisure activity, golf is hot due to its undeniable benefits of social distancing and being played outdoors, where the virus has a much more difficult time spreading.
Representatives for major U.S. golf resorts that cater to meetings have taken note, and while traditional meetings held at golf resorts may still be lagging along with the rest of the meetings and events industry, many of the top resorts have recognized the opportunity to draw groups not only for rounds, but also to use their venues for small meetings.
"Our transient numbers for leisure travel have been way above normal, and extended far beyond the typical dates that we would see from past years, when it tapers off around Labor Day," said Bryan Hunter, a spokesperson for South Carolina's Kiawah Island Golf Resort. "We have a lot of outdoor spaces, and groups have always taken advantage of them. Right now, it's primarily for local hospitality, but we're finding there's a trend in that they're thinking outside of the box to utilize our outdoor spaces for business functions rather than just social functions.
"It could be a challenge in getting the room nights, especially for larger groups, but we've been seeing smaller groups, anyway," he added.
Hunter said the resort has also seen groups travel to Kiawah as part of an in-person component of a larger virtual program.
A Green Light for Golf
According to David Fine, a golf-meetings consultant who in his 40-year career has worked at such storied resorts as PGA National, The Broadmoor and Doral, the reemergence of golf during the pandemic era can partly be attributed to local governments deeming it a relatively safe activity that is not highly likely to spread the virus.
"Golf is one activity that has been green-lighted by a lot of municipalities around the country, not necessarily as 100% COVID safe, but somewhat," Fine said.

Photo: Golfing at sunset.
He added that meetings that fit in a Sunday-Wednesday or Sunday-Thursday pattern are the best bets currently, because the spike in recreational golf business has led to a lot of compression for tee times and even guest rooms at major resorts.
Fine said that the younger demographic is being attracted to golf events that mix it up by offering sports such as golf frisbee and golf soccer.
"It's about creating dimension for your guest experience and taking advantage of the activities that are available to them now that will prompt use—very different from the norm," Fine said. "If you look at the golf business today, it's doing better than it's done in a long period of time."
[Related: 4 Myrtle Beach Golf Courses for (Socially Distant) Group Play]
A Changing Environment
Another top-tier golf resort that counts meetings as a substantial portion of its revenue base is North Carolina's Pinehurst Resort.

Photo: Pinehurst Resort
"Golf's having a COVID boom because [the game of] golf did not have to change," said Eric Kuester, vice president of sales and marketing for the resort. "It's the inherent quality of golf—you [often] don't have to wear a mask outside playing golf, and you can socially distance naturally and easily.
"The leisure traveler has led the way and shown the rest of the travelers that the resorts are ready," he continued. "We have 18 different outdoor venues, and we are definitely leveraging that. The resorts can do this. Let's follow suit on the group side."
To reinforce the safety of the facility, Pinehurst is promoting its Pinehurst Promise, a set of pandemic-related protocols that build off guidelines set by the U.S. Centers for Disease Control and Prevention and the World Health Organization.
Highlights of the Pinehurst Promise, which like similar protocols at other hotels and resorts are heavily contingent on local government regulations, include:
All guests and employees are required to wear masks, and masks are available for guests at all resort outlets.
Appropriate PPE will be worn by all employees based on their role and responsibilities and in adherence to state and local regulations and guidance.
Employees are communicated to daily about the necessity of safe and frequent hand washing and other hygiene practices and are instructed to seek medical attention or stay home if they are ill or not feeling well. The resort also conducts wellness checks to monitor the health of staff.
All guest rooms are thoroughly cleaned before the next guest occupies the room.
Numerous hand-sanitizing stations have been positioned throughout the resort.
Social distancing markers have been marked throughout the property.
All door handles, phones, refrigerators, handrails, cash machines, restrooms, TV remotes, common areas and flat surfaces throughout the resort are cleaned numerous times daily.
All guests receive personal hand sanitizer and disinfected wipes.
Food and beverage, retail, spa, fitness, tennis and pool outlets will have adjusted availability depending on current local, state and CDC guidelines, and are subject to change.
At publication time, the resort is not accepting cash or check payments.
Additional information is available at https://bit.ly/36sZ3bU.
Kuester said that Pinehurst also took a pre-pandemic strategy of creating less time-intensive, and less-formal, golf program activity options for groups.
"We now have a par-3 course, and that has flipped the whole golf option," he said. "It takes 45 minutes to an hour to play, so it's not intimidating. That, along with the putting course, Thistle Dhu—named after the very first putting course in America. You take the putting course and the short course, and you can use those facilities to create something that's affordable and fun."
Kuester said a typical small-meeting group will arrive at the resort, have a meeting during breakfast, and then play golf, followed by a dinner.
It's Human Nature, After All
The current spike in golfing in some respects can also be attributed to humans being social amimals by nature. And while at the time of publication novel coronavirus cases were spiking throughout the U.S., positive news on the vaccine front has injected some welcome good news that the pandemic—and seemingly endless Zoom meetings—may soon fade.
"I'm seeing people wanting to get away from Zoom. You can't replace experiencing something in person," said Pinehurst's Kuester. "They've been quarantining, pent up in their house for months. We're all social creatures. We crave human interaction."
Tips for Holding a Meeting at a Golf Resort
Whether held during this challenging pandemic period or when things return to the Old Normal, golfing and meetings are a pairing that naturally lead to relationship building on a personal level. The old saw about deals being forged on the fairway, after all, has a lot of truth.

Photo: Temecula Creek Golf Club
Following are tips from Steven Saunders, first assistant golf pro at Southern California's Temecula Creek Golf Club, who makes his argument on the benefits of holding a successful golf-meeting program:
Golf is best for informal business meetings, especially in the age of COVID-19 and social distancing. It takes place outdoors, in a peaceful, beautiful environment, with plenty of fresh air, and it's very easy to socially distance while still being social.
If you're looking for a more relaxed feel, this is it. It's a more casual environment than a conference or meeting room, and it is a lot more fun and easier to communicate than conducting meetings via Zoom/Skype or email.
Know that your attendees will be walking around and engaging instead of sitting. Plan accordingly with the weather, time of day and time of year. Also because of this, be lenient on dress code and don't necessarily expect business attire.
It's okay to load the agenda like you normally would. Business matters can easily be discussed conversationally, during the natural course of play while maintaining social distancing. In fact, we find that it helps attendees brainstorm and come up with creative ideas.
An optimum time window to bring up a business-related discussion is sometime between the 3rd and 6th hole. This allows time to get settled in and exchange pleasantries, but allows enough time to have the discussion started. If a topic is brought up too late, it may seem too rushed to bring up and the window of opportunity might have passed.
Read Next: 3 Fun Group Golf Formats That Speed Up Play