Resources for Hybrid Meetings on The Beaches of Fort Myers & Sanibel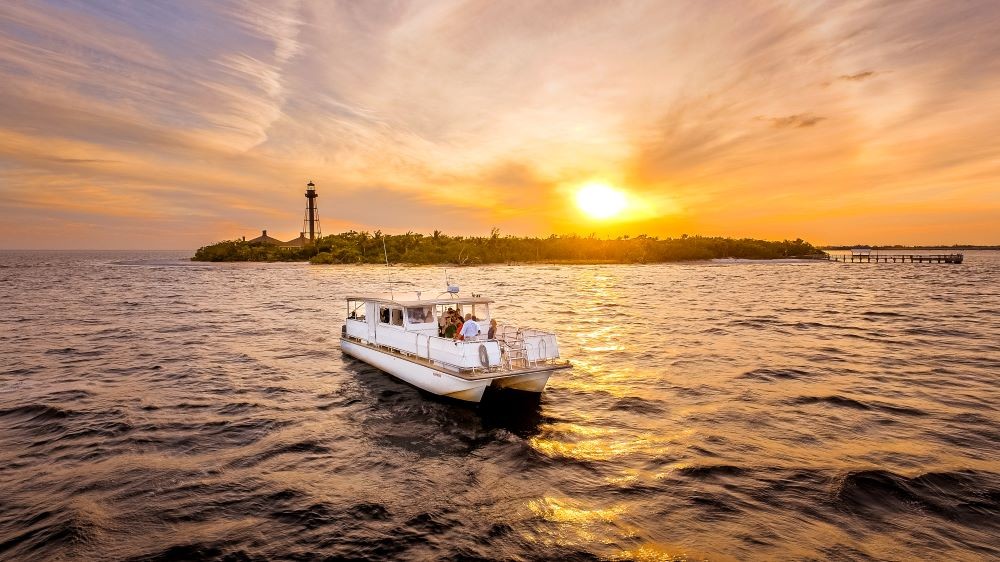 The Beaches of Fort Myers & Sanibel boat charter.
Many meeting and event professionals agree that hybrid meetings will be part of the new normal as the industry recovers from the COVID-19 pandemic.
"Clients tell us that the pandemic provided the impetus for their organizations to transition their physical events into digital or hybrid experiences, and the leap was taken out of necessity," noted Jill Vance, director of sales for The Beaches of Fort Myers & Sanibel. "Although hybrid meetings are the 'new normal,' with a vaccine presently being administered, clients are not sure what direction virtual attendance will take.
"Most believe that there will always be a need for in-person meetings because they are important for effective collaboration and networking," she continued. "Even when larger live events return, it is likely a digital component will continue to be employed."
[Listen: Incorporating Wellness into Your Meeting on The Beaches of Fort Myers & Sanibel]
Vance also said The Beaches of Fort Myers & Sanibel quickly recognized that making sure venues were ready to host both in-person attendees in a safer environment and virtual attendees, was imperative to the meetings industry recovery. Additionally, she detailed that in the long-term, hybrid meetings provide the following added benefits:
By offering in-person and virtual attendance options, personal boundaries and safety or sustainability concerns are being respected and valued.
Larger audiences can be reached using digital platforms.
Planners can use the virtual component to collect in-depth data about their attendees.
Planners can also increase attendance and ROI through front-end and back-end questionnaires.
Sessions are recorded and can be available for on-demand access and training purposes.
Venues for Hybrid Meetings on The Beaches of Fort Myers & Sanibel
The Beaches of Fort Myers & Sanibel and its many meeting venues have made a conscious effort to bolster hybrid offerings. 
"For events that bring attendees from multiple venues and potentially multiple rooms together, the ability to have several presenters delivering messages to multiple audiences simultaneously requires technology solutions to make the experience feel as if everyone is meeting together as one," Vance said. "Most of our meeting facilities have amped up their bandwidth and are using platforms like Chime Live, Content One and additional cloud collaboration tools to ensure hybrid meetings are a success."
Vance also said many hotels in the destination reported making the following changes in the hybrid event era to ensure successful meetings. Enhancements included: 
Dedicated bandwidth for each event. 
Backup connection available to support streaming. 
Meeting spaces that offer ample lighting and soundproof for optimal streaming. 
Virtual pre-cons with hotel team and meeting planning team.
Some notable examples of popular meeting venues on The Beaches of Fort Myers & Sanibel include the following.
The Westin Cape Coral Resort at Marina Village
According to the hotel's senior catering sales executive Tosha Wollney, The Westin Cape Coral Resort has hosted a number of hybrid meetings that saw positive engagement thanks to the on-site AV partner Encore. 
"Our on-site audio-visual partner (Encore—formerly PSAV) offers Chime Live and other platforms that are ideal for hybrid events. Several of our hybrid meetings used Chime Live, which helped them overcome the challenge of bringing remote presenters and participants together for their event," she said. "With attendees at home, at work or at The Westin Cape Coral Resort, Chime Live connected everyone via livestream, enabling them to carry on with the keynote presentation, topic streams and breakouts as planned. The interactive features helped overcome distractions and kept engagement levels high. Post-event, recorded sessions were shared with those who missed or wanted to replay a session."
Wollney also added that the resort can increase bandwidth to accommodate specific requirements. The Tarpon Ballroom, for example, is on a separate network from the hotel guest rooms so it's not sharing with other guests. "Encore has a bandwidth calculator which is helpful since bandwidth needed can vary so much based on the number of devices and the group's program," she noted. 
Hyatt Regency Coconut Point Resort & Spa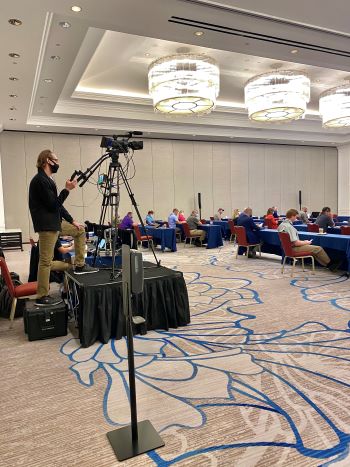 Rhett Wilson, director of sales and marketing for Hyatt Regency Coconut Point, said the resort made significant technology infrastructure investments ahead of the pandemic, which is a big benefit as the property focuses on hybrid meetings.
"Our capacity here in the meeting space is currently over 100 Mbps and we can accommodate content-heavy live streaming events quite easily! Our Encore team has invested in state-of-the-art livestreaming technology and it is all available here at the Hyatt for our groups to tap into," Wilson said. "Furthermore, we now have on site, newly certified virtual event specialists to monitor, manage and enhance the livestream as it is taking place."
South Seas Island Resort
South Seas Island Resort noted that its bandwidth is sufficient for both virtual and hybrid meetings. "Recently we've had successful events with remote participation and live video feeds to overflow rooms," said Verdell Ekberg, director of sales and marketing. "Graduation ceremonies, business conferences, weddings, etc. can all have the hybrid component added to the event. Equipment and pricing are based on the scope of each event."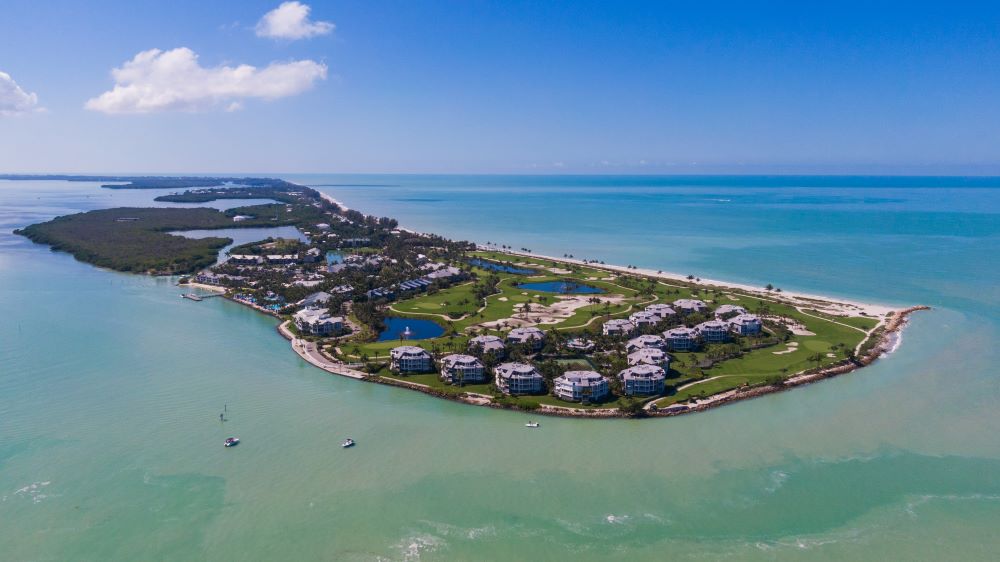 Trusted AV Partners
As meeting planners coordinate meetings with both live and virtual components, having trusted AV partners on site to enhance production value and help troubleshoot inevitable tech issues is important. The Beaches of Fort Myers & Sanibel has a number of local vendors that planners can work with. They include:
Encore, whose team has the tools and professional knowledge to execute a successful and engaging hybrid meeting, and many of the area's hotels and resorts already have an existing partnership with them.
Ken Sneeden & Associates, a multimedia production company located in Fort Myers that offers audiovisual production, coordination of meetings, presentation technologies, video production, interactive multimedia development, computer graphics, 3D animation, and much more.
Harmon's Audio Visual, a full-service audio, visual and light solution provider based in Fort Myers that has been serving Southwest Florida for over 25 years.
Learn More
Interested in learning more about planning an in-person, hybrid or virtual meeting on The Beaches of Fort Myers & Sanibel? Use the following resources:
Sun, Sand and Sanitize webpage, that lists extra measures some of our meeting hotels are taking as safety protocols.
The friendly and professional Visitor and Convention Bureau's conference services team, who can serve as a primary resource to keep you up to date on the latest changes as you plan your meeting. 
Read Next: Outdoor Meeting Venues on The Beaches of Fort Myers & Sanibel

This article is brought to you in partnership with The Beaches of Fort Myers & Sanibel