3 Digital Art Experiences That Are Zoom Fatigue Killers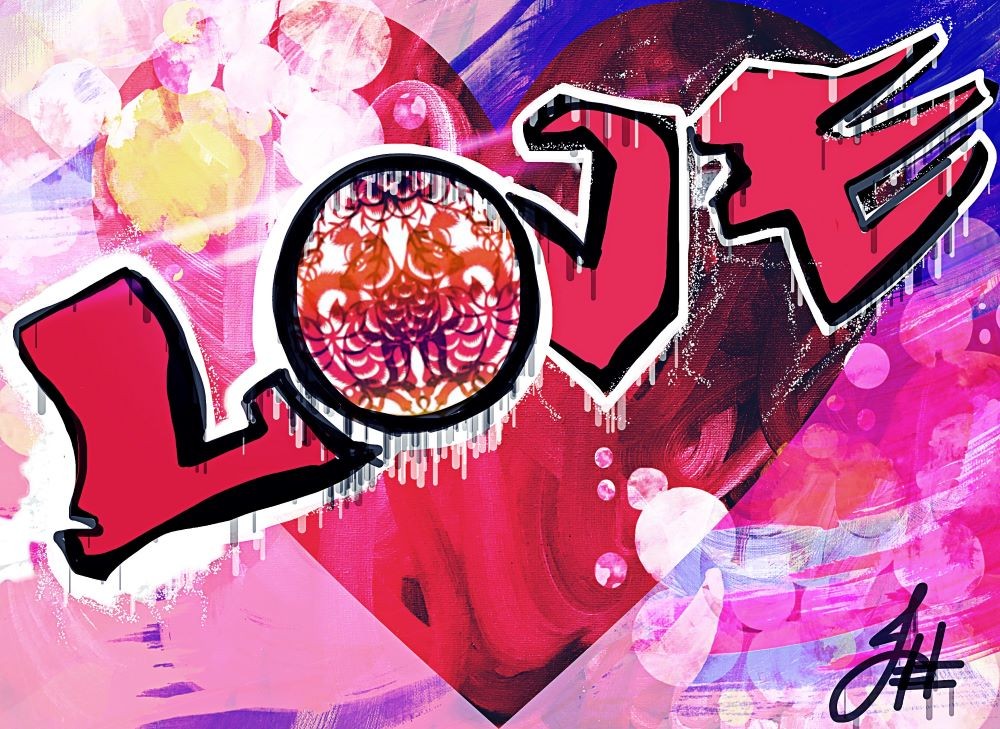 Photo courtesy of Jessica Gorlicky
Day after day, Zoom meeting after Zoom meeting, hours spent at a desk—our brains need a break! 
In a time of routine and fatigue, a chance to be imaginative and artistic can be energizing and relaxing. When employees and attendees need a break from the monotony, a great creative break is one of our favorite offerings: digital art experiences. 
As the virtual/hybrid world evolves and grows, talented artists have transformed their skills for the digital medium. Three incredible artists whom we love working with at live events are now hosting creative and high-quality virtual art lessons on topics from graffiti and cartooning to digital collages. 
Broadcasting from all over North America, including Florida, New York City and Toronto, these creatives have become master virtual art instructors. They are natural instructors with the ability to engage and teach new skills in less than 45 minutes.
[Related: Tap This Master Mixologist for Virtual Demonstrations for Groups]
Digital art experiences are an opportunity to take a break from the typical virtual/hybrid meeting or bring creativity into virtual teambuilding activities. No matter the group size, everyone is engaged, interacting and learning. Fully digital and using minimal supplies, these artists have brought a refreshing new life to virtual events with their Digital Art Experiences. 
Our Top 3 Digital Art Experiences  
Whether it's a midday "brain break" during an all-day conference or an after-hours teambuilding activity, give attendees a chance to experience and learn something new! 
Following are our Top Three Digital Art Experiences, hosted by the best live event artists in the biz.  
Street Art Lessons With Graffiti Artist 
Featuring talented artist Ivan Piedra of Airgraphics NYC, this interactive session focuses on design, typography, color theory and creativity. Step up your lettering game and gain some street cred as you learn the basics of graffiti lettering. Attendees only need simple supplies: paper and a marker. Or send attendees custom graphic kits with markers, templates and one-of-a-kind artist-drawn stickers.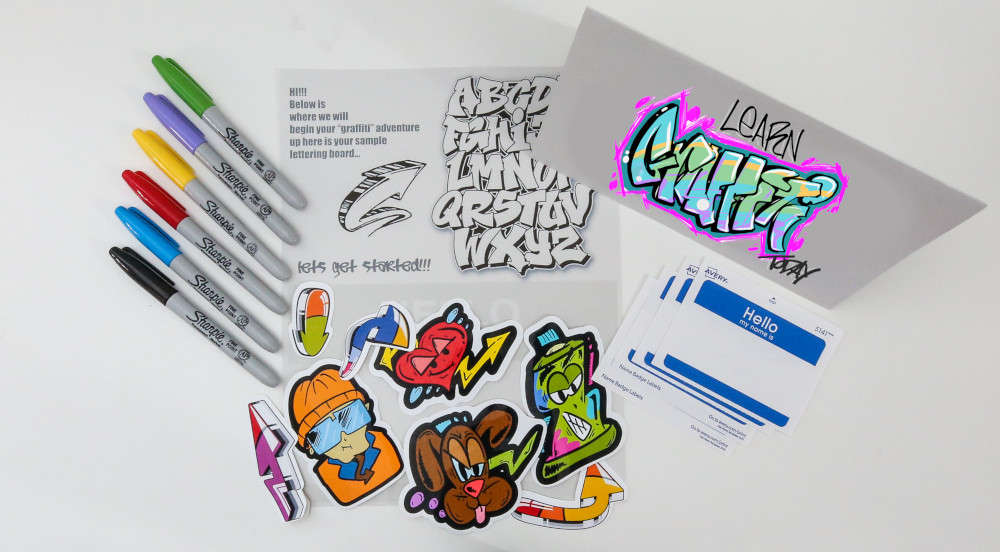 Ivan and his team of airbrush graffiti artists travel the world to paint murals for major events and corporations. The Street Art Lesson is a great creative team-bonding event and a fantastic option for involving the whole family. Get creative with a new medium! 
Art Jam Cartooning With Disney Artist Keelan Parham 
Keelan Parham is a little bit of everything; a caricature artist at Disney Springs, a cartoonist, model, actor, former Elvis Impersonator—you name it and he's probably done it! His incredible personality along with his teaching abilities make him the perfect host for caricature and cartooning workshops.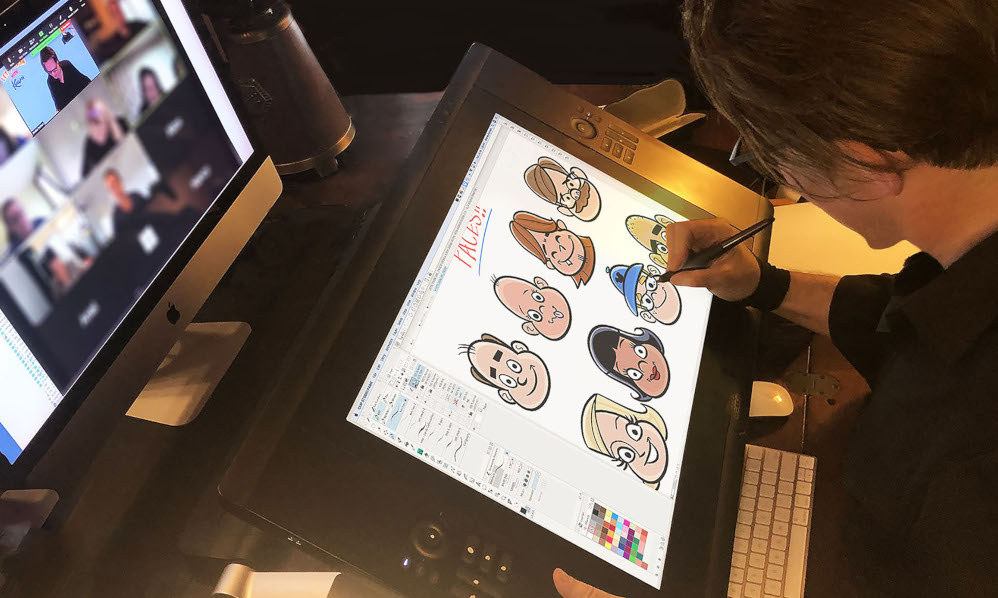 Just a few miles away from the magic of Walt Disney World and virtually from his art studio in sunny Orlando, Florida, Keelan aides in guiding attendees of all ages through creating their own awesome cartoons and shares his anecdotes from over three decades of drawing for a living.
In this interactive Art Jam class, audiences learn the fundamentals of cartooning from a professional artist as well as artistic magic to discover their inner artist with nothing more than paper and a pencil. 
Anyone can follow along with Keelan's easy instructions to create cartoon animals, caricature faces, custom superheroes or just about anything! The class includes helpful lessons on simple art theories like lines, shapes and colors with easy-to-learn tips and tricks. 
This unique experience will give you a peek into the creative mind and life of a real professional artist! Beginner and advanced classes are available, depending on skill level.   
Sip & Sketch With JessGo  
Jessica Gorlicky is a Toronto-based artist whose urban chic style and live, colorful creations have resonated with city socialites and hipsters for the past decade. She's not just a fun artist; she is a bundle of creativity, bursting with innovative ideas to express her zest for life.  
Jess is the perfect instructor with her spunky attitude and down-to-earth personality. Utilizing a sketching app on an iPad, phone or tablet, Jessica will lead attendees through drawing the colorful abstract imagines of your choice—no art supplies necessary! 
Using a simple template as a starting point, attendees use the various features on the app to add colors, stickers, highlights, filters and icons to create a unique digital work of art. Organizers set the theme of the workshop by choosing the starting template, such as a company logo, brand symbol, inspiring word or skyline graphic.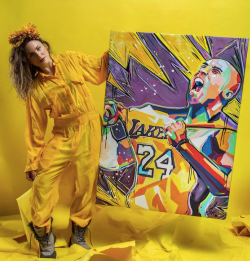 Learning the basics of shading, color theory, depth and contrast while sipping some nice wines, of course, makes Jessica's virtual experience
The world of art has no limits, no boundaries and is beautifully left to one's own interpretation. Whether making caricatures with Keelan, gaining street cred with Ivan or sipping some pinot while creating abstract masterpieces with Jess, attendees will appreciate the opportunity to explore their artistic side. There's a Picasso in everyone, so let these wonderful artists help unleash it! 
As a kid I used to go the Brooklyn Museum of Art on the weekends for art lessons, and still do to this day. I draw, doodle and sketch to release my inner creative. And now my daughter is following in those footsteps. I think there is nothing better to look down at your piece of paper, tablet or canvas and think, "Wow…I created that!" 
Test negative and stay positive.
Please sign up for Cerbelli Creative's inspirational monthly newsletter at eventstrong@cerbellicreative.com 
Contact
Cerbelli Creative 
212.256.1518 
See more of Michael Cerbelli's: The Hot List™ 
Read Next: Witness the Virtual Wizardry Weaved by Magician Eric Jones