Charlotte's Development Isn't Standing Still During the Pandemic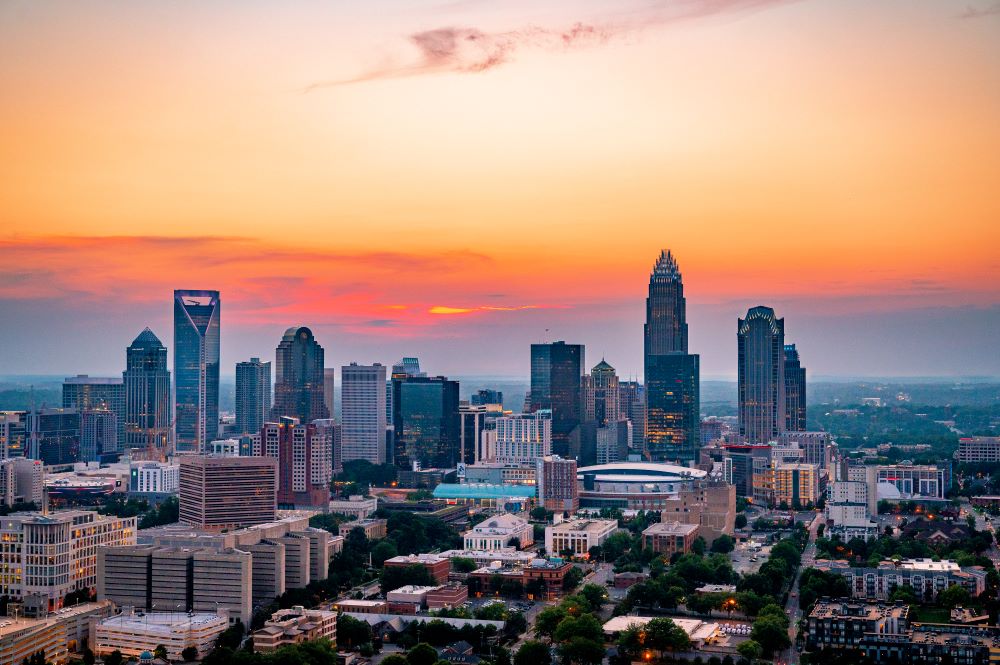 Charlotte, North Carolina skyline
While many destinations were scrambling just to stay afloat during the pandemic, Charlotte, North Carolina, was anything but idle, welcoming a number of major facilities and also the Religious Conference Management Association's Emerge in-person convention in March.
"[Emerge] was the first convention we've hosted since the pandemic and it was a great event," said Mike Butts, executive director of Visit Charlotte. "So, we're back on track, open for business and things are going in the right direction. We showed how to do a meeting in a safe environment with all the protocols in place, and at the same time it was a learning lab for all of these meetings and convention planners to see how they do this now."
Emerge was originally scheduled for January but was delayed until the beginning of March, which proved to be auspicious timing for both the association and the destination, which true to its nature has maintained a rapid pace of growth that has continued for a decade.
"We've been on this extreme growth trend," Butts said. "Before the pandemic, we had more than 100 people moving in here per day, many of them millennials. Tech is hot and the financial sector as well, and it also helps that there are so many banks here. 
"The market here is booming," Butts continued. "All of the metrics that were in place before the pandemic that made this a growing city are still in place for after the pandemic, and where a lot of cities don't have a lot of things popping up out of the ground, we had a lot of things in the pipeline."
Butts said meetings and conventions development has mirrored this growth spurt, with the Charlotte Convention Center set to unveil an expansion in late summer 2021. The $127 million project increased its total leasable space by 50,000 square feet, for a total of 600,000, along with augmenting its number of meeting rooms from 41 to 55.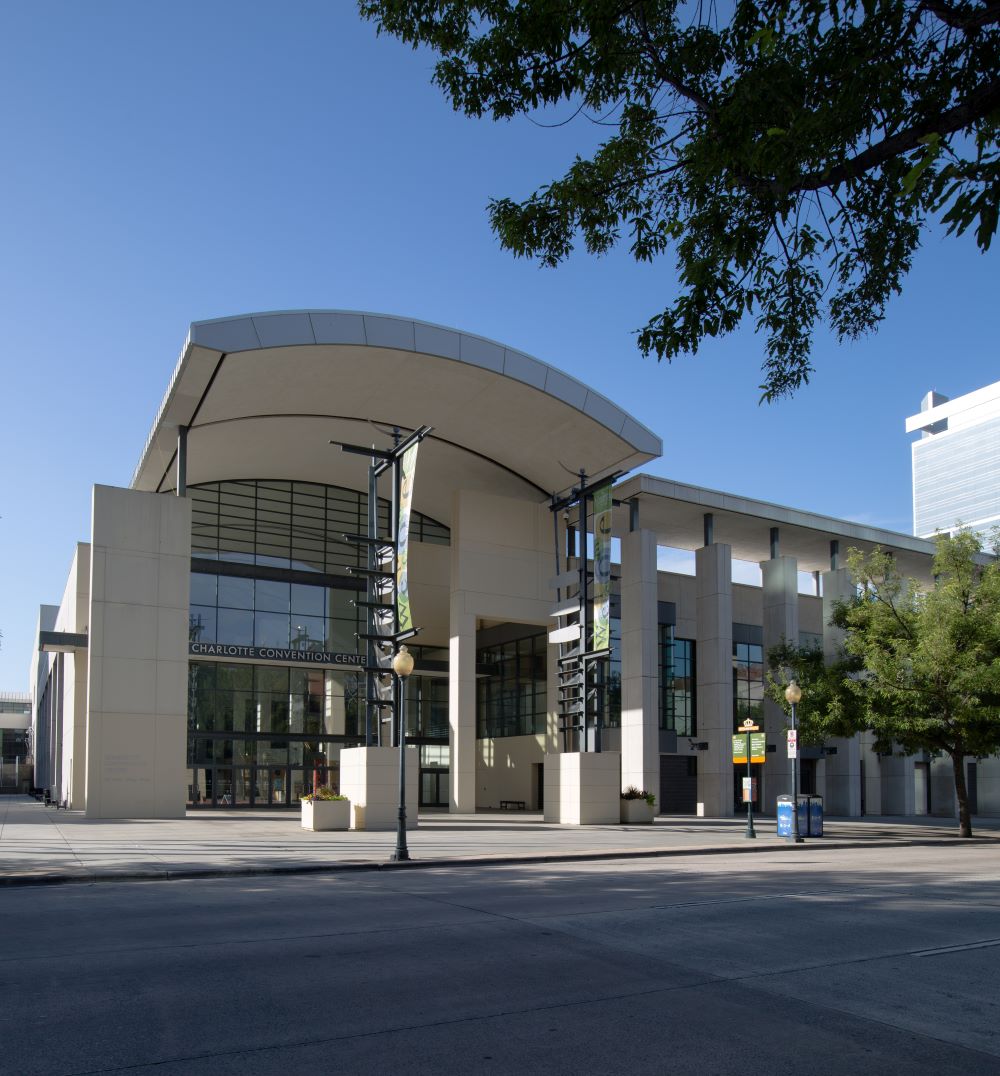 The convention center also features two ballrooms, one that is 35,000 square feet and one that measures 40,000 square feet. The convention center expansion undertook the strategy of adding smaller areas, including two customizable 10,000-square-foot spaces, which are especially popular with younger attendees because they often prefer to congregate in smaller affinity groups. 
The project includes an over-street pedestrian walkway that connects the facility with the 700-room Westin Charlotte hotel and offers a light rail station stop.
Other developments include a new JW Marriott set to open across the street from the convention center in July, the new Grand Bohemian Hotel scheduled for an August opening in Center City, an InterContinental hotel this spring and a Moxy hotel next spring. 
Related: 4 Art-Centric Charlotte Venues Spark Imaginative Events
The city will also welcome a Major League Soccer team in 2022 that will play in Bank of America Stadium, home of the NFL Carolina Panthers, which is within walking distance of the convention center.
"We have all these great assets withing walking distance of the convention center," Butts said, "which makes for a great convention district, and also a lot of arts venues that make great offsite venues for conventions and meetings."
Easy-Peasy Planning
The new entrants will join a destination that boasts a compact convention district with myriad restaurant options—the famed Johnson & Wales University opened a Charlotte campus about 12 years ago, which provides a funnel for top culinary talent into the city.
Both the convention center and the attached NASCAR Hall of Fame are managed by the Charlotte Regional Visitors Authority, along with the 10,000-seat Bojangles Coliseum and the 20,000-seat Spectrum Center performing arts facility. The convention center's in-house F&B department also handles catering at the Hall of Fame, making combining the two venues a seamless operation.
"The NASCAR Hall of Fame is perfect for those opening night events, so planners will contract both," Butts said. "It can accommodate up to 3,000 people in a phenomenal atmosphere, so that makes life easier for the meeting planner because we're fully integrated because we're one company."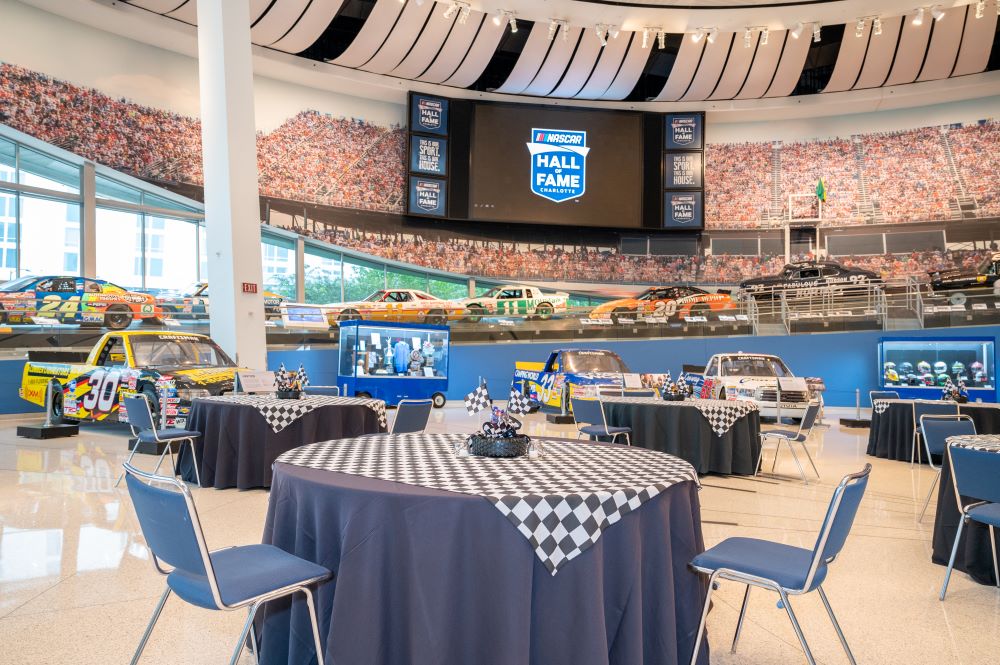 Butts said this DMO structure was very valuable during the pandemic, as it resulted in a stable environment for planners to operate in during all of the chaos and uncertainty of the last year.
Related: Sports Venues a Hot Option for Charlotte Meetings Groups
Charlotte Douglas International Airport—the seventh busiest in the world—is also on board with the compact package, as it's located only seven miles from the convention district.
Offsite Options in Charlotte
Outside of the convention district, the Queen City offers two standout offsite opportunities for meeting groups.
The new Camp North End adaptive reuse development in the North End Smart District is located on the former site of a Ford manufacturing site and U.S. Armory, and was transformed into a creative hub featuring an industrial arts facility, outdoor food hall with local tenants, and public art installations. The development is primed for use as a special events facility.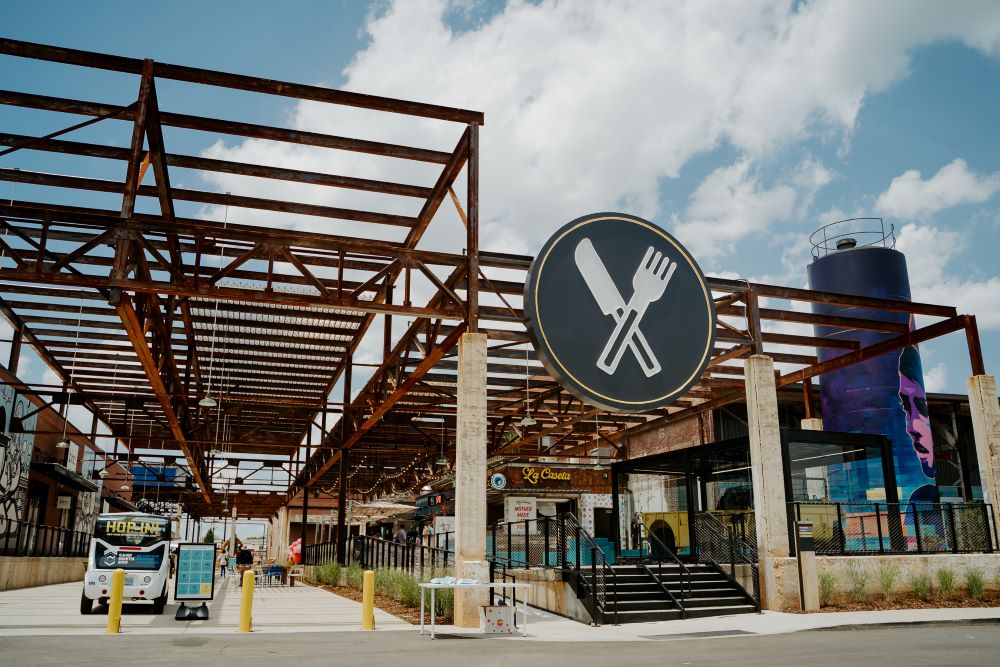 About 15 minutes from Center City, the U.S. National Whitewater Center—dubbed the largest whitewater center on the planet—is set on 1,300 acres of protected land. Visitors can access 50 miles of biking and hiking trails, ziplining, ropes courses and the signature attraction of whitewater rafting courses. The venue offers more than 30 recreational options in total. 
The Latest Hotel Openings and Renovations in Charlotte
The JW Marriott Charlotte is set to open in May 2021 across the street from Charlotte Convention Center. The 22-story hotel will offer 381 guest rooms, a spa, an Italian steakhouse, oyster bar and a rooftop pool and lounge. The property will include 15,000 square feet of meetings and events space, including a 5,100-square-foot grand ballroom, 7,000-square-foot junior ballroom and nearly 7,000 square feet of additional breakout space.
UNC Charlotte Marriott Hotel & Conference Center opened in March 2021. The 225-room hotel contains 20,000 square feet of meeting space and is located on the University of North Carolina's Charlotte campus and next to J.W. Clay Boulevard light rail station. The property's conference center features an outdoor event terrace that is alongside the main ballroom.
The 208-room Moxy Hotel Charlotte is expected to open downtown in 2022 and include a rooftop bar, terrace and 5,000 square feet of retail space. The hotel will offer meeting space on its sixth floor.
InterContinental Hotel at Carolina Theatre is targeting a 2022 opening in Uptown. The 274-room property will be located atop the historic Carolina Theatre, which is undergoing a restoration. The hotel tower will occupy 29 floors of the 34-story building and feature a ballroom and a rooftop restaurant.
The 90-year-old historic Dunhill Hotel, located in Uptown, recently completed a $2 million renovation of all its 60 guest rooms. The property, which is owned and managed by Summit Hotel Properties, offers more than 2,500 square feet of meeting and function space. 
The 254-room Grand Bohemian Hotel Charlotte, located in Uptown, opened in 2020. The Kessler Collection luxury property offers 32 suites; the Poseidon Spa; 18,000 square feet of indoor meeting space with a full-service ballroom; outdoor event spaces; the open-kitchen Mico restaurant; and an event-friendly lounge/bar and a rooftop bar that boasts panoramic views of the city and BB&T ballpark.
Read This Next: New Meetings and Events Developments Have Charlotte Rocking